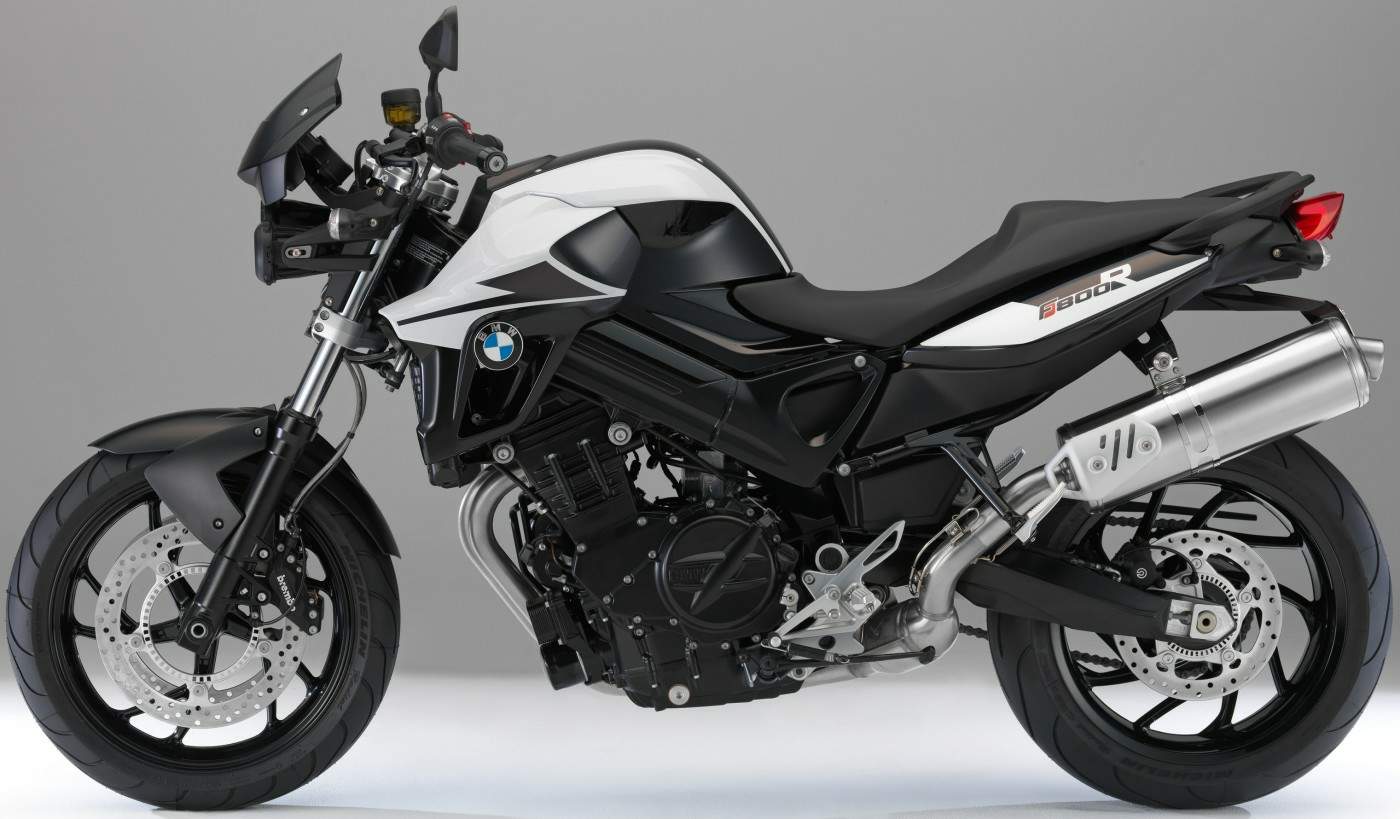 The F 800 R with 87 hp and an impressive 63 ft-lbs of torque, offers excellent ridability. Great ergonomics mixed with a firm chassis and a perfectly balanced geometry round off this cool package. The F 800 R is great in the city, stable on the highway, and agile on the backroads.
With this much fun, the standard ABS is welcome too, as are other features such as hot accessories and intelligent luggage solutions.
And finally: it's a BMW – and a pretty cool one, too.
It's definitely the hottest generation of roadsters since the BMW K1300R. Dominance from the very first yard - a perfect combination of pure riding fun and excellent suitability for everyday use.
After its model revision, the F800R is just as sexy as it was before - and the 798 cc 2-cylinder engine is as punchy as ever. The masculine design and minimalist lines offer highly attractive purism.
The new radiator side trim, white turn indicators and a wheel cover in the respective body colour turn the roadster into a bike that everyone loves to ride. The new sports windshield - also in body colour - highlights the bike's purist look.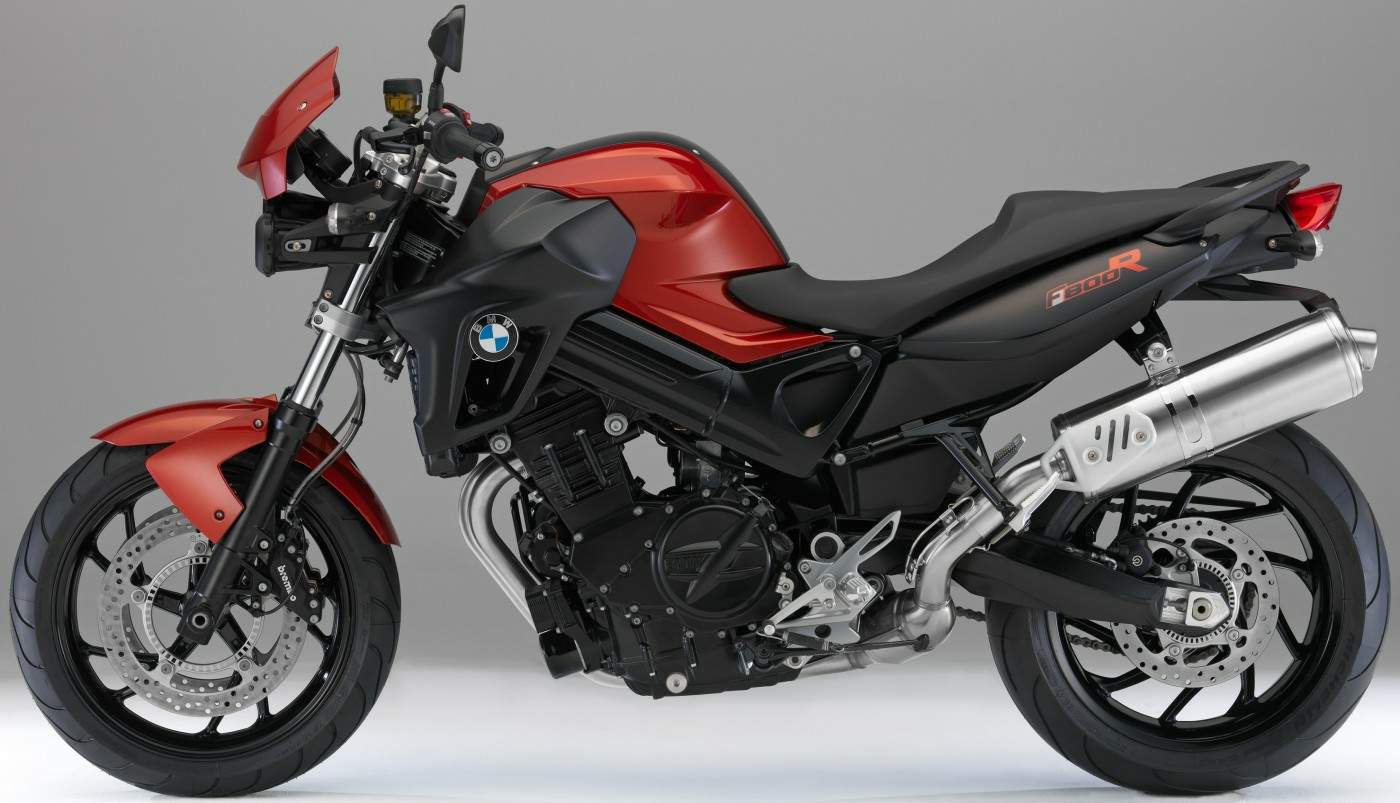 The familiar, highly economical parallel twin continues to offer superb enjoyment. 86 Nm of torque is an outstanding figure in this class of motorcycle, as is 87 bhp.
In particular because this power is available across a perfectly linear engine speed range - in other words ridability and riding fun across the board; here the BMW F800R offers a breadth of performance which pleases experienced riders just as it does beginners.
Weighing in at just 177 kg with ergonomics which provide a perfect fit for everyone, a clean, crisp suspension and perfectly balanced geometry: the new F800R embodies uncompromising style that everyone loves to ride.
The new F 800 R is radically different, and yet every inch a BMW. The state-of-the-art parallel twin engine with electronic fuel injection develops 87hp from its 798cc, not to mention a mighty 86Nm of torque. And with the deep, throaty exhaust tone, its sound is every bit as impressive as it performs.
The 320-millimetre Brembo double disk brake at the front ensures maximum stopping power, while BMW Motorrad ABS and optional TPC Tyre Pressure Control further enhance safety. The lightweight, rigid aluminium frame and dynamically styled double swing-arm, means the bike is also extremely manoeuvrable. The astonishing dry weight of just 177 kilograms make it an agile motorcycle with incredibly precise handling.
Need proof that this bike is as manageable, balanced and lightweight as we claim it is? Why not check out what stunt rider Mattie Griffin can do on his bike of choice?
BMW F800R Features and Benefits
Factory Fit Options:

Power Socket
Heated Grips
LED Indicators
Anti-Theft Alarm System
Riders Low Seat (775 mm)
Riders High Seat (825mm)
Heated Grips
Tyre Pressure Control
On-board Computer
Comfort Package: (Includes: Heated Grips & On-board Computer)
Standard Factory Equipment: Special Features
BMW Motorrad ABS as Standard
Engine/Driveline
2 cylinder 4 stroke parallel twin engine
Six speed gearbox
Complete stainless steel exhaust system
4 Valve cylinder heads
Digital engine management
Closed loop 3 way catalytic converter with oxygen sensor
O-ring chain with shock damping in rear wheel hub
Running Gear
Braided steel brake hoses
Cast aluminium double sided swing arm
Prop stand with starter inhibit
Continuously adjustable rear rebound damping
Twin disk front break
Single disk rear brake
Hydraulic rear spring preload adjuster
Spoke cast aluminium wheels
Electronics
Speedometer and revolution counter
Hazard warning flashers
Permanent headlamp beam
Electric immobiliser
Info flat screen (digital clock, total and 2 trip odometers, cruising range indicator, service interval indicator)
Equipment
Toolkit
One key system for ignition, steering, fuel filler cap and dual seat locks
Adjustable hand brake
Integral ignition switch and steering lock
One piece dual seat
Pillion Rider footrests and grab rails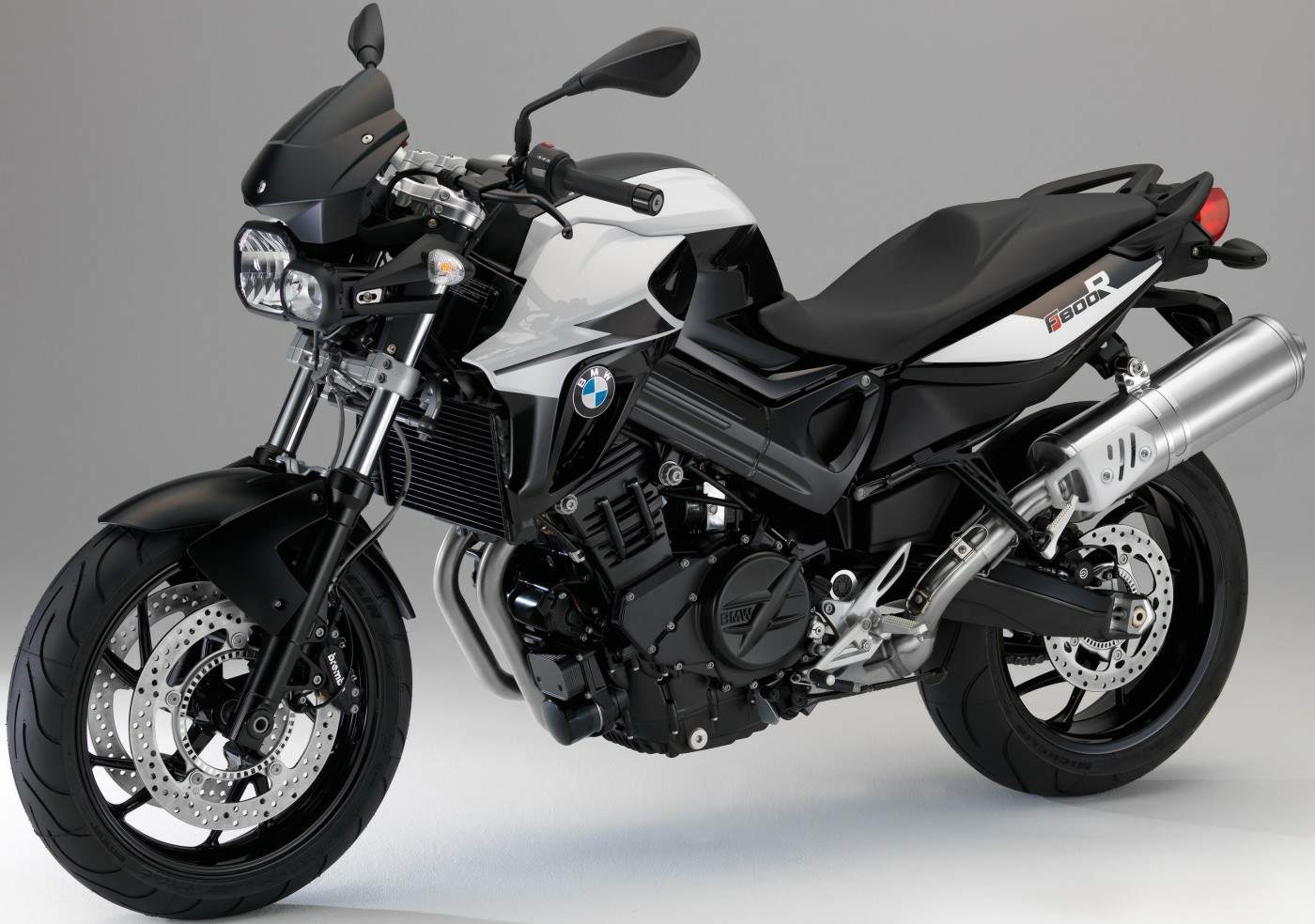 BMW F800R vs. Ducati Monster 796 vs. Triumph Street Triple R Road Test
Gathered around the shiny, all-knowing orb in Rider's soundproof think tank, our hands lightly clasped, minds melded into an awesome intellectual force capable of solving all the world's problems (if only it paid as well as motojournalism), the staff and I shared a stale tuna sandwich and pondered—with what shall we compare the new BMW F 800 R we tested in the last issue? Not quite adventure tourer, not quite sportbike nor sport tourer, this odd twin-cylinder beast is in a class of one. We weren't quite ready to give it back, though, so we put the names of every other 2011 motorcycle model into the orb and gave it a whack.
The orb quickly checked everyone's Myface social calendar and determined the number of riders free on the same day as the photographer, then spit out the names of two perfect bikes. Yes! This is why we only use ammonia-free Windex on the orb's strangely helmet like shell. The 675cc Triumph Street Triple R, of course, an obvious choice, for it, too, is—uh—liquid-cooled. And the Ducati Monster 796, again perfect, for like the other bikes it hails from Europe, where everyone knows one another. What a genius, that orb! Coincidentally, all three bikes share similar base prices, too.
Based on the previous two paragraphs, Yours Truly would need a lot of help with this comparison. The two staff riders I chose made us just as diverse a trio as the bikes. There's Donya, a.k.a. lady spider monkey, whose tall, slender profile and yard-long arms and legs are the complete opposite of my average height and stout build, like a fireplug with stunted limbs. Post-holiday Greg sort of combines the two, like a spider monkey who ate a fireplug. Three diverse bikes, three diverse riders—in other words, stop reading right now if you're expecting anything meaningful from this.
We sure had fun, though, because we also picked a perfect Southern California day to take all three on a more-than-300-mile loop that included lots of twisting canyons, miles of gently winding two-lane highway, a stop for bananas and then a long, final slog on the freeway. We had highs in the 80s and lows in the 50s, light and darkness, dirty, potholed bumpy roads and even water crossings. And we rollercoasted the One Road That Rules Them All. Wikipedia continues to insist that the translation of its Spanish name is Northwest Mountain, and has resisted my numerous attempts to correct it to Wa-Hoo Hill.
Anyway, what follows is my stab at writing down our thoughts and impressions of these three bikes when ridden back-to-back. Ridden on their own, we might come away with an entirely different impression of each, because then we would be paying attention. If you want to know more about their technical features and benefits, consult the spec chart, our individual tests, their manufacturers' websites or that guy in the bathroom—he's locked in there with the press kits. Take hand sanitizer. For this story my only references were our rapier-sharp wits, combined 65-odd years of experience and our monkeybutts. The truth must be in there somewhere, but I may need a flashlight.
This comparo began with the BMW F 800 R, as I recall, BMW's latest bike to use its 798cc, liquid-cooled, transverse parallel twin originally from the F 800 S. Today the twin is also found in the F 800 ST sport tourer, F 800 GS adventure tourer, and (embarrassingly) in the F 650 GS, where it's still 798cc. Don't ask, just appreciate they sell beer in the lunchroom at BMW. Sporting dual overhead cams and four valves per cylinder, this unique engine uses a third conrod to (not very successfully) dampen the mill's vibes. The twin-beam aluminum frame solidly supports the engine as a stressed member, as well as the twin-sided aluminum swingarm. Together with the bike's flat tubular handlebar, upright seating, reasonable seat height and lack of plastic, the F 800 R is the quintessential naked standard—yet its high footpegs and nimble handling push it into naked sportbike territory. Starting at $9,950, options galore on our test bike like ABS, a trip computer, tire pressure monitor, flyscreen and heated grips also push the price up to almost $12,000.
The Triumph Street Triple R has the same flat bar style and more legroom, yet there's no mistaking this howler for anything but a naked sportbike. Although the liquid-cooled, 675cc, transverse in-line triple shares the same state of tune as the standard Street Triple, with nearly 100 quick-revving horsepower on tap and a redline of 12,500 rpm, that's the only tune it needs. Based on the twin-spar, all-aluminum chassis and braced swingarm from the Daytona 675, the R's Kayaba suspension is upgraded from standard Street Triple spec, adding full adjustability front and rear and a piggyback reservoir on the rear shock. The R also gets radial-mounted calipers and a radial master cylinder for the front dual-disc brakes, and several bits of sporty plastic like a flyscreen, belly pan and rear seat cowl.
The Ducati Monster 796 we nicknamed Lil' Devil for its initial test last year comes standard with ABS for 2011, yet still carries its 2010 price of $9,995. In classic Ducati style, the Monster's 803cc, air-cooled, L-twin engine with two desmo-actuated valves per cylinder hangs from a tubular-steel trellis frame. Starting with the 696 a few years ago Ducati was able to increase chassis stiffness and reduce weight by incorporating a cast-aluminum center subframe to which the main and seat sections are bolted. A single-sided, cast-aluminum swingarm helps make it the lightest bike here. The 90-degree L-twin is still a stressed member in the frame which, like the BMW, carries a nonadjustable front fork and single rear shock with spring preload and rebound damping adjustments.
Other than base price, these three Euro bikes only share a few similarities. All have electronic fuel injection, six-speed transmissions, chain final drive and the same wheel and tire sizes, and all require premium fuel. Beyond that they part ways.
As soon as you start the Ducati, you appreciate that among these three stallions it's the wild and unbroken mount. Even without the rattle of a dry clutch (the 796 gets Ducati's wet APTC unit), the engine has a raucous, loping, cammy idle, like a small funny car waiting for the green light. Though it has roughly the same power output and torquey twin-cylinder midrange of the BMW, perhaps due to too-tall gearing the 796 just doesn't like to be ridden below about 4,000 rpm, where it bucks and lurches as though you're lugging it. Above 4,000 the engine has smooth, rapid power delivery and makes a great sound from the 2-1-2 exhaust, but staying in that range without hitting redline at 9,000 rpm requires both a lot of shifting and plenty of throttle (the phrase "ride it like you stole it" comes to mind). It's definitely fast and fun to ride within those limitations, and you'll rarely need fifth and sixth gears, which are like overdrives.
Compared to the Ducati, the BMW's engine is a pussycat. Its torque curve isn't much different, but the bike's saner gearing and broader clutch engagement make its powerband seem far wider and easier to use. As the heaviest bike here, you have to stir the gearbox to get good drive out of corners and keep it on the boil when riding aggressively, but unlike the light, impatient Ducati it's also quite pleasant to ride at low speeds around town or on tour. The BMW engine's chief problem is vibration, a coarse, high-frequency, low-amplitude grinding that makes the grips unfriendly at all but one or two places in the powerband. We noticed it more in our first test bike for the March issue, but our red, white and blue bike tested here was only a little better.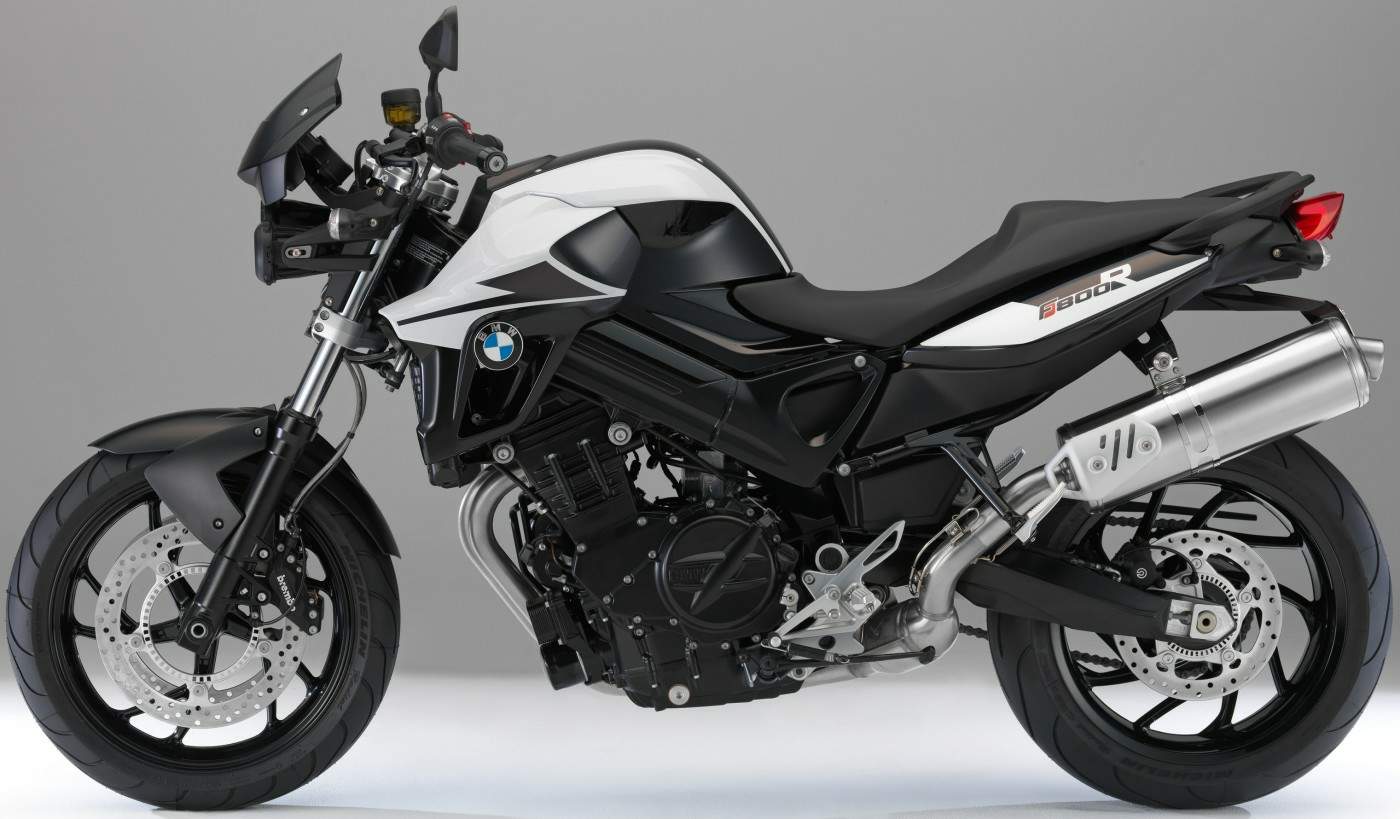 That means the best-engine award goes to the Triumph, which is smooth from idle to redline and revs powerfully and cleanly with an awesome snarl and near-perfect delivery (there's no hesitation or abruptness to the EFI on any of these bikes, in fact). The triple is just fine being short-shifted and ridden from stoplight-to-stoplight around town or cruising down the highway, with a torque curve so flat it's more like a table. Yet when racer road beckons, the bike's 97 horsepower at the rear wheel more than satisfy—they flat scream. There's a barely detectable amount of high-frequency vibration in the grips at certain speeds, but it didn't bother any of us. The Triumph also has the slickest shifting, followed closely by the Ducati and then the BMW, which missed a few upshifts in the canyons.
Sport riders will find the Triumph's suspension very firm but highly capable and compliant, and it can be adjusted to suit a variety of riders and riding styles. Both it and the Ducati can be harsh on bumpy roads, preferring smooth asphalt and quick corners to u­neven superslab and bumpy backroads. While the Triumph remains under control in the bumps, however, the Ducati's front end pitches the bars around a bit, and there aren't any adjustments to back off its excessive compression damping. Suspension-wise the BMW is the sport-touring bike of the bunch, with plenty of comfort, compliance and control for most street riding, though it would need firming up for aggressive sport or track days. Steering feel, effort and overall handling on all three are simply great, with the Triumph quickest, the BMW most stable and the Ducati offering the most feedback.
We were unanimous in liking the BMW's brakes best for their strong, linear feel front and rear, and nonintrusive but smooth (and optional) ABS. You'd think the Triumph's fancy radial stoppers would be the easy pick, but while strong as heck they're actually a bit grabby and hard to modulate, and ABS is not available. The Ducati's front brake had decent strength but lots of initial travel and tended to pump up with a second or third squeeze, and the rear pedal—as is often the case on Ducatis—traveled a long way and offered meager force. The now-standard ABS is a big plus and works well, though.
Comfort-wise the Triumph is king for taller riders, as it offers a mostly upright handlebar position and lots of legroom, and its way too-hard seat can be easily changed (Triumph offers an optional gel one). Two of us gave the comfort nod to the Beemer, though, as we weren't bothered by its high footpegs, and the seat and grip position are more comfortable for sport touring. The Ducati might work well for shorter riders, but none of us liked being locked against the tank by the sloping seat, and its handlebar is lowest and puts some weight on your wrists. Even with my 29-inch inseam I could flat-foot all three bikes at a stop. None offer any real wind protection despite the presence of some stylish flyscreens.
At the end of the day the Ducati was our least favorite for the slog home due to its seating position, and it's also the least suited to a passenger. By comparison, the BMW's well-shaped and padded seat and heated grips were worth fighting over; it also has plenty of room for a copilot and a touring accessory list a mile long. That list includes the trip computer and tire pressure monitoring system on our test bike, side cases and free higher or lower seats. Except for the seat the Triumph is also pleasant on long rides, and unlike the Ducati's and BMW's plastic fuel tanks its steel one will hold a magnetic tankbag.
Asked after our spirited day ride which bike they would choose if a) money were no object, b) they could only own one motorcycle, and c) it had to be one of these three, one cohort would most definitely pick the Triumph, and the other less assuredly the BMW. She liked the Triumph a lot, but found the BMW easier to ride fast and smoothly out of the gate, and preferred its strong, linear brakes to the Triumph's grabby ones. Both placed the Ducati third, as would I—as a track-day bike or canyon-carver it's a blast but is too narrowly focused and uncomfortable compared to the other two bikes to do well against them on a long ride. It did win the looks contest 2-1 over the Triumph; get the 796's front fork working well, put a decent seat on it and you can't come close to its musical sound, sculpted style and point-and-shoot character.
If the BMW were smoother I'd have a tough time choosing between it and the Triumph, but as-is the F 800 R's buzziness relegates it to a close second. That makes the Triumph Street Triple R the winner of this mishmash, especially since it's the least expensive of the three. Makes us wonder, too, how the standard Street Triple would have fared, which is even less. Let's ask the orb….
Source ridermagazine.com