Buell 1125R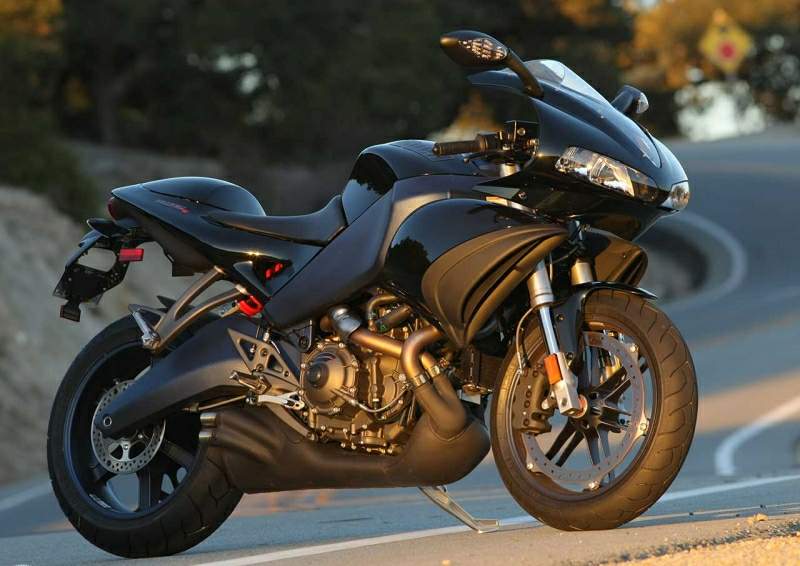 Make Model.

Buell 1125R

Year

2009

Engine

Four stroke, 72° V-Twin

Capacity

1125 cc / 68.7 cu in

Bore x Stroke

103 x 67.5 mm

Compression Ratio

12.3:1

Co

oling System
Liquid cooled

Induction

Dual Ø61 mm downdraft throttle Bbodies, DDFI III Fuel Injection System

Starting

Electric

Max Power

109 kW / 146 hp @ 9800 rpm

Max Torque

111 Nm / 11.3 kgf-m / 81.9 ft.lbs@ 9000 rpm
Gear Ratio
1st 2.462 / 2nd 1.750 / 3rd / 1.381 / 4th 1.174 / 5th 1.042 / 6th 1.00

Transmission / Drive

6 Speed

Final Drive

Belt
Frame
Aluminium frame with fuel in frame.

Front Suspension

Ø47 mm Showa inverted forks, adjustable compression damping. rebound damping and spring preload.

Front Wheel Travel

120 mm / 4.7"

Rear Suspension

Showa® coil over monoshock, adjustable compression damping. rebound damping and spring preload.

Rear Suspension

127 mm / 5.0"

Front Brakes

ZTL type brake, 6-piston, fixed caliper, Ø375 mm single-sided, inside out, stainless steel, floating rotor

Rear Brakes

Single Ø240 mm disc, 2 piston floating caliper

Wheels

6-Spoke ZTL2 cast aluminium

Front Wheel

3.50 x 17"

Rear Wheel

5.50 x 17"

Front Tyre

120/70 ZR17, Pirelli Diablo Corsa III

Rear Tyre

180/55 ZR17, Pirelli Diablo Corsa III
Rake
21°
Trail
83.8 mm / 3.3"

Dimensions

Length: 1996 mm / 78.6"

Width: 716 mm / 28.2"

Wheelbase
1384 mm / 54.5"
Seat Height
775 mm / 30.5"

Ground Clearance

114 mm / 4.5"

Dry Weight

170 kg / 375 lbs

GVWR

386 kg / 850 lbs

Oil Capacity

3.8 L / 4 US qts

Fuel Capacity

21.2 L / 5.6 US gal

Fuel Reserve

3.0 L / 0.8 US gal

Average Consumption

5.5 L/100 km / 18.3 km/l / 43 US mpg

Standing ¼ Mile

11.0 sec

Top Speed

243 km/h / 151 mph
Reviews
Motorcycle.com / Motor Revue / Motorcycle / Motorcycle USA
The motorcycle that redefines the superbike category the 2009/10 Buell 1125R is powered by the 1125 cc liquid-cooled 72-degree V-Twin Helicon engine generating 146 crank hp and 82 ft. lbs. of peak torque. With a foundation built on the core Buell Trilogy of Technology creating optimum performance, the 1125R remains true to Buell's original sense of sportbike style and design.

New for 2009/10 on the 1125R and 1125CR models are targeted fuel injectors, relocated O2 sensors, and updated engine spark and fuel maps. The combination of these features offers improved drivability below 6000 rpm, even crisper throttle response, improved heat management, and significantly improved fuel economy. The updated engine spark and fuel maps will also be made available for 2008 1125R models.

A new gear position readout is added to the digital display on the instrument panel as a scroll-to feature. A high-output alternator has increased capacity for accessory use. Slider bobbins have been added to the swingarm for protection and easy use of a rear stand.

The front wheel rides on fully adjustable Showa 47 mm upside-down forks, while the Buell ZTL2 front brake has an eight-piston caliper. A smooth-shifting six-speed transmission works with a HVA (Hydraulic Vacuum Assist) slipper-action clutch that uses engine vacuum for easy clutch-lever action and reduced engine braking during downshifts.

Quiet Zone aerodynamics optimize air flow around the rider for enhanced race performance and rider comfort. The fairing shape was developed using Computational Fluid Dynamics (CFD) analysis, and features six-bulb headlamps, while LED turn signals are integrated into the mirror housings.

The 1125R is restyled for 2009/10 with new blacked-out chassis components, and is offered in Midnight Black and new Racing Red with Phantom Metallic (Black) wheels, and Arctic White with Hero Blue translucent wheels. Production of the 2009/10 1125R is scheduled to begin in late September 2008.
Buell 1125R highlights

Buell Helicon 1125 cc liquid-cooled four-stroke, 72-degree V-Twin engine
146 peak hp @ 9800 rpm
82 ft. lbs. peak torque at 8000 rpm
New Phantom Metallic frame and swingarm with blacked-out footpeg mounts and heel guards
New tinted windscreen, Hero Blue with Arctic White bodywork and Smoked with Racing Red and Midnight Black
New gear position readout on the instrument cluster
New high output alternator increases capacity for accessory use
New slider bobbins on swingarm for protection and use of rear stand
Underslung muffler with Helmholtz chamber
DDFI 3 Electronic Fuel Injection ECM
New targeted fuel injectors
Ram-air pressurized air box
Twin side-mount radiators
HVA (Hydraulic Vacuum Assist) Slipper Action clutch
ZTL2 four-pad, eight-piston front brake
Fully adjustable 47 mm Showa inverted fork
Fully adjustable Showa rear shock absorber
Fuel-in Frame 5.3-gallon capacity
Dry Weight: 375 pounds
Wheelbase: 54.6 inches
Seat height: 30.5 inches
Pirelli Diablo Corsa III tires
Pre-Wired for Accessory Heated Grips
Midnight Black, Arctic White or Racing Red bodywork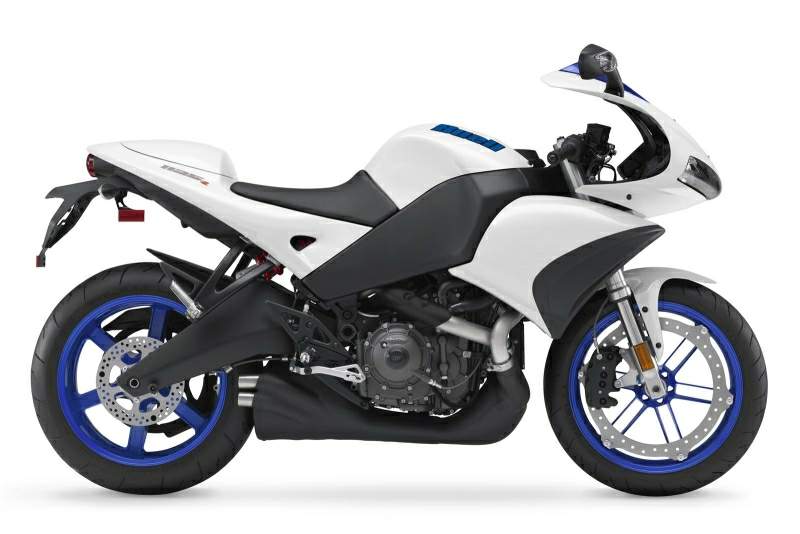 Road Test
Erik Buell has wanted to build a Buell sportsbike from scratch for a number of years. When starting the 1125R project Erik first went to the Motor Company to get a brand new engine built for a new sportsbike. In the last few years Buell has managed to get Harley-Davidsons full and whole support and funding is not a problem.

However, resources to build and develop a brand new liquid-cooled sports twin was one task too much for Harley-Davidson as they are very busy with their own engine projects. So in a meeting with Harley executives Erik Buell got the green light to go shopping for an external development team to do the new Helicon engine. For this type of engine BRP-Rotax is one of the leading manufacturers and it was only natural that the experienced Austrian engineering firm got the job. But with strict Buell instructions that details both internal and external engine parts. All the new 1125R engines will be delivered by BRP-Rotax ready assembled to the Buell factory in Wisconsin.

The 146bhp 72 degree V-twin will be produced exclusively for Buell motorcycles.

Erik Buell is Buell motorcycles without a doubt. His enthusiasm drives the company forward in almost all levels of producing a motorcycle. Erik is hands on from the smallest internal motor component to external design. We have been told when questioning the design part of the project that Erik himself loves to fiddle with the clay models of prototypes and the finished product is pretty much by Erik's own signature also on the external design part. Some may argue that it is a mistake not outsourcing the external design. We may agree with the sceptics here as there are no reason whatsoever why Buell 1125R couldn't get the aesthetics of any super exotic Italian superbike. After all, it's only a front fairing, rear end and some side panels that only an Italian designer could make sexy enough for the European motorcycle aristocracy. Erik; I've got some names for some excellent freelance designers for you.

Laguna Seca was Erik's choice of venue for launching Buell's biggest new effort in the 25th Anniversary.

My first ever experience of the famous Californian track will forever be associated with the Buell 1125R. What a great way to experience the Corkscrew for the first time. This was Christmas for all of the attending motorcycle journalists, me included.

-After waiting a couple of seconds to allow the electronics to boot up and fuel injectors to load the 1125R's intravenous food I hit the starter button. The 1125R chugs along in the Laguna Paddock much like an Aprilia RSV1000R on idle, but with a tad more authority due to the extra 125cc's. After a couple of warm up laps I'm ready to do business on Laguna Seca.

Most of my laps over turn one which in reality is part of the start/finish straight was done in fourth gear. However I did click up into fifth on a couple of laps. Never mind the Corkscrew, doing full throttle in fifth over the blind turn one where I had to brush of all speed downhill and into the Andretti hairpin was my single most thrilling moment at Laguna Seca.

I absolutely loved how the Buell 1125R felt going over turn one in a fashion that felt suicidal at first and rewarding in the end utilizing the powerful 8-piston caliper on the rim-mounted brake disc to slow me down. To gain stability on the front during heavy braking Buell have chosen a 47mm front fork rather than the 43mm we find on several other Buell motorcycles. Jeremy McWilliams input was important here, but Buell did not want to add a steering damper.

There are some movements over the front but very small and they don't disturb the handling much really. However, with a steering damper in place the ride would have been less physical and easier on the arms at the very least.
Through the Andretti hairpin accelerating hard out in second gear I'm at turn three that's done in second gear followed by a short straight where I preferred to keep third gear through the very fast turn four onto a slightly longer straight before braking hard from fourth gear into turn five. This is the place where I got the best feel for the new slipper clutch that worked without a glitch during the whole day.

Turn five is my least favourite corner on the track and then uphill through turn six and onto the uphill Rahal straight. This and the start/finish straight are the two places at Laguna which reward horsepower as the Rahal straight is the steep uphill section leading me into the famous Corkscrew. The big 72 degree V-twin breaths freely and utilizes all its massive but also smooth torque up the hills. I never had a single moment going on the throttle out of corners which speaks of a well balanced torque curve.

With good drive from lower rpms the 1125R never feels underpowered, but it's from 9.000rpms that the real sports element shines through with quite hard acceleration. What vibrates and not on high rpms I'll talk more about on the road test part.

The Corkscrew is probably even more famous than Craner Curves at Donington and now I finally know why. At first the 1125R felt too soft when going through the steep left-right downhill section called the Corkscrew. The right-hander leading down towards the Rainey corner is hard on the suspension and requires quite a hard set-up for such a slow section of the track (Corkscrew). Flicking the 1125R from sharp left down to sharp right almost feels like landing after a small jump! Then I shouted "yeeha" inside my helmet in the same fashion as you do on a roller-coaster ride. I did the flick in the middle of second gear most of the time where the throttle can be opened fully immediately after flicking to the right. The Rainey corner is also a pretty exciting place to go fast on the Buell 1125R which by now has manifested itself to be a very nimble sportsbike with a big engine! Third gear is good through the banked left-hander down to second for turn ten. Towards the left-hander turn eleven that leads onto the start/finish straight I felt that the 1125R could have been geared even lower to utilize third gear better as I was stuck on the limit on second a couple of times before braking for turn eleven.

Short-shifting is fine on the 1125R, but acceleration is great from 9.000 rpms where you'd want to be for a fast lap.

Onto the start/finish straight that is almost 1.000 metres I didn't feel that I could tuck properly into the "quiet zone" as Buell calls it. It is mostly due to my butt not having enough space to push backwards to tuck properly in behind the wind-screen. On a Yamaha R1 or Suzuki GSX-R1000 you have enough space to push weight forwards or backwards which is lacking a bit on the short Buell 1125R. A different design to the single seat cover or rear part of the seat would have solved the problem for a 6-footer like me.
At no point on Laguna Seca can you call the 1125R wheelie-prone. It speaks of some great handling abilities as the wheelbase is a very short 1384mm. But with a little help (throttle off-on) the 1125R power wheelies easily in second. That's a good thing really as I have always felt that belt-drive is a tad flexible for clutch ups.

The newly designed belt is super strong though and can take some serious abuse. Should it ever snap you could always use some super-glue to get it all back together (Don't do that by the way…) Belt-drive is perfectly maintenance free and much lighter than a chain. The only reason why you would want a chain instead is to be able to change the gearing more easily. Not much else, in terms of horsepower loss Buell has assured us that there's virtually nothing in it.

The claimed 146bhp transforms to about 135 rear-wheel horsepower according to Buell's Dyno. That is a respectable figure on a V-twin, but I struggled to get the feel of all that power and wish I had some proof. It shouldn't be grounds for any doubt as both Buell and Rotax knows what they are doing, but it could be that the smooth torque curve hides the beast a bit so to say. - Should be good for the road part of our test.

The Pirelli Diablo Corsa III sport tyres that are standard on the 1125R worked fine around Laguna Seca. However, I missed some more sense of feel through the suspension. Usually these tyres provide lots of feedback and inspire confidence, but through the fairly stiff Buell chassis I could have wished for more tyre feedback. Some riders complained about tyre issues and at one point one of the rear tyres were way too hot when stopped in the paddock after a few laps. That doesn't contribute much to neither feel nor traction.

The 8-piston or Octal as I have called the new front brake is supremely powerful, but once again I didn't get the same perfect feel that I remember from the 07 Suzuki GSX-R1000 and Yamaha R1. Quite often I applied the brakes a little bit too early as a direct cause.

The steep knee angle is the one ergonomically feature that speaks against the 1125R as a roadbike the most. On the track it felt pretty much perfect with quite a relaxed handlebar position for a sportsbike. But the knee angle is fairly steep with high footpegs.

In California the Police are all-powerful and not very lenient towards minor offences like speeding.

Everywhere there are double yellow lines and ridiculously low speed limits such as 35-45 many places on the Pacific Highway (Highway 1). But as usual, journalists risks it all testing new motorcycles even though the consequences are grave in the US. We had an absolutely beautiful 196 mile route to ride in the mountains and along the coastal highway. Chugging along after tourists doing 30 miles per hour or less for a great length of time on a sportsbike could drive anyone insane, so we crossed the double yellows and fancied our chances. Rather die by the sword than by boredom?

Through the Carmel Valley we rode some beautiful sweeping corners perfect for the Buell 1125R before it got tighter. As long as the engine speed is above 4.000 rpm it's all bliss and happy riding. Through villages and towns where rpms sink below 4.000 rpms I didn't like the throttle response at all. It got a bit unpredictable and on a modern V-twin anno 2008 this should have been sorted.

All the test bikes were pre-production models and there is still time for Buell to smoothen things out, but whether it's the engine management or the new DPPI fuel injection that causes low speed issues I'm not sure.

With an abundance of torque on tap from the big twin I spent a lot of time riding the midrange between 4-8.000rpms. The engine is very flexible in the midrange and as long as the rpms can be kept above 4.000rpms it's all very smooth and predictable as it should be on a roadbike. The engine has been tuned this way as this is what Buell says its customers say that they want. I believe Buell on this one and it makes it a lot easier to get used to the extra power if you come from an air-cooled Buell.

The six-speed gearbox was a big positive surprise and very easy to use with light and precise action. Only once did the rear wheel protest on a downshift from second to first when the tyre was cold. Other than that the slipper clutch always worked perfectly making downshifts very safe with moderate engine braking.

I already knew that the 1125R is very fast from the day at Laguna Seca so I was more interested in how the slow-speed manoeuvrability was on the road. The turn radius is very good along with a perfectly balanced chassis. The chassis still features Buell trademarks such as fuel in the frame.

More than 20 Litres with thinner, stronger and lighter walls. But on Buell's first ever liquid-cooled production motorcycle the oil sump has been moved from the swinging-arm and incorporated in the new Helicon engine to keep oil-pressure optimum in all situations. For the first time, Buell is now supplied with frames from an American company just down the road from the Buell factory in East Troy.

After reaching Greenfield we did a few motorway miles until we entered the roads around Fort Hunter-Liggett. Overtaking on the motorway can be done in all gears including sixth, but I did prefer to get down to fourth a few times for stronger acceleration. The mirrors on the 1125R are wide enough, but still they vibrate a lot. Even on lower rpms they vibrate, but above 9.000rpm they shake almost violently. Hence pretty much useless if you're not into Blur (cheap, I know…)

We entered a high security military area where the roads suddenly disappeared to become no wider than a cycle route. The hairpins released each other and if on full lean the rider would cover the whole road.

Not good for traffic coming in the opposite lane whatever that was. One rider did go down on this route and I decided to slow down before it got out of hand in the name of self preservation.

Reaching the famous Highway 1, also called the Pacific highway the roads widened. This road really would have been perfect for the Buell 1125R had it not been for all the tourists. My legs did catch some serious heat from the engine riding in 30-45mph and it was not very pleasant. Slightly roasted, but having enjoyed a very beautiful day I arrived back at Laguna Seca where the road route had started.

Conclusion:
Laguna Seca baby! Needless to say that track left me with a huge impression. The all-new liquid-cooled Buell 1125R launch gave me the generous opportunity to both ride the famous track and test the new flagship Buell model. What an amazing privilege it was! Even though the Buell 1125R is made more for the road than the track I still liked it much more on Laguna Seca than on the road. On the track there were no issues with unpredictable low rpm responses, roasting of my legs or vibrating mirrors. I'd go and ride the 1125R on track any day again. For the road part I found a few issues that Buell hopefully have got time to address before the great new bike goes into production this autumn. The engine response below 4.000rpms is one whilst excessive heat to the legs and vibrating mirrors are others. Still, it was a great experience riding the 1125R also on the road, just not as great as on Laguna Seca. Happy 25th to Buell and welcome to the 21st Century with an all new high tech liquid-cooled engine!

Buell joins liquid-cooled manufacturers with a powerful 1125cc V-twin
Handling both on track and on the road
Maintenance friendly (Major service @ 20.000 and 40.000 miles + belt-drive…)
Big fuel capacity (sportsbikes with 20+ litre fuel capacity are rare…)
-
Unpredictable throttle response below 4.000 rpms
Engine heat by feet
Vibrating mirrors
Source Motorcyclists-online