Buell 1125CR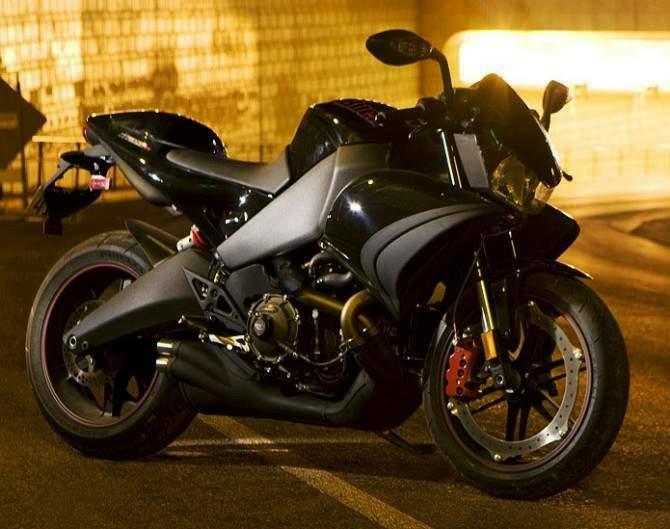 Make Model.
Buell 1125CR
Year
2009
Engine
Four stroke, 72° V-Twin
Capacity
1125 cc / 68.7 cu in
Bore x Stroke
103 x 67.5 mm
Compression Ratio
12.3:1
Co

oling System
Liquid cooled
Induction
Dual Ø61 mm downdraft throttle Bbodies, DDFI III Fuel Injection System
Starting
Electric
Max Power
109 kW / 146 hp @ 9800 rpm
Max Torque
111 Nm / 11.3 kgf-m / 81.9 ft.lbs@ 9000 rpm
Gear Ratio
1st 2.46 / 2nd 1.75 / 3rd / 1.28 / 4th 1.17 / 5th 1.04 / 6th 1.00
Transmission / Drive
6 Speed
Final Drive
Belt
Frame
Aluminium frame with fuel in frame.
Front Suspension
Ø47 mm Showa inverted forks, adjustable compression damping. rebound damping and spring preload.
Front Wheel Travel
120 mm / 4.7"
Rear Suspension
Showa® coil over monoshock, adjustable compression damping. rebound damping and spring preload.
Rear Suspension
120 mm / 4.7"
Front Brakes
ZTL type brake, 6-piston, fixed caliper, Ø375 mm single-sided, inside out, stainless steel, floating rotor
Rear Brakes
Single Ø240 mm disc, 2 piston floating caliper
Wheels
6-Spoke cast aluminium
Front Tyre
120/70 ZR17, Pirelli Diablo Corsa III
Rear Tyre
180/55 ZR17, Pirelli Diablo Corsa III
Wheelbase
1384 mm / 54.5"
Seat Height
775 mm / 30.5"
Dry Weight
168 kg / 370 lbs
Fuel Capacity
21.2 L / 5.6 US gal
Average Consumption
5.5 L/100 km / 18.3 km/l / 43 US mpg
Standing ¼ Mile
11.0 sec
Top Speed
243 km/h / 151 mph
Reviews
Motorcycle.com / Motor Revue / Motorcycle / Motorcycle USA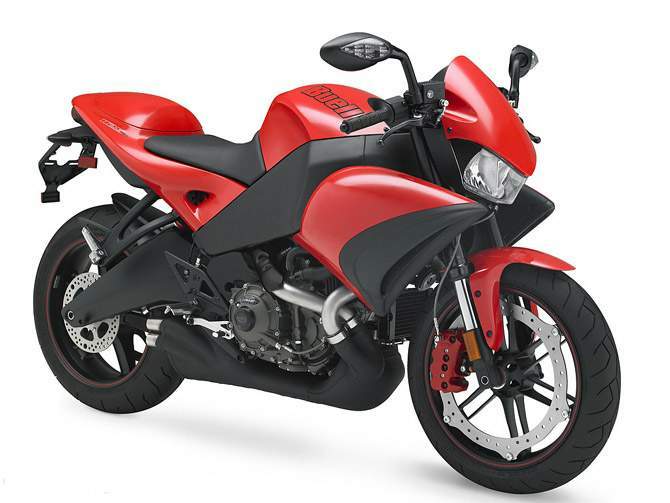 Buell Motorcycles got the jump on its foreign rivals unveiling its 2009 superbikes, with the American company unveiling the new Buell 1125CR.

If you want the sweet and condensed version of what the new 1125CR is, look no further than Buell chairman and chief technical officer, Eric Buell, who says of the new 2009 design:

"Part superbike and part streetfighter, the 1125CR is my vision of a 21st century Café racer. It's got Clubman-style bars and a flyscreen instead of a fairing. Then we geared it down to optimize acceleration. With a class-leading weight-to-horsepower ratio, the 1125CR takes streetfighter performance to a new level."

The new machine incorporates the same liquid-cooled 1125cc Buell Helicon V-Twin powering its superbike kin - the 1125R. Internally, however, the engine (in both machines) has been tweaked for '09 with "targeted fuel injectors, relocated O2 sensors and updated engine spark and fuel maps."

Buell claims the engine mods improve sub-6000rpm performance, with better throttle response, fuel economy and heat management. (The new spark and fuel mapping will be available for 2008 1125Rs.)

As a Buell, the 1125CR features all the usual Buell-esque engineering i.e. the underslung muffler, fuel-in-frame chassis (5.3 gallons in the Buell Intuitive Response Chassis), and the ZTL2 (Zero Torsional Load) front brakes. The new Buell also features fully-adjustable Showa components, a 47mm fork and rear shock absorber.

From a visual standpoint, the CR is easier on the eyes than its R sibling. With a pared down front end from the windscreen and narrower headlamp pod, the CR looks sleeker. Available in the same black scheme as the R, the CR looks quite fetching in red.
Buell 1125CR highlights
(Courtesy of Buell)
- Buell Helicon 1125cc liquid-cooled, four-stroke 72-degree V-Twin engine
- 146 peak hp @ 9800 rpm
- 82 ft. lbs. peak torque at 8000 rpm
- 76/27 final drive gearing optimized for acceleration
- Underslung muffler with Helmholtz chamber
- DDFI 3 Electronic Fuel Injection ECM
- Ram-air pressurized air box
- Twin side-mount radiators
- HVA (Hydraulic Vacuum Assist) Slipper Action clutch
- ZTL2 four-pad, eight-piston front brake
- Fully adjustable 47 mm Showa inverted fork
- Fully adjustable Showa rear shock absorber
- Fuel-in Frame 5.3-gallon capacity
- Dry Weight: 375 pounds
- Wheelbase: 54.5 inches
- Seat height: 30.5 inches
- Pirelli Diablo Corsa III tires
- Pre-Wired for Accessory Heated Grips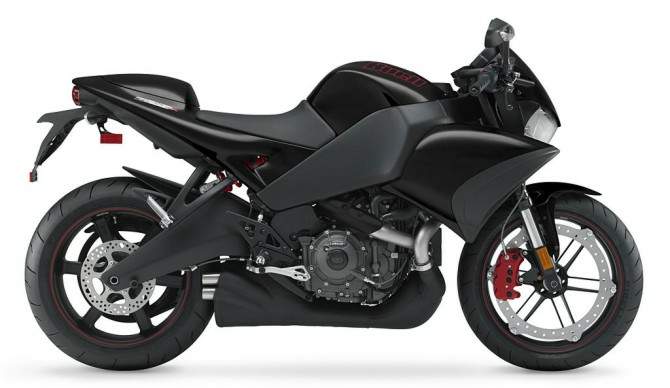 The 1125CR's chunky, muscular styling oozes testosterone, but this certainly isn't a beautiful looking bike. The riding position reminds you of older Ducati Monsters, the spacious saddle lets you move around a bit till you find a position that's comfortable for you, and the clutch and brake levers are adjustable.

On the move, the Buell 1125CR feels unexpectedly docile. At least in the beginning. But open up that throttle and you feel a direct connection between the accelerator and the rear wheel. And the six-speed gearbox is quiet, precise and quick.

The 1125CR can be hustled around corners pretty quickly. The bike's aluminum perimeter frame, which also doubles as a fuel tank, mated to a 47mm USD fork at the front and monoshock at the back, works well. The Pirelli Diablo Corsa III tyres are excellent, and the 375mm single brake disc at the front, with its eight-piston calipers, is quite capable of hauling up the Buell in a hurry.

With its rather extreme steering geometry, the 1125CR is very agile and changes direction in a snap. But the surprising bit is that it also manages to remain stable at elevated speeds and remains planted in high-speed corners. The suspension, however, may benefit from some recalibration – the bike tends to hop around a bit when the roads get rough.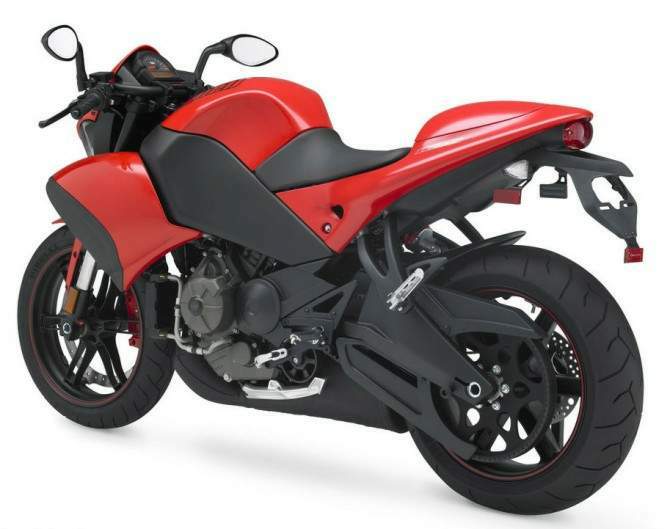 BMW K1300R vs Buell 1125CR
This isn't, perhaps, the most awaited sportsbike shootout ever. We doubt if too many BMW loyalists would ever leave their beloved Bavarian machines and switch over to Buell, while fans of the all-American Buell aren't very likely to ever defect to the BMW camp. Still, Motociclismo recently had the opportunity to pit the K1300R against the 1125CR, and here's what they have to say about how the two bikes stack up against each other:

The technology that's gone into these two bikes is as unconventional as their styling. The 176bhp K1300R uses shaft drive, the 146bhp 1125CR uses belt drive. The BMW uses Duolever front suspension, which you won't find on any other bike, while the Buell's perimeter disc braking system at the front wheel entails the use of a single disc – unlike all other large-displacement sportsbikes, all of which use twin disc set-ups at the front.


The BMW is the better bike for riding in the city, thanks to its anti-lock brakes (ABS) and optional traction control – things which provide a lot of reassurance during hard braking and acceleration. The riding position is pretty comfortable too, though your shin will often hit the BMW's engine casing on the right hand side, when you put your feet down while coming to a complete stop.

Riding the Buell in the city gets tiring within a few kilometres – the high footpegs, and the shape and the positioning of the handlebar sees to that. But while it affects low speed comfort, the 1125CR's sports-oriented riding position is perfect for high speed cornering.

Another thing that goes against the Buell is its brakes, which work in a rather abrupt fashion. Initially, the brakes don't seem powerful enough at all and then, when they suddenly bite, they can upset the bike somewhat.

Developed by Rotax, the Buell's v-twin is one of the most pleasant twin-cylinder engines current available in the market. Low-rpm torque delivery makes the bike very rideable at low speeds and the linear power delivery means the bike picks up speed smoothly and consistently.

The BMW's four-cylinder engine is also much improved over its predecessor – it feels significantly more powerful, the roughness has disappeared and power delivery has been smoothened out very well. On the highway, the K1300R offers better wind protection than the 1125CR and feels more planted, more stable, while the Buell feels more nimble and responsive.


When it comes to high speed cornering, the Buell outshines the BMW. The K1300R isn't bad – in fact it's quite good considering it's size and weight – but the Buell is in a different league. The Buell's braking characteristics and suspension set-up are just more conducive to letting the rider push harder in the corners, and the bike is more supple and responsive in the bends than the BMW.

So there you are – most of the important questions regarding the two bikes' behaviour have been answered. But, somehow, we doubt if too many BMW or Buell buyers were actually waiting for this shoot-out in order to decide which bike they want. No, they've made up their minds already...

Source Faster and Faster & Motociclismo