Cagiva Mito 125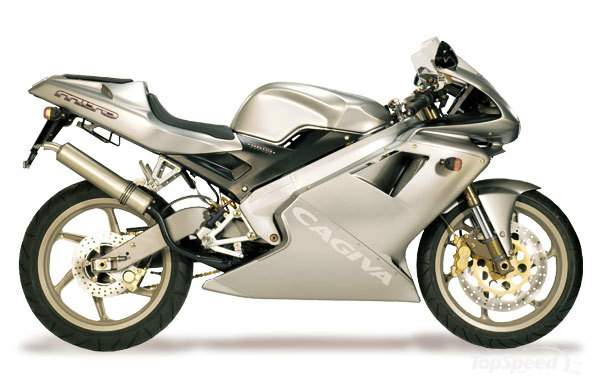 | | |
| --- | --- |
| Make Model | Cagiva Mito 125 |
| Year | 2005 |
| Engine | Liquid cooled, read valve, two stoke single cylinder, electric power valve |
| Capacity | 125.6 |
| Bore x Stroke | 56 x 50.6 mm |
| Compression Ratio | 6.3:1 |
| Induction | Dell'Orto carb |
| Ignition | CDI / electric |
| Max Power | 34 hp 24.8 kW @ 12000 rpm |
| Max Torque | 23 Nm @ 11000 rpm |
| Transmission / Drive | 6 Speed / chain |
| Front Suspension | 40mm Marzocchi telescopic forks, 120mm wheel travel. |
| Rear Suspension | Monoshock, 133mm wheel travel. |
| Front Brakes | Single 320mm disc 4 piston caliper |
| Rear Brakes | Single 230mm disc 2 piston caliper |
| Front Tyre | 110/70 ZR17 |
| Rear Tyre | 150/60 ZR17 |
| Dry Weight | 129 kg |
| Fuel Capacity | 12.5 Litres |
| Reviews | Motor freaks |
| Manual | diff.ru:8000 / blackbears.ru |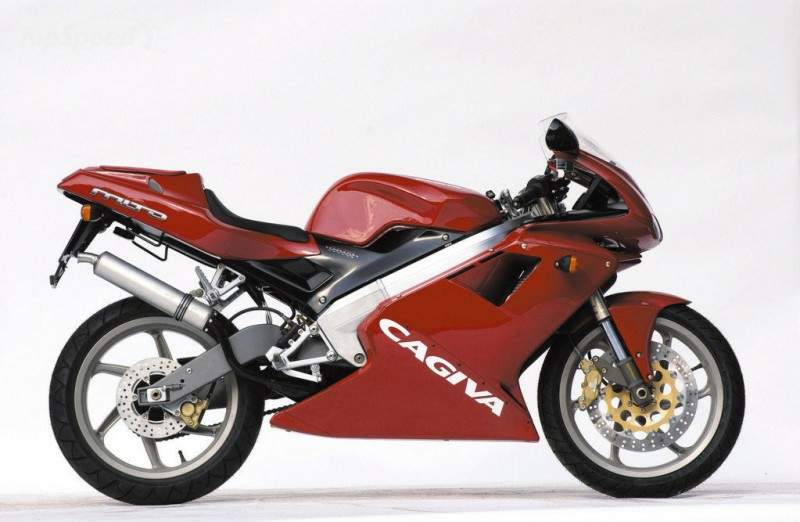 Cagiva Mito Review
SPEAKING of myths, this is like David vs Goliath. ARMAN AHMAD slingshots about in the Cagiva Mito.

MY ears are ringing. I've been riding for about half an hour in the sun - but I'm not even sweating. It's midday, and I'm zipping through traffic at insane speeds on a Saturday wearing just my full face helmet, a thin T-shirt and a pair of jeans.
Some people sitting in the cars I overtake are probably thinking I'm crazy. Other motorists will probably think I'm just a regular hooligan.
Except the fast, loud little two-stroke machine that I'm riding is no regular rempit machine - it's the legendary Cagiva Mito 125.
My ears are ringing because the din from its two-stroke racederived engine is barely muffled by the exhaust. My back hurts because the race-inspired seating is cramping my style. As I flick through the gears and work the clutch, the hot sun is biting into my exposed arms but I couldn't care less.
I rev the bike's engine past 7,000 rpm and go screaming into a roundabout. An elderly Chinese aunt frowns at me as she watches me corner
at an insane angle. But she and her Honda City are soon mere dots in the bike's rear view mirror.
You may wonder why I'm displaying such foolish bravado. No, I haven't been experimenting with hallucinogens. I just picked up the bike from Mofaz the day before, and I have been riding since morning. I'm hooked.
The buzzsaw engine doesn't produce much power but the bike weighs a mere 129kg. Acceleration is nothing to shout about. It's probably as fast as a Proton Saga.

However, the bike has razor sharp handling. It changes direction at the flick of your wrist. Who cares about power anyway when you don't have to brake? Once you climb on the seat - you get a race-like view of the road ahead. The meter is simple and uncluttered, with a steering damper situated under it.
Despite the sluggish acceleration, the bike's top speed is acceptable - somewhere in the region of 180km/h. But it would be hard to travel long distances on the bike. It's better suited to short distances in the city. In short, the Mito won't be challenging any Ducatis but it's a lot of fun to ride. It would be well suited to beginner riders - even women riders. Just think of it as "My first Ducati". It is incredibly beautiful. When I was testing it, I was surprised to find the red Mito attracting so much attention. I've ridden bikes five times the price and 10 times the capacity but they didn't attract as much attention as the little Mito.
The mere mention of the name Mito may conjure up some memories for old school bikers. In Italian, mito means myth or legend. The bike was first introduced in 1990 as the Cagiva Mito Lawson to commemorate Cagiva's GP 500 victories by motorcycle racing legend Eddie
Lawson.
When it first came to Malaysia, it caused a sensation with its upside-down forks, Brembo brakes and beautiful Italian styling.
If my memory serves me correctly, it sold here for about RM15,000,
pretty affordable for any exotic Italian brand that was affiliated with Ducati.

Over the years, the Mito gained a somewhat cult status in Malaysia,
with die-hard fans braving spare part shortages to maintain their bikes in working condition. In 1994, the Mito was restyled in Italy by Massimo Tamburini, the same guy who drew up the design for the Ducati 916.
In fact, if you parked both bikes side by side, only a few details would differentiate the 900cc superbike and its 125cc sibling. Although the fairing had been changed, most of the innards were still the same crazy two-stroker that caused a sensation in the early 90s.
Needless to say, when the bike was introduced here as the Mito EV (evolution), it was an immediate hit. That was 13 years ago.
It has been a while since the Mito was imported to Malaysia. However, Mofaz is bringing in a final batch of some 300 bikes.
According to them, the bike will be the last batch to be produced with the two-stroke 125cc engine.
Source nst.com.my