Cagiva Mito I Lawson Replica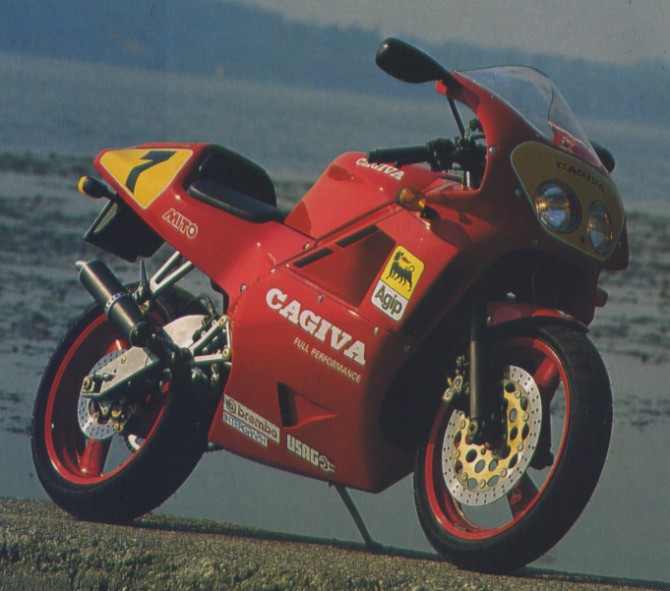 Make Model

Cagiva Mito

I

Lawson Replica

Year

1992

Engine

Liquid cooled, read valve, two stoke single cylinder, electric power valve

Capacity

124

Bore x Stroke

56 x 50.6 mm

Compression Ratio

13.0:1

Induction

28mm Dell'Orto flat slide carburetor

Ignition

Starting

Max Power

33.5 hp 23 kW @ 10500 rpm

Max Torque

19 Nm @ 9000 rpm

Transmission

7 Speed
Final Drive
Chain

Front Suspension

Rear Suspension

Front Brakes

Single 320mm disc 4 piston caliper

Rear Brakes

Single 230mm disc 1 piston caliper

Front Tyre

110/70-17

Rear Tyre

150/70-17

Dry Weight / Wet-weight

117 kg / 125 kg

Fuel Capacity

12.8 Litres

Braking 60 - 0 / 100 - 0

13.1 m / 37.0 m

Standing ¼ Mile

14.0 sec / 148.9 km/h

Top Speed

164.2 km/h
Manual
diff.ru / blackbears.ru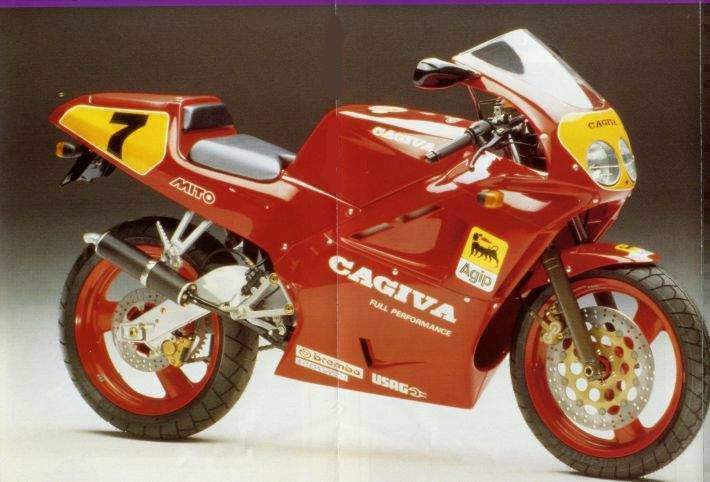 The 3,449 pounds Lawson replica Mito 125 comes with good pedigree. The Man Himself used one as a paddock bike last GP season. Ed's Milo became famous - the only sure sign whether Eddie was in residence in his darkened motorhome. If the little beauty was parked outside, it was worth a knock on the door. If it wasn't you knew he was off somewhere else, like picking up his wages (though unfortunately the Mito has no extra large top box),
The stock Mito is mischievous enough, hardly surprising at 206bhp/litre, but the Lawson gets a Sports Production motor with even more outrageous porting, modded piston, cylinder head, exhaust valve and carb plus a devilish carbon fibre-esque spanny.
Cagiva don't actually want to talk about maximum power figures, probably because they'd be locked up for unleashing a road legal 125 which makes more than 30bhp. This equates to around 2401bhp per litre and yet there's nothing hugely original about the motor - 28mm carb, reed valve induction and CTS power valve. Cagiva have just cut out the back yard two-stroke tuner and done the riffler file job themselves. The Japanese would never be so daring.
No surprise then that you gel a power band which sweeps majestically all the way from 9500 to the rabid 1l.OOOrpm red line. That's right a whole 1500rpm of raw, zinging two-stroke power.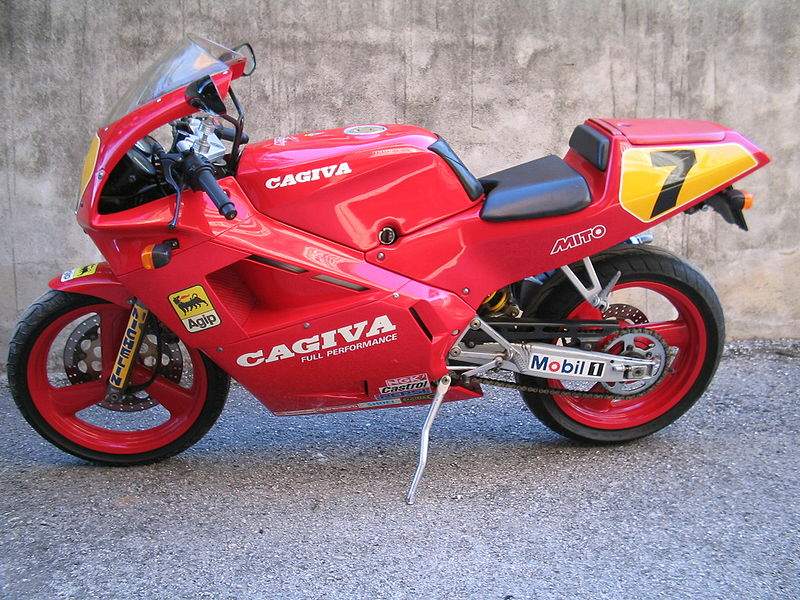 The seven speed gearbox may sound like a typically Latin dose of oxer-indulgence but when you've only got I500rpm to play with you need all the gears you can get. Keeping the Milo dancing around the red line is an art which even Leonardo da Vinci would have struggled to master.
Mustn't grumble though. The engine does work below nine-li\e. it just gets all fussy and if xon actually want to get anywhere before next week, forget it. Such a sacrifice for peak performance won't worry most teenagers, who care even less about torque figures than they care about the FT index.
Instead they will be deliriously happy to learn that this is (almost certainly) a real lOOmph 125. Riding in the approved Mito fashion with chin rattling on the fuel tank and elbows tucked in until your arms ache, you shift from sixth to seventh at ll,001rpm (ratios so close that there's about three rpm difference) and the speedo creeps past 160kph.
Since the stock Mito (26bhp at 10,800rpm) managed a true 97.5mph, we can estimate that this is a serious 160kph, rather than a figure dreamt up by a insanely optimistic Italian speedometer designer.
The youth of today will also be well pleased that the Lawson rep retains the stock Mito's lazy bastard-friendly electric starter and is quite the sexiest 125 race rep on any block, gaining extra cred for the meaningful number seven race numbers and right-on GP sponsorship stickers.
As ever the teeny-weeny motor remains completely invisible beneath the Eddie-clone bodywork and you only get to see the mighty alloy beam frame through a couple of slots cut in the fairing expressly for that purpose.
The only other bit of framework you get to see is the totally trendy banana swing-arm. This slinky, cast device is bolted to a shock which does just that every time you hit a bump. The Marzocchi's efforts (it hides behind a yellow spring, pretending to be an Öhlins) to keep the Mito on course can't be helped by the massive unsprung weight it has to cope with — a wacking great 150/60-17 Michelin wrapped round a four inch rim. Big rubbers are all the rage but even the Mito's nasty little power band isn't going to breathe useful heat into a 150/60 Hi-Sport radial. Even the front end is well endowed with a 110/70-17 Hi-Sport but the right-way-up Marzocchi forks lose the Mito a few credibility points. Surprisingly the ultra-fat rear Mich doesn't dominate the steering at slower speeds and the front end tips into turns rapidly, but not so fast as to induce instant coronaries of the 'Shit, it's not going to stop 'til the fairing hits the deck' kind.
This is the way it has to be because the Mito makes you work so hard to gain every mph on the straight that you won't want to slow down any more than absolutely necessary for the turns. Every moment on the bike has to be invested in keeping the little engine singing around its power peak. Achieve this and the bike is a ball to ride, fail and you'd get more fun out of a moped.
The Mito has other failings too. In its elevation to Lawson status, the bike has not been cured of its built-in Latin glitches: like the gear lever which fouls the sidestand (lummee, I thought only fifties Triumphs suffered such basic cock-ups), the utterly, utterly, utterly useless mirrors, a notchy first gear, plus, without doubt, a few more which I didn't discover while rushing round Varese and its environs trying to impress the luscious Latin lovelies.
Of course the girls had probably seen Eddie Lawson doing a few laps of the town a few weeks before so I was wasting my time. But did he ever get it into seventh gear, that's what I want to know? Because I DID! I showed him, I tell ya, I'll take on that Lawson guy any time, he's all washed up.