Cagiva Canyon 600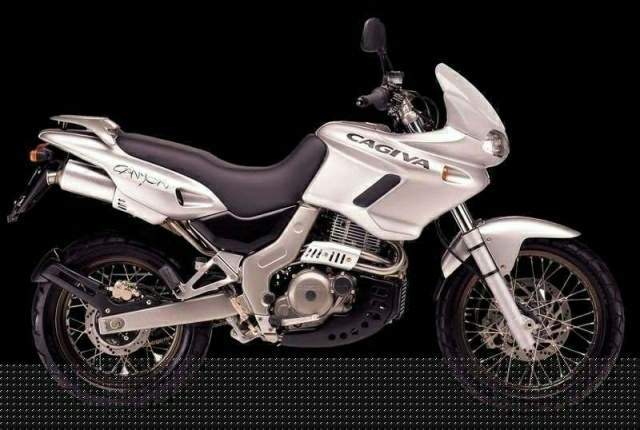 Make Model

Cagiva Canyon 600

Year

1998

Engine

Oil/air cooled, four stroke, single cylinder, SOHC, 4 valve per cylinder.

Capacity

601.4

Bore x Stroke

102

x

73.6

mm

Compression Ratio

Induction

40mm Mikuni carb

Ignition / Starting

- / electric

Max Power

34.1 hp @ 5900 rpm

Max Torque

4.5 kgf-m @ 4750 rpm

Transmission / Drive

5 Speed / chain

Front Suspension

Telescopic forks, 170mm wheel travel.

Rear Suspension

Single shock, 170mm wheel travel.

Front Brakes

Single 296mm disc 4 piston caliper

Rear Brakes

Single 240mm disc 2 piston caliper

Front Tyre

100/90-19

Rear Tyre

140/80-17

Dry Weight

171 kg

Fuel Capacity

20 Litres

Consumption average

21.5 km/lit

Braking 60 - 0 / 100 - 0

14.6 m / 42.7 m

Standing ¼ Mile

14.5 sec / 139.5 km/h

Top Speed

162.9 km/h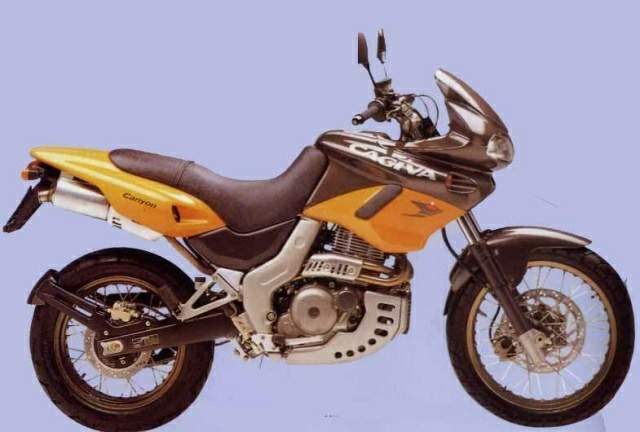 Cagiva has just fired the latest volley in its campaign to develop a complete model lineup. It's the Canyon 600, aimed at the BMW F650 and Aprilia' Pegaso. Those two are liquid-cooled and more modern mechanically, but the Canyon has one great advantage: a flair and a personality that sets it quite apart from its competition. Make no mistake, this thing is a blast to ride. Astounding, since Cagiva offers the Canyon only with the 34-horsepow-er version of its single-cam, air-cooled 601cc T4 motor. Compared with the BMW Funduro's 48 ponies, you might expect the Cagiva to be sluggish and underpowered, especially since it scales a claimed 365 pounds dry.
It ain't sluggish.
Those 34 horses are all stabled right there at the back wheel. Their presence gives the Canyon zestful midrange between 3000 and 5000 rpm. It'll pull okay from below 3000, but 3000 rpm is really the power threshold. Peak power is produced at 6000, and though the engine will happily rev higher before it runs out of breath, there's no real point. In top gear, the engine will just pull 6800 rpm, its red-line, if you crouch forward over the blind windscreen-that's an indicated 102 mph. Even at these engine speeds, there's
only a little vibration through the footrests and none at all through the handlebar, thanks to the engine's gear-driven balance shaft.
The Canyon will retail in Italy, including all taxes, for the equivalent of about $5900. For this sum, you get a 45mm Marzocchi fork, an 11.7-inch front brake with four-piston caliper, the allure of the Canyon's swank bodywork and a very distinctive riding position for a bike of this type. Instead of being perched tall, grasping a handlebar that is dirt-derived, you sit low and forward on the seat, gripping bar ends that are dropped slightly and pulled back. The result is not only an incredibly comfortable stance, but also one that encourages you to ride the Canyon hard and fast.
Equipped with surprisingly sharp steering, the Canyon is rock-solid around fast sweepers, thanks to its 57.6-inch wheelbase and 4.1 inches of trail. That blind windscreen acts as an efficient wind deflector, making 75-mph freeway cruising more comfortable than you'd expect.
But riding that fast is just an excuse to more quickly arrive in the Canyon's natural habitat-twisty hillside lanes or mountain passes. This is where the engine's midrange power comes into its own, and the bike's nimble handling comes to the fore. The Canyon eats up tight corners and mountain hairpins with fluid flickability. The fork and the Boge rising-rate shock offer good ride quality over rough roads, each offering 6.7 inches of wheel travel.
The single front disc delivers absolutely outstanding braking. It's sensitive enough to let you use just a single finger to scrub off a little speed if you enter a corner too fast, but powerful enough to do the job when serious stoppage is called for.
The Canyon features some very clever touches, such as the windscreen that folds out to accept maps, toll tickets and even paper money to pay them with. There'l a superbly designed luggage rack that takes a bungee cord from any angle you want to attach it; the NACA duct in the front mudguard, directing cool air to the oil cooler at continuous straight-line high speeds; and a complete set of instruments that includes a proper fuel gauge. This motorcycle bears all the hallmarks of having been designed by someone who actually rides bikes. And it was. Pierre Terblanche, who penned the Ducati Supermono, also drew this bike.
So, like Tamburini's 916 or Galluzzi's Monster, the Cagiva Canyon bears the signature of a top-class designer. Terblanche has created a bike that stands out in a class that's getting crowded. Already there's the F650 Funduro, the Pegaso, and, on the outer limits, the KTM Duke. None of them are likely to be able to match the Canyon on price, and almost certainly none in allure. But most important of all, the Canyon makes fun out of being frugal, and confirms versatility as a virtue. Less can be more, provided it's done right. The Canyon is.
Source Cycle World 1996