Cagiva SST350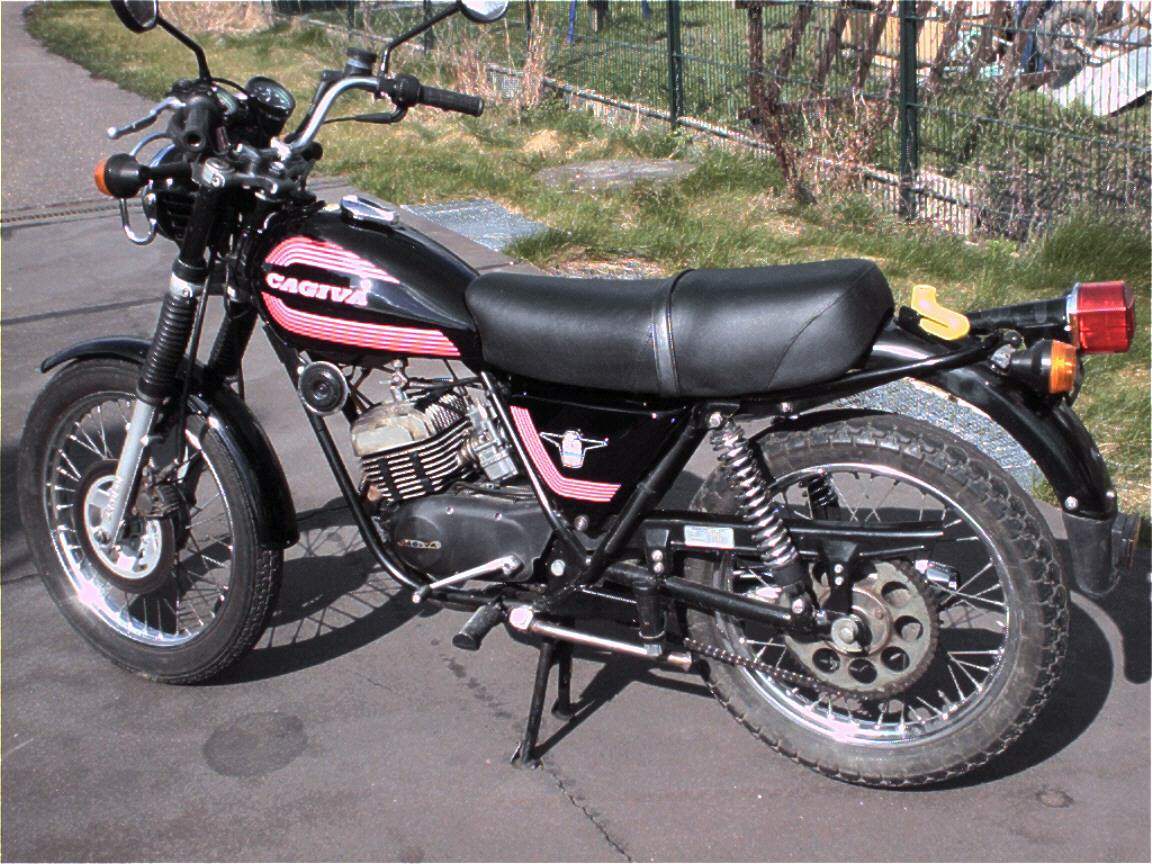 | | |
| --- | --- |
| Make Model | Cagiva SST350 |
| Year | 1979 |
| Engine | Two stroke, single cylinder, |
| Capacity | 342 |
| Bore x Stroke | 80 x 68 mm |
| Compression Ratio | 9.6:1 |
| Induction | 34mm Dell'Orto |
| Ignition / Starting | CDI / |
| Electrics | 12 volt flywheel alt, |
| Clutch | Wet, multiplate |
| Max Power | 27 hp19.7kW @ 5750 rpm |
| Max Torque | |
| Transmission / Drive | 5 Speed / chain |
| Frame | Duplex loop |
| Front Suspension | Telescopic fork, 7.3ins travel |
| Rear Suspension | Adjustable shock 5 ins travel |
| Front Brakes | Single disc |
| Rear Brakes | Drum |
| Front Tyre | 3.25-19 |
| Rear Tyre | 3.75-18 |
| Wheelbase | 5 6.5 in |
| Seat Height | 32.5in |
| Wet-Weight | 131.5 kg |
| Fuel Capacity | 15 Litres |
| Consumption average | 55 mp/g |
| Standing ¼ Mile | 15.7 sec |
| Top Speed | 90.3 mp/h |
The market for large capacity trail bikes seems to be taking off. All the Japanese manufacturers, with the exception of Kawasaki, have big-bore machinery available for domestic consumption but, in deference to American legislation, they're all clean burning 4-strokes. Odd then, that a recent newcomer to the recreational off-road market should be a 341cc 2-stroke, the Cagiva SX350.
To be absolutely accurate though, the SX350 has been imported to these shores before, last year in fact, when it was a Harley-David-son rather than a Cagiva. But precious few were available to the public and since then the Italian factory at Varese has undergone ownership changes and a policy upheaval which includes more attention to quality control. The "new" SX350 is virtually identical in design and specification to the "old" machine, but it is now generally available and so a fresh look at the bike seems in order.
The Cagiva is basically a no-nonsense trail bike but clearly equipped for extensive use on the tarmac, which is what it'll undoubtedly get from most of its owners. In this respect it follows Japanese design/marketing tactics very closely and a cursory appraisal of its specification confirms this. The SX350 has an oil injection system (with an in-frame reservoir), 12-volt battery lighting, a comfortable dual seat and an over-slung exhaust system which really is exceptionally quiet for a large capacity 'stroker. And those are the features that a lot of commuter trail riders will be looking for.
Scratching the surface a little deeper, we find somewhat more fundamental compromises that lie with the SX's ancestry, the SST roadster that the bike was developed from. Both bikes have exactly the same chassis — a well gussetted duplex frame with a wide cylindrical upper member containing the 2-stroke oil and a rugged-looking box section swinging arm resting in phosphor bronze bushes. The steering head angle is fairly steep and there's not a lot of trail which makes for "quick" steering off-road. (The geometry is altered on the SST by virtue of a 19- as against 21-inch front wheel, and in fact the roadster version has an excellent combination of highspeed stability and urban manoeuvrability).
The forks, which are made by Ceriani to Cagiva's specification, are the same on the SX as they are on the SST, which means approximately 7.5 inches of quite firmly damped travel, and the rear shocks, whilst once again of the same spec, in both cases, are mounted further forward on the trail version to allow for more rapid wheel movement.
The only real difference between the two bikes lies with the brakes; the SST has a single disc at the front end whereas the SX sports a 6.3 inch diameter single leading shoe drum which is an exact replica of the rear anchor.
The hidden components betray no such differences, for the SX has an identical engine to the SST. . . and a tough little cookie it is too. Oversquare at 80x68mm bore and stroke, the Cagiva power-plant features a chromed alloy cylinder topped with a 9.6 to 1 head. Chromed bores make for tighter clearances, but when a re-bore is finally necessary, it's time for a new barrel. . . if you see what I mean. Expenjsive, whichever way you look at it. On the plus side, however, the Cagiva has electronic ignition and, as mentioned before, an oil injection system. Both of these .features tend to enhance plug [life and clean pick-up and minimise maintenance.
Primary drive from the bearing crankshaft assembly lis by gears, and the five-speed gearbox is blessed — land in comparison with many other Italian transmissions I do mean "blessed" — with an extremely efficient rotating drum selector and primary kickstart. . . yet another .example of Japanese inclined lengineering, and a very welcome one too.
There's nothing more tedious than getting stuck halfway up a slippery bank or knee-deep in a muddy bog and having jto wriggle the gearshift around to find neutral before the motor can be ignited again.
Even if this was the case with the Cagiva, the bike in fact starts very easily, [whether the engine's hot or bold. The 34mm Dell Orto icarb has a simple on-or-off choke which needs depres-ising only when the engine has been standing for a while, and one, or at most, two kicks on the pivot-cranked kickstart will fire the SX up, no trouble. The charge is sucked through a somewhat vulnerable wire/ fabric filter stuck 'neath a plastic side cover.
The wet, multi-plate clutch is a tad stiff by Jap standards, but no great heave-ho, and its travel is smooth and progressive. Gearchanging is thus positive and neutral can easily be found — there's an indicator lamp to help out, anyway.
Internal ratios are identical for both the SX and the SST, although the sprockets are naturally of different sizes. The SX has a 15 tooth drive cog and a 47 tooth one at the rear wheel, which compare with 17 and 45 a on the SST. Overall reductions are therefore 3.133 to 1 (SX) and 2.647 to 1 (SST). The gearing is, in finite terms, evenly spaced and the 27 horsepower the factory modestly claims for the SX can be fully utilised in every gear, fifth included. Alright, forget the flowery tech jargon — the engine pulls like a train, okay?
It does this without reed-valves, disc-valves or any other tricksy gizmos, and yet it was nigh-on impossible to gas the engine up on overrun. the engine starts torque-ing about 2,500rpm, but will pull from five or six hundred revs lower down, and peaks out at about 7,000. However the bike is not pleasant to ride above 6,000rpm which, in top gear, evens up at 75mph.
That's okay. That's fast enough who's going to buy a single cylinder 2-stroke for road use, because if he's buying it for road use, he's not going to be thinking about running up and down the M4 every day. But, on the other hand, if he's buying a large capacity 2-stroke for scrambling around the countryside, he'll find the SX350's motor exhibits an exquisite balance of manageable power and delicacy of control.
Whilst the throttle action is a little heavy (and the slab-sided twist-grip rubber maybe a little uncomfortable for those with small hands) and the clutch action ditto, the generous spread of torque and the predictable manner in which it makes itself available makes this a peach of a bike to ride up steep hills, through muddy whoop-de-whoos or any situation in which delicate appropriation of power is essential for confident forward travel. In short, the engine has guts, a lot of guts, and the rider has only to ask of them and they shall be delivered. . . exactly to order.
But there's a snag, there's always a snag. In fact there are two.
The first is strange steering geometry which endows the SX with a skittish front end. The bike falls too readily into corners, losing itself if the surface is loose and/or slithery, and it readily wanders off course if you try changing direction on bumpy tracks at high-ish speeds. Slow speeds, trickling around
tree trunks or boulders are fine — the SX steers like a well sorted trials bike. Unfortunately the suspension is an ally of the tight steering head angle in limiting the stability of the bike on choppy surfaces. It bounces around too much, although the damping is sufficient to prevent any bottoming out — except on rare occasions.
The other villain of the piece is a rear brake which is far too sharp and sudden, even on the road, unless you're batting along at speeds in excess of, say, 45mph. Maybe a change of lining, or maybe chamfering off the leading edge of the shoes would improve the situation, either way the cable operated rear anchor had to be used with extreme caution on our test bike and it proved wiser to dispense with it altogether on muddy, downhill sections. The front brake was better, but still a bit snatchy.
So as far as the basic off-road engine performance/ handling equation is concerned, the SX is therefore a flawed package, which is a drag in view of the fine qualities of the engine itself. Perhaps when the Italian company is running a little more viably, they'll get round to building a separate chassis and suspension and a more suitable set of brakes for the SST and the SX, as it is, the off-road rider should be warned that for all but the most mundane trail or green-lane use, the Cagiva SX350 is a bit of a handful. And the 250cc version might be a better bet.
But I don't want you to write the 350 off altogether — it has a lot of redeeming values.
It's light, at 2881bs it's less than its rivals weigh. It's economical — 47mpg overall, with a 2.8 gallon tank that gives it a useful range for a bike of this capacity. It's well finished. It's sturdy. It's comfortable, even two-up (although the pillion footrests are affixed to the swinging arm, so make sure your passenger has supple knee joints). It's got better electrics than most trail bikes (though the CEV switchgear is, as usual, dreadful).
But it ain't cheap, unfortunately. Cheaper than the 500cc thumpers of Messrs.
Honda and Yamaha perhaps, but quite a few bob more than Suzuki's SP370 which on many counts, must be the logical comparison.
So where does Cagiva's SX350 fit into the general scheme of things? Well it's different, that's for sure, and that alone has some currency today. And despite it's Pirelli trials tyres and high ground clearance, the bike makes a more confident (and powerful) roadster than other big trail bikes. Those two factors should alone guarantee the importers, the highly conscientious Mick Walker operation up in Wisbech, a satisfactory measure of sales in the face of some pretty stiff competition.