Cagiva V-Raptor 650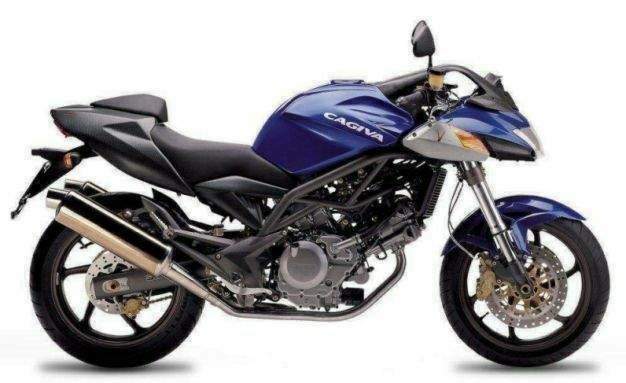 Make Model

Cagiva V-Raptor 650

Year

2001 - 02

Engine

Four stroke, 90°-V-twin, DOHC, 4 valves per cylinder.

Capacity

645 cc / 39.3 cu-in

Bore x Stroke

81 x 62.6 mm
Cooling System
Liquid cooled

Compression Ratio

11.5:1

Induction

2 x 39mm Mikuni BDSR39

Ignition

Digital
Starting
Electric

Max Power

70 hp / 51 kW @ 9000 rpm

Max Torque

63.5 Nm / 46.8 lb-ft @ 7400 rpm

Transmission

6 Speed
Final Drive
Chain
Frame
High strength steel tubular frame

Front Suspension

43mm Upside down forks

Front Wheel Travel
120 mm / 4.7 in

Rear Suspension

Monoshock

Rear Wheel Travel
138 mm / 5.4 in

Front Brakes

2x 298mm discs

4

piston calipers

Rear Brakes

Single 220mm disc 2 piston caliper

Front Tyre

120/70

ZR

17

Rear Tyre

160/60

ZR

17
Wheelbase
1438 mm / 56.6 in
Seat Height
775 kg / 30.5 in
Ground Clearance
165 mm / 6.5 in

Dry Weight

180 kg / 180.0 kg / 396.8 lbs

Fuel Capacity

19 Litres / 5.0 US gal

Consumption Average

21.0 km/lit

Standing ¼ Mile

12.2 sec
Top Speed
204.8 km/h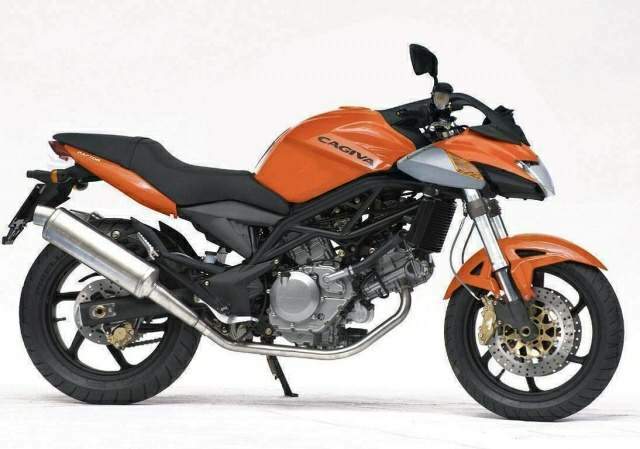 The first street fighters were home-built in England by owners of crashed superbikes who couldn't afford to replace the bodywork of their machines. However, it was the Castiglione brothers, then owners of Ducati, who turned the genre into an art form with the Ducati Monster.

Now they have taken the concept a step further with the Cagiva V-Raptor series, some of the most radical street bikes yet put into series production.

This is one motorcycle that wears its engineering on the outside - so much so that the engine bay, festooned as it is with wires, pipes and cables, can look a little untidy from certain angles, while the styling of the minimal bodywork is angular, even reptilian, in its hunched stance
Now they have taken the concept a step further.
. The V-Raptor certainly looks the part.
Power for the 650 V-Raptor comes from Suzuki's SV650, one of the best middleweight twin-cylinder packages on the market. It's a 645cc L-twin (L-twin rather than V-twin denotes one cylinder facing forward or nearly so and the other just off the vertical). It's way oversquare at 81x62.6mm but will spin safely to 10000rpm and, as set up by Cagiva for the V-Raptor, kicks out a claimed 52kW.

It's fed by a brace of Mikuni BDSR39 CV carbs that offer instant response without too much "slamming door" effect at very small throttle openings and lots of strong, evenly spread mid-range torque.

Top-gear acceleration on the test bike was poor but for once we were riding on the Highveld and you can expect about 17% better peak performance at sea level
Its one failing is a vicious headshake on full-bore upshifts.
.

The clutch is well up to Suzuki's usual high standard. It's light and positive, becoming even more positive when you get stuck in heavy traffic, but refuses to fade or judder. The six-speed gearbox, however, is far tighter than the unit fitted to the SV650 tested some months ago when it was released. The shift action is heavier (even a little clonky), there's some lash in the final drive and the transmission doesn't lend itself to clutchless changes.

Don't get me wrong, it's neither better nor worse than the parent machine, merely different, and reinforces the perception gained from previous Suzuki-powered hybrids that the cog sets made by Hamamatsu for other manufacturers are built to tighter tolerances than assemblies for its own use.

The running gear, however, is pure Cagiva, based on a tubular steel trellis frame that at first glance looks distinctly skinny. A closer look reveals that the tubes are elegantly triangulated in every direction - this chassis derives its strength not from bulky frame members but from its geometry.

The swing-arm is also steel, two lengths of oval tubing with the chain tension adjusters inside them, concealed by neat cast-alloy plugs and tension screws. Once again it's a most elegant solution but as owners of Ducati Pantahs (which use the same system) will testify, if you get any corrosion in there, adjustment becomes well-nigh impossible and taking it apart to clean it is even worse.

The footpeg hangers are strongly styled alloy castings with a sharp-edged triangular motif, reminiscent of lizard scales; the only respect in which form has been allowed to overshadow function is that they won't allow you to ride with the balls of your feet on the pegs in the approved riding-school manner. The pegs are, however, perfectly placed for riding the old-fashioned way and never become uncomfortable.

Front suspension duties are delegated to a pair of 43mm Marzocchi upside-downies devoid of adjustment but the factory settings are a good compromise between initial compliance and firm damping. The rear wheel rides on a Sachs monoshock, adjustable for preload. No matter, the damping rates are ideal for a solo rider who values precision handling above comfort - and if you didn't, you wouldn't be riding a street fighter, would you?

Braking is by courtesy of twin 298mm semi-floating discs and a pair of Brembo four-pot callipers – about industry standard on European motorcycles - because they work. The V-Raptor comes out of the box with braided stainless-steel hydraulic lines and a decent-sized master cylinder, giving effortless two-finger braking even under extreme circumstances, with superb feedback for pinpoint control. The rear brake is a light twin-piston unit on a 220mm platter and I only used it for hill starts.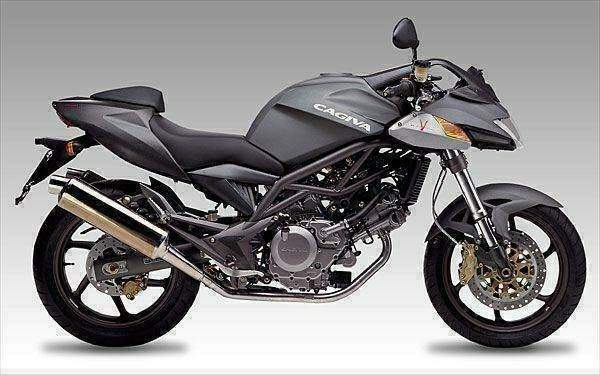 As strange as the bodywork may look, it is surprisingly comfortable. The wide, flat handlebars position one's hands well clear of the ornamental plastic arches over the steering head to the top of the pointy headlamp cover, while the curved fuel tank is narrow where it matters.

The driver's seat is not only narrow but also too curved. Rather than spreading body weight over as large an area as possible it's concentrated on the points of the pelvic bones, causing considerable discomfort after a couple of hours riding. To be fair, the V-Raptor is not intended as a tourer and the shape does lend itself to rapid hip shifts for hard cornering.

The pillion is not too good either and seems to be meant for small, supple passengers (Cyril says the word is lissom but I refuse to be sexist).

The front of the bike looks distinctly reptilian, its lines converging to a beak-like point. Even the front indicators are built into angular little pods with the compact triangular instrument panel between the crests. The fascia is a design triumph with the tacho and digital speedometer clearly legible.

Better still, the meat of the torque curve falls around 7000rpm – and that's when the tacho needle points due north – keep it there and you'll have all the grunt you need.

The V-Raptor is rock steady under nearly all circumstances and holds its line through a long sweep thanks to its 1440mm wheelbase but in the tight stuff, especially cutting through city streets, it'll change direction like a terrier after a rat thanks to a steep steering head angle and forward weight bias.

It has a vicious headshake on full-bore upshifts but is reassuringly stable under braking and feels much more nimble than the litre-class naked cannons. It's perhaps the ideal bike for the commuter with attitude – and, thanks to its taut chassis and accurate steering, it'll give most middleweight sport bikes a go on the Sunday morning twisties.
Source By Dave Abrahams January 15, 2002