Drysdale 1000 V8 Cruiser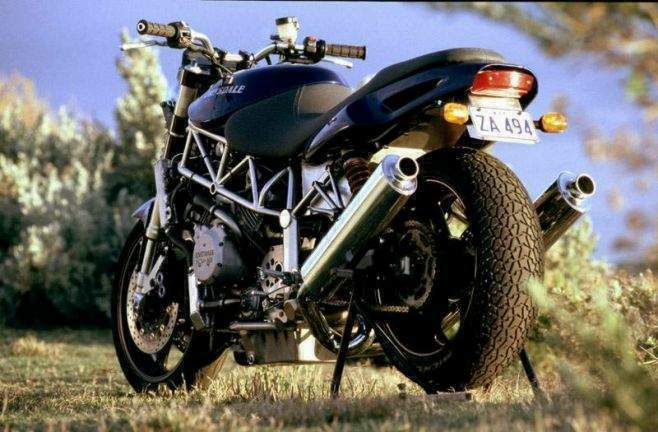 Aussie motorcycle visionary Ian Drysdale is at it again, this time producing a V-eight musclebike - the Bruiser. And it's out to out-monster Ducati.
Story Alan Cathcart, Photos Kel Edge & Phil Smith
It's taken the best part of three years to finally get built, but the latest of 43-year old Australian bike visionary Ian Drysdale's multicylinder motorcycles, using his established DOHC 32-valve 90-degree V-eight powerplant which is now fuel-injected, is at last cruising the streets of suburban Melbourne, looking for trouble at traffic lights and fisticuffs on freeways.
For instead of the 750-V8 Superbike which preceded it, Drysdale's new maxi-bike is the two-wheeled equivalent of a nightclub bouncer, the Bruiser mega-Monster - a naked roadster prototype set to form the basis of the most exclusive, most muscular and potentially most performance-packed customer cruiser for sale anywhere in the world.
For the new Drysdale V8 is the ultimate road-legal ultrabike for rich urban bikers, since anyone capable of writing a cheque for upwards of $70,000 can now join the three-deep waiting list to buy a handmade solution to that 17-year question: how do you out-max a Yamaha V-Max?
Well, one look at the latest model in the Drysdale V8 line-up answers that question, and though the day I spent riding it in 750cc prototype form gave only a partial clue as to how dominant it'll be in the traffic-light GPs once Drysdale completes concocting the 1000cc guise in which all Bruisers will be sold (delivery of the first of the trio of bikes Drysdale has already sold in America, to a New England lawyer), the dynamic part of the performance equation looks set to be resolved, too.
Ian Drysdale won't admit it, but one reason the prototype Bruiser was wearing a chunky, part-worn wet-weather Michelin race tyre for me to hustle it through the bush and into town for a touch of tucker and a nice cuppa tea, could well be that its rear-tyre consumption had outstripped the stock of Dunlop D208 supplies held in the Drysdale Motorcycle Company's Melbourne factory.
When I became the first person outside the Drysdale Motorcycle Company test team to throw a leg over the barely completed 750-V8 sportsbike at Calder Park in June '97, it provided a hands-on appreciation of the Drysdale team's drive in making such a complex project achieve reality, as well as underlining the probable potential for limited-production manufacture of spin-off versions. Almost five years down the road, the final specification of the Drysdale V8 Bruiser road model has crystallised.
With cruisers and naked roadsters dominating sales charts around the world, it was almost inevitable that the Drysdale V-eight engine would end up powering such a bike, as the man himself explains. "We had lots of response from all over the world for the 750-V8 sportsbike," he says, "but literally dozens of potential customers, mostly professional blokes in their 50s in the USA and Britain as well as Australia, told me they'd like to place an order, but only for a more chilled-out version with a less uncompromising riding position.
"One of them rode the Superbike, and said it was all very well and he really liked the engine, but at 50 years of age he didn't really need to visit a chiropractor for a week as the payback for going for a Sunday-morning ride!"
Several of them also said that if they were going to spend around $80,000 on a motorcycle, it had to have a passenger seat so they could take their wife on the back - else they wouldn't get clearance to buy it in the first place!
"So, that's what I've developed - basically the same mechanical package as the 750-V8 but with a 1000cc motor, a twin-shock chassis with a more laid back riding position, and facilities for a pillion.
"We'll be building two distinct models, on both of which Duncan Harrington did the styling - the same guy who designed the Superbike for us," continues Ian. "One is the Bruiser, with an eight-into-two exhaust system, six-speed gearbox, cast wheels, flat bars, semi-rearsets and more aggressive styling, aimed at out-Monstering the V-twin Ducati, but with a V-eight engine. The other model is the Cruiser, which will feature wire wheels, eight separate exhaust silencers, a five-speed gearbox, forward-mounted footpegs and pulled-back handlebars.
"Although both models will be similar mechanically, the fact we're adopting fuel-injection as standard means we can remap the Cruiser to give more relaxed performance - though still with the ability to get up and go when called upon.
"Not surprisingly, we've had a lot of interest for these models from the USA and Japan, as well as Australia - we had three customers sign up even before I built the first prototype, and I'm almost at the point where I can start making them in batches of six, which would bring significant cost benefits, and thus lower the price for what after all will still be a handbuilt motorcycle."
The Bruiser prototype uses an all-new twin-shock lowrider version of the 750-V8 Superbike's tubular steel spaceframe chassis, with a 700mm seat height and more kicked-out geometry, including a slightly longer 1430mm wheelbase and 26-degree fork angle, though this can be adjusted to suit individual taste, via eccentric inserts.
The TIG-welded tubular steel spaceframe is built from ERW mild steel (less prone to stress fractures than chrome-moly, says Ian), with Ducati-style triangulation on the side spars and a Kawasaki ZZ-R1100 alloy swingarm, with the engine forming only a semi-stressed underslung component.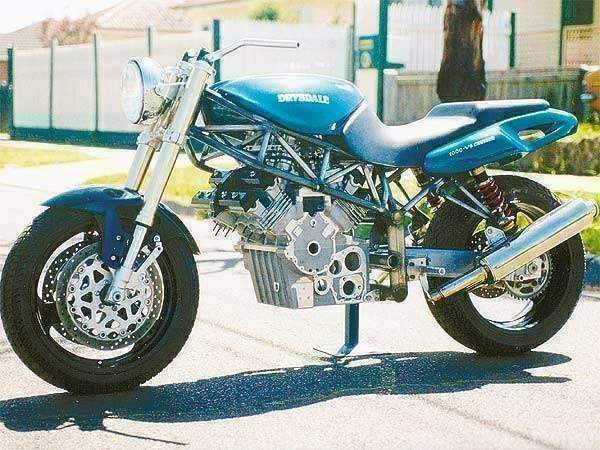 R1 Yamaha forks, wheels and brakes are used on the prototype, but by its very nature the Drysdale V8 Bruiser is a bespoke bike, leaving each customer to determine its exact specification - though in keeping with such an expensive piece of high-tech hardware, Drysdale is encouraging early customers to opt for Öhlins/WP upside-down forks and Brembo brakes, to acccompany the multi-adjustable high-end Penske twin shocks used on the prototype.
In spite of the twin frontal radiators used on the Bruiser, replacing the under-seat rad of the 750-V8 Superbike, Drysdale says he's held the weight of the finished Bruiser down to just 206kg dry, with only a slight rearwards weight bias - pretty remarkable for an eight-cylinder motorcycle. "We may downsize the radiator area on future customer bikes," he says, "but with the lower one mounted behind the exhausts, I decided to play it safe for hot-weather use."
Now it was time to thumb the Bruiser's start button and ask the Kawasaki ZZ-R250 starter motor to go to work, spinning twice as many cylinders as it's used to, before the engine finally fired up and settled down to a trademark V-eight burble at low revs.
But then, as I blipped the throttle to make it sing, I realised this has a far lighter action with a more controllable response than the eight 32mm Keihin racing flatslides Ian had fitted on the 750-V8.
These had a very slow pickup, caused by the heavy springs needed to overcome the massive suction effect of those eight cylinders - there was no way around the fact that eight separate throttle slides had to be opened at once, and that took a lot of effort, making development of a compatible EFI package a priority for the V-eight streetbikes.
The Bruiser is now fitted with a much more precise-feeling, Aussie-developed MoTeC fuel-injection system, which also reduces emissions and improves fuel consumption, two critical factors on a bike with so many cylinders.
The EFI package features a fully-mapped MoTeC ECU matched to fuel hardware from a BMW K100 comprising eight 34mm BMW/Bing throttle bodies, and a single Bosch injector per cylinder located beneath the throttle butterfly on each Bing, so resulting in a controlled pickup from a closed throttle.
However, the EFI's mapping hadn't yet been dialled in properly on the 750-V8 Bruiser when I rode it. This meant that the bike was reluctant to pick up cleanly from down low, and needed coaxing into the powerband via a bit of clutch action, just as I remember the V8 Superbike racer needed to be out of a slow turn, thanks to the lack of inertia from the milled-from-solid crankshaft weighing just 5.5 kg.
However, once it's revving above the 4000rpm power threshold, the muscular, lumpy V-eight motor picks up revs effortlessly, before smoothing out at higher rpm to deliver its haunting, high-pitched, but muted howl. Tapping the gearlever at 13,500rpm to hit a higher ratio on the extractable, cassette-type, six-speed cluster, leaves the engine still squarely in the meaty power band and running as smooth as silk.
Though mine was just a short preliminary ride as a preview to a full-on test in 1000cc form, I reckon few motorcycles in the market will offer such a stirring combination of soul and sensitivity as the V8 Bruiser in customer guise, because there'll be even more muscle and more than adequate performance from the multicylinder one-litre motor.
In response to feedback from all those potential customers, the low-slung V8 Bruiser has a quite different stance than the sportier Superbike, with a lower rear ride height and kicked-out front end making ground clearance a serious issue when combined with the new 8-4-2 exhaust system, which sees the pipes running down along the side of the engine, rather than up high as on the racer.
The Bruiser is quite the opposite - lean it over much more than 30 degrees from upright and get ready for the sound of scraping steel: this is mainly a point-and-squirt motorcycle, reflecting the likely Drysdale customer base. However, to suit requirements, the rational riding position is excellent, thanks to the sensible decision to copy the Ducati Monster's proven dimensional layout, and even to fit the Bruiser with an M900 handlebar.
This gives the Drysdale just the right semi-upright but still purposeful stance, and though I was conscious of a very wide engine sitting between my legs, the Bruiser still feels quite compact and allowed me to feel a part of the bike, rather than perched atop the cam covers of a small-block V-eight motor. Feels nice.
It also brakes and steers pretty well, too, within the context of the restricted ground clearance - Ian's got the chassis geometry right by the way the Bruiser holds a line well both on and off the power, and the multi-adjustable Penske shocks give surprisingly good ride quality for a twin-shock rear end, as well as putting the power delivery to the ground predictably. However, I can't help but think the way the bike handles will come a long way down the list of priorities for Bruiser owners, who'll be more seduced by the melodic music of that V-eight engine, and by the fact that the MoTeC fuel injection makes the bike so much smoother and easier to ride than the carbie version - and above all, let's face it, by the way it looks.
Gazing at the V8 Bruiser, leaning at rest in what little sunlight remained in a bush sunset, was to acquire a new understanding of the term 'musclebike'.
If Ducati ever builds a four-cylinder Monster streetrod incorporating a production version of its forthcoming V-four GP engine, its target will be to make the result look at least half as power-packed and purposeful as the Drysdale V8 Bruiser.
But the Down Under mega-Monster is here and now and waiting for customers, albeit those with platinum credit cards and lots of zeros on the end of their bank balances. Hope it finds them...
Source Bikepoint.