Drysdale 750 V8 Superbike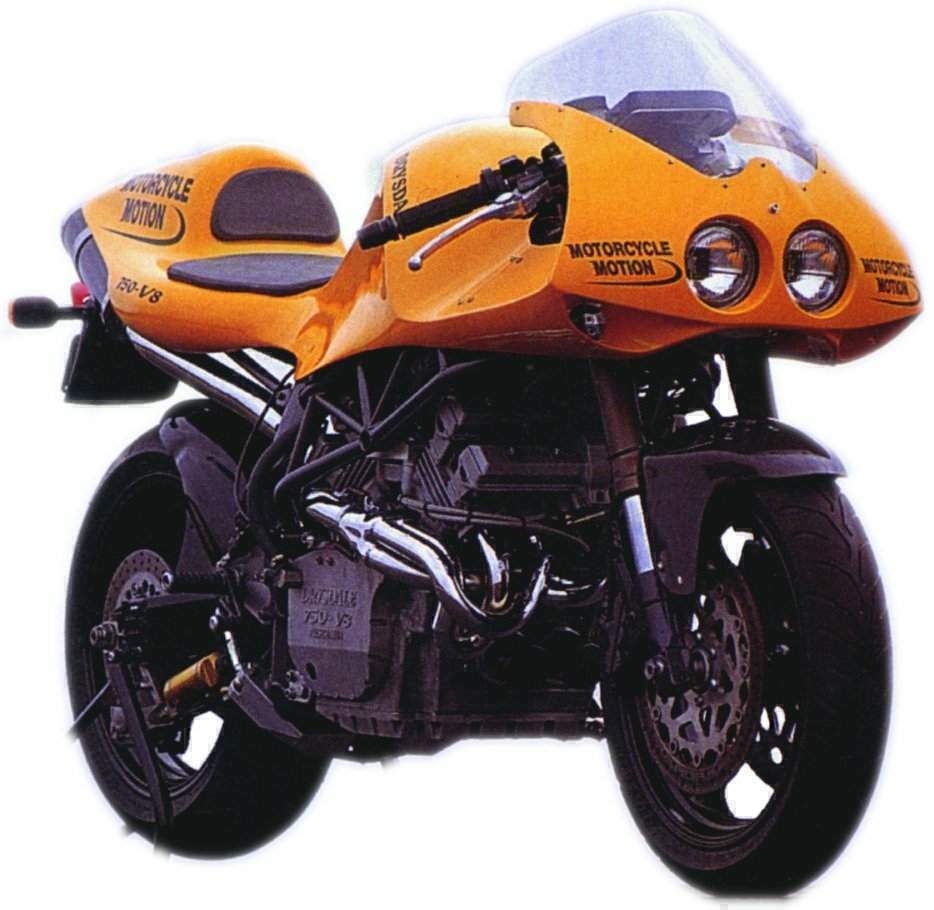 Design Features
To build a road legal factory racer- the highest performance motorcycle that could still be ridden to the corner shop for a loaf of bread.
2. To build a unique machine but still with worldwide parts availability - this has been achieved by utilising wearing parts from existing motorcycles where it didn't compromise rule #1.
3. To allow ease of maintenance either at home or at the track. Both the heads, the clutch, the gearbox, the alternator and the waterpump can all be removed with the engine still in the frame -the last four don't even require the removal of any bodywork.
The decision to use the cylinder head from an existing 4 cylinder engine was one of the few times that economic reality overruled engineering innovation. There is little chance of selling a hand built special (particularly overseas) if the buyer has no chance of buying spare parts in the event of Drysdale Motorcycles ceasing to produce the 750-V8 for any reason. Most of the critical wearing parts in the 750-V8 can be purchased through any motorcycle dealership - guaranteeing worldwide parts availability.
Ian has no illusions about the economics of motorcycle production - even at the estimated price of AU$70,000 ( US$50,000 ) he still intends to build minimum batch runs of 5 or 6 at a time to make the venture profitable. He has managed to run a successful engineering business for 10 years with its ups and downs - and still find enough spare time ( and funds ) to develop several radical motorcycles.
The demand for 'upmarket' motorcycles worldwide is extremely strong with buyers willing to pay a premium for individuality and high performance - in these two areas the Drysdale 750-V8 will be unsurpassed.
Engine:
750cc watercooled 8 cylinder, 90 degree vee configuration, bore and stroke 56 x 38mm, 'Flat' (180) crankshaft design, 6 speed close ratio cassette-style gearbox, 4 valves per cylinder, 17,000 rpm redline (race motors 19,000rpm), 120 kW power output projected.
Crankcases: Designed and machined in house by Ian, pattern by Neil Kilner of Accurate Patterns, casting by Magnesium Technologies (Cast in high strength aluminium alloy).
Crankshaft: Designed and machined (from billet) in house, grinding by Omega Cranks
Heads: Modified Yamaha FZR 400
Induction: 8x 32mm Keihin flat slide carburetors, Motec EFI currently under evaluation using F1-style rotary spool throttle bodies of Drysdale's own design and construction and Bosch injectors.
Alternator: Kawasaki ZZR 250
Gearbox: Modified Yamaha/Kawasaki
Clutch: Modified Suzuki/Yamaha
Water pump: Kawasaki ZZR1100
Oil System: Modified Honda CB 1000
Frame And Bodywork:
Frame: Designed and fabricated in house, TIG welded ERW tube, oval tube was custom made to Ian's specifications.
Bodywork: Designed by Duncan Harrington (email: dunk69@tpg.com.au), to be laid up in carbon fibre by specialist supplier.
Colour: Any color you like as long as it is orange.
Exhaust: 8 into 2 system fabricated in house (a nightmare), to be supplied by specialist manufacturer.
Mufflers: Carbon fibre specials by Black Mamba.
Forks: Yamaha YZF 750 (prototype), White Power and Öhlins to be evaluated for production models.
Wheels: Yamaha YZF 750 (Prototype), Marvic, Marcheseni & Dymag to be evaluated for production.
Brakes: Brembo / Lockheed to be evaluated for production.
Swingarm: Modified Kawasaki ZZR1100 (Prototype only) features hydraulic chain adjustment, fabricated in house for production models.
Rear Suspension: Modified White Power damper mounted in unique under slung manner, cross frame linkages designed and fabricated from billet in house.
Electronics:
Ignition:Vance and Hines 'Powerpack', to be replaced by MOTEC engine management system.
Dash: PI Systems LCD display data logging system, likewise this will be replaced by the MOTEC display once the system is installed and tested.
Source Drysdale V8