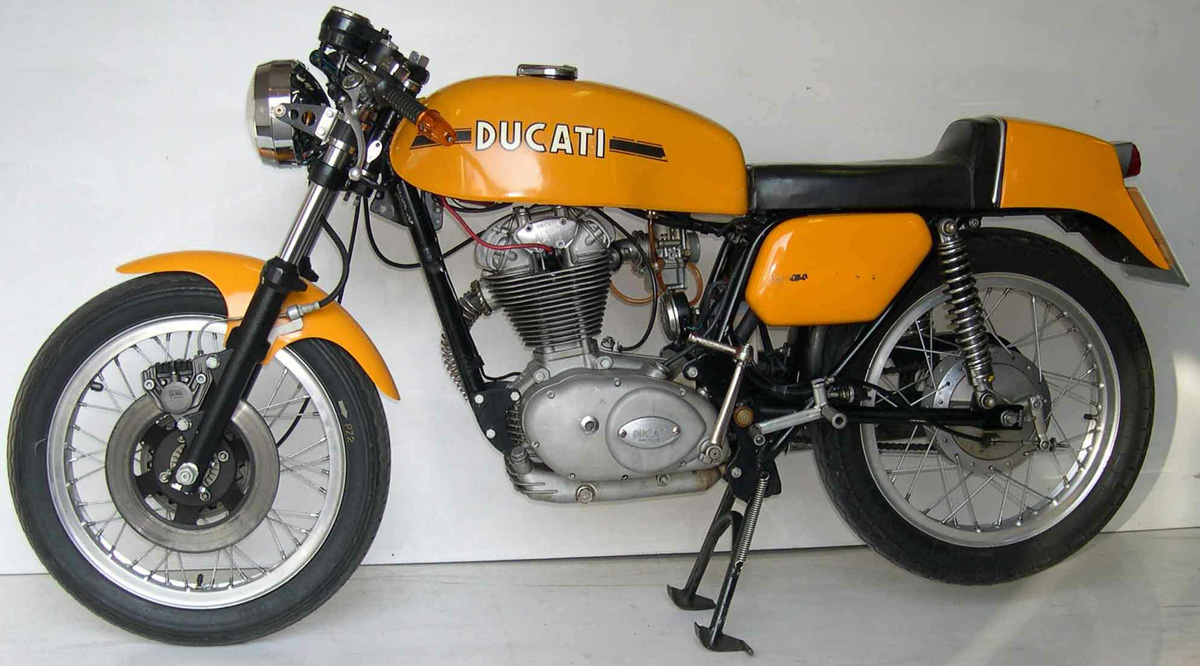 Desmodromic Emerges
The narrow case Ducati single cylinders were selling well and known worldwide through out the decade. Later in the decade when Ducati introduced the wide-case production models they represented the pinnacle of Ducati singles for the times. A single camshaft that was driven by bevel gears characterized the wide-case Ducati motorcycles.

As a direct descendent of the narrow-case family, the Ducati 250cc and 350cc versions of the wide-case models were first produced in the spring of 1968. The Ducati 450cc was added in the following year. The performance and elegant mechanics of the motorcycles immediately caught the attention of motorcycle enthusiasts worldwide.

Perhaps the most famous wide-case Ducati was the Scrambler. The Ducati Scrambler motorcycle sold tens of thousands around the world, leading to its legendary status. The fast and agile Ducati Mark 3 sports model was soon joined by the Ducati Mark 3D - the first Ducati with the now famous Desmodromic valve gear on a production model.

The word 'Desmodromic' is not actually derived from Italian but rather from two Greek roots, desmos (meaning - linked) and dromos (meaning - track). The Ducati Desmodromic system is unique in that the valves are positively closed and opened by a cam and leverage system, rather than relying on standard valve springs. The same basic Desmodromic layout continues to win world championships today and is deeply seated in the Ducati Brand identify.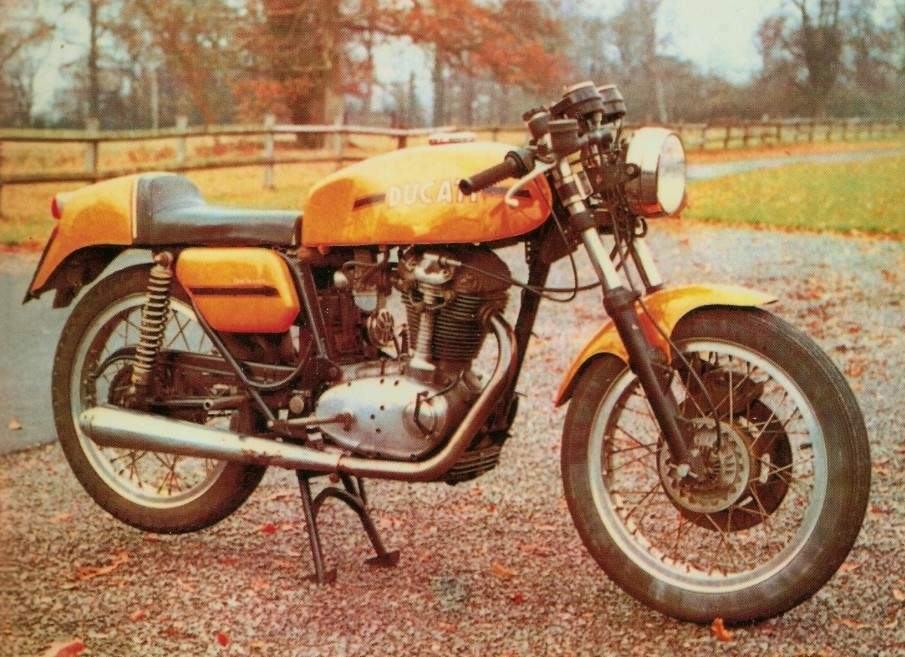 Bike review 1974
Ducati 350 Desmo vs Honda's CB360 vs Kawasaki S3
IT WAS TIME to come down to earth a little. For the past two issues, the bikes in our main Giant Tests have been 750s or bigger — the Harley and Ducati V-twins in April/May, and the Dresda Suzy, Read Honda and John Player Norton cafe racers in June/July.
So for this first monthly issue, we thought we'd go for something a little nearer the average biker's pocket — the middleweight 350 cc class, which in any case is enjoying newly revived fortunes. About ten 350s are offered on the UK market these days, and for this test we came up with a single, a twin and a triple — now you can't beat that for variety in a comparison shoot-out.
Representing an almost extinct breed of motorcycle — the sporting four-stroke single — came Ducati's 350 Desmo. They're an independent band of thinkers at Ducati, make no mistake, for they're unique in producing bikes with desmodromically operated valves, they've had the gumption to press ahead with their big V-twins in a multi-cylinder minded world, and now here they are still messing with big singles. As we've said before, good luck to 'em for keeping much needed diversity in motorcycling.
The test bike is actually the personal mount of Mick Walker, the arch Ducati enthusiast from Wisbech, and one of a growing number of dealers kind enough to loan machinery to Bike. For a twin, our choice settled on Honda's CB360, a new model which bears little mechanical resemblance to the previous 350 cc model.
And finally, we Inter-Citied up to Nottinghamshire to collect another new one, Kawasaki's S3 400 cc triple, from Davick Motique, whose sympathetic shoulder we've leaned on many times before when seeking test bikes. No, they don't send us a case of Scotch every week, it's just that they hold an enlightened and all-too-rare attitude towards offering demo bikes to would-be buyers. These are the 'machines they loan to the press, and of the many times they've done so, not one has been dropped. So that's one in the eye for wary dealers who think that motorcycling pressmen are just crash-happy speed freaks.
But on with the testing ...
CONSIDERING that it comes from the world's number one motorcycle maker, the Honda at first seemed to me like a dismal flop. It's not an exciting machine to look at, in fact its appearance is positively staid and chunky. And initial riding impressions seemed to confirm that it was indeed an all-round uninspiring motorcycle. It was wet when I collected the 360 from Honda's Chiswick HQ, and it stayed that way all the way home, so I wasn't using much throttle. The performance seemed only just adequate, and in fact the whole bike seemed a bit of a bore.
But the next day, on dry roads, early impressions began to fade. I realised I'd been making a mistake common to many people when they jump on a Honda — failing to appreciate the immense rev range. In the wet I'd been changing up at five or six thou, but using the remaining 3,000 rpm it's red-lined at 9,200 — transformed the performance. It turned out to be a really quick bike, as the top speed of 101 mph demonstrates only too well. Four-stroke torque made it even quicker off the line than the Kawasaki in acceleration tests, although better top end power made the S3 faster through the standing quarter.
You might suspect that Honda have pulled that old trick of simply boring out an existing model, in this case the 350, to produce an allegedly "new" machine. Not so. Much original thinking has gone into the 360, making it a very different bike from its predecessor. The most obvious change is the addition of a sixth ratio in the" gearbox, but there's much more.
A revised top end simplifies servicing, and means that an entire top end job can be done without lifting the engine from the frame. Servicing intervals themselves — apart from engine oil changes at 1,500 miles — have been trebled over earlier models to 3,000 miles, a car type practice that's long overdue in the bike world.
The chain driving the overhead camshaft is now tensioned by a slipper device instead of the roller wheel formerly used, and a tro-choidal oil pump — you know, one of them things with rotors and chambers, sort of like a Wankel engine — replaces the old plunger unit. The gear on the back of the clutch is made by a new process involving powdered metal subjected to heat and pressure. No machining of the teeth is necessary — it's another of those Japanese labour saving tricks that our own industry needs so badly.
There's a new all-tubular frame, a longer swinging arm and frame, and a host of little detail improvements that would take a lot of space to describe fully. Examples: the pilot screws on the carbs are fitted with res-trictors to prevent would-be Yoshimuras from buggering up the carburation completely; and the indicator switch is spring-loaded so that for rapid.lane changing or passing you don't have to flick the button all the way over. Just nudge it for the required time, remove thumb and the switch darts back to neutral — neat.
The more I rode the Honda, the more I liked it. Oddly enough, some biting comments have been made about the 360 both here and in America, where the old 350 has been Honda's biggest seller for several years. I can't really follow the criticism, as the 360 struck me as a really versatile bike. It's mild-mannered enough to make a good commuter machine, when you need to rush you can get there by using all those revs and gears, it'll hum along at 80 all day on motorways, and you can't complain over a fuel consumption that will rarely fall below 50 mpg.
Is the six-speed tranny just a sales gimmick? It's hard to tell if the bike would be as quick with a five-speed box, but certainly there's a use for all six ratios. Top gear, for example, is properly matched to engine power so that you don't have to change down every time you face a gradient or a head breeze.
Don't expect, incidentally, to keep reaching the ton just because we, little smartasses that we are, did it through the speed trap. That was set in very favourable conditions with the motor chattering in the red at ten grand, and the rider flat on the tank. The 360's bars are moderately high, and they'll keep you below 90 under most conditions. At the 80 mph at which the Honda cruises so nicely, you've got around 2,000 rpm in hand.
One new feature which is definitely not a gimmick is the front disc brake. It's one of the best you'll find, because not only is it strong, but it's got that elusive quality, a measure of "feel" coming through the lever. Combined with good Bridgestone tyres, the disc helped to give that rare combination, a Japanese bike on Jap tyres that felt safe in the wet.
I even took the Honda to the TT, which is quite something really, because sponging pressmen usually try to borrow flash 750s and 1,000's for mincing along the Prom and out to the Highlander and other favoured spots for consuming their ration of Okell's ales.
On reflection, I'm gladder still that I didn't have anything super-quick in the Island, because it avoided any temptation to join in the more lunatic riding that was going on in abundance over there this year — two dead and 30 injured was the Mad Sunday toll, I believe. Living's just too sweet to chuck it away that easily.
Because the Honda is an all-rounder, it has compromises, and that in turn means it has some fairly serious faults. The word's already going around that the 360 is a vile handler, and this is one rumour that's correct. On a bumpy road, you'll begin to feel like Mert Lawwill fighting a Harley with worn shocks round an ill-prepared flat track. The thing bounces and lurches in ever increasing arcs until you just have to roll it off. If you really push it, the bike starts to graunch its carcass when cranked over as the suspension compresses, and the warning bells really start to buzz in the self-preservation department of your mind. On a smooth road, the 360 handles all right, which points the finger of suspicion at that old Japanese bogey, rear shocks.
Just like a British vertical twin, the Honda's got a 360-degree crank, and just like a British twin, it vibrates. This probably explains why two or three bolts disappeared during the test, including one from the rear brake torque arm, which caused a hectic moment for Mr Haylock when slowing from one of his ton-up runs during speed tests. He took it coolly though, dismissing it with a simple, "F-----' thing," before wandering off to his beloved Ducati.
The riding position isn't all it could be, either. While the height and width of the bars is not too extreme, they still make you act like a sail in strong winds, and the foot-rests are located too far forward. So that familiar aching-arm sensation sets in after an hour or so of motorway runnning.
The tank capacity brings you in for fuel every 80 to 100 miles, and as this is a middleweight motorcycle with a lot of stamina, I think that's just not far enough. One wonders whether the designers who put so much technological skill into the internals of modern motorcycles ever ride the goddam things more than ten miles from the factory gate. If I've got a long run to do, I like to jump on and go, without stopping every few miles for cups of tea, petrol, wee wees and the like. The Honda should be able to go at least 150 miles before the tanks runs onto reserve.
That old favourite, lighting, takes up the final major moan. On the Honda, it's just not good enough.
Yellow-backed toady I may be, but I didn't feel safe at night at over 60 on ordinary roads. This kind of thing is dangerous, because there's always the occasion when you're hurrying for some special reason, and it's so easy to get tempted into riding faster than your lights will reach. It only needs a broken down unlighted truck to be stuck there, and powee, you've added to the accident statistics. Instead of pussyfootin' around making everybody put their gear levers on the same side, Yank legislators could do some real good by investigating motorcycle lighting. But maybe we shouldn't encourage 'em at all.
Much as I liked the 360, I couldn't help thinking what a fantastic little scorcher it would make with some of these relatively easy to solve problems sorted out. Flat bars, better sited footrests, a bigger tank, and, most important, proper handling, would make a world of difference. You wouldn't really need to spend money on the excellent engine.
But there, it's doubtless been designed as an all-purpose bike, and that's what it is. It's like a fully up to date version of the Triumph 21, and even with its several inbuilt faults it's good enougn to satisfy a lot of people.
Mike Nicks
WHEN CURIOUS Europeans first set foot in far off Eastern lands they came back with weird stories of people jetting about on magic carpets and the like. Of course, the folks back home wet themselves laughing and said those intrepid adventurers had been in the sun too long, or had pickled their skulls with too much rice wine. And so the stories remained a myth. But had Kawasaki been around in those days the doubting cynics might have been convinced. Because their new 400 cc S3 is the nearest thing to a magic carpet to have come from the mysterious East.
Although even the ad men would hesitate to claim that the Kawasaki is a product of sorcery, it certainly is spell-binding to skim along just above the ground at the ton and feel like you're riding on air. with only the rushing wind in your ears to tell you you're really moving.
The two-stroke triple's smoothness and effortless speed is uncanny. It's just a pity Kawasaki haven't come up with some wizardry to turn the oceans into 92 octane juice, 'cause you've got to accept that you're going to be poorer trying to satisfy the Kawasaki's voracious thirst. It's a great shame because that's the only fly in the ointment — although it's more like a damn great hornet because a fuel consumption heavier than a lot of four wheelers is a nasty sting in the tail of what would otherwise be an almost perfect medium capacity bike. For this new Kawasaki ought to completely shatter the reputation the breed has had in the past as ill-tempered, ill-handling brutes. When the first of the 500 Kawasaki triples reached these shores back in '69 it frightened people. Partly because nobody had experienced a road going 500 with power like that, but there's no doubt that the engine was vicious and the bike wriggled like an eel.
The S3 is an entirely different animal though, because it is developed from the 350 cc S2 which did not display the same fire-breathing traits as the 500. Kawasaki bored the 350 engine out by four thou to make it 400.4 cc and tamed the motor down slightly so that with the extra cubes it still produces around the same power. The result is an even more pleasant and even-tempered power unit. True, there's still not a lot of fire in the motor below 6,000 rpm, but it produces smooth torque down to about 3.000 and it doesn't come onto the power-band with a bang that'll land you on your backside on a wet road.
Perhaps I'm a cynic, but I used to believe that the Japanese were incapable of producing a fast bike with handling to match its performance. But thankfully Kawasaki have proved me wrong, because compared with the abysmally low general standard of roadholding of most Jap bikes, the Kawasaki is superb.
Judging it by the same exacting criteria that we used for the Ducati shows some flaws in the handling, but then most bikes would never stand up to such critical appraisal. But I never once felt unsafe on the Kawasaki, even though when really scratching it round fast bends the back end begins to wallow. It sticks to the line it's pointed on and there's none of the heart-stopping pogo action we've come to expect from Japanese machinery on bumpy bends.
The only time it gets at all unpleasant is screwing it on in the wet when the back end starts to wriggle, but that's more than likely due to nasty Japanese rubber. It calls for a light right hand, so it's just as well the engine isn't so fierce. Of course if the throttle is snapped open too hard while coming out of a slow bend things get lively, but then no bike maintains equilibrium too well with only one wheel on the deck. Certainly the Kawasaki has to be treated with more respect than is normally given to a bike of its size, because it's so much quicker.
Until you get used to instantaneous reaction as you grab the throttle, the impromptu wheelies can be exciting. The Kawasaki was the fastest of the three bikes by quite a margin. The standing quarter time of 14.48 sees isn't much slower than some 750s, and top speed was well over the ton at 108.2 mph. It is capable of cruising at 90 quite comfortably, but the Kawasaki is most fun when you're exploiting that incredibly smooth and rapid acceleration and its secure handling along twisting roads.
Braking, by an 11 inch disc on the front, is pretty good, although hard lever pressure is needed. But the back brake doesn't contribute much, as it lacks power and is insensitive.
A comfortable riding position greatly enhances the feeling of security inspired by the Kawasaki's handling. The seat is comfortable, for the driver at least, but the slope at the back means a passenger tends to slide forwards all the time. It's OK for a cheap thrill with a bird on the back, but can get distinctly worrying if your passenger's a fella
Bars aren't the neat flat pattern as fitted to the S2. but they still make a reasonable compromise for hard travelling. The Kawasaki is a real joy to ride on a long journey because it's comfortable and vibration free. The only trouble is that ridiculous fuel consumption. During an enjoyable 500 mile ride to the Lake District and back we made a special note of fuel consumption to see how the Ducati and Kawasaki compared at identical speeds under identical conditions. Cruising down the Al at a steady 70-80 mph the Ducati was managing a thrifty 70 mpg. while the Kawasaki gobbled juice at the rate of 27 miles to every gallon. Believe it or not, there's worse to come.
On a good hard 90-plus thrash up the Al the consumption dropped to a sickening 24 mpg. With the present inflated price of petrol it really hurts to pour so much of the precious stuff down the Kawasaki's voracious gullet. With a really steady throttle hand consumption figures approaching 40 mpg can be achieved, but what's the point in buying performance if you don't use it?
Not only that, it gets a real drag having to stop every 60-odd miles to tank up. Fuel capacity is just three gallons, but with a thirst like that you don't wait until the tank is almost dry before filling up again. That ludicrously short range is a worry at nigtjt as open petrol stations get sparse, and it slows the average speed of a long journey considerably with the frequent stops. It's going to put off a lot of potential Kawasaki buyers, and what's more it doesn't make a good case for motorcycles just at the time when the economic and environmental advantages of two-wheelers could entirely change the attitude of society to motorcycling.
The trouble is, that to get efficient scavenging, potent two-strokes gulp in such quantities of gas that a large proportion of it goes straight down the exhaust ports without being ignited.
That wastes fuel and pollutes the atmosphere. In achieving efficient breathing the engine is in fact being extremely inefficient in terms of converting fuel into energy. Obviously, if a four-stroke engine like the Ducati's uses less than half the amount of fuel to produce the same performance, the Kawasaki is wasting the greater part of the fuel it consumes. The differences between the old S2 and the new S3 are slight.
The engine, apart from having the 4 mm larger bore, differs only in slightly revised exhaust port timing and 2 mm larger carburettors. The basic layout is still the same. The made-up crankshaft is supported by six main bearings, all ball races, and the primary drive is taken from the right hand side of the shaft by straight cut gears. On the chassis, wheelbase is increased by two inches to 53.7 ins, front forks are redesigned, the trail is increased fractionally and the front tyre is of larger section. All minor changes, but they make a great difference.
There are styling changes too, of course, with a slightly redesigned tank with different name flash on the side, but Kawasaki have retained that handy tool compartment behind the seat. The new slab-sided finning gives the motor a chunky look, and with the three pipes and dark red paint job with contrasting tank flash, the Kawasaki gets more attention than the other two bikes.
Instruments and switchgear have been tidied up, with speedo, rev counter, warning lights and ignition switch all incorporated in a neat black console which lets you see what's going on at a glance. Getting on the bike for the first time is like jumping into an aeroplane cockpit, with a confusing array of switches and buttons bristling from the bars. The switches are well designed though, and once you're accustomed to it the layout is very practical. Other neat design points are the hefty grab rail round the back of the seat, the lining wear indicator on the rear brake and a holder under the seat for three spare spark plugs. I must admit though, seeing the spare plugs aroused suspicions that the S3 shares the species' bad habit of gobbling them up at a ridiculous rate. But those fears were unfounded, it turned out. As a matter of course Davick Motique replace the standard NGKs with Champions on every Kawasaki they sell. They reckon the Champions have a wider heat range and it seems they're right.
The only problem we found was that the motor needed a good hard thrash for a few miles to clear its throat after a period of slow riding, but the plugs survived the 1200 miles we covered.
The lights really let the Kawasaki down. Headlamp is a feeble 35/35w rating — nothing like a match for the bike's performance. Indicators, however, are powerful and well placed. Unlike the Honda, there's no electric starter. But the kickstart lever (on the right) takes so little muscle power that it's not really a deficiency. A single half hearted prod is all that's needed when the engine is warm, and not much more when cold.
As you can see from the specs the Kawasaki is a sophisticated little plot and in keeping with its genteel character, it's the sort of bike that's seen and not heard. Even when the motor is screaming up towards the red the whine from those three pipes is not obtrusive. It's just quietly businesslike.
That's what the Kawasaki's all about. It's fast, but innoffensive. It looks pretty and sophisticated, but it really means business. A bike like the S3 has to be ridden hard and furious to justify its existence. And ridden like that the Kawasaki is one of the most exhilarating bikes in any capacity class. If you are willing to pay dearly for that exhilaration, good luck to you.
I'VE BEEN seduced. Our relationship was supposed to be on a purely professional level, but I couldn't stay coldly impartial in the face of those sensual charms. She's typically Italian. Smart looking, sleek and shapely, loves being treated rough and I admit I'm totally infatuated.
Ducati's 350 Desmo is the beguiling mistress. It's a bike that does things for me like few of the bikes I've ridden. It's just that it's such a sweet bike to handle. No, I'm not some kink getting up to weird sexual perversions with motorcycles, it's just that some bikes make you feel really good.
They have an intangible quality which gives you a warm feeling in your guts and a heady tingle in your brain. The Ducati does that for me. I admit it does have faults — faults that would perhaps make other people detest the bike as much as I love it. But with all its faults it's got character. To anyone accustomed only to smoothy Jap multis the Ducati's rough 'n raw cammy single-cylinder power might seem uncivilised. It growls menacingly like a cornered tiger, and it vibrates, like all the singles I've ever ridden. But if you like that sort of thing the results of Japanese mass production seem a little bland and insipid in comparison.
Because the Ducati is a very different creation. It's a stroke of individual genius, the brainchild of one very talented man, whereas the Japanese machine is the end product of a corporate think tank which swallows the individual ideas of a whole team of designers and digests them in a computer. The resulting compromise produces a bike reflecting the Oriental mentality that regards the expression of individuality as some sort of social aberration.
But I'm not saying one is better than the other, it all depends on what you want. I don't get my kicks from being frightened to death. I prefer to stay in control and that's one reason I like the Ducati. It's the best handling bike I've ever ridden.
Single pot four-strokes for some reason aren't reckoned to be groovy these days. They're old fashioned and go blat-blat-blat ... Aah, but it's music to my ears. That rorty sound won't please the fuzz or the noise abatement society, but it sure sounds sweet and healthy. And that pulsating power just surges through your fingertips and into your brain like a drug.
The Ducati isn't flash. It looks really nice, but in a classic way with a pretty racing tank, bum-stop seat and clip-ons. I think it's an artistic styling job, but some cynics may say it looks old fashioned.
Appearance belies its performance because it is unobtrusively low, slim and light. In fact it weighs in at just 294 lbs with a gallon of fuel, and that's one reason why it feels so nice. With such little weight and bulk you can sling the Ducati around with abandon. Of course the lack of weight means you feel the bumps and the suspension is hard, but it never feels less than perfect. Up front are Cerianis the genuine article and at the back are adjustable Marzocchi units, and I don't think you could improve on either.
When the Ducati's lined up on a bend she won't budge a thou from the line you've plotted, bumps or whatever. That taut precision handling almost makes you think you could let go of the bars and just leave it all up to the bike. In the end you get a bit of a complex, and start worrying you're a coward cause you sling the bike into any bend faster than you've ever dared, and it comes out laughing and you know you could have gone round still faster.
It's a scratcher's delight, because not only does it handle like a dream, but squeezing on that 11-inch front disc (same unit as on the 750 Duke) has almost the same efficiency as hitting a brick wall. With a gearbox that's so sweet you change gear when you needn't just for the hell of it, that all adds up to a permanent adrenalin high. Everything behaves so impeccably that the bike gives an incredible feeling of security, which I greatly appreciated as the Ducati stalked with cat-like agility through the sticky Bank Holiday traffic that oozed along the A66 after a weekend in the Lake District.
You've got to admit the Wops are streets ahead of the Japs when it comes to frames and suspension, but the Ducati also shows the Orientals aren't the only ones who can be fiendishly clever at designing engines. This little Duke bears the tag Desmo, and that makes it something unique. It has desmodromic valve operation, and before you start reaching for your dictionaries, that means the valves are closed mechanically by cams and rockers, instead of relying on valve springs. Lots of clever engine designers in the past have realised the advantages this system offers, like no valve bounce hence higher revs without fear of mechanical damage. Some even got as far as trying to put their ideas into practice. But to this day, Ducati's designer Fabio Taglioni is the only man who's managed to make the system work in a motorcycle.
And work it does. Although max revs of 8,000 rpm are recommended for road use, in racing they'll spin to 9,000, which is quite something for a single. In fact the bottom end will blow before a valve drops, claims Mick Walker. In the interests of good starting, weak hairpin springs (8 lb pressure as against 80 lb in non-desmo engines) hold the valves against the seats at low revs, but for racing they are unnecessary.
Taking the place of springs are two extra cams and rockers working the reverse way to the valve opening rockers. You'll realise, no doubt, that this system needs painstaking design, and skillful machining to very fine tolerances, or else something's going to snap. That's why most people gave it up as a bad job, and it also accounts for the Ducati's high price. The desmo engines are more or less hand built to achieve the standard of engineering required. The care put into assembly also accounts for the fact that not a single drop of oil sullied the shining alloy of the engine casings. Another bonus is that the valve clearances (set by shims) are a mere two thou and mechanical noise as a result is very low.
Because the Desmo is intended as a club racer as much as a road bike (all you do is bolt on a bigger carb) the other technical specifications are of a higher standard than you might expect in a roadster, like for example, a piston that is forged rather than cast, so it will stand the pace better.
Valve guides and rocker bushes are of phosphor bronze, and the engine is liberally supplied with ball race bearings to keep things spinning nice 'n smooth. There's one each end of the camshaft, and a hefty one each side of the flywheels. There's also a ball outrigger bearing in the drive side casing, and a phosphor bronze bush on the timing side, making four bearings on the crankshaft altogether. Big end is a roller bearing.
The single overhead cam is driven by shaft and bevel gears, and primary drive is by gear also. The clutch is pretty hefty with seven friction and six steel plates, but it had a strange habit of slipping after starting the bike first thing in the morning. That disappeared after the first five miles or so and never caused any trouble. In fact a series of full bore clutch-slipping starts for the standing |-mile produced absolutely no signs of distress.
Another technical plus is the electronic ignition. It's commonplace on racers these days of course, but there aren't many roadsters that boast such a system. Made by Ducati Electronica (a completely independent firm from the Ducati motorcycle concern, by the way), it consists of a magnetic rotor where the points used to be and a transducer under the tank. Just think, no points to adjust, no slipped timing, perfect spark at any revs — every bike should have it. The power comes direct from the generator too, so it'll start even with a flat battery.
The ignition system makes a great contribution to the motor's easy starting and flexibility. If you use the old big single procedure — ease it over compression then a mighty swing — starting is first kick almost every time. And for a hot motor it's amazingly happy to plonk along at hardly more than tickover with the rider counting the thuds. In fact the power delivered at low and middle revs meant that I only took it over 6,000 rpm when I wanted to wring out the last drop of performance. On a long journey it was more comfortable that way because over six grand vibration gets progressively worse and the speedo dial dissolves into a blur.
It just wouldn't be the same without the clip-ons and rearsets. As I said before, it's the sort of bike that you control with your whole body by a slight shift of weight or a little pressure from your knees instead of hamfisted wrenching on the bars. The crouching stance is essential to the intimate rapport between the bike and rider.
The Ducati was the slowest performing of our trio of test bikes but then it is also the smallest, with an actual capacity of 340 cc. So it's giving away 60 cc to the Kawasaki. Top speed of 98 mph is nevertheless perfectly respectable considering the economy of the bike. If you don't mind sacrificing some economy and flexibility a larger carb would give a significant boost to performance.
The bike is actually overgeared, for at 98 mph the tachometer showed 7,300 rpm. Maximum power is said to be developed at 8,500 rpm.
Now I come to the moans. It seems all Italian designers are the same. They produce a work of genius, a perfect harmony of engine, frame and suspension and then, as if the creative effort expended on that had burned them out, they forget the finishing touches. Switches are bunged on that show as much craftsmanship as a Christmas cracker novelty, instruments are tiny and electrics are pathetic. Now the Japs really can show them something there.
Admittedly Ducati have done something to improve matters by installing a larger 80w generator, but the headlight is a feeble 25 watts that wouldn't excite a glow-worm. A 35-watt bulb is an option — big deal! It should be at least 45 watts. And Ducati are still living in the past by sticking to a six-volt system.
The toolkit is just about adequate for building Meccano models — it doesn't even enable you to adjust the chain. I expect better than that for more than 600 quid. So who's going to pay £640 for a 350 with so unfashionably few cylinders? Ducati Mechanica will never be a threat to the Japanese giants' share of the market and I'm glad of that. For the exclusiveness is another attraction of the 350 Desmo, it's so refreshingly different from what everyone else is riding.
Anyway, an engine that demands as much care and skill in building as the Desmo could never be mass-produced on the Honda scale. So be resigned to paying a bit extra for that thoroughbred class and console yourself by calculating how soon the low fuel consumption will cancel out that extra capital outlay over the gas-guzzling Kawasaki. By my arithmetic it comes out to less than 3,000 miles!
Bill Haylock