Make Model.

Ducati 400SS

Junior

Year

1989 - 90

Engine

Four stroke, 90°"L"twin cylinder, SOHC, desmodromic 2 valve per cylinder.

Capacity

398 cc / 24.3 cu in

Bore x Stroke

70.5 x 51 mm

Compression Ratio

10.0:1

Co

oling System

Air cooled

Induction

Mikuni CVK-V36 carburetor

Spark Plugs

NGK BP7HS

Ignition

Kokusan

electronic

Battery

12V 16Ah

Starting

Electric

Max Power

30.9

kW / 42 hp @ 10000 rpm

Max Torque

35.2 Nm / 3.6 kgf-m / 26 ft-lb @ 8500 rpm

Transmission

6 Speed

Primary Drive Ratio

2.264:1 (34/77)

Gear Ratios

1 st 3.071 / 2nd 2.111 ./ 3rd 1.590 / 4th 1.280 / 5th 1.074 / 6th 0.931:1

Final Drive Ratio

3.142:1 (14/44)

Final Drive

Chain

Front Suspension

41mm

Marzocchi

inverted telescopic fork, M1BB

Rear Suspension

Cantilever swingarm, Marzocchi PBS1R monoshock, preload and rebound damping

Front Brakes

2 x 280 mm Discs

Rear Brakes

Single 260 mm disc

Front Tyre

130/60 VR16

Rear Tyre

160/60 VR16

Dimensions

Length: 2000 mm / 78.7 in
Width: 670 mm / 26.4 in
Height: 1160 mm / 45.7 in

Wheelbase

1450 mm / 57.1 in

Seat Height

750 mm / 29.5 in

Dry Weight

174 kg / 384 lbs

Fuel Capacity

17 L / 4.5 US gal / 3.7 Imp gal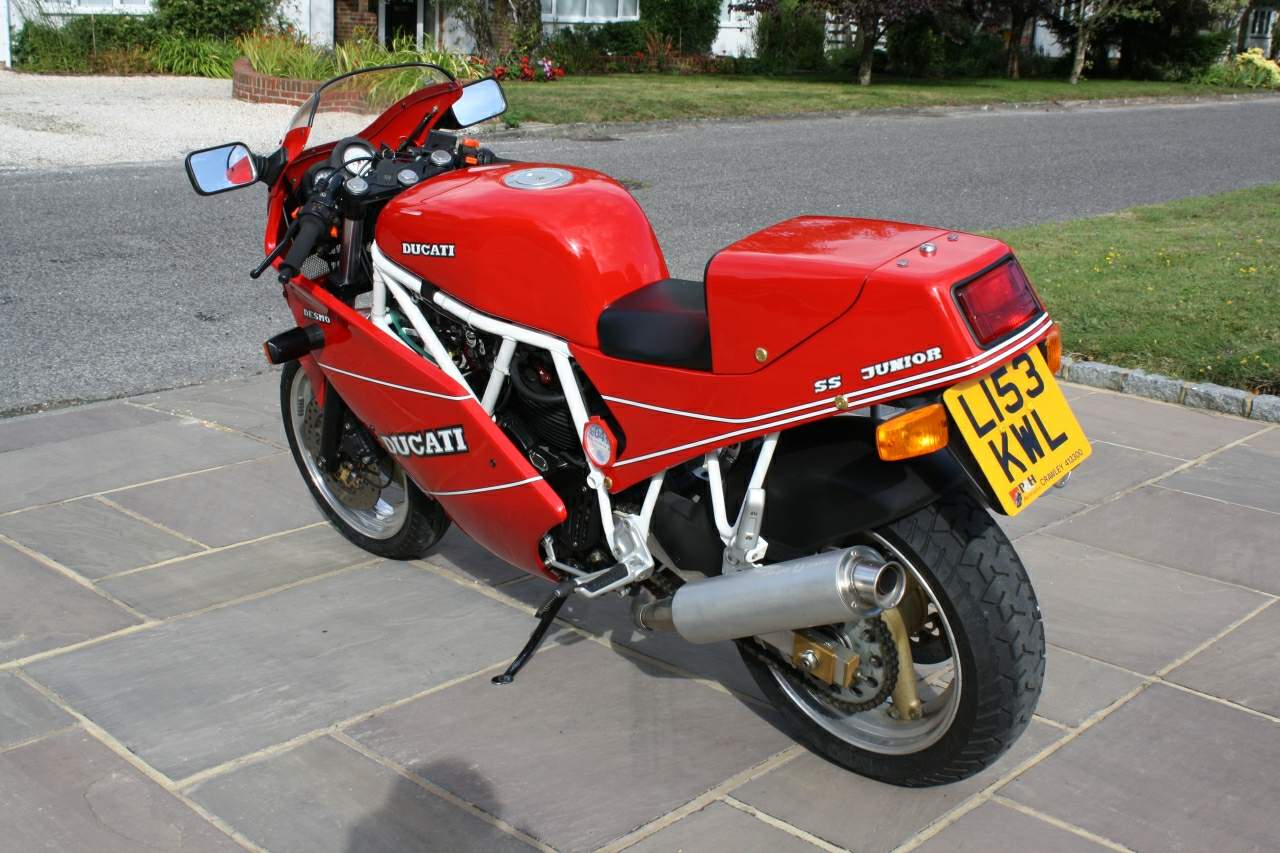 THIS SHOULD be Ducati's ZXR400 — a lighter, sillier, more whizzy version of its big-cube stablemates and bike of the year. It isn't and won't be because it's the same size and virtually the same weight as the 60bhp 750SS. Actually, it is a 750SS, minus 18bhp.
Which implies problems, slow ones, but don't let them worry you, not if SS handling and heart-breaking looks for five grand are all you desire. The 400SS Junior is insurance friendly and makes all the right Pantah noises too. But don't go near one unless you can live with the performance of the average middleweight custom.
Junior's confusion - so brilliant yet so so-so — stems from Ducati taking the low-risk sleeve-down option, to shift more bikes from the minimum of investment. The 400SS chassis is, with one important difference, pure 750SS and already in stock, so to speak. Ditto this incarnation of the fabled Desmo V-twin. It displaces 398ccs sure enough but, crankshaft, bumped-up compression ratio and an extra gear apart, is ostensibly 750SS too.
Even that bike is basically a sleeved-down 900SS, thus the needlessly over-engineered 400 burdens a soporific power-to-weight ratio (the 750 is itself hardly the stuff of 888 legend) and the subseqent aura of afterthought rather than of knee-wobbling new concept.
Ergonomically speaking, it's a corker. Peg-to-pedal and bar-to-lever angles and distances are spot-on. The rearset pegs tip you foward onto the huggable tank, down onto clip-ons which rise from below the yoke to sit flat and a bent-arm from the seat. The shorter you arc, the more flexible the position becomes: sit foward and upright (compact NC30) or back and down with bum butted-up against the deeply curved seat (stretched-out FZR400). Slot in, crank it up (first stab of the button) and enjoy until the too soft seat sets rock hard within a 130 mile tankful.
That's the time to get off, brake out the flask, and enjoy the unique Ducati experience of walking round and round while wondering if there's anything more horny anywhere. The elegant trellis frame weaves a web of triangles around its engine, tying it in tight and stressed so the extruded swing-arm can pivot from the back of the gearbox. It's so pleasing and incredibly rigid. A 25 degree head angle and 90mm of trail plant it firmly in 400 super-sports territory though the 1410mm wheel-base is on the lazy side for the class (60mm longer than the stubby VFR). Wide 17-inch wheels wear ultra-low profile Michelin A/ M59X radials and Goldlinc Brembo brakes ...top kit all round. But then a problem.
Ducati obviously felt obliged to sell the 400SS below the 750SS, so had to cut a corner somewhere. The accountant's axe fell on the rear suspension why am I getting deja vu? — and the 750's Showa shock was junked for an overdamped Marzocchi. The 400 suffers from ZXRitus, I'm afraid.
The non-adjustable upside-down Showas are unchanged from the 750 and stoically resist the shock's bumping and barging. But stability is compromised as the back wheel kicks off bumps the 750's Showa unit flattens. Over a given stretch the ride is nowhere near as choppy as the ZXR400's yet at certain speeds is worse (and the 10-click rebound damping adjuster has no discernable effect). Annoying.
A single disc and four-piston Brembo, a smidgen feeble on the 125mph 750, carries its spongey back-to-the-bar action over to the much slower 400 and takes a while towinyour confidence. The first third of the lever-travel does nothing, it's as light as the clutch. The next few over-progressive mm stand the bike on its nose, or not if you used only two fingers and trapped the others against the bar. Once you work it out there's power and feel for speed-scrubbing sweeps of the disc as well as for outrageous brick-walling. There's also perfect lever placement, a tank which takes the strain, and a very useable rear pedaljust where it should be.
As you come off the brakes, the forks — soft springs, wrist-saving compression and controlled rebound - find a sweet compromise between road and track manners. Steering is a front wheel experience; you put effort through the bars, a nudge through the scat, zilch through the pegs. Then it's down. No middle bit, either up or not up.
It sounds dramatic for a road bike but isn't. That wheelbase brings the steering back from the twitchier 400 competition to unflappable big Duke territory. The Michelins give immense feedback, you feel the front drop onto its edge, the rear roll around its more gentle profile and they inspire. The chassis is responsive without being nervous, its footprint so secure and exact that you hang out later and wider, pick your line and, hurrah, for once hit that elusive apex.
No matter how and where you abuse the throttle the steering remains eminently safe and tweakable. Even when the rear shock bumps you out wide or skids off a camber change you can compensate and re-aim through the bars, which is the upside of a 42bhp engine in an 60bhp chassis. The downside is bulk. If Ducati had built the 400 from the ground up it would be lighter and less knackcring to shuttle through nadgery. But I'm not complaining, not about the chassis.
Not so the engine. The XV535, Yamaha's sporty-chop-commuter V-twin, chugs to the shops on a claimed 46. Both bikes weigh around 170kg, cover a standing-quarter in the late 14s and both make the same speed: 108, 109....call it 1 lOmph on a still day. The 65bhp, 159kg, 12.7 seconds, 140mph ZXR400 murders the on-paper performance of the 60bhp 750SS, so what chance has the 400SS? Exactly.
Those 42bhp aren't helped by awkWard and incongruously un-Ducati power characteristics. They aren't accessible midrange bhp, they're peaky ones hidden above 7500rpm worth of lethargy and dodgy carburation. At 9000, 1500rpm before peak power and 5()0rpm before the redline, it finally comes together but even then it's hardly a rush, more a last-gasp flourish.
Something in that deceptively rich exhaust note - just the fact that I was on a throbbing Desmo blah de blah - discouraged ZXR/ FZR400 thrashing, inducing reflex shortshifts instead. And shortshifts are an absolute non-starter, meat and drink for the carburation gremlins that lie in wait.
The twin 38mm Mikunis, as fitted to the 750 and 900, are oversized for the 400. Throttle response is pretty languid anyway but if you're caught with the grip against the stop at 7000rpm the carbs will flush hard-earned speed right down the pan. Gears one, two and three canter through unmolested but in the upper three ratios it's like running into quicksand. Further down at 5000 (57mph in top) it's the same story.
The way to get the thing shifting is to rev the bleeding nuts off it, which I reluctantly did but only with fingers crossed and an eye on the flickering oil warning light. The first four ratios are close and helpful - 90mph comes easily and very melodically - but still you'd need 12 speeds if the wafer thin, 2000rpm power band were to be exploited fully.
There's nothing more disheartening than getting an entry just so, pulling yards on the bike behind in a demonstration of SS handling finesse, only for the engine to squander it on the exit. If, as is probable, you're at an already fraught 10,000 in the more widely spaced fifth and sixth gears, there's nothing you can do as the corner scrubs off speed and revs. You can't change up (see you in the quicksand), you can't go down (see you in the spares department). You can do nothing except clumsily kick down two, all momentum lost, and out brake the smarmy git into the next one.
Like I said, it's all very un-Ducati and nowhere compared to the crisp Japanese screamers. I got used to it — picking momentum lines, howling into turns, snicking down one final gear just as we tipped in, then re-emerging with hopefully no fewer than 9000 on the tacho. But this 400 wasn't my bike.
Away from the quicksands is a smooth plodder of an engine attached to a stiffish gearbox that improves with revs. It eases off tickover cleanly, saving the wet but still snatchy clutch. It drives from 3000 and, as long as the Mikuni's slides are surreptitiously piloted through the five thou' flatspot and the terrain is favourable at seven thou', it will pull through in all gears bar top. It throbs through the frame without intruding and lends lots of droning charm and all that malarkey. But my overall impression is of a badly carburated 900SS running on one cylinder.
Still, it did enough to send me all funny, I think. No matter how slow - or rather, how infuriatingly difficult to make fast -1 ritually found myself outside having another stroke of its uncluttered flanks. Those gold-anodised Allen screws; all that daylight behind the gearbox; Hailwood, Roche, Fogarty even; the black, the white...the red. Sometimes I couldn't get near it for admirers - sometimes I was thankful, usually I swelled with pride. You'd like to hear that thundering two-into-one pipe? No problem, Vicar.
Engine aside it's pretty easy to live with. Great finish (only the Japanese forks looked tired), good toolkit, major services at 6000 mile intervals and clear, arms-in-take-a-peek mirrors. The steering lock is useless although the lock-stops are adjustable. Sunshine (Ducati days) wipes out the block of idiot lights but the neutral light makes only rare guest appearances anyway while there's at least 125 miles before the petrol light flickers (no reserve tap). Things I'd do: try some braided steel brake hose and fit an anti-crud grill across the V in the fairing.
The Japs are snaffling them up and the home market has a fast-moving 350SS, so Ducati must be happy. For the UK? The insurance factor can't be ignored but it's so much a bike of two-halves, of sublime, under-stressed chassis and iffy motor, that I think you'd really need to own a Ducati. Certainly, there's enough SS in the 400 for some rollicking good rides. Enough, too, to infect trainee Ducatisti with the virulent.
Source Bike 1992