Ducati 999R F06 Team Xerox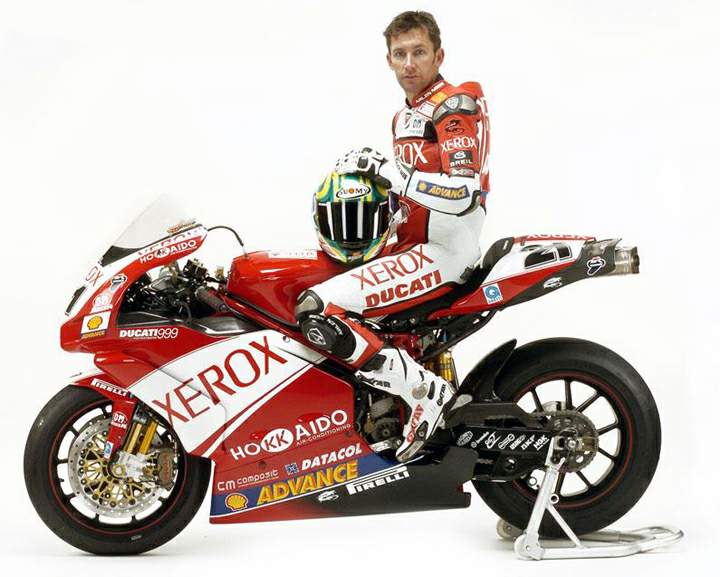 Troy Bayliss will go back to World Superbike championship after 3 years in MotoGP. He'll rejoin the factory Ducati team with whom he won the title back in 2001. He and Lorenzo Lanzi will replace the current rider line up of James Toseland and Regis Laconi.
BAYLISS: "The biggest thing is that it feels like I'm coming home ... I'm really looking forward to hopping back on a Ducati Superbike. Even though the bike has changed quite a lot, the engine is still very similar and has been much improved since I've been away so it's a built-in package already waiting there for me. I have a lot of good memories from the past and I aim to continue having more of them ... I've been there and done it before, it's still all in the memory bank so hopefully I can come back and have a good season next year. It's going to be awesome and I just can't wait to start. The championship is looking strong now, all the manufacturers are back and it's going to be great to be there with Ducati and challenge all the other guys for the title".
LANZI: "I am really happy to join the factory Ducati Xerox Team in the World Superbike Championship, because it was an aim I had fixed for myself in 2003 when I was racing in Superstock. Now that it's happened I am so happy because it is the dream of so many Italian riders to race for the Ducati factory team. I have arrived in the team at the right time. I know everyone in the squad and have already won two of the last races of the season so my motivation is high. In addition I will have a true maestro at my side like Troy Bayliss, who will help me for sure. Now I just can't wait to start the new season with my new Ducati Xerox Team!"
DUCATI (Paolo Ciabatti) "Next year we will be taking part in the World Superbike Championship with an exciting new rider line-up and the F06 version of the Ducati 999. We warmly welcome Troy and Lorenzo into the team and believe that this combination of experience and youth will help us to continue our winning tradition in World Superbike. Rider changes are always a hard choice to make and it was particularly difficult on this occasion, because James Toseland and Regis Laconi have both made a fantastic contribution to Ducati's success in the last two years, James winning the 2004 title and Regis scoring ten wins with us. I would like to thank them for everything that they have done for Ducati in this period and wish them all the best for the future"