Ghezzi&Brian Guzzi V11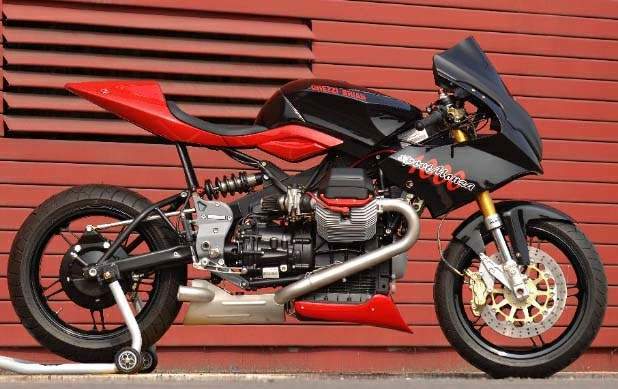 The team behind Moto Guzzi's MGS-01 race bike have turned the relaxed V11 naked roadster into this – the Ghezzi-Brain Monza sportsbike.
Designed as a kit that can be fitted as a whole or in steps, the Monza retains the stock Moto Guzzi engine cases and frame but everything else can be replaced with the kit.
The 'Aesthetic Kit' comprises of a new front fairing, seat unit, aluminium fuel tank with pump, belly-pan and a new digital dashboard.
Everything comes ready to fit with the necessary brackets and fixings, and lights are included to keep everything road legal, despite the race look.
The modified motor makes a claimed 108bhp courtesy of high compression forged aluminium pistons attached to stronger conrods, and new cams make the best of the remapped fuel injection and the under-slung race exhaust.
New forks come from either Paoli in 41mm sizing, or Mupo in 43 or 46mm diamters. Mupo also supplies the fully-adjustable rear shock.
A new aluminium swingarm lowers unsprung weight, and further weight loss comes from the magnesium or aluminium wheel option. The standard Brembo four-piston calipers and floating discs.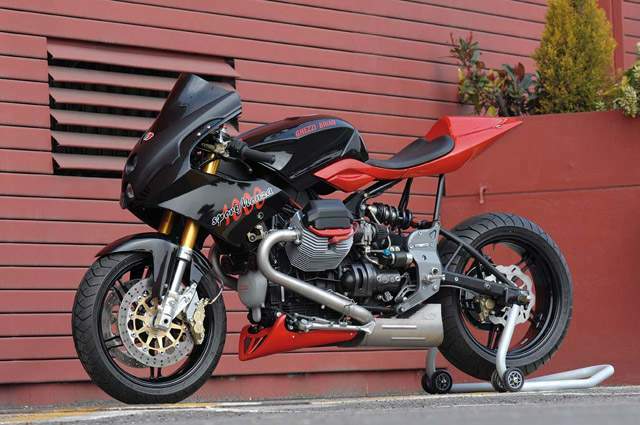 La Moto Guzzi V11 diventa supersportiva grazie alla cura Ghezzi&BrianGhezzi-Brian, marchio noto agli appassionati per le innovative realizzazioni telaistiche ed estetiche su motore Moto Guzzi, propone oggi una assoluta novità come risposta alle tante richieste dei possessori di Moto Guzzi.

Con la 1000 SPORT MONZA Ghezzi-Brian propone infatti una trasformazione in chiave supersportiva di una moto cara agli appassionati Moto Guzzi: il V11.
I tecnici Ghezzi Brian hanno ridisegnato completamente l'estetica del modello V11 ottenendo una moto dalla livrea moderna e aggressiva, senza trascurare però tutti gli interventi su ciclistica e motore possibili su una moto stradale.
Adesso il V11 potrà assumere sembianze e carattere da grintosa ipersportiva, colmando una lacuna da anni presente nel listino Moto Guzzi.
Estetica
I criteri della trasformazione sono fissi per le parti estetiche che comprendono:
• Corpo serbatoio/sella/coda
• Cupolino
• Fari poliellissoidali
• Serbatoio benzina in alluminio con pompa
• Puntale
• Strumentazione digitale (optional)
Ciclistica
La ciclistica presenta diverse opzioni ,a richiesta
• Forcella a steli rovesciati ∅ 43 o 46
• Monoammortizzatore Mupo ABI 1 EVO
• Impianto frenante con pinze radiali Brembo
• Piastre di sterzo con regolazione avancorsa
• Cerchi in alluminio forgiato o magnesio
• Forcellone in alluminio
• Asta di reazione in alluminio con uniball
• Pedane regolabili
Motore
Gli interventi consentono di arrivare a 108 HP all'albero
• Pistoni forgiati ad alta compressione
• Bielle allungate
• Albero a camme
• Centralina dedicata
• Doppia accensione
• Scarico in titanio
La clientela può intervenire sul V11 in più steps iniziando dalle sole parti estetiche di facilissimo montaggio ( Euro 5.240,00 IVA COMPRESA), proseguendo con i componenti di ciclistica e motore in maniera autonoma o affidando la propria moto a Ghezzi- Brian, raggiungendo così prestazioni da vera moto racing.
Rinasce quindi il glorioso V11, divenendo un prodotto aggiornato ed appagante in linea con la tradizione Ghezzi - Brian, anima sportiva della Moto Guzzi e che ha realizzato moto capaci di grandi risultati agonistici.
Ricordiamo in particolare la MGS-01 , progettata in casa Ghezzi-Brian per Moto Guzzi e ancora oggi regina in pista con il team Guareschi, la SuperTwin 1100 per le categorie Bott e Supertwin , la Pro-Thunder plurivittoriosa nei campionati USA.
Source motorandagio.it