Custom Touring Style
Features the first Harley-Davidson factory-installed 21 inch front wheel, an unique exhaust finish, and a luxurious, super-premium paint scheme. The front fender is also now unique plus the exhaust has a new finish, both which is only found on the CVO Road Glide.
Each Harley-Davidson® CVO™ model is a handcrafted masterpiece, intended to push the boundaries of motorcycle luxury, performance, and technology. They begin as one of the current production models before being completely transformed with highly customized paint, styling, performance and features that are second to none. Produced as limited editions with a low production run, these attention-grabbing performance machines provide instant individualism for riders ready to make a custom statement.
If long days in the saddle and late nights on the strip are your style, you owe yourself a ride on this motorcycle.
The most powerful V-Twin engine ever offered from the factory, and only available in CVO. Features colour accented Rocker Box Lowers with deep orange finish.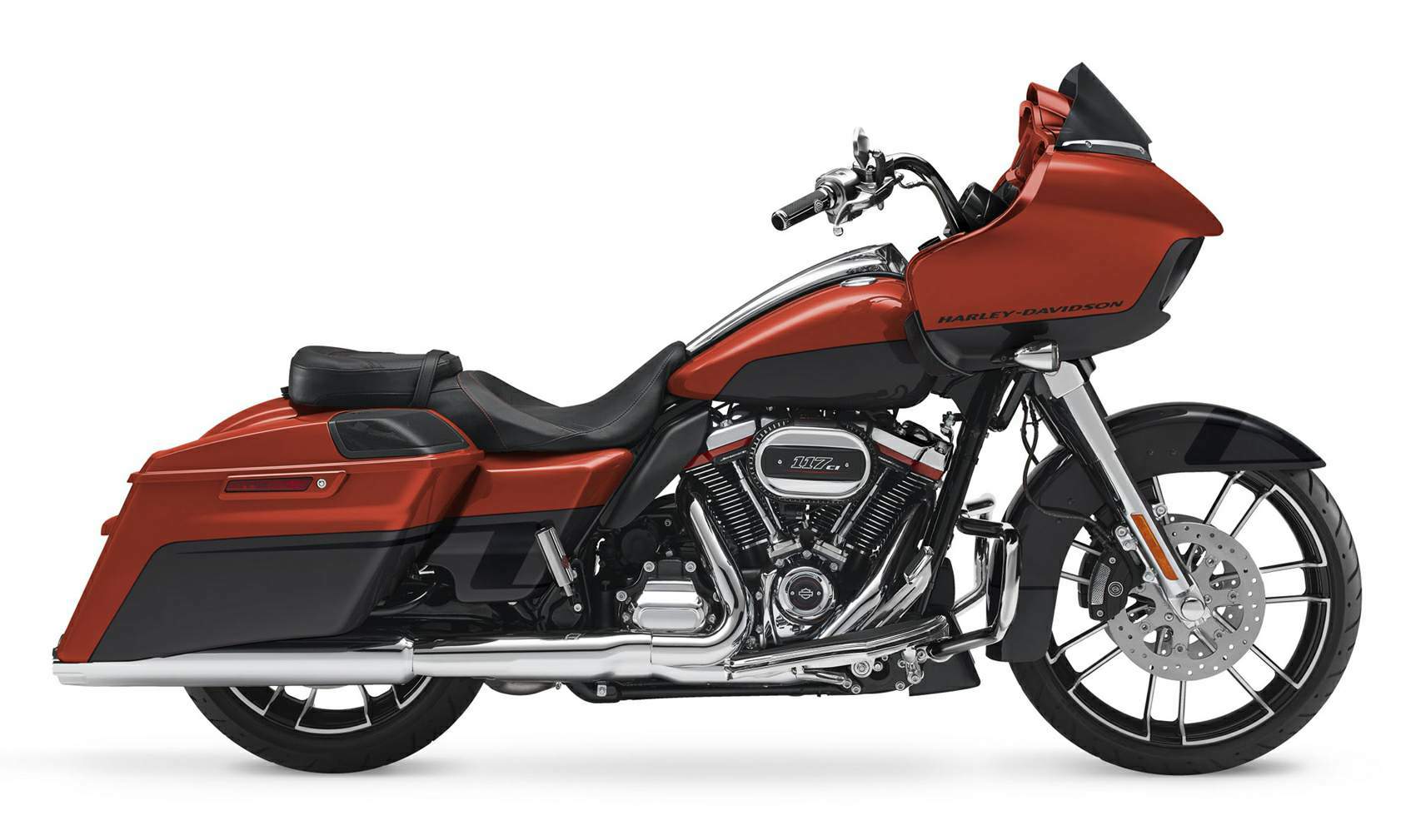 Three New CVO Models Feature Largest-Ever Stock Engine Displacement

The 2018 Harley-Davidson Motorcycle line-up introduces the most robust array of custom Touring bikes the company has ever produced, boasting show-stopping style and plush comfort ready to attack rough city streets or winding country roads. Three new completely restyled Touring models enter the limited-edition Custom Vehicle Operations™ family with the largest-ever stock engine from Harley-Davidson, while new Street Glide® Special and Road Glide® Special models get sinister, blacked-out styling.
"Our new Touring motorcycles will be some of our most sought-after bikes in 2018," said Harley-Davidson Vice President of Product Planning and Portfolio Management, Dave Foley. "For CVO, we've rebooted the styling tone of the overall line-up and added some exclusive performance enhancements. And our two new custom baggers are the most aggressive, on-trend Touring bikes in the market. I can't wait for riders to throw a leg over and experience the new rides for themselves."
The CVO tradition of giving customers the ultimate in Harley-Davidson styling, innovation and performance continues in 2018 with the CVO Limited, the CVO Street Glide and the CVO Road Glide models. Each model offers its owners a fully customized, limited-edition motorcycle straight from the factory with a two-year unlimited warranty.
Starting with the largest stock engine displacement ever offered by the Motor Company, and available only in CVO models, all three bikes have upgraded Screamin' Eagle® power and exclusive bragging rights with the Milwaukee-Eight® engine in a new 117-cubic-inch displacement, rated at up to 125 ft. lbs. of torque.
CVO models are limited in number and this year's models feature some of the most distinctively crafted paint offerings the company has ever designed and produced. Also new for all three CVO models is an advanced integrated communication technology that features a wireless headset interface module. Customers can use the included Bluetooth® headset to communicate with the motorcycle Infotainment system, their passenger and other riders.
"The level of fit, finish and performance of CVO has never been higher," added Foley. "CVO owners will appreciate the intricate details like the new color trim on the rocker box lowers that marks the CVO engine's exclusivity. It features a deep orange finish specially developed for placement on the engine that is unique in the motorcycle industry."
"The new direction our Styling department took with the design formula on the bikes is truly seismic," added Harley-Davidson Vice President of Styling and Design, Brad Richards. "Take a look at the level of finish on any of the nine CVO paint sets, but especially the Fade on the CVO Limited, the depth of the paint layers and how it glows in the sunlight is just stunning."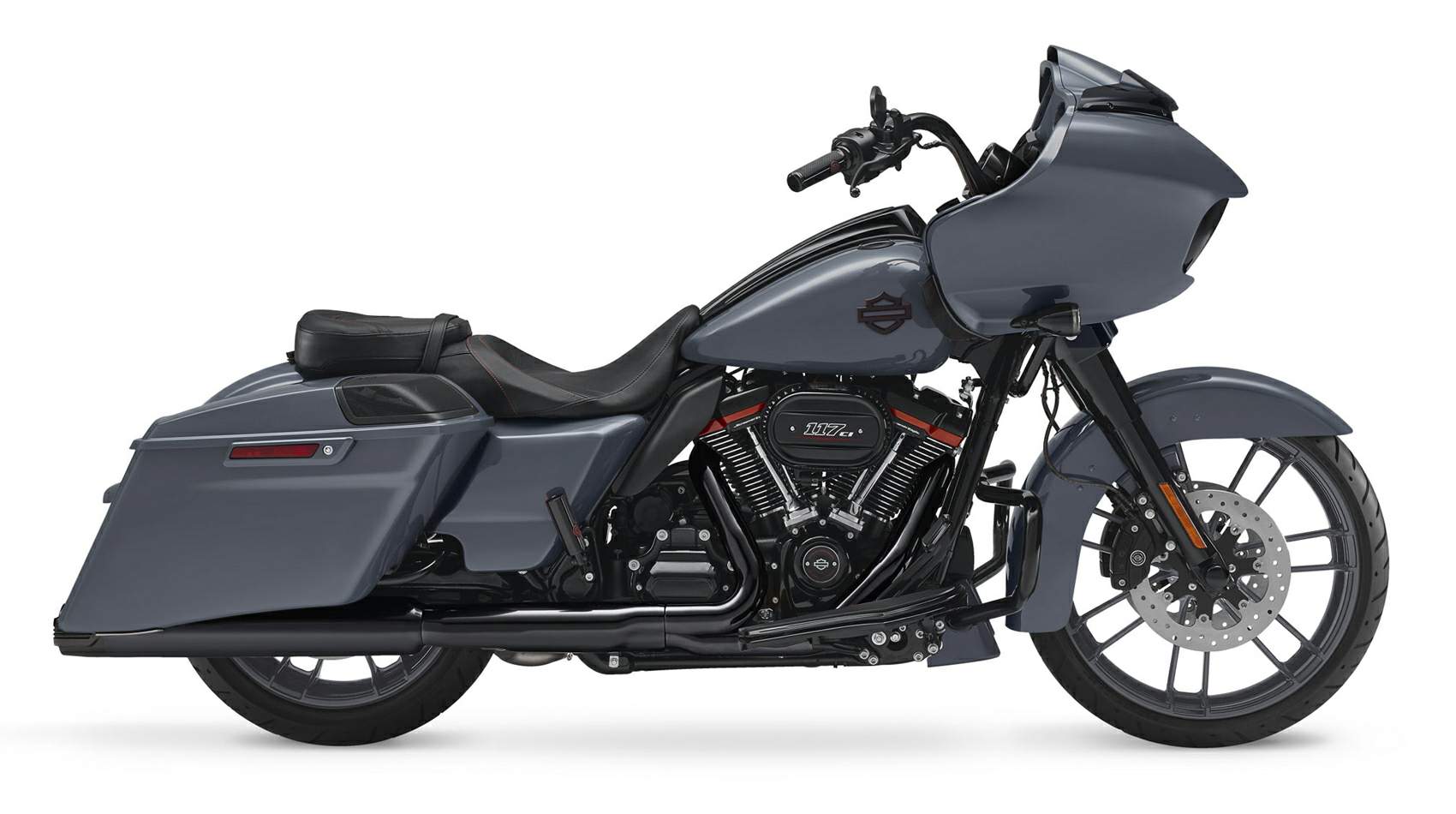 FULL-ON CUSTOM TREATMENT FROM FENDER TO FENDER
Milwaukee-Eight® Twin-Cooled 117 Engine
The most powerful V-Twin engine ever offered from the factory, and only available in CVO™. Features color accented Rocker Box Lowers with deep orange finish.
Custom Touring Style
Full-on custom treatment from fender to fender. You get premium paint and wheels, custom controls, color-matched inner fairing — the list goes on.
Premium BOOM!™ Box 6.5 Infotainment System
A stylish 6.5-inch full-color touch screen display with voice activation for hands-free mobile phone, media, and navigation. Delivers powerful, pure sound and dynamic full-range audio.
The Most Premium Audio Configuration in CVO™
Advanced audio package featuring three separate amplifiers with 75 watts per channel, six bi-amped speakers delivering 900 watts of clear audio performance, and speakers in fairing lowers that'll surround you in rich BOOM!™ audio sound.
Wireless Headsets with Wireless Headset Interface Module
Call hands-free on your Bluetooth® mobile phone, listen to stereo music or voice instructions of GPS navigations, and have intercom conversations with your passenger or fellow riders.
High-Performance Front and Rear Suspension
Showa® dual bending valve front suspension and emulsion rear suspension with hand-adjustable pre-load puts you in control of a plush ride.
Reflex™ Linked Brembo® Brakes with Standard ABS
The front and rear brakes are electronically linked to provide exactly the right amount of brake to each tire no matter the road condition. No matter how good you are, this will make you a better rider.
Integrated Security System with a Power Locking Fob
A next-generation security system featuring a hands-free fob that locks and unlocks your machine, your luggage plus automatically arms and disarms its electronic security functions as you approach and walk away from the bike.