The Dyna® Switchback is a custom touring motorcycle with detachable hard saddlebags and quick-detach windshield. Remove those components in just seconds to turn the Switchback into a custom street cruiser. Chassis, suspension and tires are engineered to deliver light, confident handling.
The Switchback is the lightest custom touring motorcycle in its displacement category. Its styling evokes a classic proportion and clean, straightforward lines. The bend of the mini-ape handlebar and its pull-back riser combine with full-length rider footboards and a two-up touring seat to offer most Switchback riders all-day comfort.
Key Features

NEW Standard Anti-lock Braking System (ABS)
NEW Paint color options
• Color-matched detachable hard saddlebags
• Quick-detach, fork-mounted windshield
• 2-into-1 chrome exhaust with straight-cut muffler
• Nitrogen-charged, 36mm monotube rear shocks have preload-adjustable, dual rate springs
• Cartridge-type 41.3mm front fork delivers enhanced damping performance, handling and ride comfort
• Black, 5-spoke Cast Aluminum wheels with machine-highlighted rims; 18-inch front, 17-inch rear
• Full-coverage front and rear fenders
• Chrome headlamp nacelle
• Chrome fork covers and chrome rear shock covers
• Chrome tank console with integrated ignition switch
• Classic black battery box cover
• Full-length rider footboards
• One-piece, two-up seat with custom stitching
• Black powdercoated engine with polished covers
• 4.7-gallon Street Bob® fuel tank
• Stainless steel, mini ape-hanger handlebar on pull-back riser
• Security Package Option bundles Anti-lock Braking System (ABS) with Smart Security System with proximity-based, hands-free
security fob
• Rubber-mounted Twin Cam 103™ engine with 103-cid (1690cc) with Electronic Sequential Port Fuel Injection (ESPFI) is rated at 98.8 ft. lbs. of torque at 3500 RPM
• 6-speed Cruise Drive® transmission
• Exposed under-seat battery box
• Exposed rear coil-over shock absorbers
• Optional Smart Security System with proximity-based, hands free security fob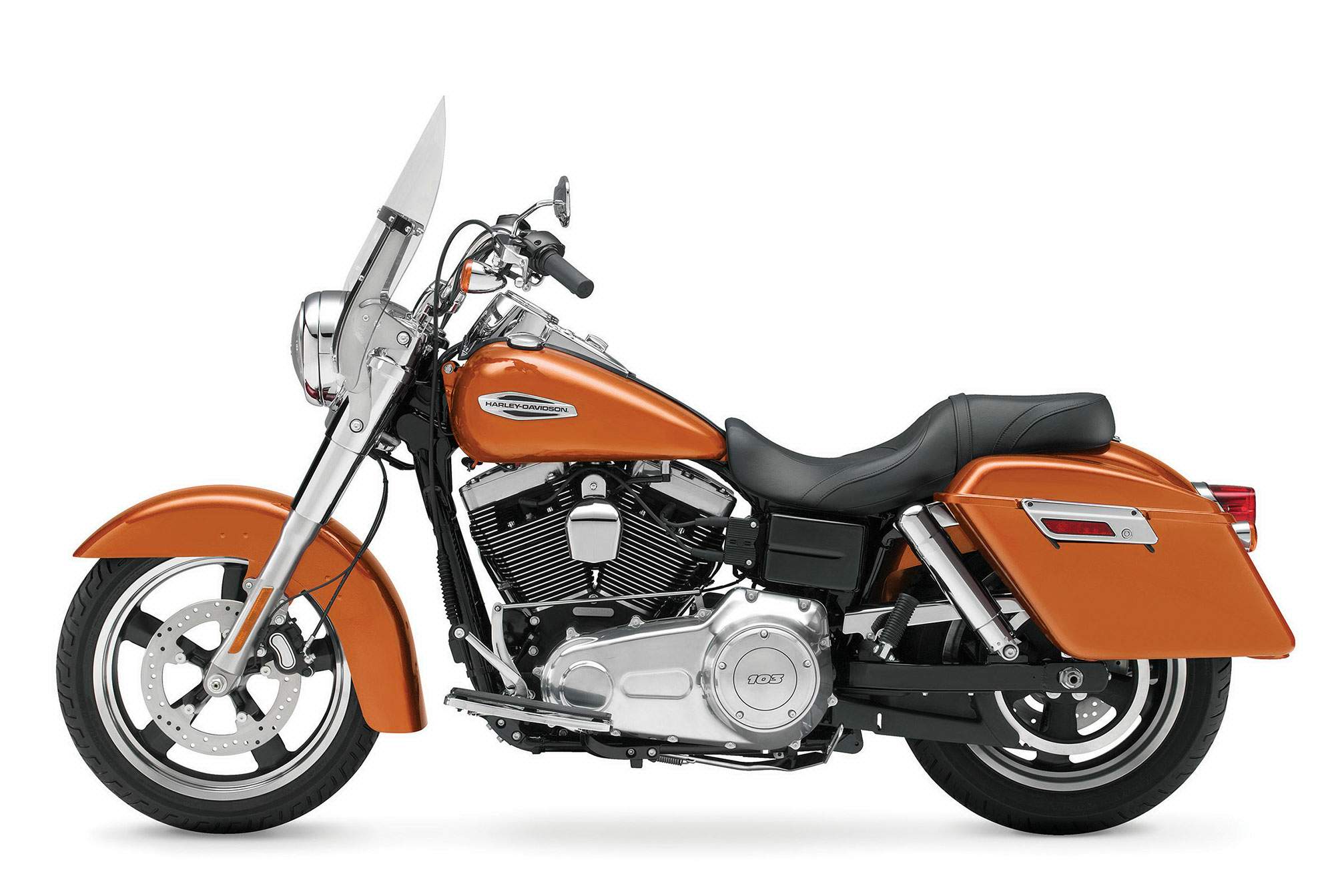 Features and Benefits
Heritage Detailing
The Switchback model's classic retro features have a contemporary look that'll never be lost in the crowd. From its hallmark chromed out headlamp nacelle and its mini "ape hanger" handlebars, to its tank console with 5-inch speedo. This bike makes a modern visual statement that's truly rooted in Harley-Davidson heritage.
Cast Aluminum Wheels with Full Wrap Fenders
These full fenders do more than keep the mud off during your long-hauls—they add to the Switchback model's unique, classic-contemporary profile. And neither are the 5-spoke hot-rod wheels just for show: they may be eye-catching, but their cast aluminum construction and balanced engineering enhance the bike's confident handling.
Convertible Features, Classic Styling
Your riding moods change—so let them. With its detachable windshield and saddlebags, the Switchback motorcycle can make the switch from cruising to touring or back in seconds. Easily take them off for a powerful, head-turning street cruiser. Re-attach them for a comfortable, light-handling tourer that definitely goes the distance. And its clean styling brings vintage Harley-Davidson simplicity to today's roads in a look that defines classic: true to its roots yet completely contemporary. The Switchback motorcycle is like having two bikes in one: a union of opposites that makes no compromises.
Pure Harley-Davidson Styling
Feast your eyes on the Twin Cam 103™ engine and there's no mistaking its roots. This is authentic Harley-Davidson style through and through with an attention to detail you won't find from any other motorcycle company. Black powder-coated heads and cylinders are highlighted by machined cooling fin tips and polished rocker covers. It's a jewel machined out of metal. Pure. Dripping with power. From the classic edge of the cooling fins to the clean lines of cases and covers—the Twin Cam 103 engine makes an ironclad statement about holding on to what's right and staying true to what satisfies.
Six-Speed Cruise Drive® Transmission
You want a ride that rumbles—not begs for mercy—when you lean on it a little. The Six-Speed Cruise Drive provides smooth, quiet shifting and reduces engine speed on the highway, so you get a better match between engine turnover and road speed. And the Isolated Drive System makes acceleration flow in a smooth, steady stream from your wrist right down to the pavement. It's a rare ride when a bike responds like this, and a low growl goes a long way when you're opening up the road ahead.
Twin Cam 103™ Engine Heritage
The knowledge of what makes an engine truly move a rider runs deep at The Motor Company, and it was put to good use when we created the Twin Cam 103 engine. We sweated bullets perfecting every cubic inch, pushing design and technology forward. And we did it all without compromising one bit of Harley-Davidson's unique styling. Evolved, yet carrying on the legacy of the Flathead, Knucklehead, Panhead, Shovelhead®, Evolution®, Twin Cam 88® and Twin Cam 96™ engines that came before. The performance and durability are a direct result of the untold miles logged on the V-Twin since 1909, and the proud heritage that comes from a century's worth of commitment to life on two wheels.
Twin Cam 103™ Engine Innovation
Fire up the Twin Cam 103 engine and feel the low-end torque unleashed. Thanks to the lightweight piston design, delivery of the added power is more refined than ever. Then put your foot on the shifter and feel how the engine and Six-Speed Cruise Drive® transmission were designed to work together. Six speeds. A strong driveline and strong internal parts. Low routine maintenance. And a low cruising rpm couldn't feel better.
Twin Cam 103™ Engine Power
Live your ride to the power of 103. The air cooled Twin Cam 103 Harley Davidson® engine delivers more stump pulling torque, while its Electronic Sequential Port Fuel Injection jetting gives crisp, lively throttle reaction. It's a performance punch that you'll appreciate when passing, climbing hills, or rolling with luggage packed or a passenger in back—all under that signature Motor Company rumble. And it comes at lower cruising rpm, so you ride more smoothly, with less engine vibration and better highway fuel efficiency.
H-D™ Smart Security System (Optional)
The factory installed next-generation security system features a hands-free fob that automatically arms and disarms the vehicle electronic security functions as you approach and walk away from the bike. Stick the fob on your ignition key ring and let it do all the work. It's this attention to detail and security that make Harley-Davidson motorcycles unique.
Standard Anti-lock Brakes
Our anti-lock brakes give "stopping power" a double meaning. We keep our ABS components tastefully hidden within the wheel hub, so you'll turn heads with clean, streamlined design. But more importantly, you get certainty in the saddle knowing your bike's going to behave when you need it.
Adjustable Cigar Tube Rear Shocks
The classic-style suspension covers may add to the Switchback's vintage Harley-Davidson style, but the modern technology they're wrapped around delivers a ride that feels anything but old school. Oil emulsion damping control gives a smooth, quality ride that makes it easy to go the distance. And preload can be adjusted with just a spanner wrench, so you can easily switch your suspension to suit your riding style, touring or cruising.
Light Weight Chassis
You're moving with monster power, but the Switchback is no monster to control. The chassis is tuned for a light-weight feel and easy handling—in fact this is the lightest custom touring chassis available in its class—so you can move and maneuver nimbly, with complete confidence, in all driving conditions. Even getting it on or off its stand is easy.
Cartridge-Style Front Fork
Authentic throwback styling's easy on the eyes, but you want to be sure you're riding with state-of-the-art comfort and confidence. And the Switchback's beefy cartridge-style front fork give you top-notch smoothness whether you're blazing the blacktop across town, long-hauling to the next state, or just prowling a parking lot.
Full-Length Rider Footboards
Your boots were made for riding, in any way you see fit. Our full-length footboards boast a tried-and-true design that's stood the test of time. Plenty of foot positions for your taste and comfort. Rubber vibration isolation for a comfortable ride.
Two-Up Seat
Nostalgic style meets contemporary sleekness and comfort in this deeply contoured, narrow-necked bucket. This saddle relieves pressure on your thighs, while providing back support and comfort, along with plenty of room for your friend to ride along. Additionally, premium stitching accentuates the advanced ergonomics with that sharp detail you only find on a Harley-Davidson® motorcycle. It's science in service of comfort, for the short cruise and the long haul.
Clean Detachable Saddlebags
When you're touring, you want cargo space, big and secure. When you're cruising, you want style, pure and simple. With its detachable saddlebags, your Switchback is always ready for what you want. The bags' unique design makes it easy to load in your stuff, while their sealed, locking, hard-case exterior keeps it well-protected. And when it's time to convert, they come off quickly, cleanly, no tools needed. And like the classic Harley-Davidson® motorcycles it recalls, the Switchback looks great wearing its bags or not. So go ahead, change your mood whenever you want—your Switchback can keep up.
Detachable Windshield
Go from touring to cruising in a heartbeat. Attach the windshield for protection from the elements. Or detach it in seconds for a new look and ride. The Lexan® screen is as tough as they come—durable, scratch resistant, low maintenance. And whether you choose to cruise or keep the shield on, your Switchback rules with a style and versatility you can make your own.
2-into-1 Exhaust
Recalling the bold pipe style of classic Harley-Davidson® motorcycles, the 2-into-1 exhaust helps direct heat away from you and your passenger while delivering powerful performance—not to mention that signature Harley-Davidson rumble every time you crack the throttle.