Harley Davidson FLHX SE CVO Street Glide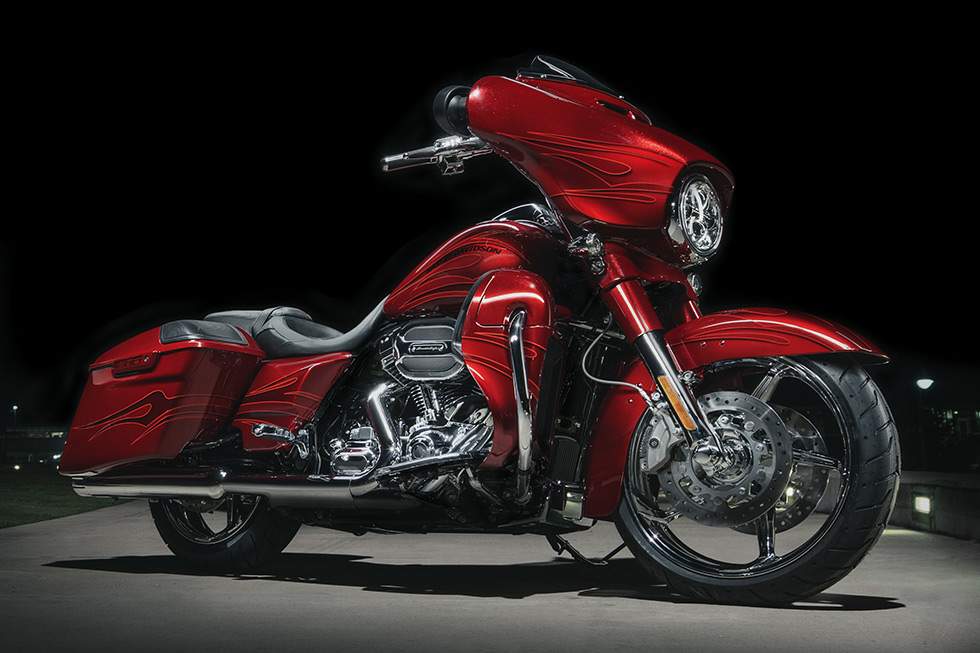 Make Model

Harley Davidson FLHX SE Street Glide CVO

Year

201

6

Engine

Four stroke, Twin Cam 110™ Valves Pushrod-operated, overhead valves with hydraulic, self-adjusting lifters; two valves per cylinder

Capacity

1802 cc / 109.96 cub in.

Bore x Stroke

101.6 x 111.25 mm
Cooling System
Air cooled

Compression Ratio

9.2:1

Exhaust

Chrome dual exhaust with 4 inch touring mufflers and touring muffler shields

Induction

Electronic Sequential Port Fuel Injection (ESPFI)

Ignition

Single-fire, non-wasted, map-controlled spark ignition

Starting

Electric

Max Torque

156 Nm / 15.9 kgf-m / 115.1 ft/lb @ 3750 rpm

Transmission

6 Speed
Final Drive
Belt
Primary Drive
Chain, 34/46 ratio
Gear Ratio
1st 9.593 / 2nd 6.65 / 3rd 4.938 / 4th 3.999 / 5th 3.407 / 6th 2.875
Frame
Mild steel, square-section backbone with twin downtubes

Lean Angle, Left

31º

Lean Angle, Right

32º

Front Suspension

41.3 mm telescopic, cartridge-style damping

Rear Suspension

Short, air-adjustable shock

Front Brakes

2 x 292 mm disc ,4 piston caliper

Rear Brakes

Single 292 mm disc, 4 piston caliper

Wheels, Front and Rear

Mirror Chrome Aggressor custom wheel

Front Tyre

130/60B19 61H

Rear Tyre

180/55B18 80H

Rake
26°
Trail
170 mm / 6.7 in
Dimensions
Length 2450 mm / 96.5 in.
Wheelbase
1615 mm / 63.0 in
Ground Clearance
120 mm / 4.7 in
Seat Height
Unladen 690 mm / 27.2 in.
Gross Vehicle Weight Rating
616 kg / 1360 lbs

Dry Weight

380 kg / 838 lbs

Wet Weight

386 kg / 870 lbs

Oil Capacity

3.8 Litres / 4.0 US qts

Fuel Capacity

22.7 Litres / US 6.0 gal
The Street Glide® motorcycle. This is the hot rod bagger decked out fender to fender with premium sound, infotainment, custom details and mind-blowing paint...

It's a challenge to create a super-premium audio system capable of both shocking volume and outstanding sonic quality. Design that system and then mount it on the most desirable factory-custom bagger ever built, and you've got the 2016 CVO™ Street Glide™ model. Twelve speakers. Two 300-watt four-channel amplifiers. Unique static and dynamic equalizers and a sophisticated midrange DPS cross-over to give music greater clarity and a more natural sound at all volume levels. Tunes from The Strypes to Shania Twain may sound better than you've ever heard before.

The CVO team has turned the entire Street Glide up to 10. Custom features include polished Aggressor custom wheels, extended saddlebags, Airflow Collection accessories from hand grips to muffler caps, a custom CVO™ seat, Daymaker™ LED headlamp and Wind Splitter windscreen. This plus all the Project RUSHMORE features, including an iconic Batwing fairing with Splitstream vent to reduce head buffeting and the Boom! Box 6.5GT infotainment system with Touchscreen and GPS. Top it off with an intricate paint scheme and the added exclusivity of four color options.
But wait…there's more! Offered for the first time in a Street Glide, the Screamin' Eagle Twin-Cooled™ Twin Cam 110™ powertrain pumps out a stout 115 ft. lbs. of torque to really move this bike down the road. A side-fill fuel tank is topped with a new slammed console with illuminated CVO logo. Other custom features include new five-spoke polished chrome Aggressor custom wheels, extended saddlebags, Airflow Collection accessories from hand grips to muffler caps, a custom CVO seat, Daymaker™ LED headlamp and Wind Splitter windscreen. This, plus all the standard Project RUSHMORE features, including an iconic Batwing fairing with splitstream vent to reduce head buffeting and the Boom! ™ Box 6.5GT infotainment system with touch screen and GPS. Top it off with an intricate paint scheme and the added exclusivity of four color options: Scorching Yellow/Starfire Black Flames, Starfire Black/Gold Dust Flames, Ultraviolet Blue/Molten Lava Flames and Hard Candy Mercury/Smoky Quartz Flames.

The 2016 Harley-Davidson® Custom Vehicle Operations (CVO)™ line-up wields big paint, killer wheels, massive power, exclusive technology, and custom-shop details to create four fabulous, limited-production factory custom motorcycles ready to stir the soul of the most demanding rider.

The all-new CVO™ Street Glide model is a hot-rod bagger boasting a new Boom! Audio system backed by 600 watts of power streaming through four bi-amped front and rear three-way speakers for exhilarating volume and clarity. Boasting best-in-class aerodynamic performance, the all-new CVO™ Road Glide Ultra model combines a full complement of premium touring amenities with triple splitstream vents on the all-new frame-mounted fairing. Long-haul travel with style is the mission of the CVO™ Limited model, refreshed for 2015 with new polished chrome Slicer wheels and the Airflow Collection of accessories. The nostalgic character of the CVO™ Softail® Deluxe model is updated with a new braking system and two-tone paint options.

Harley-Davidson CVO motorcycles are customized using exclusive components and paint treatments combined with numerous items from Harley-Davidson Genuine Motor Accessories. The CVO program is often used to introduce new custom components and techniques before they are offered as individual accessories.

Each Harley-Davidson CVO model is powered by a 110ci V-Twin engine, the largest-displacement Original Equipment engine offered by Harley-Davidson and only available from the factory in CVO motorcycles. The 2015 CVO Limited, CVO Street Glide and CVO Road Glide Ultra feature the Screamin' Eagle® Twin-Cooled™ Twin Cam 110™ engine with a combination of air-cooled and precision liquid-cooling strategies to maintain peak performance under the most demanding loads and riding conditions.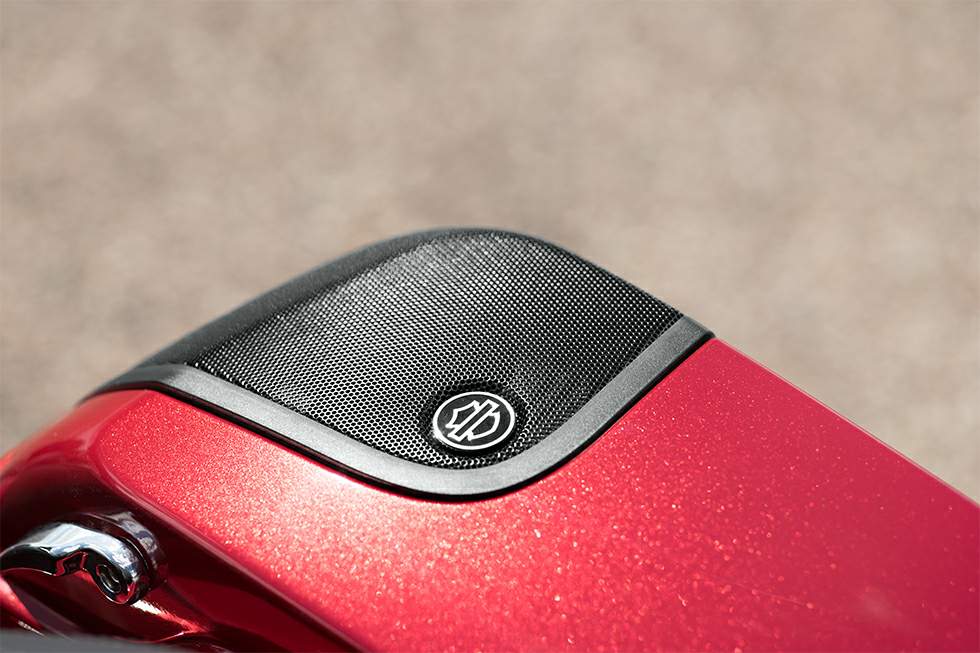 The 2015 CVO Softail Deluxe is powered by the Screamin' Eagle Twin Cam 110 V-Twin engine. All models are equipped with the Assist & Slip Clutch Pack that provides a slip feature on downshifts to reduce loading of the driveline, and hydraulic clutch actuation to reduce lever effort and maintenance. Harley-Davidson CVO models are factory-equipped with electronic cruise control, Anti-Lock Braking System (ABS), keyless ignition and the H-D Factory Security System, and an indoor/outdoor storage cover with the CVO logo.

• Premium Paint color options
• Screamin' Eagle Twin-Cooled™ High Output Twin Cam 110™ Granite powder-coated powertrain with 110 Screamin' Eagle®
identifiers on cylinder heads
- 6-Speed Cruise Drive® transmission
- Hydraulic Assist & Slip clutch
- Electronic Cruise Control
- Low-maintenance belt drive
• Boom!™ Stage II Audio System featuring: four 6x5 inch woven carbon fiber cone woofers, four 1.5-inch midrange polypropylene fiber dome speakers, four 1-inch aluminum dome tweeters, two 300-watt amplifiers with unique static and dynamic equalizers and a
sophisticated midrange DPS cross-over.
• Boom!™ Box 6.5 GT infotainment system with GPS and touchscreen, Bluetooth capability
• NEW 5-Spoke Mirror Chrome Aggressor wheels
• Airflow Collection heated hand grips, brake pedal pad and shifter peg, rider and passenger floorboards, shifter and rear brake levers
• Custom low profile seat with leather inserts and custom stitching
• Daymaker™ LED Headlamp
• Color-matched inner fairing Jukebox media compartment with USB connection
• Reflex™ Linked Brakes with ABS; 5-spoke floating open front brake rotors
• Ergonomic hand controls with intuitive design and improved tactile feel
• One-Touch access to the Tour-Pak®, saddlebags, Jukebox, and fuel tank door permits latching and unlatching with a press or
pull of a finger
• Chrome 2-1-2 dual exhaust with tapered mufflers
• Raised, "stadium-style" gauges with lighted tic band
• Clean rear fender and custom rear fascia with LED lights and custom license plate mount and light
• Injection-molded extended saddlebags with integrated speakers in lids
• CVO™ carryout saddlebag liners
• Keyless ignition and the H-D® Factory Security System

Project RUSHMORE - Control

Here are some of the innovations Project RUSHMORE led to: the Reflex™ Linked Brakes with ABS, the Daymaker™ LED headlamps and fog lamps, brighter Tour-Pak® luggage carrier lighting, brighter turn signals, brighter brake lights, and a steering head with stiffer front forks. Locked-up tires are now history even when there's wet pavement. We've made it feel even better to lean your way through a turn. Now you can see better. And we've made you more conspicuous to the cage-driving public. Because one thing we all agree on is this: bikes that work better make riders who ride better. Take a ride. See how good you can be.
Pure Harley-Davidson Styling
Feast your eyes on the Twin Cam 110™ engine and there's no mistaking its roots. This is authentic Harley-Davidson style through and through with an attention to detail you won't find from any other motorcycle company. It's a jewel machined out of metal. Pure. Dripping with power. From the classic edge of the cooling fins to the clean lines of cases and covers—the Twin Cam 110™ engine makes an ironclad statement about holding on to what's right and staying true to what satisfies.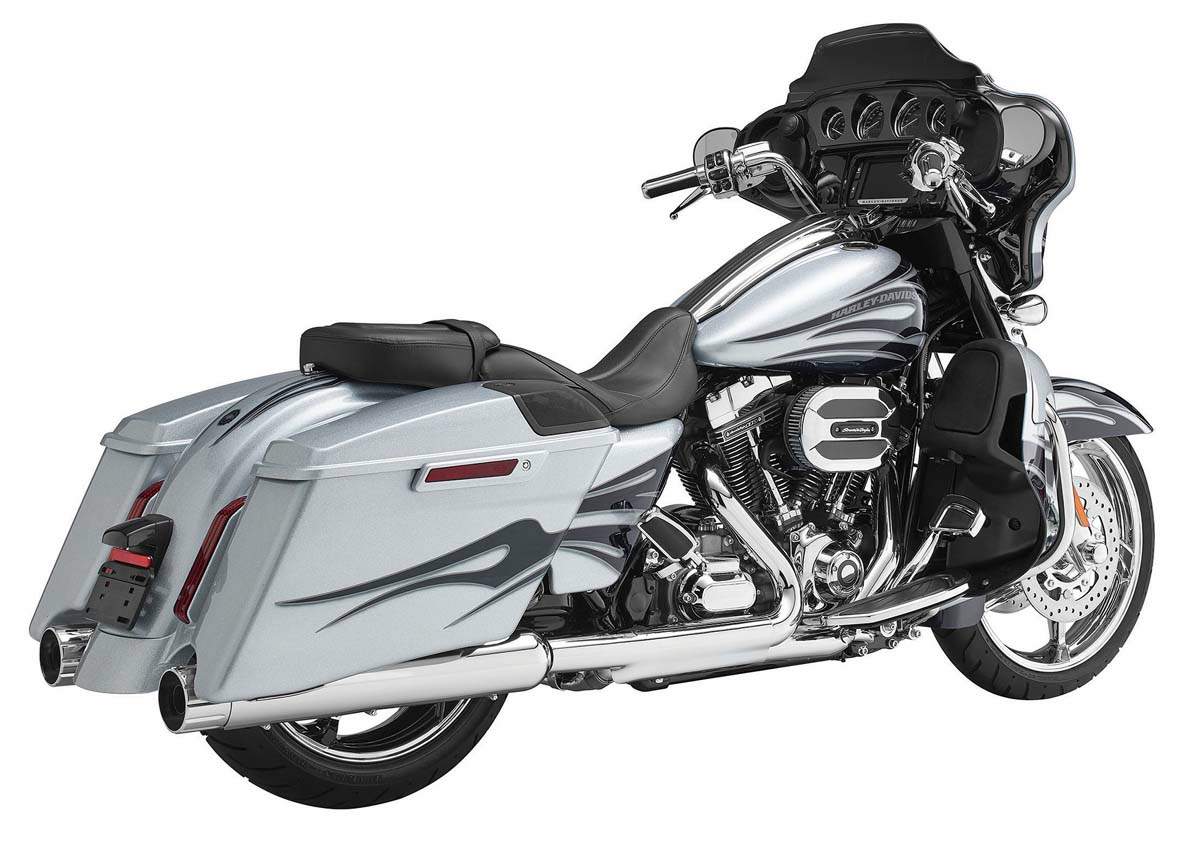 Six-Speed Cruise Drive® Transmission
You want a ride that rumbles—not begs for mercy—when you lean on it a little. The Six-Speed Cruise Drive® transmission provides smooth, quiet shifting and reduces engine speed on the highway, so you get a better match between engine turnover and road speed. And the Isolated Drive System makes acceleration flow in a smooth, steady stream from your wrist right down to the pavement. It's a rare ride when a bike responds like this, and a low growl goes a long way when you're opening up the road ahead.
Twin-Cooled™ Twin Cam 110™ Engine
If you started in 1909 with the very first Harley-Davidson V-Twin engine and worked your way up through every engine, every innovation, every improvement, every ride, every durability test in all those years and countless miles since, you arrive at the Twin-Cooled™ Twin Cam 110™ engine. This is the top of the line. 110 cubic inches of air and precision cooled Harley-Davidson® V-Twin. Twin cooling cools the heads around the exhaust ports to deliver at or near peak performance under all operating conditions and temperatures. Higher compression ratio increases efficiency and horsepower. There's a new airbox for increased airflow and a new cam to optimize low-end torque. On top of all that, it puts less heat on the rider and passenger on scorching days and in stop and go traffic.

Twin Cam 110™ Engine Innovation
Fire up the Twin Cam 110™ engine and feel the low-end torque unleashed. Thanks to the lightweight piston design, delivery of the added power is more refined than ever. Ease out the rock-solid hydraulic clutch and feel how the engine and Six-Speed Cruise Drive® transmission were designed to work together. Six speeds. A strong driveline and strong internal parts. Low routine maintenance. And a low cruising rpm couldn't feel better.
Twin Cam 110™ Engine Heritage
The knowledge of what makes an engine truly move a rider runs deep at The Motor Company, and it was put to good use when we created the Twin Cam 110™ engine. We painstakingly perfected every cubic inch, pushing design and technology forward—all without compromising one bit of Harley-Davidson's unique styling. Evolved, yet carrying on the legacy of the Flathead, Knucklehead, Panhead, Shovelhead, Evolution®, Twin Cam 88® and Twin Cam 96™ engines that came before. The performance and durability are a direct result of the untold miles logged on the V-Twin since 1909 and the proud heritage that comes from a century's worth of commitment to life on two wheels.

Steering Head and Front Forks
Whether it's a big sweeping curve or a set of tight turns, a Project RUSHMORE motorcycle feels rock-solid in the corners. We stiffened up the front end, increased the fork diameter to 49mm (an increase of 18 percent) and retuned the damping for a smoother ride. The responsiveness is dialed in.

Ergonomically Designed Hand Controls
It's hard to enjoy the ride or keep your eyes focused on what's coming down the road when you're fussing and bothering with the switches on your handlebar. So when we built the Project RUSHMORE motorcycles, we worked over the hand controls on our touring bikes with as much passion as we worked over our engine. We made the shape more ergonomic and located and angled them to fall right under your thumbs. We added left-hand cruise for easy activation, toggle switches to control infotainment functions, and an easily locatable trigger switch to control and scan through functional readouts. And we improved the feel to give you a confidence-inspiring click at every push of a button. Even the dash panel switch got better. And it's all prewired for parts and accessories, which even lets you customize with less fuss and bother.
Reflex™ Linked Brakes with ABS
No doubt about it, there are times when you need to haul things down in a hurry. And you don't get to pick those times. Or decide whether or not they occur when you're on a flat, smooth, dry, perfect stretch of pavement. That's why our touring models feature the Reflex™ Linked Brakes with ABS. ABS turns a locked-up front wheel or a rear wheel skid into a relic from riding's history. And the front and rear brakes are electronically linked to provide exactly the right amount of brake to each tire no matter what the road condition is. No matter how good you are, this will make you a better rider.

Brembo® Brakes
Confidence. Control. High-performance dual disc Brembo® brakes offer consistent stopping power at all speeds. The 4-piston front and rear caliper with dual front rotor brake system is state of the art and top of the line. And there's a specific caliper insert. It's just another way The Motor Company puts a high level of detail into their bikes to give you peace of mind throughout your journey.
Daymaker™ LED Headlamp
For those who regard darkness as an invitation to go farther, the Daymaker™ LED headlight will light the way. With powerful, daylight-simulating lumens that bathe the dark road in natural light, a shoulder-to-shoulder spread and a punch that goes deep into the road ahead, the night is yours to take with full confidence. Because not all of us look for an exit when day turns to night.

Dunlop® Multi-Tread™ Blackwall Tires
The 180mm back tire is engineered to do more than fill out the rear fender and put a bigger patch of rubber on the road. Dunlop® Multi-Tread™ technology uses harder compounds at the center and softer on the sides for a tire that still knows how to knuckle down on corners. Perfect for making this bike agile on every curvy stretch of road. And the way it feels going through an abrupt off-camber turn will put a grin on your face that'll last to the next state line.
Hydraulic Rear Shocks with Adjustable Pre-Load
Hydraulic rear shocks with adjustable pre-load give you state-of-the-art function when it comes to dialing in your ride for lighter or heavier payloads, adjusting to unexpected road conditions or just tuning in the ride feel. It's all about setting up your bike the way you like it. Fast. Easy. Simple.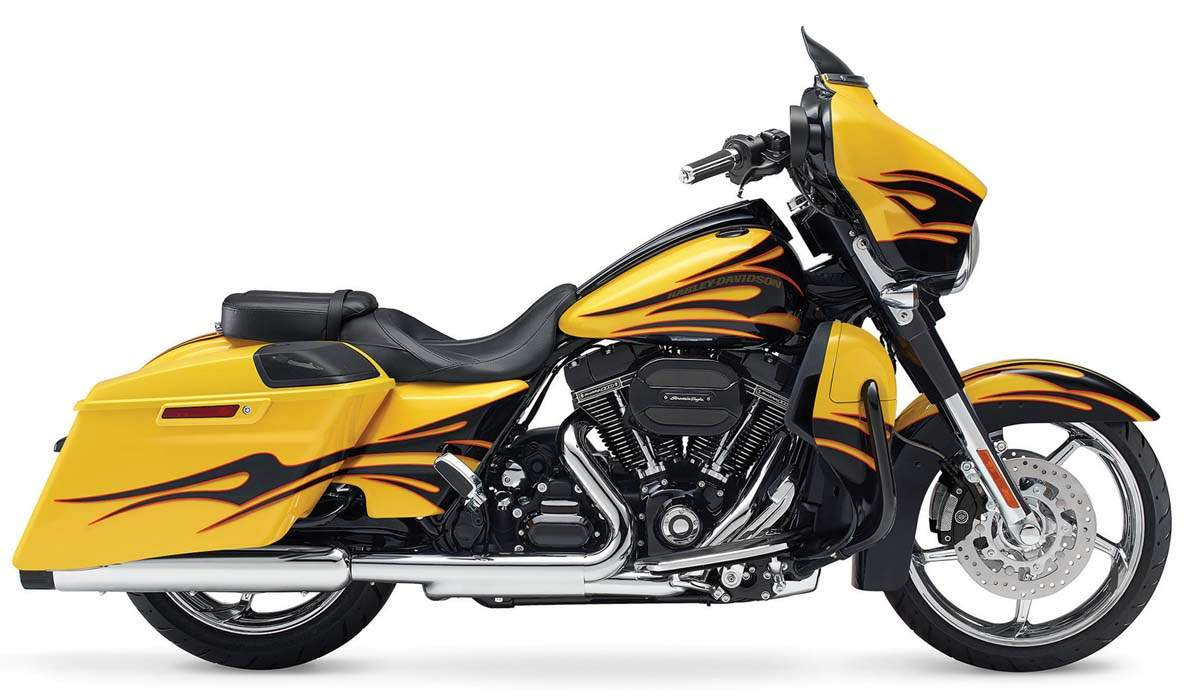 H-D® Smart Security System
The factory-installed next-generation security system features a hands-free fob that automatically arms and disarms the vehicle's electronic security functions as you approach and walk away from the bike. Stick the fob on your ignition key ring and let it do all the work. It's this attention to detail and security that makes Harley-Davidson® motorcycles unique.

Project RUSHMORE - Infotainment
More sound. Purer sound. Big, full-color touch screens. Switches that are located where you intuitively want them to be and can reach without removing your hands from the grips. Voice activation for your music, phone and GPS. Or as more than one rider asked: "Why can't the infotainment system on my motorcycle blow away the ones the car companies put in their cars?" We couldn't agree more. Check out the infotainment system Project RUSHMORE brought to the sport of motorcycling. You won't believe your eyes. Or ears.

NEW 6.5 inch BOOM!™ Stage II 3-way front speakers
Big, clear sound for your stereo is what want and that's what you get on the CVO™ Street Glide® motorcycle. It's served up via new 6.5" BOOM! Stage II 3-way speakers in front. They make the sound coming at you as epic as the road ahead.

6.5-inch Full Color Touch Screen Display
This 6.5-inch full-color touch screen puts all your information in front of you bigger than ever. Modern graphics, colors you can dial in, and auto and manual dim. Designed to sit stylishly inside your fairing, it takes screen technology to an eye-popping level of Harley-Davidson functionality. This is more than you expect, but when you're going all the way, it's everything you deserve.

BOOM!™ Box 6.5GT Radio with GPS and Touchscreen Display
Let's start with this. The Boom!™ Box 6.5GT Radio puts out 75 watts per channel at 1% distortion and features a factory-tuned, optimized equalizer that pumps out more power and can be played louder while maintaining the clarity of your sound. And the speed tuning system delivers more than just volume changes at different speeds. It changes the level of bass and treble to dial in the best sound, whether you're running at a stately pace down the strip or going hell for leather down an open stretch of road. How do you like the sound of a Harley® motorcycle?

Jukebox with USB Port for iPod/iPhone
The Jukebox opens with one touch of a button and includes a USB connection which accepts your iPhone, iTouch, non-iPod imitators, and SD card and other USB compatible devices. Pop it open, plug in and your device becomes a part of your motorcycle. Ready to be operated by voice command or hand controls.

Voice Recognition, Bluetooth™
The Boom!™ Box 6.5GT gives you voice recognition for hands-free operation of your mobile phone, navigation system and music. It's also Bluetooth capable. Whatever you want, just say the word. Whether it's directions to the next gas station, a call back to the office you're not at today or a song that fits the stretch of road you're on, it'll be served up without missing a beat.

Project RUSHMORE - Feel

We dialed in the comfort of our machines the hard way: over thousands of miles in all kinds of riding conditions on every kind of street, road and highway ever laid down in pavement. Experienced riders putting in long hours in the saddle and giving us feedback on every aspect that contributes to comfort on the road. Airflow, heat management, seat textures, legroom and hand controls all went under the hard microscope of the road and got tested and re-tested by real riders and worked and re-worked by us until we were satisfied we had built the most comfortable machines on the road. We all want to go farther, and when you're more comfortable in the saddle, you can.

Batwing Fairing with Splitstream Vent
This is what the science of cheating the wind involves at Harley-Davidson now: fluid mechanics, algorithms, high-speed super computers and thousands upon thousands of wind-tunnel tests with riders in the saddle telling us how it feels. And that's before we take it out on the road for thousands of miles of real world wind gusts and every form of rain a cloud can spit out. The result: a Batwing fairing that delivers smoother air flow and reduced head buffeting. Most of it thanks to the pressure-equalizing duct on the front. It opens and closes with one touch of a button. The feeling of being in the wind just got even better.

Standard Cruise Control
Installing cruise control is standard operating procedure on the touring models because riding long stretches of unbroken highway is standard operating procedure among touring riders. Electronic throttle control means no cable cluttering up your handlebar. And the switches are placed where you can easily dial in your speed with your left thumb, give the wrist a break, and keep hauling on down the road.

Full-Length Floorboard with Heel/Toe Gear Shift
Your boots were made for riding—any way you see fit. Our full-length footboards boast a time-tested, tried-and-true design and rubber isolation for a comfortable ride, while the height-adjustable passenger boards add another level of customizable comfort for your riding partner. And for shifting gears, you can use either the traditional toe-shift or the even easier, more convenient heel-shift. It might take a few rides, but once you've gotten used to the smooth shifting rhythm, you'll never give it up.

Wide Set Handlebar
Classic style and maximum comfort. That's the perfect balance of the wide set handlebars that come standard on the CVO™ Street Glide® model. They're designed to keep you comfortably propped in a commanding position while making sure your neck muscles stay calm and relaxed mile after mile, state after state. Durable stainless steel ensures the structural rigidity you expect from a Harley-Davidson® motorcycle with the deep, lustrous finish you desire.

Two Up Seating
Modern styling and comfort that doesn't sacrifice an ounce of nostalgic style: this ultimate Touring saddle features a sculpted seat with a deeper contoured bucket and narrower neck, to relieve pressure on your thighs, while providing more back support and comfort for a wide variety of rider sizes. And the lower seat height—26.1 inches to be exact—puts your feet closer to the road to enhance your confidence. Additionally, the leather trim and premium stitching accentuate the advanced ergonomics while giving the seat that sharp detail you only find on a Harley-Davidson® motorcycle. It's science in service of comfort, and your way to beat fatigue over the long haul.

Project RUSHMORE - Feel
If you want the ride to be truly epic, you have to sweat bullets to make the little things work exactly right. This is what Project RUSHMORE was all about. Now you have saddlebags that can be easily opened with one hand. Compartments that open with one touch. And we've increased the storage space on these machines without ruining the sleek, road-eating look of the bike. It all adds up to hundreds of little moments where things just click conveniently into place. Because there can be no imperfections in the quest for the perfect ride.

High Output Accessory Connector
Touring means maximum comfort in all conditions and the capacity to add whatever enhances and personalizes your ride. The high output charging system provides an electrical capacity robust enough for your add-ons: heated vests, heated seats, heated handgrips, lights to showcase the engine, you name it. So if you're hell-bent on two-wheeling it, we make sure you've got the juice to do it your way.

One-Touch Design Philosophy
Here's the rule we laid down for every compartment cover and saddlebag lid on our touring line: if it doesn't open with the single touch of a button or one hand, while wearing gloves, it doesn't go on the motorcycle. Because in all our conversations with riders, we've never encountered a single individual who wanted to have to put something on the ground before he could store it in a saddlebag.

Extended Saddlebags with Integrated 5" x 7" BOOM!™ Stage II 3-Way Speakers
The CVO™ Street Glide® model features injection molded extended saddlebags. They not only give you full-on hot rod bagger style, they give you booming sound for your stereo thanks to integrated 5" x 7" BOOM!™ Stage II 3-way speakers. You also get carryout liners for getting your stuff from the parking lot to the motel, secure locks and easy one-hand operation.

Chrome One-Touch Fuel Door
One button, one touch, fuel door open. Any questions?

Standard Battery Charging Harness
No question a battery charging harness is a must-have on a motorcycle. Now it's standard. So you don't have to waste even the ten minutes it takes to install one on some sunny Saturday when you could be riding.

All-New Airflow Collection
The CVO™ Street Glide® motorcycle rolls off the line with a full compliment of custom touches from the Airflow Collection: full-length floorboard with heel/toe gear shift, passenger foot pegs, grips, brake pedal pad and muffler end caps. You want more. More is what you get.

Exclusive CVO™ Motorcycle Enhancements
All the quality. All the legacy of the Harley-Davidson name. Plus custom touches and performance that distinguish you from every other bike on the road. Sure there's a little vanity. Premium custom. Big, tricked-out wheels. Deep attention to details. The perfect storm of engineering and style you'll only find on a custom machine. And you'll spoil yourself with the accessories—from comfort to electronics to chrome. But the real signature of a Harley-Davidson® Custom Vehicle Operations™ motorcycle is the explosive power and sleek detailing of the huge Twin Cam 110™ engine with Screamin' Eagle® engine badges. It's custom-built, not just for anyone, but for true connoisseurs of the road.

High-Impact Paint and Graphics
Individually crafted and hand-finished paint and graphics come standard on all Harley-Davidson® Custom Vehicle Operations™ motorcycles, balancing style and premium appeal to create one-of-a-kind custom motorcycle masterpieces. The CVO™ Street Glide® model offers four exclusive color schemes: Scorching Yellow/Starfire Black Flames, Ultraviolet Blue/Molten Lava Flames, Hard Candy Mercury/Smoky Quartz Flames and Starfire Black/Gold Dust Flames. Skimping? The word's simply not in our vocabulary.

Classic Fuel Tank
Part of the unmistakable style of the Harley-Davidson® CVO™ Street Glide® motorcycle is plenty of room for showing off your paint. This classically styled, bold six-gallon fuel tank doesn't just give you a bigger canvas for premium or custom paint; it holds six gallons of go so you can eat up a lot more road between pit stops. We know fuel economy is important—but so is style. Sharp, eye-catching colors and precision-crafted Harley-Davidson® tank medallions complete the unique look of this tough bagger.

NEW 5-spoke polished chrome Aggressor wheels with matching 5-spoke floating front rotors
You roll in style on the CVO™ Street Glide® motorcycle. You've got 5-spoke polished chrome Aggressor wheels front and back with matching 5-spoke floating front rotors. And the cut back front fender exposes all of it to the world. Custom Vehicle Operations™ are about big engines, big paint and big wheels. As you can see, this one has the wheels covered in spades.

Gloss Black Inner Fairing
A premium gloss black finish comes standard on the inner fairing of the CVO™ Street Glide® motorcycle. It has raised black-faced stadium style gauges, a lighted tic band, and an electronic speedometer with a spun aluminum finish. All there because on a bike like this one, you can't help but go the extra mile.

Custom Low Profile, Two-Piece Seat with Leather Inserts and Custom Stitching
Check out the custom, low profile seat on the CVO™ Street Glide® motorcycle. Note the leather inserts and custom stitching on the seat. Craftsmanship like this is getting harder to find in the world today, but as long as we're making CVO motorcycles, you'll know where to look.

Slammed Front Fender
Notice how tight the front fender on the CVO™ Street Glide® motorcycle rides to the front wheel? A rubber-hugging fender like this never goes out of style.

LED Brake and Rear Turn Singals
Notice the clean, no-nonsense lines of the rear fascia. Mounted inside, there are LED brake and rear turn signals. They not only give the CVO™ Street Glide® motorcycle a modern custom finish, they blast out light that's hard for the driver behind you to ignore.

Inner Fairing Design
Put your eye to the inner fairing of the CVO™ Street Glide® motorcycle. There's a bigger display screen (see the whole story in the infotainment section). Check out the gauges. You'll notice a 10 percent larger viewing area, with wider, taller numbers sitting on top of that classic black background. The information gets bigger and better too. There's a gear indicator for all six gears and the display area, which can now be operated by an extremely convenient trigger switch, puts more information at your fingertips. The temperature and fuel gauge are larger too. When you're on the road, one quick glance tells you everything you need to know.

Tank and Fender Badges
This isn't just a motorcycle. It's a work of art, born out of passion, creativity and long days, late nights and refusing to be satisfied until every detail was perfect. When we added the signature, we did it with metal. Nothing else would be right on this masterpiece.

Insert/Emblem Package
The CVO™ Street Glide® motorcycle rolls off the line with an engine turned insert/emblem package that includes a Screamin' Eagle® air cleaner insert, derby cover, timer cover and a console insert with a CVO logo. If there's one piece of this machine that didn't get the custom treatment, you're going to have to look long and hard to find

Bullet Turn Signals
We went end to end and top to bottom to give the Harley-Davidson® Touring lineup the clean, tight, sharp, iconic look and feel that only befits the next generation of our motorcycles. The finishing touch – bullet turn signals with smoked lenses and amber bulbs. Sleek and modern, yet a timeless classic.

Color Matched Components
It wouldn't be a Harley-Davidson® motorcycle if we didn't sweat the details. Note the color-matched fairing skirt on the CVO™ Street Glide® motorcycle this year. You also get a matching upper fork, slider cover and license plate cover. It's that little bit of extra attention in the design studio that gets a little bit of extra respect on the street.