Make Model

Harley Davidson FLHRC Road King Classic

Year

2009 - 10

Engine

Four stroke, 45° V-Twin, Twin Cam 96 vibration isolation-mounted Valves Pushrod-operated overhead valves; w/ hydraulic self-adjusting lifters; two valves per cylinder

Capacity

1584 cc / 96 cu-in

Bore x Stroke

95.2 x 111.2 mm
Cooling System
Air cooled

Compression Ratio

9.2:1

Induction

Electronic Sequential Port Fuel Injection (ESPFI)

Ignition

Single-fire, non-wasted, map-controlled spark ignition
Starring
Electric

Max Torque

124.7 Nm / 92 ft. lbs @ 3000 rpm

Transmission

6 Speed
Final Drive
Belt
Gear Ratio
1st 9.312 9.312 9.312
2nd 6.421 6.421 6.421
3rd 4.774 4.774 4.774
4th 3.926 3.926 3.926
5th 3.279 3.279 3.279
6th 2.790 2.790 2.790
Frame
Mild steel, square-section backbone with twin downtubes

Front Suspension

41.3 mm telescopic, cartridge-style damping

Rear Suspension

Short, air-adjustable shock

Front Brakes

2x 292mm disc 4 piston caliper

Rear Brakes

Single 292mm disc 4 piston caliper

Front Tyre

130/90B16 67H

Rear Tyre

180/65B16 81H

Trail
170 mm / 6.7 in
Dimensions
Length 2392 mm / 94.2 in
Width 949.96 mm / 37.4 in
Height 1399.54 mm / 55.1 in
Wheelbase
1612 mm / 63.5 in
Seat Height
Laden2 678.mm / 26.7 in
Unladen 714 mm / 28.1 in
Dry Weight
350.6 kg / 773 lbs

Wet Weight

367.4 kg / 810 lbs

Fuel Capacity

22.7 Litres / 6.0 US gal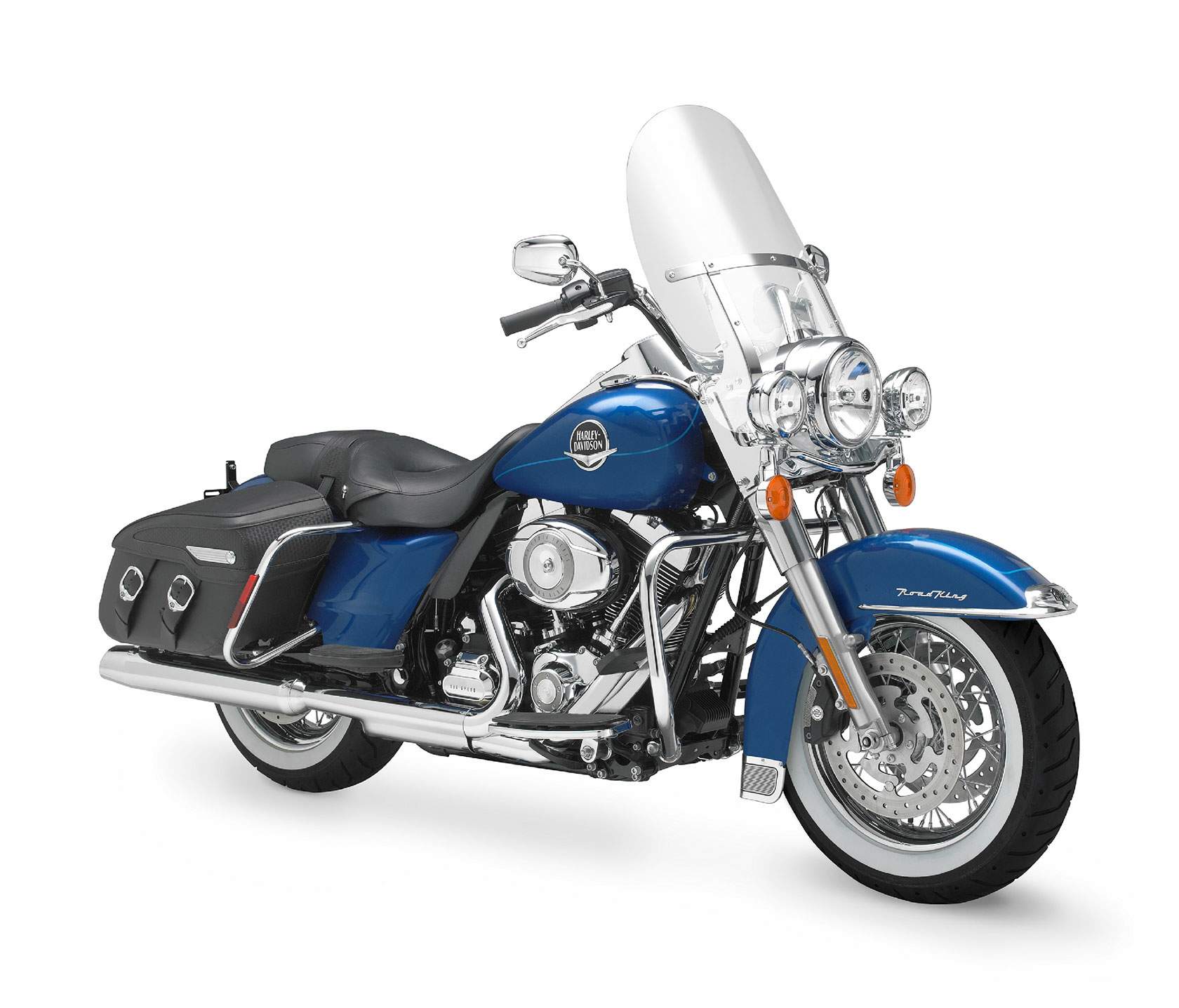 Rolling nostalgia you can ride over the horizon, the Road King Classic incorporates styling elements from the past in a touring motorcycle with modern technology. The 2009 Road King Classic retains its 16-inch front and rear laced steel wheels and wide-whitewall tires. Tooled leather covers the seat trim and the leather-covered saddlebags. Touring features include a large detachable windshield, auxiliary passing lights, and standard cruise control. Two-tone fender graphics are new for 2009, and a new license bracket locates the plate above the tail lamp.

A new chassis designed to deliver precise responsive maneuverability, increased capacity and greater comfort for rider and passenger underpins the seven-model Harley-Davidson Touring family for 2009.

Incorporating an all-new frame, swingarm, engine mounting system, wheels and tires, the new chassis forms the foundation for what are truly all-new motorcycles. The key styling elements of these motorcycles, however, are essentially unchanged so that the distinctive character and mechanical beauty of each Touring model is preserved.

"In 2009, Harley-Davidson will mark its 15th consecutive year of leading the touring segment in market share," said Bill Davidson, Harley-Davidson Vice President, Core Customer Marketing. "Harley-Davidson takes pride in this leadership of an entire touring experience that includes great motorcycles, along with the activities of the Harley Owner's Group, the philosophy of riding with customers while attracting new ones, and producing high quality items like Genuine Motor Accessories and MotorClothes Merchandise. Our dedication to constant improvement of Harley-Davidson motorcycles brings the new chassis and other upgrades for 2009 to deliver a new level of agility and responsiveness, rider and passenger comfort, and cargo capacity."

The 2009 Touring models continue a series of product innovations that can be traced back to a research study conducted by the company in 2002, and to face-to-face interaction with customers who rode an estimate 50 million miles during the Harley-Davidson 100th Anniversary event in 2003. Armed with this feedback, Harley-Davidson launched a program to maintain its touring leadership through the introduction of the Twin Cam 96 engine and 6-speed Cruise Drive transmission, 103ci and 110ci Big Bore kits through Genuine Motor Accessories, the Isolated Drive System, electronic throttle control, Brembo brakes with optional ABS, a six-gallon fuel tank, reduced clutch lever effort, the Advanced Audio System by Harman-Kardon, GPS navigation with Ride Planner downloads, a high-output charging system to better enable new accessory heated seats and grips, and a two-year warranty with extended service intervals.

Harley-Davidson Touring motorcycles, the Kings of the American road, have been tested by time and millions of highway miles in the hands the most demanding long-distance riders in the world. All 2009 Touring models are powered by the rubber-mounted 1584cc Twin Cam 96 V-Twin engine with Electronic Sequential Port Fuel Injection (ESPFI), mated to the 6-speed Cruise Drive transmission for outstanding performance and economy. All models also feature air-adjustable rear shocks to accommodate variable passenger and luggage loads.

The All-New Touring Chassis
New from the tires up, the Touring chassis is based on a single-spar, rigid backbone frame that supports an increase in load capacity of 70 pounds. This allows for a five pound increase in each saddlebag and the Tour-Pak. A new swingarm contributes significantly to the overall system. The engine-isolation system has been revised to reduce engine and vehicle vibrations at idle speed.

The wheel-and-tire package is updated, with front wheel diameter increased to 17 inches from 16 inches (except for the Road King Classic) while the width of the 16-inch rear wheel is increased to five inches from three inches. All Touring models will be equipped with new Dunlop D407 Multi-Tread rear tires that offer up to 25 percent more rear-tire tread life. The wider rear wheel accommodates a new 180/65-16 rear tire. The new front tire is a 130/80-17. Front and rear suspension has been recalibrated to match the dynamics of the new chassis, wheels and tires.

Powertrain revisions include a new 2-1-2 exhaust system that reduces heat exposure to the rider and passenger, and a lower final drive ratio for improved acceleration performance. Rear styling is cleaner, with a wider fender and the elimination of the rear "hoop" over the fender on models not equipped with a Tour-Pak. (Please see the separate Touring Chassis Tech release for more detailed information.)

Key Touring Family Features

Anti-Lock Braking System (ABS): Offered as a factory-installed option on all 2009 Touring models, ABS is designed to help the rider maintain control during braking events, especially those that happen in less-than-optimal conditions. The components of the Harley-Davidson ABS have been designed and packaged to be virtually invisible, preserving the uncluttered styling of the area around the wheels. Unlike many motorcycle ABS, Harley-Davidson ABS is not a linked system, meaning the rider maintains full, independent control of both front and rear brakes.

Electronic Throttle Control: Electronic Throttle Control (ETC) replaces mechanical cables on all Touring models. All wiring from the throttle-grip sensor is routed through the handlebars. The ETC enables an easy upgrade to a cruise control system, and unclutters the handlebar area for cleaner styling.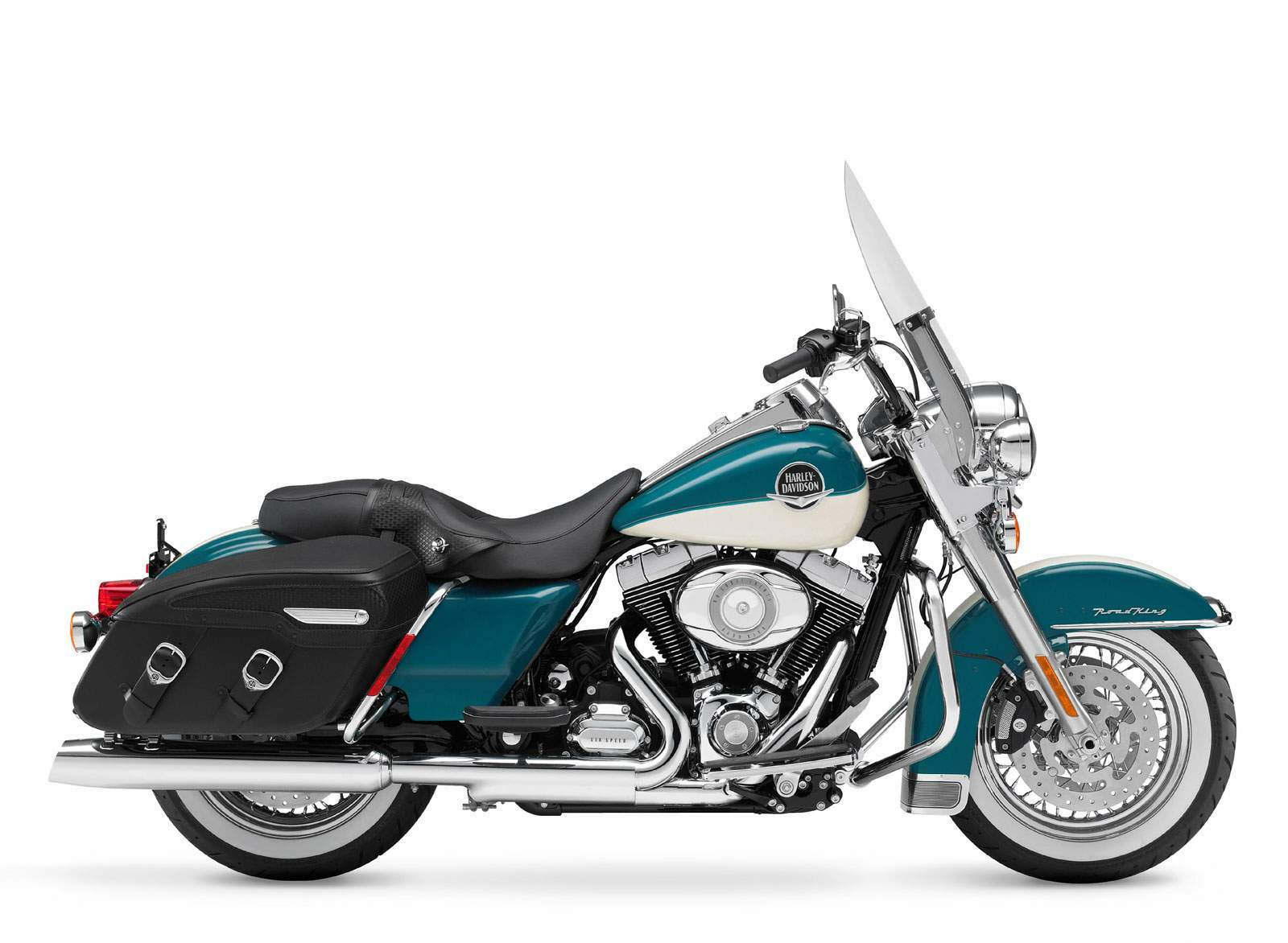 Factory-Option Cruise Control: Available for all models that do not come equipped with cruise control as standard equipment.

Isolated Drive System: The Isolated Drive System compensator is now integrated into the rear wheel hub, eliminating the bolt-on bowl for a cleaner look. The Isolated Drive System reduces noise and vibration to the rider for improved ride quality under acceleration, shifting and cruising.

New Features:

The new chassis that underpins the 2009 Touring motorcycles from Harley-Davidson improves comfort and functionality of these legendary machines, while preserving the timeless character that makes a Harley-Davidson Touring bike the King of the American road.

The Touring frame, triple clamps, swingarm, engine mounts, exhaust system, rear fender, wheels and tires have been redesigned, and together provide the foundation for what are truly all-new motorcycles. Key styling elements – including the front end, fuel tank, saddlebags and Tour-Pak – are essentially unchanged, so that these Touring models are visually similar to those distinctive motorcycles that precede them. Ride quality remains smooth, while maneuverability is precise and responsive.

The Frame
Forming the core of the 2009 Touring chassis is a new frame with a single-spar, rigid backbone designed to sustain the demands of long-haul touring riders and today's powerful engines. The new frame provides a strong foundation that supports a 70 pound increase in carrying capacity. The storage compartments have a 15-pound increase in rated cargo capacity (five pounds per saddlebag, and five pounds in the Tour-Pak).

The frame is engineered to be manufactured with the latest coordinated motion robotic welding process, which offers outstanding dimensional accuracy and weld quality. The frame design results in a 50 percent reduction in parts, and a 50 percent reduction in the total length of welds. T-studs have been eliminated, and the components of the new frame are joined with cast and forged node-tube joints.

A separate bolt-on tail section isolates the main frame from the tail frame, providing better quality-control during manufacturing and more product-design flexibility. The new tail section improves the fit-and-finish of the rear area of the motorcycle through more-precise alignment of the rear fender over the rear wheel.

A new swingarm is formed with a two-piece, deep-drawn shell with a forged pivot section. The new swingarm contributes significantly to the overall system.

The engine-isolation system has also been revised, resulting in reduced engine and vehicle vibration at idle speed. The new system replaces a single front isolator with twin front isolators with a single tie link. The front and rear mounts are designed to provide optimal balance between stiffness and isolation, and are intended to be very durable. Finally, new asymmetric snubbers provide improved control of the clearance between the engine and frame during extreme bump events.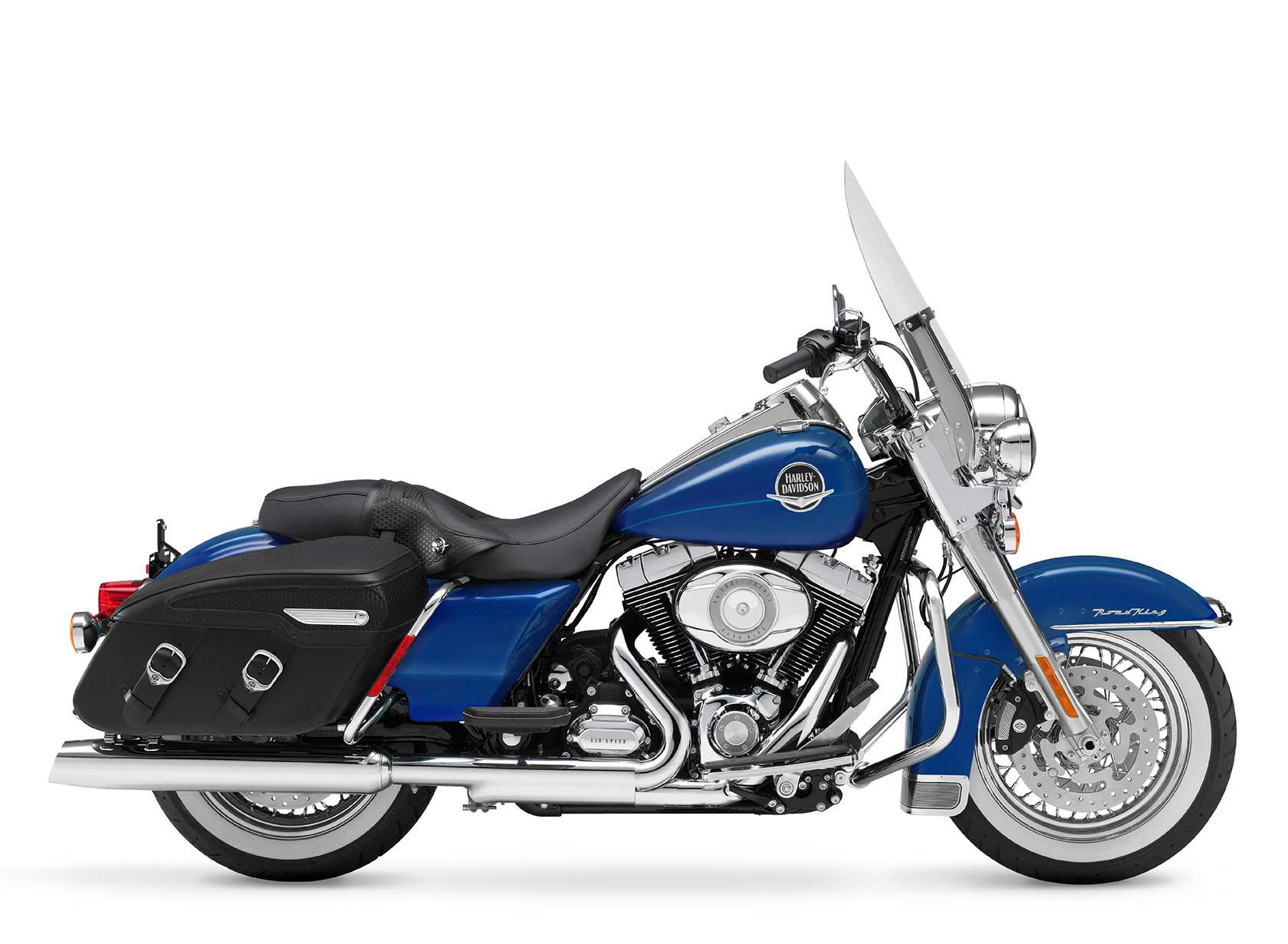 Wheels, Tires and Suspension
A new wheel-and-tire combination plays a key role in the responsive performance of the 2009 Touring chassis. Front wheel diameter is increased to 17 inches from 16 inches (except for the Road King Classic, which has 16-inch Laced chrome steel wheels front and rear), while the width of the 16-inch rear wheel is increased to five inches from three inches. New 28-spoke cast aluminum wheels were designed using finite element analysis for maximal stiffness with minimal weight. The Street Glide has restyled Slotted Disc cast aluminum wheels that have also been engineered for maximum stiffness with minimal weight.

All 2009 Touring models will be equipped with new Dunlop D407 Multi-Tread rear tires designed specifically for the new Harley-Davidson Touring chassis. The construction of the tires and the distribution of a longer life center tread compound and more aggressive shoulder compound enhance straight line performance and will deliver up to 25 percent more rear-tire tread life than the previous tire. The wider rear wheel accommodates a new 180/65-16 rear tire that is wider and has a lower aspect ratio than the MU85B16 tire it replaces. The new rear tire size contributes to the increase in cargo capacity. The new front tire, a 130/80-17, also has a lower aspect ratio for a more modern look and responsive handling. Front and rear suspension has been recalibrated to match the dynamics of the new chassis, wheels and tires. Steering head rake and fork angle are unchanged at 26 degrees and 29.25 degrees respectively, but trail has been increased by 0.5 inch to 6.9 inches. Wheelbase is increased by .556 inches, to 63.54 inches.

Powertrain
All 2009 Touring models are powered by the Twin Cam 96 V-Twin engine with Electronic Throttle Control (ETC) mated to the 6-speed Cruise Drive transmission. A new one-piece welded exhaust header features a 2-into-1-into-2 design and features new routing to enhance rider and passenger comfort. On models so equipped, the exhaust catalyst is located in the collector. The rear pipe is restyled and now curves forward of the transmission. A new single-piece front exhaust shield replaces the previous two-piece shield and eliminates a gap that exposed the exhaust pipe on the previous exhaust system.

Acceleration performance is improved on all 2009 Touring models due to a lower final drive ratio, as a 68-tooth rear sprocket replaces the previous 66-tooth sprocket. The Isolated Drive System has been redesigned, and the compensator is now integrated into the rear wheel hub, eliminating the bolt-on bowl for more integrated design.

Styling, Comfort and Convenience
The increase in wheelbase allowed the saddlebags to be moved rearward a corresponding distance (.556 inches) to increase passenger legroom in front of the saddlebags. The elimination of the left-rear exhaust pipe, and the new routing of the right-rear exhaust pipe, reduces the heat exposure to the rider's thighs and the passenger's calves.

The rear fender has been re-shaped to accommodate the new 180 mm rear tire, and is also designed to work with 18-inch custom rear wheels from Harley-Davidson Genuine Motor Accessories. On models not equipped with a Tour-Pak, the license plate has been relocated below the tail light and is illuminated by an LED located in an eyebrow on the turn signal lightbar, except on the Road King Classic. Finally, the rear "hoop" over the fender has been eliminated from models not equipped with a Tour-Pak. The combination of these elements results in a striking new look to the rear end, with perfect proportions that are especially evident on Touring models that are not equipped with the Tour-Pak.

The new Tour-Pak support rack has no holes in the tubes for Tour-Pak attachment. The new design uses fewer fasteners and hardware, and makes it easier to adjust the Tour-Pak fore and aft for passenger comfort. Tour-Pak capacity is increased by five pounds. Saddlebag capacity is increased by five pounds per side.

Shorty dual antennas replace the previous whip antennas. With no loss of performance, both the radio and CB antennas now clear a seven-foot garage door.

A new LED rear-fender tip light on the Electra Glide Classic and Ultra Classic Electra Glide is brighter and more attractive than the incandescent bulb it replaces.

The revised exhaust routing and other new features combine to deliver comfort for the long haul in a variety of environments.

Harley-Davidson Motor Company, the only major U.S.-based motorcycle manufacturer, produces heavyweight motorcycles and a complete line of motorcycle parts, accessories and general merchandise. For more information, visit Harley-Davidson's Web site at www.harley-davidson.com.

FLHRC Road King Classic features:

Rubber mounted 1584cc Twin Cam 96 engine with ESPFI
6-speed Cruise Drive transmission
Black powder-coated engine with chrome covers
Brembo triple-disc brake system
Six-gallon fuel tank
Electronic Throttle Control
NEW 2-1-2 exhaust system
NEW engine isolation system
NEW Isolated Drive System
NEW frame and swingarm
NEW Dunlop D407 Multi-Tread 180/65-16 rear tire/wide white stripe
NEW Dunlop D407 130/80-16 front tire/wide white stripe
Chrome Laced Steel wheels
Large Hiawatha headlight and chrome nacelle
Auxiliary passing lights
Detachable windshield
Large tank-mounted speedometer
Leather-wrapped, hard saddlebags
Tooled leather seat trim with chrome accents
Chrome tank and fender emblems
Slash-cut mufflers
Electronic cruise control
Optional ABS
Optional Chrome Aluminum Profile Laced wheels
Optional Smart Security System