Harley Davidson FLHRC Road King Classic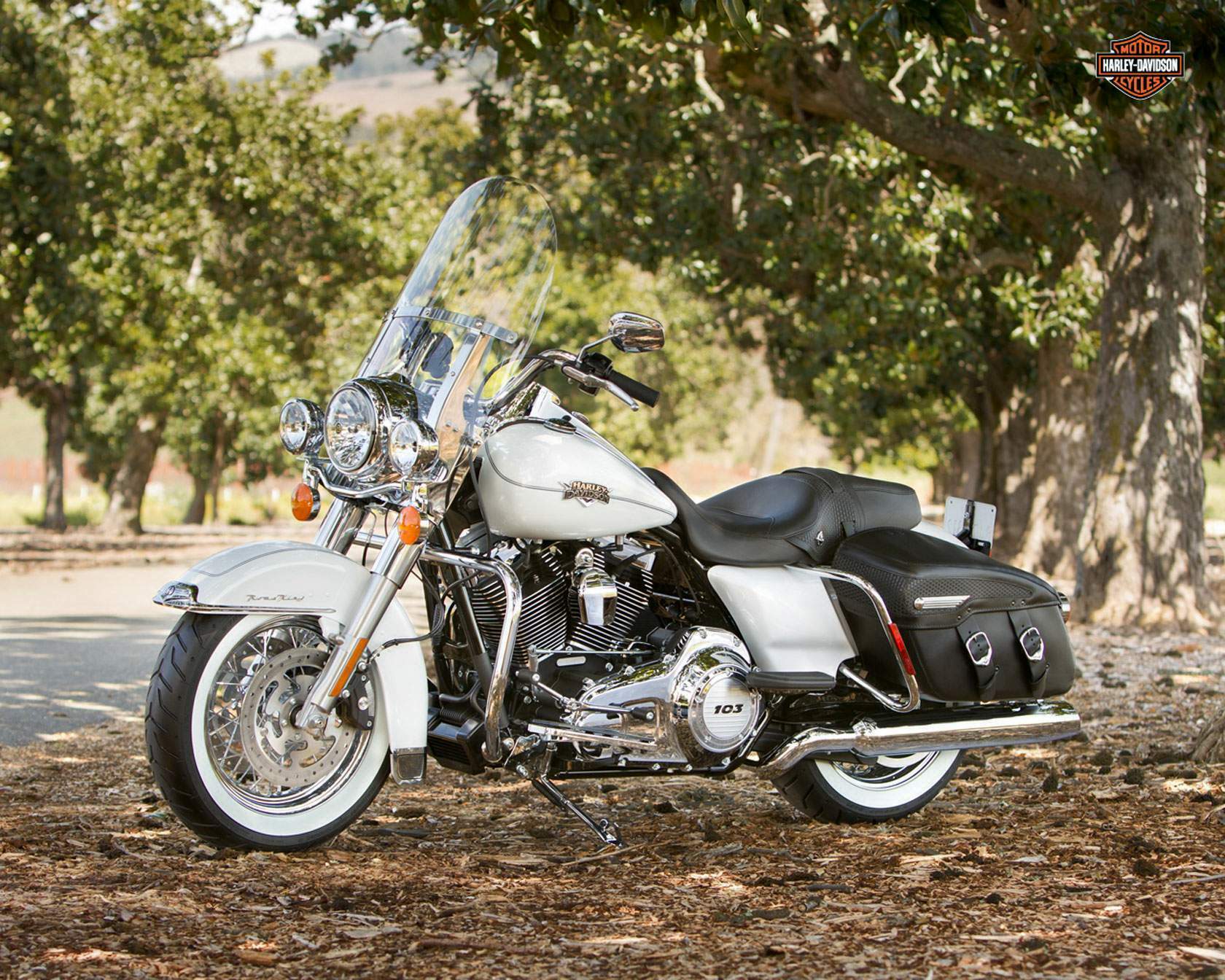 Make Model

Harley Davidson FLHRC Road King Classic

Year

2012 - 13

Engine

Four stroke, V-Twin, 'Twin Cam 103 with integrated oil cooler'

Capacity

1690 cc / 103.1 cub in.

Bore x Stroke

98.4 x 111.1 mm
Cooling System
Air cooled

Compression Ratio

9.7:1
Exhaust
Chrome, 2-1-2 dual exhaust with tapered mufflers

Induction

Electronic Sequential Port Fuel Injection (ESPFI)

Ignition

Single-fire, non-wasted, map-controlled spark ignition
Starring
Electric

Max Torque

138 Nm / 14.1 kgf-m /102 ft/lb @ 3500 rpm

Transmission

6 Speed
Final Drive
Belt
Primary Drive
Chain, 34/46 ratio
Gear Ratio
1st 9.593 / 2nd 6.65 / 3rd 4.938 / 4th 4.0 / 5th 3.407 / 6th 2.875
Frame
Mild steel, square-section backbone with twin downtubes
Lean Angle, Left
31º
Lean Angle, Right
33º

Front Suspension

41.3 mm telescopic, cartridge-style damping

Rear Suspension

Short, air-adjustable shock

Front Brakes

2x 292mm disc 4 piston caliper

Rear Brakes

Single 292mm disc 4 piston caliper

Front Tyre

130/90B16 67H

Rear Tyre

180/65B16 81H

Trail
170 mm / 6.7 in
Dimensions
Length 2392 mm / 94.2 in
Width 949.96 mm / 37.4 in
Height 1399.54 mm / 55.1 in
Wheelbase
1612 mm / 63.5 in
Seat Height
Laden2 678.mm / 26.7 in
Unladen 714 mm / 28.1 in
Dry Weight
355.6 kg / 783 lbs

Wet Weight

368 kg / 811 lbs

Fuel Capacity

22.7 Litres / 6.0 US gal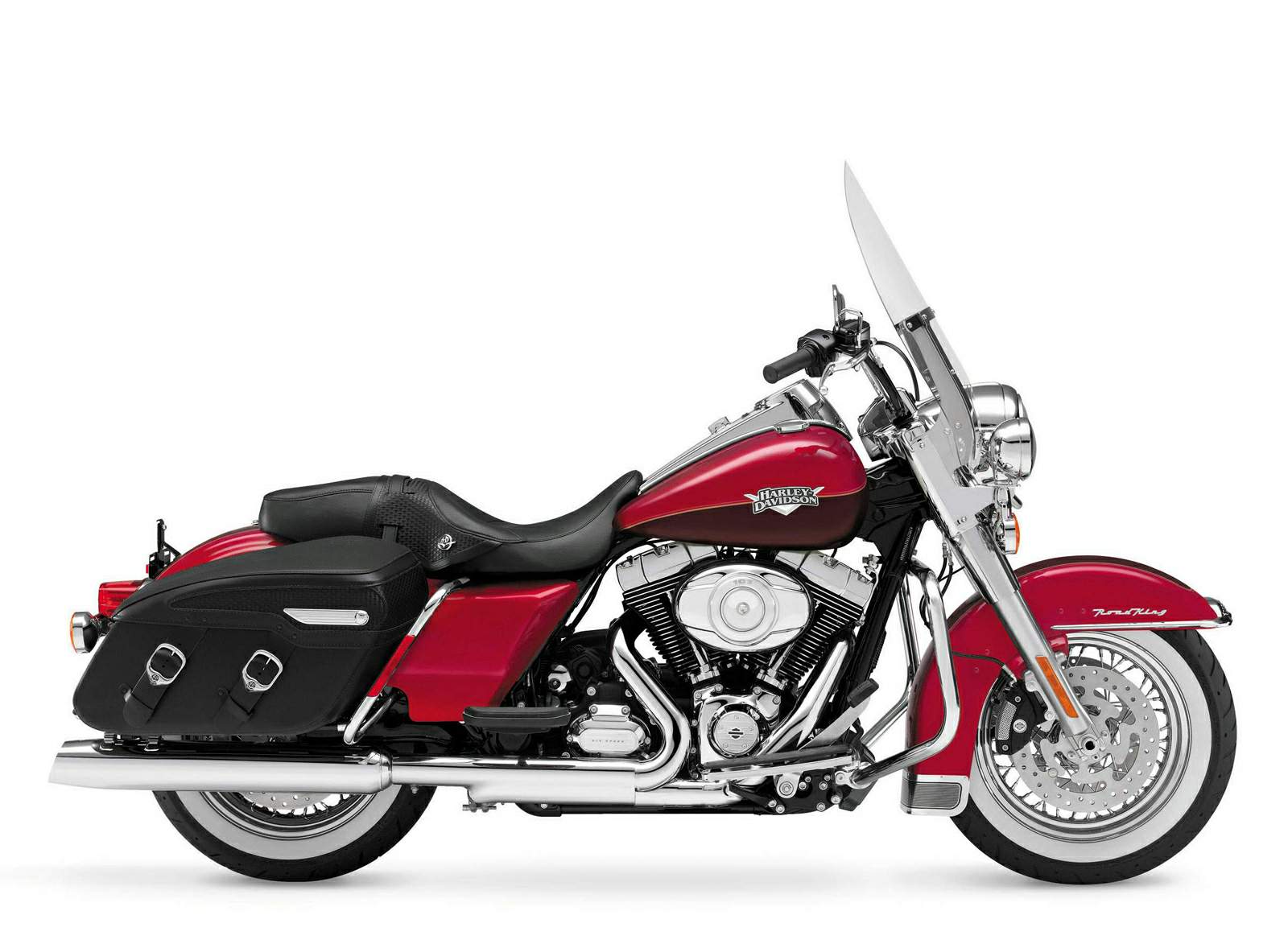 The Road King® Classic model takes the nostalgic look and feel of the Road King a little further with extra details for this road-worthy touring bike, like leather-wrapped saddlebags, nostalgic chrome fuel tank console, tooled metal detailing on the fender, tank, seat and bags, and chrome laced wheels with wide whitewall tires. The innovative Harley-Davidson® Touring chassis is based on a single-spar, rigid backbone frame and a stout swingarm developed to withstand the demands of long-haul touring riders and today's powerful engines.

Harley-Davidson FLHRC Road King Classic Key Features

NEW Paint color options

• Rubber-mounted Twin Cam 103™ V-Twin engine with Electronic Sequential Port Fuel Injection (ESPFI) with heated O2 sensors and Electronic Throttle Control (ETC)
• Black powder-coated powertrain with chrome covers
• Chrome 2-1-2 dual exhaust with slash-up end caps
• Chrome, Steel Laced wheels with wide-whitewall tires
• Tubeless Chrome Aluminum Profile Laced wheel option
• Chrome, nostalgic fuel tank console with electronic speedometer
• Deep FL front fender with trim
• Clean rear fender with deluxe trim
• Stainless steel, ergonomic handlebar
• One-piece, two-up Road King® seat with tooled leather trim and chrome accents
• Clear, large quick-release detachable windshield
• Tooled, leather-wrapped hard saddlebags; 1.85 cu. ft. volume
• Large Hiawatha headlight and chrome nacelle
• Auxiliary passing lights
• Electronic cruise control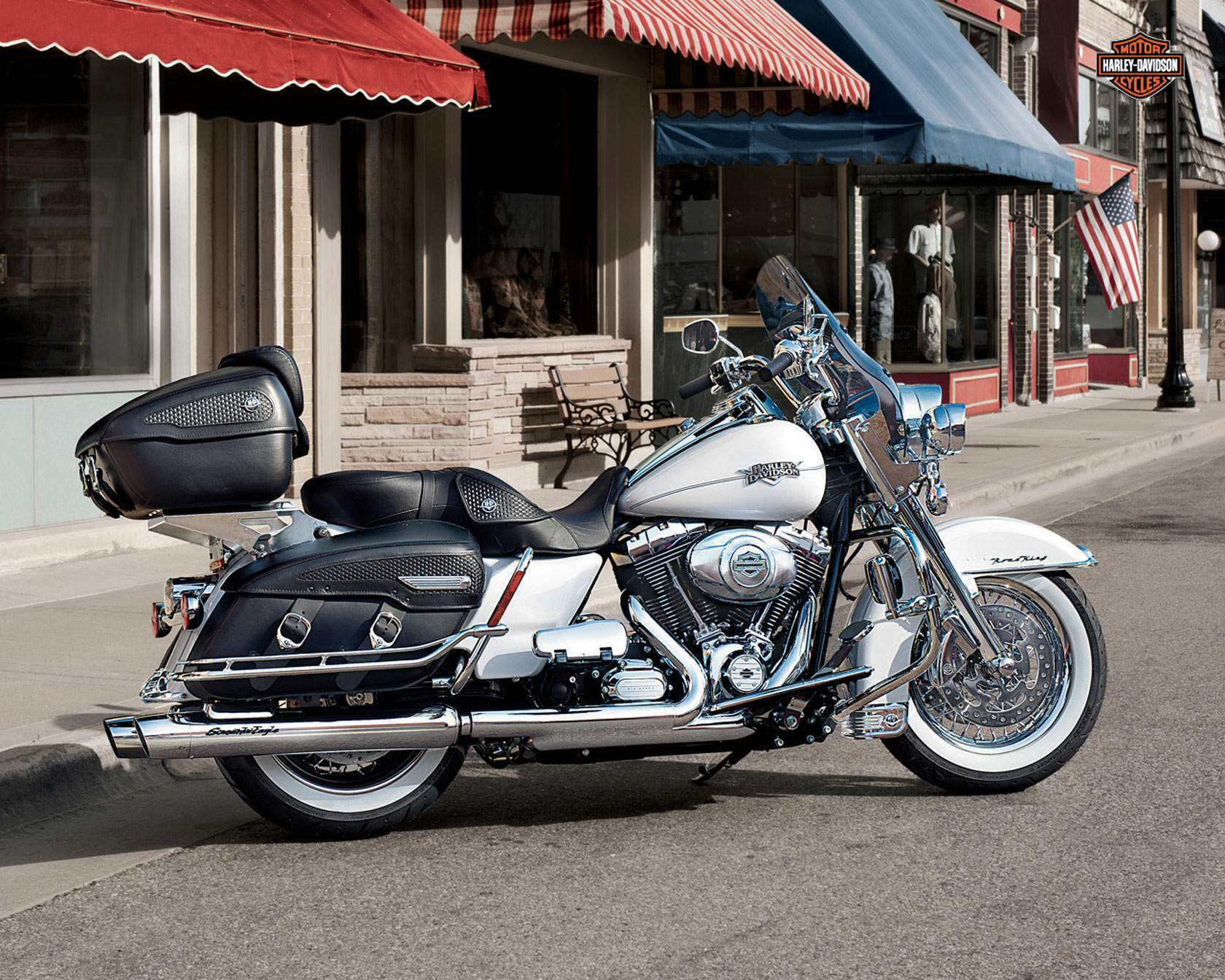 The Road King® Classic model takes the nostalgic look and feel of the Road King a little further with extra details for this road-worthy touring bike, like leather-wrapped saddlebags, nostalgic chrome fuel tank console, tooled metal detailing on the fender, tank, seat and bags, and chrome laced wheels with wide whitewall tires.

Residing beneath all that fine detail is the powerful 1690 cc, Twin Cam 103™ engine with integrated oil cooler, and an Anti-lock
Braking System and a Smart Security System are available as a factory-installed option. Add in the standard electronic cruise control and the Road King® Classic proves, once again, that no one else can combine a glorious heritage with modern features and technology like Harley-Davidson.

• 6-speed Cruise Drive® transmission with integrated Isolated Drive System (IDS)
• Dunlop® "Multi-Tread" rear tire construction extends tire life by 25 percent
• Brembo® 4-piston front and rear caliper with dual front rotor brake system
• Air-adjustable rear shocks
• Full-length rider footboards
• Height-adjustable passenger footboards
• Six-gallon fuel tank

Classic Fuel Tank

Part of the unmistakable style of the Harley-Davidson® Road King® Classic motorcycle is plenty of room for showing off your paint. This classically styled, bold six-gallon fuel tank doesn't just give you a bigger canvas for premium or custom paint; it holds six gallons of go so you can eat up a lot more road between pit stops. We know fuel economy is important—but so is style. A dual-color paint scheme, crisp pinstripes that accentuate the clean lines of the bike and unique Harley-Davidson tank medallions make this ride the real king of the road.

Classic Hiawatha Headlamp

Big and commanding, this headlamp hearkens back to the Big Twins of the 60s. You get nothing less than the latest in materials and technology. Clear-lens reflector optics provide a longer distance high beam and wider low beam. It's a bright, striking daytime lamp that blasts a little further into the night. There's just no beating the classic lines of that sweeping headlight nacelle.

Leather-Wrapped Saddlebags

Unique to the Road King® Classic model are injection-molded hard saddlebags draped in premium leather. The intricate, hand-tooled leather is stitched with style and extremely durable as compared to other leather-wrapped bags out on the road. Bottom line—they keep their shape and never sag. And as the leather ages, it adds to the classic, old school attitude of the bike. With a capacity of 1.85 cu. ft. volume of storage, these slick bags keep your things conveniently tucked away on the road, and easy to access whenever you need them.

Tank Mounted Gauges

Tank-mounted fuel gauges boast traditional styling while offering you a clean, unobstructed view of the electric speedometer and odometer. A little chrome never hurts either. You'll only find these unique gauges on the Road King® and Road King® Classic models.

Wide Whitewall Tires

One of the defining styling features of the Road King® Classic model is the nostalgic wide whitewall tires with premium laced wheels. A nod to the 1950s boulevard look, these fat rubber rollers are just the right throwback detail from Harley-Davidson that ups the ante in any scene. Total old school styling without sacrificing handling or performance.

Unique Rear Fender Styling

At the tail end of the Road King® Classic model, a cool premium chrome accent tells those behind you exactly how you roll. With the legendary H-D® forged in the chrome, there's no way anyone can mistake the quality and style of The Motor Company. The license plate bracket sits high up on the fender and, as an extra touch, we throw a little LED lighting around the plate for crisp visibility.

Premium Paint

Up to two times thicker than the competition, custom quality paint comes standard on all Harley-Davidson® motorcycles. Clearcoat layering up to five mils deep. Bigger metal flakes. Unique effects in the sunglo and pearl colors. Skimping simply is not in our vocabulary.

Hand Finished Fuel Tank

All Harley-Davidson® fuel tanks are finished by hand—that's what makes them stand out from the competition. Their seamless design and unmatched style are unique among all motorcycles on the road. The tanks are one of the first and last things people notice when they lay their eyes on a Harley-Davidson® motorcycle—so we make it worth their time.

Twin Cam 103™ Engine Heritage

The knowledge of what makes an engine truly move a rider runs deep at The Motor Company, and it was put to good use when we created the Twin Cam 103™ engine. We painstakingly perfected every cubic inch, pushing design and technology forward—all without compromising one bit of Harley-Davidson's unique styling. Evolved, yet carrying on the legacy of the Flathead, Knucklehead, Panhead, Shovelhead, Evolution®, Twin Cam 88® and Twin Cam 96™ engines that came before. The performance and durability are a direct result of the untold miles logged on the V-Twin since 1909, and the proud heritage that comes from a century's worth of commitment to life on two wheels.

Twin Cam 103™ Engine Innovation

Fire up the Twin Cam 103™ engine and feel the low-end torque unleashed. Thanks to the lightweight piston design, delivery of the added power is more refined than ever. Then put your foot on the shifter and feel how the engine and Six-Speed Cruise Drive® transmission were designed to work together. Six speeds. A strong driveline and strong internal parts. Low routine maintenance. And a low cruising rpm couldn't feel better.

Pure Harley-Davidson Styling

Feast your eyes on the Twin Cam 103™ engine and there's no mistaking its roots. This is authentic Harley-Davidson style through and through with an attention to detail you won't find from any other motorcycle company. Black powder-coated heads and cylinders are highlighted by machined cooling fin tips and chrome rocker covers. It's a jewel machined out of metal. Pure. Dripping with power. From the classic edge of the cooling fins to the clean lines of cases and covers—the Twin Cam 103™ engine makes an ironclad statement to holding on to what's right and staying true to what satisfies the rider.

Six-Speed Cruise Drive®

You want a ride that rumbles—not begs for mercy—when you lean on it a little. The Six-Speed Cruise Drive® transmission provides smooth, quiet shifting and reduces engine speed on the highway, so you get a better match between engine turnover and road speed. And the Isolated Drive System makes acceleration flow in a smooth, steady stream from your wrist right down to the pavement. It's a rare ride when a bike responds like this, and a low growl goes a long way when you're opening up the road ahead.

Twin Cam 103™ Engine Power

Live your ride to the power of Twin Cam 103™. The air cooled Twin Cam 103™ Harley Davidson® engine delivers more stump pulling torque, while its Electronic Sequential Port Fuel Injection jetting gives crisp, lively throttle reaction. It's a performance punch that you'll appreciate when passing, climbing hills, or rolling with luggage packed or a passenger in back—all under that signature Motor Company rumble. And it comes at lower cruising rpm, so you ride more smoothly, with less engine vibration and better highway fuel economy.

Four-Point Engine Isolation System

After three decades of keeping the vibrations of the Big Twin from getting to the rider, Harley-Davidson engineers decided to take something that is already great and make it even better, perfecting the delicate balance of shake, rattle and ride—comfortably. In 2009, we added a fourth isolation point to our three-point rubber engine isolation system. Just get that Big Twin idling and feel the difference.

Cruise Control

If you're ready to take touring to the next level, the standard cruise feature will help you settle in for the long haul. Get the comfort of the cruise without the cables cluttering up your handlebar. Our electronic throttle control technology makes it possible to have the best of both worlds.

Anti-Lock Brakes

When it comes to the Road King® Classic model with ABS, 'stopping power' has a double meaning. The components of our ABS are tastefully hidden within the wheel hub, so you'll still turn heads with a clean, streamlined design. More importantly, though, you get certainty in the saddle knowing your bike's going to behave when you need it.

H-D® Smart Security System

The factory installed next-generation security system features a hands-free fob that automatically arms and disarms the vehicle electronic security functions as you approach and walk away from the bike. Stick the fob on your ignition key ring and let it do all the work. It's this attention to details and security that make Harley-Davidson® motorcycles unique.

Artfully Hidden Technology

Harley-Davidson leverages the latest in technology without compromising style and function. That means we hide electronics. The whole wiring harness is skillfully routed behind the jewels of the bike—the tank, engine and all the other eye-popping features you want to see. It's just another way The Motor Company goes the extra mile to give its bikes that premium, top-of-the-line fit and finish.

Intuitive Controls

Hand controls on a Harley-Davidson® motorcycle are incredibly intuitive. The turn signals are self-canceling and, based on the speed and angle of the motorcycle, they know how long to stay on. Engaging the controls quickly becomes second nature so you can focus less on turning off your signal and more on basking in the freedom of the ride.

Dunlop® Multi-Tread™ Tires

The 180mm back tire is engineered to do more than fill out the rear fender and put a bigger patch of rubber on the road. Dunlop® Multi-Tread™ technology uses harder compounds at the center and softer on the sides for a tire that still knows how to knuckle-down on corners. Perfect for making this bike agile on every curvy stretch of road. And the way it feels going through an abrupt off-camber turn will put a grin on your face that'll last to the next state line.

Brembo® Brakes

Confidence. Control. High-performance dual disc Brembo® brakes offer consistent stopping power at all speeds. The 4-piston front and rear caliper with dual front rotor brake system is state of the art and top of the line. It's just another way The Motor Company puts a high level of detail into their bikes to give you peace of mind throughout your journey.

Air-Adjustable Suspension

With air-adjustable suspension that comes standard, you can dial in your ride to accommodate heavier or lighter payloads, battle unexpected road conditions or simply set it to how you like to roll. The lighter the load, the softer you can go by decreasing the air pressure a bit, or increase the air pressure for a more firm ride. A convenient air valve is located between the saddlebag and rear fender for quick adjusting. It's all about rider and passenger comfort and setting your bike to fit your taste—the easy way.

Frame and Swingarm

Change everything. Lose nothing. Our complete redesign of the frame and swingarm has only been around since 2009, and it's already changing the game entirely. Stamped and welded parts and bent tubing were ditched for strong castings and forgings—just like the legendary Harley-Davidson frames of years past. The result is a frame that rides rigid and owns the corners. The acceleration is strong. The ride is tight and responsive. And the feel on the road is confidence inspiring.

Legendary Low Speed Maneuverability

At The Motor Company, we believe you don't make innovative, next-generation Touring motorcycles without shedding a little blood, sweat and tears. And when you get it right—like with the low speed maneuverability on our Touring models—all the other upgrades in the ride just combine to create a big-boned bike that is light and nimble while carving up tight turns or if you find yourself riding in a parade or group ride.

Tuned to Be Ridden

Harley-Davidson® motorcycles are different than any other bike out on the road. There's a balance to them. The steering, the maneuverability—it's all in concert. And each Harley-Davidson® model is tuned differently to create a unique riding experience for each individual no matter which bike they swing their leg over. Let's face it, we didn't get to where we are by being like everyone else.

Two-Up Seating

Modern styling and comfort that doesn't sacrifice an ounce of nostalgic style: This ultimate Touring saddle features a sculpted seat with a deeper contoured bucket and narrower neck, to relieve pressure on your thighs, while providing more back support and comfort for a wide variety of rider sizes. And the lower seat height—26.1 inches to be exact—puts your feet closer to the road to enhance your confidence. Additionally, the leather trim and premium stitching accentuate the advanced ergonomics while giving the seat that sharp detail you only find on a Harley-Davidson® motorcycle. It's science in service of comfort, and your way to beat fatigue over the long haul.

Full-Length Footboards & Toe/Heel Gear Shifts

Your boots were made for riding—any way you see fit. Our full-length footboards boast a time-tested, tried-and-true design and rubber isolation for a comfortable ride, while the height-adjustable passenger boards add another level of customizable comfort for your riding partner. And for shifting gears, you can use either the traditional toe-shift or the even easier, more convenient heel-shift. It might take a few rides, but once you've gotten used to the smooth shifting rhythm, you'll never give it up.

Wide Set Handlebar

Classic style and maximum comfort. That's the perfect balance of the wide set handlebars that come standard on the Road King® Classic model. They're designed to keep you comfortably propped in a commanding position while making sure your neck muscles stay calm and relaxed mile after mile, state after state. Durable stainless steel insures the structural rigidity you expect from a Harley-Davidson® motorcycle with the deep, lustrous finish you desire.

Detachable Windshield

Go from touring to cruising in a heartbeat. Detach the screen for a clean, cool cruising style, or re-attach it in seconds for a clean envelope of air over the long haul. The windshield is as tough as they come—durable, scratch resistant, low maintenance. And whether you choose to have it on off, your Road King® Classic motorcycle rules with a nostalgic style and versatility you can make your own.

2-1-2 Exhaust

Welcome to the crossroads of pure Harley-Davidson style and smart engineering. The 2-1-2 exhaust helps direct heat away from the rider and passenger, while providing ample performance, and signature Harley-Davidson rumble, and big style.

Engine Idle Temperature Management Strategy

Our motorcycles are built to be ridden. A lot. So that means that rider comfort is top of mind. Always. With the Engine Idle Temperature Management Strategy (EITMS) feature, the motorcycle automatically cuts fuel and fire from the rear cylinder when idling, which helps reduce engine heat felt by rider and passenger. Best part, you can easily turn this feature on or off yourself whenever the bike is stopped.

Seat Engineering and Design

The seat is home for Harley-Davidson® motorcycle riders. They want a seat that has unique style without sacrificing comfort. Because of that, Harley-Davidson invests a lot of time in researching, designing and testing seats so that every bike has just the right saddle.