Harley Davidson FLHRSI Road King Custom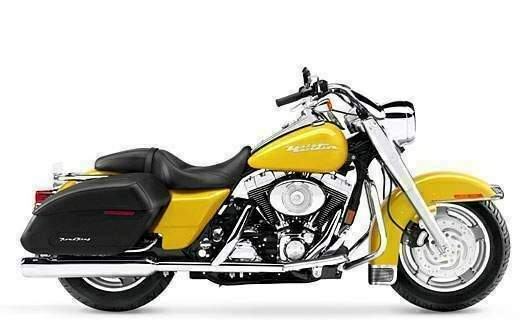 Make Model

Harley Davidson FLHRSI Road King Custom

Year

2005

Engine

Air cooled, four stroke, 45° V-Twin, OHV,

Capacity

1449

Bore x Stroke

95.3 x 101.6 mm

Compression Ratio

8.9:1

Induction

ICarburetion or Electronic Sequential Port Fuel Injection (ESPFI)

Ignition / Starting

- / electric

Max Power

Transmission / Drive

5 Speed / chain
Gear Ratio
1st 10.110 2nd 6.958 3rd 4.953 4th 3.862 5th 3.150
Frame
Mild steel, square section backbone w/ twin downtubes
Swing Arm Mild steel, rectangular tube sections, stamped junctions, MIG welded

Front Suspension

41.3 mm, telescopic

Rear Suspension

Short, air-adjustable

Front Brakes

2x 292mm discs 4 piston calipers

Rear Brakes

Single 292mm disc 4 piston caliper

Front Tyre

90/90-16

Rear Tyre

150/85-16
Seat Heitght
718.8 mm / 28.3 in

Dry Weight

327 kg / 721 lb

Fuel Capacity

19 Litres
/ 5.0 gal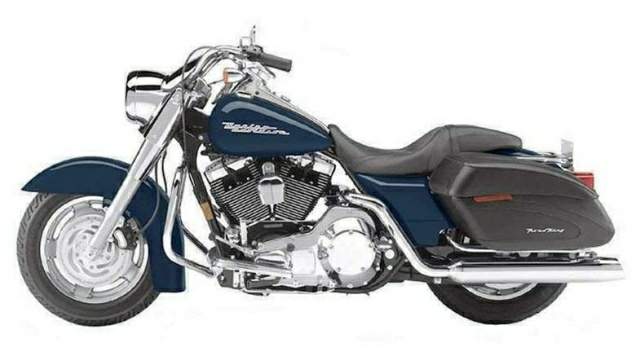 FLHRS/I Road King® Custom Model Overview
Brand new in 2004, the Road King Custom is taking the Road King family even further in the custom direction. Taking cues from our customers, this exciting new model is a leaned-down and dressed-up version of its Road King brethren and is certain to generate excitement. Now within the Road King family there are three models to choose from, with the new Road King Custom leading the way in contemporary custom styling. Lowered rear suspension, pullback "beach bars", clean leather saddlebags, and an overall "smoothie" theme will make this bike a hit with custom lovers around the world. The Road King Custom offers wicked good looks and a dose of attitude, while still retaining the comfort and and road-worthiness that Road King enthusiasts expect. The Road King Custom has roots tied to the 1978 FLHS Electra Glide "Stripped" model and captures that lineage with its FLHRS designator.
Features Include:
Lowest seat height in the Family
Clean front and rear fenders
New cast and chromed front and rear wheels
New "Beach Bar" Handlebar
New chrome wind deflector, nacelle trim strip and triple clamp cover
New extended headlamp trim
New streamlined rider footboard and brake lever pad
New passenger foot pegs
New nickel-plated, metal fuel tank name plate
New stretch fuel tank console
New silver-face speedometer
New seat
New smoothie leather-covered saddlebags
New hidden saddlebag supports
New sculpted rear light bar
Bullet front and rear turn signals
Longer-life, wider rear tire
- Offers a nominal 30% increase in tire life*
* Tire life is highly dependent on vehicle loading, riding style, road and weather conditions. 30% increase is the nominal result based on controlled test results.
Available Options
Security System
Electronic Fuel Injection
Color Options
Vivid Black
Brilliant Silver
Luxury Teal
Smokey Gold
Real Red
Luxury Blue
Lava Red Sunglo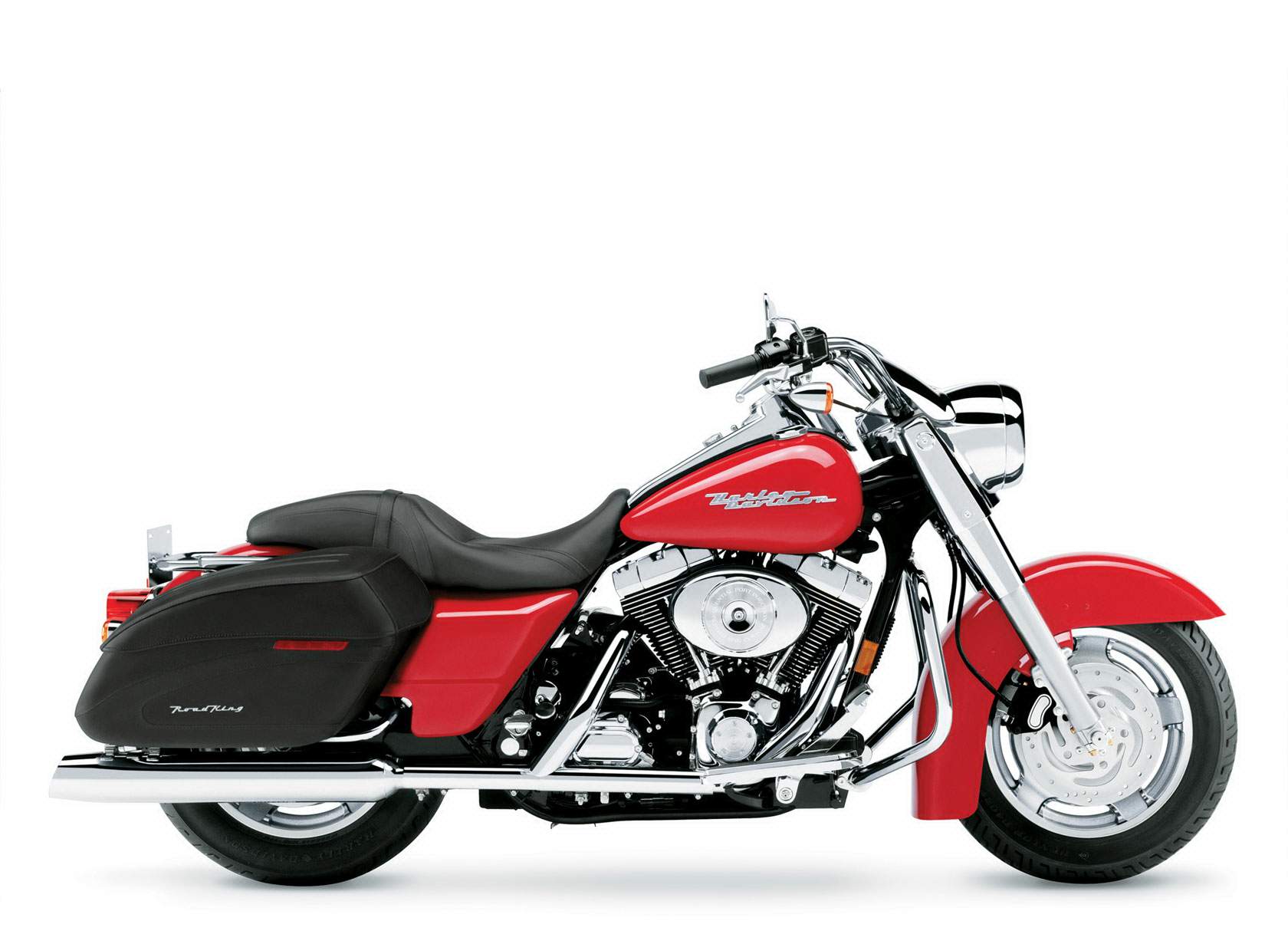 Review
Harley - and lots of observers - must be waiting with more than a little tension to see what 2004 has to offer when it comes to sales. The company had a record-breaking year in 2003, driven in part by the extraordinary celebrations surrounding the 100th anniversary.

Also, the company traded on its centenary by coming up with a special range, all of which were appropriately badged to (hopefully) give them some sort of collectible status. And why not? A little hoopla never hurt and it's not every day you get to mark 100 years of continuous production.

WHAT IS IT?

Okay, so what have they done to pique some customer interest for 2004? H-D watchers will not be in the least bit surprised to see the company develop one or two new variations on existing models - in this case the Road King. We now have a Road King Custom (or FLHRSI), which is lowered substantially (down 31mm in the seat to 718mm) and given the dress-up treatment in some areas, with things like a monster set of pullback handlebars.

So far as we can tell there are pearl and black versions available in Oz - we got the former, which was a visual stunner. Long low lines accompanied by a generally uncluttered look. Very tasty.

Powering this lot is the 1450 Twin Cam engine, injected in this case, with a five-speed gearbox and belt final drive. It's a healthy if not stunning performer in stock form, though a set of pipes and an air cleaner kit can score substantially more horses. Of course Harley will also be happy to sell you hot up kits in various stages of tune.

For those who haven't made the move up from an Evo engine, it's noticeably smoother while having a bit more of everything across the range.
The basic frame is the FLH touring item a Road King rolling package. That means the meaty conventional enclosed fork set-up, a twin-shock rear, and triple discs. The braking package is probably the biggest single improvement to Harleys in the last 15 years. It's still not cutting edge - nor do you need it to be - but it stop in a respectable distance with reasonable feedback. There's considerably worse out there in cruiserland. Cast alloy 16-inch rims finish off the package.

Fuel capacity is 18.9 Litres
, claimed dry weight is 327 kilos, and retail price is $29,995 plus ORC.

WHAT'S IT LIKE?

In stock trim, this is really a one-person motorcycle, as the sloped pillion area almost guarantees the passenger is a temporary fixture. There's plenty of optional seats available if two-up work is what you have in mind.

Many folk will love the super-low seat, though tall riders are likely to find it's too low for them.

The engine and gearbox are thoroughly enjoyable - no complaints at all. They're inexpensive to service, should last well so long as you don't get too radical on the modifications, and are ridiculously cheap to run. Despite the considerable bulk, it's not difficult to get close to 20km/litre on the highway.

While the styling looks great, it extracts some penalties when it comes to practicality. I've already mentioned the pillion seat, and the other areas that don't quite work are the handlebars and cornering clearance.

The long pullback on the bars, combined with their considerable height in relationship to the seat, and the forward-mounted footboards, makes them fairly awkWard to use and quite uncomfortable after a decent time in the saddle. Much as they look good, I'd be swapping them for a more conventional bend.

Whether or not cornering clearance becomes an issue will depend on what sort of riding you do. While I thoroughly enjoy standard Road Kings, and find them more than adequate in the cornering department, the Custom is very limited in how far you can bank it over before some fairly expensive metal starts grinding on the tarmac.

The saddlebags are a handy addition, though they're quite small inside.

If it were me, I'd be heading straight for the 'real' Road King, which remains one of the best cruisers on the market. However the Custom's looks and super-low seat will appeal to some, and there's lots of goodies in the accessory catalogue to change anything you don't like.
Source Bikepoint.com.au