Make Model

Harley Davidson FLHR-SE5 Road King CVO 110th Anniversary Edition

Year

2013

Engine

Four stroke, 45° V-Twin, Twin Cam 110 vibration isolation-mounted Valves Pushrod-operated overhead valves; w/ hydraulic self-adjusting lifters; two valves per cylinder

Capacity

1802 cc / 110 cu-in

Bore x Stroke

101.6 x 111.1 mm
Cooling System
Air cooled
Lubrication
Pressurized, dry-sump

Compression Ratio

9.7:1
Exhaust
Chrome, 2-1-2 dual exhaust with tapered mufflers

Induction

Electronic Sequential Port Fuel Injection (ESPFI)

Ignition

Single-fire, non-wasted, map-controlled spark ignition
Starring
Electric

Max Torque

156 Nm / 115 lb-ft @ 3000 rpm

Transmission

6 Speed
Final Drive
Belt
Primary Drive
Chain, 34/46 ratio
Gear Ratio
1st 9.593 2nd 6.65 3rd 4.938 4th 4.0 5th 3.407 6th 2.875
Frame
Mild steel, square-section backbone with twin downtubes

Front Suspension

41.3 mm telescopic, cartridge-style damping

Rear Suspension

Short, air-adjustable shock

Front Brakes

2x 292mm disc 4 piston caliper

Rear Brakes

Single 292mm disc 4 piston caliper
Wheels
Optional Style Type Tubeless Chrome Aluminum Profile Laced
Front Wheel
Black and Chrome, 28-spoke Cast Aluminum
Rear Wheel
Black and Chrome, 28-spoke Cast Aluminum

Front Tyre

130/80B17 65H

Rear Tyre

180/65B16 81H

Rake
26°
Trail
170 mm / 6.7 in
Dimensions
Length 2465 mm / 96.5 in
Wheelbase
1625 mm / 64 in
Seat Height
Laden2 673 mm / 26.5 in
Unladen 711 mm / 28.0 in.
Gross Vehicle Weight Rating
16.9 kg / 1360 lbs
Dry Weight
355 kg / 779 lbs

Wet Weight

368.3 kg / 812 lb
Ground Clearance
145 mm / 5.7 in
Oil Capacity
3.3 Litres / 0.87 US gal

Fuel Capacity

22.7 Litres / 6.0 gal
The first factory-installed Road King audio system includes a 200-watt amplifier and an interface module for an included 8GB Apple® iPod® controlled by buttons on the handlebar. The system drives two 5x7-inch speakers with bridged tweeters located on the saddlebag lids, and two 5.25-inch speakers with bridged tweeters mounted in the fairing lowers. The new detachable Vented Wind Splitter windshield was developed by Harley-Davidson and tested in the Wichita State University wind tunnel to relieve low pressure behind the windshield and significantly reduce buffeting at the rider position. A vane within the vent should be adjusted to match air flow to the rider's height. A low-profile console holds a combination speedometer/tachometer with programmable back-light colors.
Other CVO Road King features include a chrome billet-style extended reach heel shifter, Mirror Chrome Agitator Custom wheels, extended saddlebag bottoms with a custom fascia and LED lighting, a new chromed handlebar with an ergonomic bend, and Slipstream Collection hand and foot controls. A new solo touring seat and the removable passenger pillion and backrest have a tuck-and-roll leather insert. A new painting process features hand-finished graphics created with textures and solvents in a multi-step process that results in unique detailing on each motorcycle. Three color options are available, including the 110th anniversary scheme.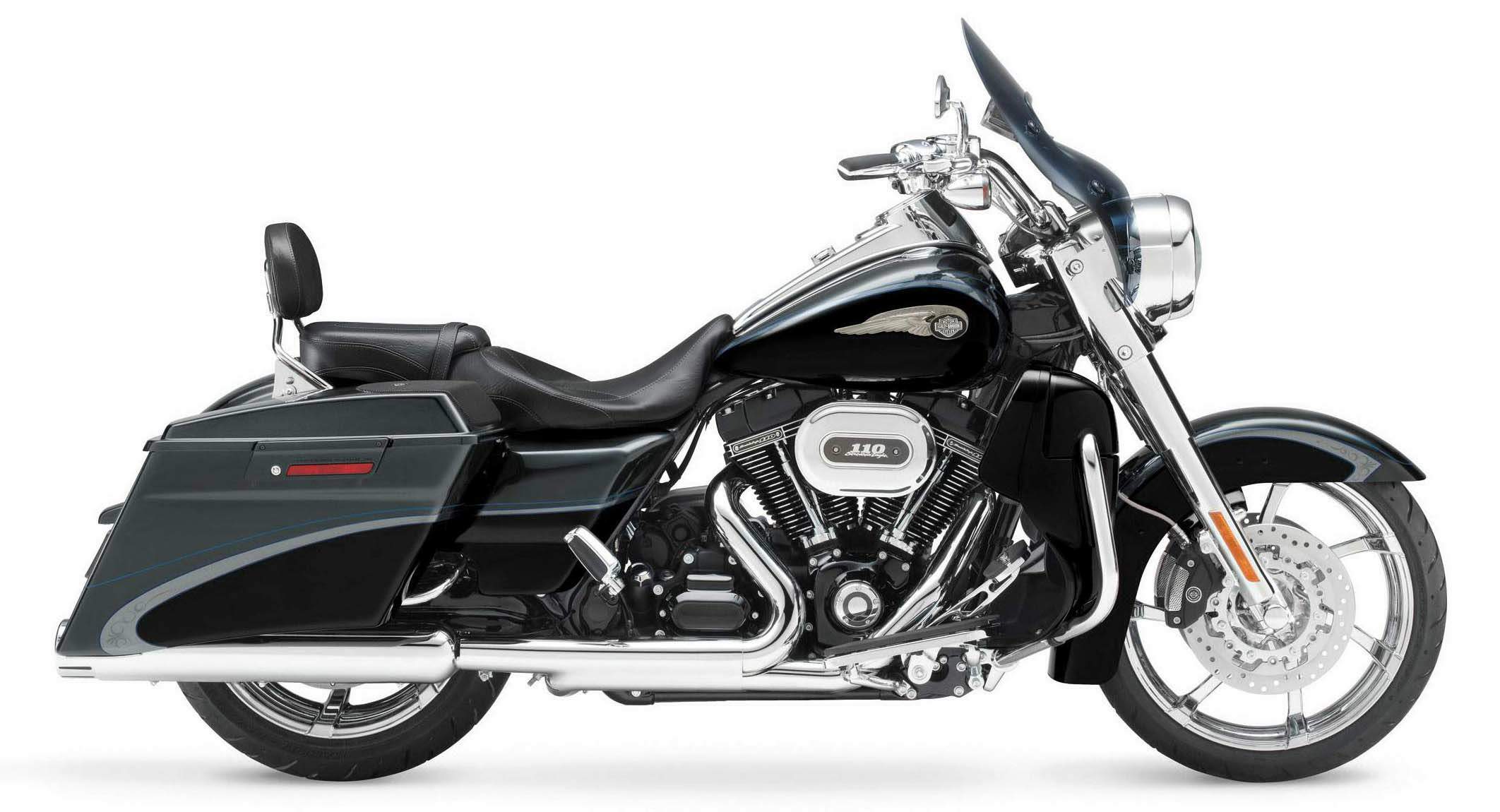 Harley-Davidson FLHRSE5 CVO Road King Key Features
New for 2013, Harley-Davidson launches Hard Candy Custom , a styling movement rooted in themes first seen in the chopper era of the late 1960s that embraces dazzling metal flake paint, brilliant chrome, and styling details in accessories, gear and apparel. Hard Candy Custom elements include "big flake" paint finishes, three of which will be selectively offered as a solid-color option on five Harley-Davidson production motorcycles for 2013.
Three exclusive paint schemes:
- Burgundy Blaze with Hot Fusion Graphics
- Crushed Sapphire with Cold Fusion Graphics
- 110th Anniversary Edition Diamond Dust

• Assist & Slip Clutch Pack provides a slip feature on downshifts to reduce loading of the driveline; hydraulic actuation with reduced
effort and reshaped lever
• Four-speaker audio system with a 200-watt amplifier and interface for an 8GB Apple® iPod® controlled by buttons on the handlebar
• Detachable Vented Wind Splitter windshield with an adjustable vane to match air flow to the rider's height
• Low-profile chrome console holds a combination speedometer/tachometer with programmable back-light colors
• Chrome billet-style extended reach heel shifter
• Solo seat and detachable passenger pillion and backrest with tuck-and-roll leather inserts and laser etched "Road King" panel
• Chrome 1.25-inch-diameter, internally-wired handlebar
• Slipstream Collection hand grips, rider floorboard inserts, shifter pegs, brake pedal pad and passenger footpegs
• Mirror Chrome Agitator Custom wheels with matching Agitator floating front brake rotors
• Chrome billet muffler end caps with black spears
• Injection-molded, extended hard saddlebags; color-matched rear fascia with LED brake/turn lights
• Color-matched saddlebag latches, rear fender strut covers, license plate light cover and rear fascia
Harley-Davidson FLHRSE5 CVO Road King Features and Benefits
The CVO™ Road King® combines the largest displacement V-Twin engine offered by Harley-Davidson with the innovative Vented Wind Splitter windshield and the first audio system offered on a Road King® model, for unmatched touring performance, comfort and custom exclusivity.
Production will be limited to approximately 3,650 units assembled at the Harley-Davidson Vehicle Operations facility in York, Pa.
The CVO™ Road King® is built on the innovative Harley-Davidson® Touring chassis, based on a single-spar, rigid backbone frame and a stout swingarm developed to withstand the demands of long-haul touring riders and today's morepowerful engines.
• Anti-Lock Brakes
• Electronic Cruise Control
• Chrome Accessories
• Black high-torque 1.4kW starter
• Braided stainless steel brake and clutch lines
• Harley-Davidson® Smart Security System with siren
• Commemorative CVO™ ignition key with display box
• Customer Care package that includes a tool kit, microfiber detail cloth, H-D® jiffy stand coaster, and indoor/outdoor motorcycle storage cover with embroidered CVO™ logo
Exclusive CVO™ Enhancements

All the quality. All the legacy of the Harley-Davidson name. Plus custom touches and performance that distinguish you from every other bike on the road. This is the CVO™ Road King® for 2013: everything that makes this a timeless cruiser equipped for long-run touring, now scaled up to pure, exclusive excellence. Premium custom style. Big, tricked-out wheels. Deep attention to details. The perfect storm of engineering and style you'll only find on a custom machine. And you'll spoil yourself with the accessories—from comfort to electronics to chrome. But the real signature of a Harley-Davidson® Custom Vehicle Operations™ motorcycle is the explosive power and sleek detailing of the huge Twin Cam 110™ with Screamin' Eagle® engine badges. It's custom-built, not just for anyone, but for true connoisseurs of the road.
High-Impact Paint and Graphics

Individually crafted and hand finished paint and graphics come standard on all Harley-Davidson® Custom Vehicle Operations™ motorcycles, balancing style and premium appeal to create one-of-a-kind custom motorcycle masterpieces. For 2013, the new CVO™ Road King® motorcycle offers two exclusive color schemes (and a 110th Anniversary treatment—see separate Key Feature) with hand-painted "Fusion" graphics and pin-stripes adorning the gas tank and plenty of matching paint on the fairing-lowers, fenders, saddlebags, and more. Plus, the fuel tank sports true custom melted-glass-look cloisonné emblems. Skimping? The word's simply not in our vocabulary.
Slammed Instrument Console

Brilliant in every sense, this console is your chromed-out command module, newly designed specifically for the CVO™ Road King® model. Slammed low on the tank, it's packed with a programmable speedo/odometer gauge and multiple LED indicators and ignition button. Instruments include gear/RPM tach, time clock, dual trip meter, engine diagnostics, and fuel level, pressure and countdown—all set in a sleek, shining unit that adds a powerful touch of custom class.
New Slipstream Collection Controls

The new 2013 Slipstream controls add a touch of top-of-the-line custom to the CVO™ Road King® model. With a new design for 2013, the hand grips, brake pedal, foot pegs and footboard inserts all feature that characteristic modern Slipstream look and quality. It's premium custom touches like this—stylish and comfortable—that set our Custom Vehicle Operations™ models on a higher level.
Custom saddlebags and rear fascia with LED signal lights

This motorcycle may be a masterpiece, but it's no museum piece—it's ready to go the distance and its rear assembly's a big part of that. Sure, the custom rear fascia with its dark, smoked-lens signals, and the saddlebags with their extended styling and color-matched finishes all add to the bike's premium custom look. But there's plenty of space in those hard-case bags to secure your loot, the speakers in their locking lids help surround you with your tunes, and the LED stop/turn/tail lights deliver crisp, reliable visibility in all conditions, mile after mile after mile.
Custom Agitator Wheels

Gorgeous in every way, the bold 19-inch front and 18-inch rear wheels deliver a dramatic profile. Plus, you'll still get that custom Agitator style—seven spoke design, mirror-chrome finish, and matching full-floating brake rotor and chrome center hub on the front wheel.
Twin Cam 110™ Engine Heritage

The knowledge of what makes an engine truly move a rider runs deep at The Motor Company, and it was put to good use when we created the Twin Cam 110™ engine. We sweated bullets perfecting every cubic inch, pushing design and technology forward. And we did it all without compromising one bit of Harley-Davidson's unique styling. Evolved, yet carrying on the legacy of the Flathead, Knucklehead, Panhead, Shovelhead, Evolution® and Twin Cam 88® engines that came before. The performance and durability are a direct result of the untold miles logged on the V-Twin since 1909, and the proud heritage that comes from a century's worth of commitment to life on two wheels.
Twin Cam 110™ Engine Innovation

Fire up the Twin Cam 110™ engine and feel the low-end torque unleashed. The colossal 110™ cubic inches provide seemingly endless torque with adrenaline-pumping pull through all six gears. Boasting the largest-displacement V-Twin engine by Harley-Davidson, the Twin Cam 110™ engine produces 118 ft. lbs. of torque at 3750 rpm. Six speeds. A strong driveline and a low cruising rpm couldn't feel better.
Pure Harley-Davidson® Styling

Pure. Dripping with power. A jewel machined out of metal. There's no mistaking the roots of the Twin Cam 110™ with Screamin' Eagle® engine badges: authentic Harley-Davidson style through and through, with an attention to detail you'll get from no other motorcycle company. Its granite-colored heads and cylinders feature machined cooling fin tips and are highlighted by chrome rocker covers and Twin Cam 110™ engine badging. The 110th Anniversary Edition model brings the celebration in distinguished style, adding an exclusive custom black power train with gloss black covers. From the cooling fins' classic edges to the clean lined cases and covers, it's a pure, powerful declaration of the value of staying true to what satisfies the rider.
Six-Speed Cruise Drive®
You want a ride that rumbles—not begs for mercy—when you lean on it a little, and it's the rare ride that responds like this. The Six-Speed Cruise Drive® transmission provides smooth, quiet shifting and reduces engine speed on the highway, giving you a better match between engine RPM and road speed. And the Isolated Drive System makes acceleration flow in a smooth, steady stream from your wrist right down to the pavement, for control and response that go a long way when you're opening up the road ahead.
Hydraulic Clutch

Performance gets the custom treatment on Custom Vehicle Operations™ motorcycles. The addition of a high-performance clutch with hydraulic actuation helps make sure you're getting a smooth, confident feel with just the right amount of effort and a hands-off reliability that's only fitting. And you'll love the confidence and control it lends when harnessing those 110 cubic inches of Twin Cam power.
Ventilator' Intake with Screamin' Eagle® 110™ badge

Everything about the Twin Cam 110™ Engine is a testament to the premium styling and performance you get with a limited Custom Vehicle Operations™ motorcycle. Right smack between the engine jugs rests the 'ventilator' intake with high-flow filter element, back plate, diamond-cut, Midnight Pearl finish Screamin' Eagle® badge and protective rain sock. Your bike will breathe easy while the increased air flow boosts the raw power. Unique and exclusive. That is what Custom Vehicle Operations is all about.
High Performance Audio System

This is the boom in your bagger and an innovative new dimension in customization—premium sound on a non-fairing bike. A high output, 200 watt amplifier delivers high quality, high output audio from speakers in the fairing lowers in front and the saddlebag lids behind. The controller puts music command at your glove-tips, making it easy to match your tunes to your cruise. And with the iPod® connector and included, Harley-Davidson®-branded 8GB iPod Nano you'll always have plenty of boom to move.
Anti-Lock Brakes

When it comes to the CVO™ Road King® model with optional ABS, "stopping power" has a double meaning. We've incorporated the components of our ABS within the wheel hub without sacrificing any of the bike's iconic custom style, so you'll still turn heads with a clean, streamlined design. More importantly, though, you get certainty in the saddle knowing your bike's going to behave when you need it.
Intuitive Controls

Hand controls on a Harley-Davidson® motorcycle are incredibly intuitive. The turn signals are self-canceling and, based on the speed and angle of the motorcycle, they know how long to stay on. Engaging the controls quickly becomes second nature so you can focus less on turning off your signal and more on basking in the freedom of the ride.
Artfully Hidden Technology

Harley-Davidson leverages the latest in technology without compromising style and function. That means we hide electronics. The whole wiring harness is skillfully routed behind the jewels of the bike—the tank, engine and all the other eye-popping features you want to see. It's just another way The Motor Company goes the extra mile to give its bikes that premium, top-of-the-line fit and finish.
Frame and Swingarm

This is the game-changer: instead of stamped and welded parts and bent tubing, this frame and swingarm boast strong castings and forgings—just like the legendary Harley-Davidson® frames of years past—so the acceleration is strong and the ride is tight and responsive.
Legendary Low Speed Maneuverability

At The Motor Company, we believe you don't make innovative, next-generation Touring motorcycles without shedding a little blood, sweat and tears. And when you get it right—like with the low speed maneuverability on our Touring models—all the other upgrades in the ride combine to create a big-boned bike that is light and nimble while carving up tight turns or if you find yourself riding in a parade or group ride.
Fine-Tuned Front End Geometry

H-D® might as well stand for 'handling details.' Here's another key engineering innovation we added because we refuse to settle. We took an already royal ride and fine-tuned the front end, making it even more responsive. You might not fully appreciate the difference until you're tucked into a long twisty, sewn to the saddle and fully in tune with every curve of the road.
Brembo® Brakes

Confidence. Control. High-performance dual disc Brembo® front brakes with Anti-Locking Brake System (ABS) offer consistent stopping power at all speeds. The 4-piston front and rear caliper with dual front rotor brake system is state of the art and top of the line. It's just another way The Motor Company puts a high level of detail into their bikes to give you peace of mind throughout your journey.
Tuned to Be Ridden

Harley-Davidson® motorcycles are different than any other bike out on the road. There's a balance to them. The steering, the maneuverability—it's all in concert. And each Harley-Davidson® model is tuned differently to create a unique riding experience for each individual no matter which bike they swing their leg over. Let's face it, we didn't get to where we are by being like everyone else.
Low Profile Saddle

Ride in luxury, style and confidence with this 2-piece solo seat and matching pillion, newly developed for the CVO™ Road King® model. You sit low (26.5-inches) and wrapped in sculpted comfort with your boots easily reaching the ground. Custom Tuck-n'-Roll leather inserts and laser-etched Road King® emblem add an unmistakable touch of top-of-the-line custom styling.
Full-Length Footboards with Extended Heel Shift Lever

Your boots were made for riding, in comfort, and any way you see fit. Our full-length footboards boast a tried and true design that's stood the test of time with rubber isolation that spares you from vibration and passenger footpegs for a custom look. New for 2013, we've added even more comfort with a redesigned extended reach heel shift lever that makes getting through the gears quick and easy and gives your foot more room on the left-side board.
Engine Idle Temperature Management System

Our motorcycles are built to be ridden. A lot. So that means that rider comfort is top of mind. Always. The Engine Idle Temperature Management System (EITMS) feature shuts off fuel to the rear cylinder when the bike is at idle and the engine reaches a certain temperature, so it can cool off as the engine idles only on the front cylinder. Best part, you can easily turn this feature on or off yourself whenever the bike is stopped.