| | |
| --- | --- |
| Make Model | Harley Davidson FLHS 1340 Electra Glide |
| Year | 1983 - 86 |
| Engine | Four stroke, 45° V-Twin, OHV, 2 valves per cylinder. |
| Capacity | 1337 cc / 81.7 cu-in |
| Cooling System | Air cooled |
| Bore x Stroke | 88.8 x 108.0 mm |
| Compression Ratio | 8.5:1 |
| Induction | 38mm Keihin Carburettor |
| Ignition | Solid state electronic |
| Starting | Electric |
| Max Power | 67 hp / 48.9 hp @ 5000 rpm |
| Max Torque | 69 lb-ft @ 3000 rpm |
| Transmission / Drive | 4 Speed |
| Final Drive | Chain |
| Front Suspension | Telescopic forks |
| Rear Suspension | Dual shocks swinging arm |
| Front Brakes | Single 254mm disc 1 piston caliper |
| Rear Brakes | Single 254mm disc 1 piston caliper. |
| Front Tyre | MT90-16T |
| Rear Tyre | MT90-16 |
| Dry Weight | 343 kg / 756 lbs |
| Fuel Capacity | 19 Litres / 5.0 US gal |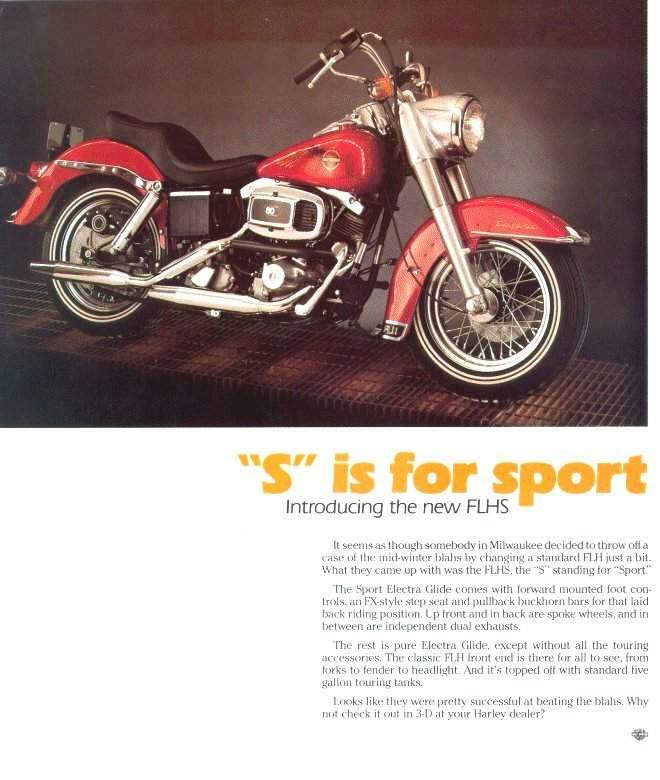 Review
A couple of things struck me as I sat at traffic lights alongside Tiny's FLHS en route to the location chosen for a photo shoot. The first was the tickover: a lazy off-beat lolloping heartbeat which, even through a pair of reasonably well-muffled silencers, drowned out any hint of engine or exhaust noise from the stock Road King I was piloting. The second was the size: while Tiny's nickname is applied with an element of sarcasm, his bike could adopt the same moniker without any suggestion of irony, and I was very much aware that I was riding a significantly bigger machine. And it wasn't just the seat height: the tank mounted dash sat inches higher than its forebear's.
I was reminded of the day I took my own shovelhead Electra round to see a mate of mine, Dave the Wing - and there are no prizes for guessing how he came by that appellation. Having never put the two bikes side-by-side before, we were amazed at just how small the Harley looked alongside the bike that was considered to be its nemesis. Chatting to Tiny later he concurred and had recently had a similar conversation with an old friend, both remarking that it wasn't too many years ago that an Electra Glide was considered a giant among giants, but then remembered also that a Bonneville was often regarded as being too big. If you've still got them, dig out your old copies of "Motorcycle Scooter and Three-Wheeler Mechanics" and chortle as you read of how big and unwieldy the later six-fifty British twins were considered to be.
It could be argued that a 1981 motorcycle is too new to be a classic, but it is fair to say that the bike was already getting on for being a classic as it rolled off the production line. Except for an overbore to meet power expectations when strangled by emissions laws, and a charging system, it wasn't massively different to the first Shovelhead Electra Glide in 1966, and that wasn't a million miles away from the first Duo Glide of '58, and there are very few who would instantly pick up on the differences and actually care about them: and they're still hanging up their anoraks so we can dismiss them while they're not listening.
Checking out older bikes gives you the opportunity to realise how much things have changed over time and it is quickly apparent, if you take the time to look, just how many old Harleys are actually on the road. Sure there are museum pieces, and one or two bikes that seldom come out from under dust sheets, but for every one of those pristine, restored and cherished models, there's half a dozen that have, like many of us, steadfastly refused to grow old gracefully. Still keen to blow the cobwebs away, and often with the volume control set a little loud for their peers, or even the next generation, but stuff them: life's too short to live it from the sidelines.
That is very much the case with this FLHS. You'll like the next bit, because it scuppers any chance of making sense of Harley model designations - and hang on a second while I go and get my own anorak back.
The FLHS models started out as an "Electra Glide Sport" when first shown as a first limited-edition undressed dresser in 1977, was relaunched as a "Sport Electra Glide" when reintroduced in 1981, when it took a lighter exhaust system and Wide Glide controls, before becoming a Sport Glide II in 1982 when it was laden with unguarded panniers and the bigger seat from the Glide. Thankfully it is a lot better looking than either the next Electra Glide Sport in 1987 with the Tour Glide's dash but not its fairing to hide it from view, or the next Sport Glide, the FXRT, which involved bolting a big and clever, but not very pretty barn door to the front of an FXR. Why do I know all this? We'll come to that in a moment.
In standard trim, both the Electra Glide Sport and Sport Electra Glide were lightened 4-speed Electra Glides with only a change of engine and exhaust to separate them from each other, and a complete removal of any trace of a luggage system to separate them from the Electra Glides themselves, which were now fully dressed as standard. With the removal of the bags, gone also were the excesses of pannier guard rails, front and rear bumpers, and the lighting bar that mounted the spots and the underslung indicators, which were obliged to cling to the 'bars instead. Missing, too, was the four-channel rack that held the Tour-Pak, the batwing screen and the crash-bars. Additions? A bucket-load of cool? If I could find a full specification I'd let you know how much weight that saved, but suffice to say it could have been more if they'd put smaller mudguards on, and removed the panniers, but they were already doing that sort of stuff with the FXs anyway, and anyway, it would hardly have been a Glide then, would it? Well, perhaps a Wide Glide ... ah!
Walking away from the limited edition 1200cc FLHS momentarily, the Sport Electra Glide and Sport Glide II, with their eighty-cube Shovelhead motors, are between a rock and a hard place in most people's minds, as indeed are most 1340 Shovels. Purists wax lyrical about the 1200cc motor's classic long-stroke dimensions, while lovers of the 1340cc won't look back beyond the Evo, but to dismiss the big-bore iron-barrelled, alloy headed shovel is to fall into the trap of dismissing all early motors as too old-fashioned, too unreliable or just plain impractical, and they are none of those things unless badly put together or poorly maintained. Any engine is only as good as the last person to lay spanners on it, and late Shovels are all tarred with the same brush: condemned for being assembled on an AMF production line, and with concerns about quality control ringing alarm bells at the back of your mind. There is a grain of truth in those quality control issues, but to nowhere near the extent that is popularly believed. They hark back to a time when the press, clearly peeved that a manufacturer might question what they were dishing out as the truth was gunning for the Motor Company in the same way that they now baying for Buell blood - by the early eighties they were extolling the virtues of GPzs, GSXs, FJs and there must have been a pre Fireblade Honda that got them all excited if I could remember, or be bothered to look it up, so it doesn't take much imagination to guess at their reaction to an old-fashioned, long-stroke V-twin. It doesn't take much more thought to realise that it only takes a friend of a friend's experience backed up by an unchallenged, generally hostile press to create a scare that can last for generations.
Still, that's their problem. It's their loss, and just following Tiny I was made all too aware how much the character of the motor has changed over the twenty-plus years between his Sport and the 2003 Anniversary test bike. The bottom end stomp of the older motor was evident, almost tangible through its earthy exhaust note, and considerably different to the revvier Twin Cam lump beneath me. I could hear the motor take the strain under acceleration from low, low revs; almost hear the torque as the already deep note dropped a couple of octaves further without a hint of harshness. If I'd tried the same trick on the 88 it would have stalled, but then you wouldn't attempt it because it isn't that kind of motor anymore. Similarly if I'd tried to set the tick-over to match the Shovel: not necessarily a bad thing, just different.
The original FLHS models weren't especially successful, and each survived a single season with modest production runs of 535, 914 and 1,062 respectively, and it isn't hard to see why. It's got nothing to do with how good bike a bike it is, and everything to do with it being an Electra Glide with some bits unbolted. No modifications, no one-off specific parts, just some bits unbolted and removed. Maybe a waterslide transfer, but so what? In fact, with a modicum of imagination, dealers could supply an FLHS without Harley's sanction, just by removing the aforementioned items which could then be sold on to another customer - or quite probably the owner of the stripped down model wanting to make the bike more flexible, or better suited to the long haul. Everyone a winner. But just as a dealer could see that, so too could your average Electra Glide owner.
Things were a good deal simpler then, and not least because the whole instrument panel was contained in the tank-top dash, and the fairing was only secured by the four screws that held the headlamp nacelle on. It also helped that the fairing contained nothing but an echo chamber for the mechanical rustlings of the iron and aluminium motor, so its removal and refitting was a simple affair. Try removing that on a modern Glide and you've got to find a new home for the speedo, tacho and any other dials you want to retain, which might involve a Road King's tank to house at least the most important one - and that's before you attempt to get the composite screen off, and retro-fit the not-inexpensive headlamp nacelle that was the reason for wanting to make the change in the first place.
On the '82 Sport Glide II there's not many more than twenty-one nuts and bolts that need to be undone and refastened, by my reckoning, to arrive at the bike in the press shot from the full dresser of the time. Okay, and the fitting of the indicators off an FX. If you'd been a buyer the previous year, you'd have had a few more bits to remove and a few chunks of Wide Glide to bolt on - notably the footrests and controls, and the staggered dual mufflers, and an FX seat to keep things low - to reproduce the 1981 offering.
It is that '81 offering that we're looking at here, one of those 914 bikes, and while it might look like an owner's handiwork there is a large amount of Motor Company input. I have to say it confused the hell out of me as I'd been looking at the Sport Glide II press shot, but when I announced cheerfully to Tiny that he had a Sport Glide and showed him that picture, he told me it couldn't have been. He'd spoken to people at the time he bought the bike, and there was an absolute confidence that the Wide Glide footrests were stock, and that he didn't think it had arrived with bags. I postulated that the aftermarket suppliers had nowhere near the levels of sophistication that they exhibit today, and that an enterprising early owner had fitted the bits that fitted well, and looked good so had picked out the FXWG items, but he was having none of it so I looked a little deeper ... and found it. Against all odds, reason or common sense, there were two bikes on consecutive years with the same model ID but different names, and markedly different treatment. What price assumption?
Tiny has had this particular Sport Electra Glide for 5 years having decided that he really wanted a shovel, for its lines as much as its character - and if you look at a Shovel motor alongside an Evo, you'll know what he means. Geoff at Cycle Enterprises, who knew and had serviced the bike some years before, put him onto it and the deal was struck but it had been standing for a few years and wasn't in the condition you see it here. No matter, because with the flexibility offered by the 4-speeds, Tiny didn't run it looking like this for the first three years anyway. In fact, when I pulled up at SHD in Stoke for the first time a couple of years ago it was scheduled to go into the workshop, when Steve, his business partner, had a quiet moment, to replace the nineteen-inch front wheel, FX style rear mudguard and Bates headlamp with the contents of a box of bits and a recently repainted set of dresser mudguards. That box contained the nacelle that had always been missing, together with the fork shrouds, and the mudguards had been subjected to a good case of looking at. The inevitable transformation was almost the antithesis of a traditional custom build: off with the small lightweight sporty bits, and on with the sort of big, practical mudguards that actually keep the road dirt off you: the sort of stuff your mother would approve of. Well, my mum would, but then my mum liked my Electra.
In the name of doing things his way, Tiny binned the SU carb that was resident when he picked the bike up and slapped on an S&S which he is more comfortable with, and when the turnout pipes finally self-destructed he replaced them with taper mufflers on staggered headers, without realising he was actually taking it closer back to its original form. Other slight discrepancies are the kicker - it might have taken the controls from the Wide Glide, but it didn't go so far as to inherit that model's kickstart - and the four-pot calliper gripping a drilled disk. The kicker is staying, but the jury is out at the moment regarding the calliper: Tiny still has the banana calliper in the shed, and a part of him is tempted to take that back to standard - he even has the hydraulic hose on a shelf in the shop for that purpose - but another part appreciates the improved braking at the expense of compromising the aesthetics.
The resulting bike has a shape similar to a Fat Boy, and there is no coincidence that one of Tiny's other bikes has been a blacked out FLSTF with an FLH nacelle fitted.
For my part, I find it astonishing how quickly you can arrive at a low-slung custom with so much stock sheet metal, and so many bits of the original bike in situ. It is testament to the flexibility of the
4-speed frame that the entire FX range was based upon it, from the first Super Glides through Low Riders, Fat Bobs to the Wide Glide and Sturgis, and there is some justice that even in its heavyweight form, it played host to the world's forgotten factory custom. It was probably that more than anything else that lead to the reintroduction of the basic shape in 1991 with the Dyna Sturgis, but as far as modifying tourers goes, the 4-speed was the last opportunity to really do it for yourself. FLHs ran alongside the FLT chassis that would evolve into the FLHT frame, host all of the later heavyweights and be far less appropriate for street customs. It wasn't all bad though, because the Softails took the mantle of the custom-builders' favourite, and the Dyna Glides bolstered the choice of shape and styles a few years later. What I want to know, is when are Harley-Davidson going to make a Dyna version of this?
Source American-v.co.uk