Make Model

Husqvarna SM 701 Supermoto

Year

2015 - 16

Engine

Four stroke, single cylinder.

Capacity

690 cc / 42.1 cu in

Bore x Stroke

102 x 84.5 mm

Compression Ratio

12.6:1

Co

oling System
Liquid cooling
Engine Oil
Bel Ray, SAE 10W-60
Exhaust
Stainless steel silencer with regulated catalytic converter
Engine Management
Keihin EMS with Ride By Wire

Induction

Keihin EFI throttle body 46 mm, Control 4 V/SOHC with roller rocker levers

Ignition

Double ignition

Starting

Electric
Battery
12V 8.6Ah

Max Power

49 kW / 67 hp @ 7500 rpm

Max Torque

68 Nm / kgf-m / ft-lb @ 6000 rpm
Clutch
APTCTM slipper clutch, hydraulically operated

Transmission

6 Speed
Final Drive
Chain X-Ring 5/8 x 1/4"
Final Drive Ratio
16:42
Primary Drive
36:79

Frame

Chromium-Molybdenum-Steel trellis frame, powder coated
Subframe Self-supporting polyamide tank
Handlebar
Aluminium, tapered, Ř 28/22 mm

Front Suspension

WP-USD split function fork Ř 48 mm

Front Wheel Travel

215 mm / 8.4 in

Rear Suspension

WP-Monoshock with Pro-Lever linkage

Rear Wheel Travel

250 mm / 9.8 in

Front Brakes

Single 320 mm disc, Brembo four piston, radially bolted calipe

Rear Brakes

Single 240 mm disc, Brembo single piston, floating caliper
ABS
ABS Bosch 9M+ Two Channel (disengageable, supermoto mode)
Front Wheel
Spoked wheels with aluminium tubeless rims 3.50 x 17";
Rear Wheel
Spoked wheels with aluminium tubeless rims 5.00 x 17"

Front Tyre

120/70 ZR 17

Rear Tyre

160/60 ZR 17
Steering Head Angle
63°
Triple Clamp Effset
35 mm (33 mm)
Trail
112 mm / 4.4 in
Wheelbase
1480 ± 15 mm mm / 58.2 in

Seat Height

890 mm / 35.0 in
Ground Clearance
270 mm / 10.6 in

Dry Weight

145 kb / 319.6 lbs

Fuel Capacity

14 Litres / 3.6 US gal

Reserve

2.5 Litres / gal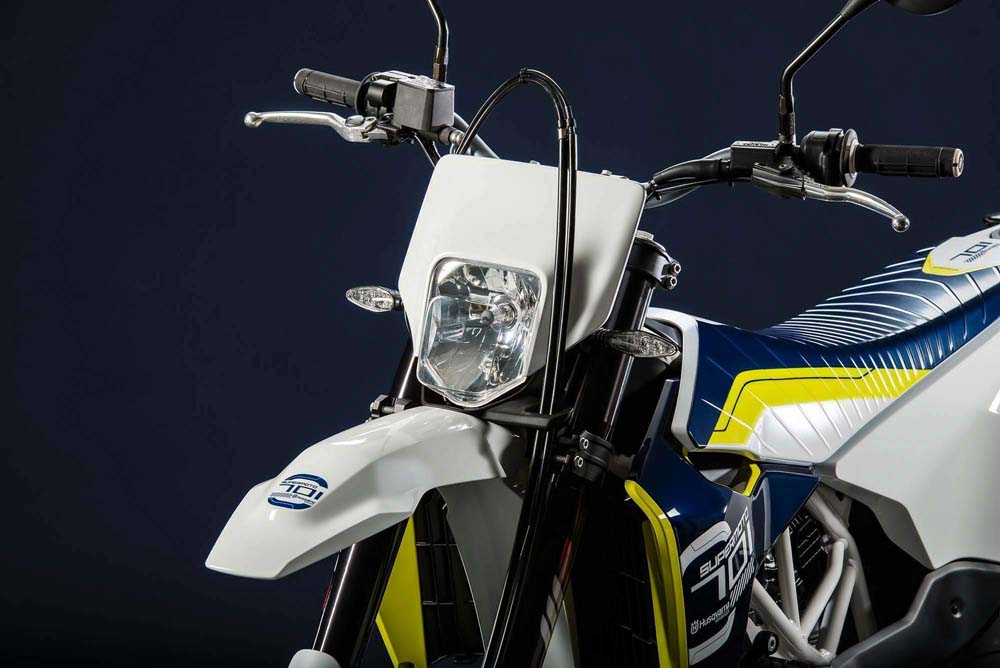 In the short period of time that BMW owned the Husqvarna brand, a small number of streetbikes rolled out of the Italian factory, with the promise of many more to come. That fell away when BMW dropped Husky like a psychopathic blind date, but now that it's an entity under KTM ownership, things are starting to turn. Albeit slowly.

Proof is the 701 Supermoto, introduced at the EICMA show in Milan. Make that "re-introduced," since the 701 was displayed as a concept article last year. But now Husky has confirmed that it will indeed make the Supermoto as a 2015 model.

Wrapped in a new steel-tube chassis and slathered with somewhat controversial bodywork (featuring "functional ribbing") lies the beating heart of a familiar thumper: the 690cc, liquid-cooled engine from KTM's 690 Duke. Fitted with ride-by-wire electronics, the Husky version of the engine makes 67 hp and gets three engine maps, Standard, Soft, and Advanced.

Using a unique frame, the Husky 701 comes in at 320 pounds. The white wonder is slightly larger than the KTM 690 Duke, with a 58.3-inch wheelbase (up by 0.6 inches) and a seat height of 35 inches (compared to the KTM's 32.9).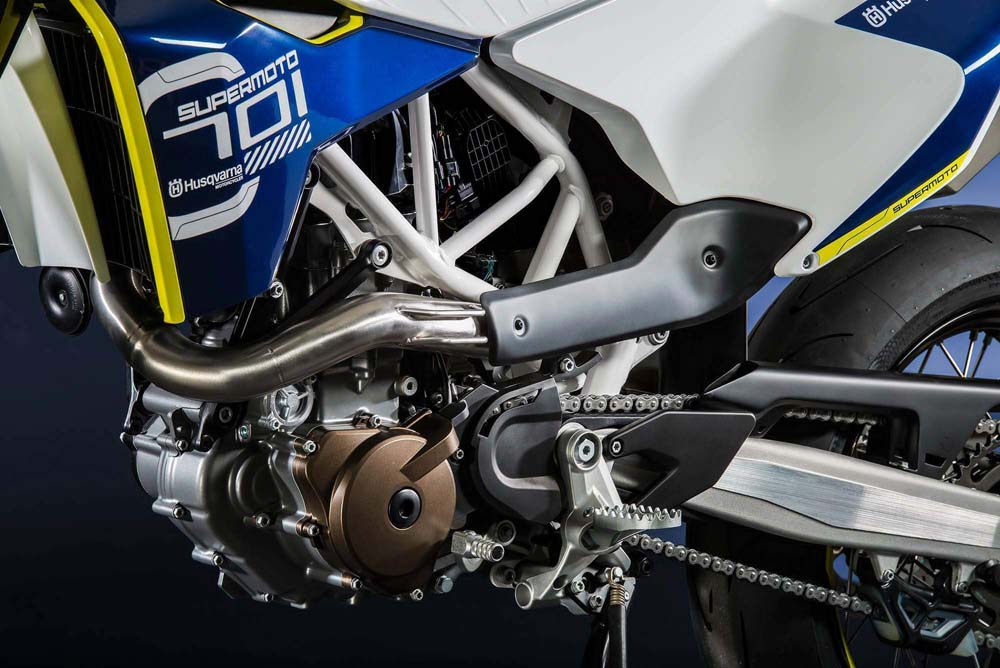 Years of supermoto tradition combined with the finest craftsmanship and unparalleled single cylinder performance are embodied in the all new 701 SUPERMOTO. The highest quality components and uncompromising engineering provide outstanding levels of agility and handling, combined with the latest engine management electronics for razor-sharp throttle response and control.
With an overall dry weight of less than 145kg, the 67hp engine propels riders from one corner to the next without hesitation. Thanks to the ride-by-wire throttle and switchable engine maps, riders can accurately feed power to the rear wheel and feel confident that when the next corner rapidly approaches, they can rely on the latest supermoto ABS and APTC slipper clutch to safely and heroically drift the rear end all the way to the apex.
Extensively tested and proven parts and accessories that are designed to the highest standards in terms of performance, reliability and quality are available in the Husky Power range of products. Hundreds of hours of development guarantee that every part is perfectly matched to the 701 SUPERMOTO, allowing riders to further personalise their bike in looks, set-up and performance.
Husqvarna Motorcycles GmbH was founded in October 2013, and positioned alongside KTM Sportmotorcycle GmbH, under the umbrella of parent company KTM Motorrad AG. In a very short time, Husqvarna Motorcycles has re-established itself as one of the main players in the offroad segment, thanks to a high quality and competitive product portfolio and an ever-increasing distribution network. Husqvarna motorcycles, parts and accessories are distributed worldwide through a dedicated network of 16 subsidiaries,
including North America and Japan, and 46 high profile importers.
The sales success of the new Husqvarna products has exceeded expectations and for 2014, the first full business year after the re-birth of the historical brand, production of over 15,000 units is forecasted. The updated motocross and enduro line-ups have been
fine-tuned and are expected to consolidate Husqvarna as a producer of the highest quality premium offroad motorcycles available today. Now, with the 701 SUPERMOTO and the concept bikes 401 VITPILEN and 401 SVARTPILEN, Husqvarna Motorcycles takes its first major steps towards street bikes while fulfilling its brand promise and expanding its model range into the street segment.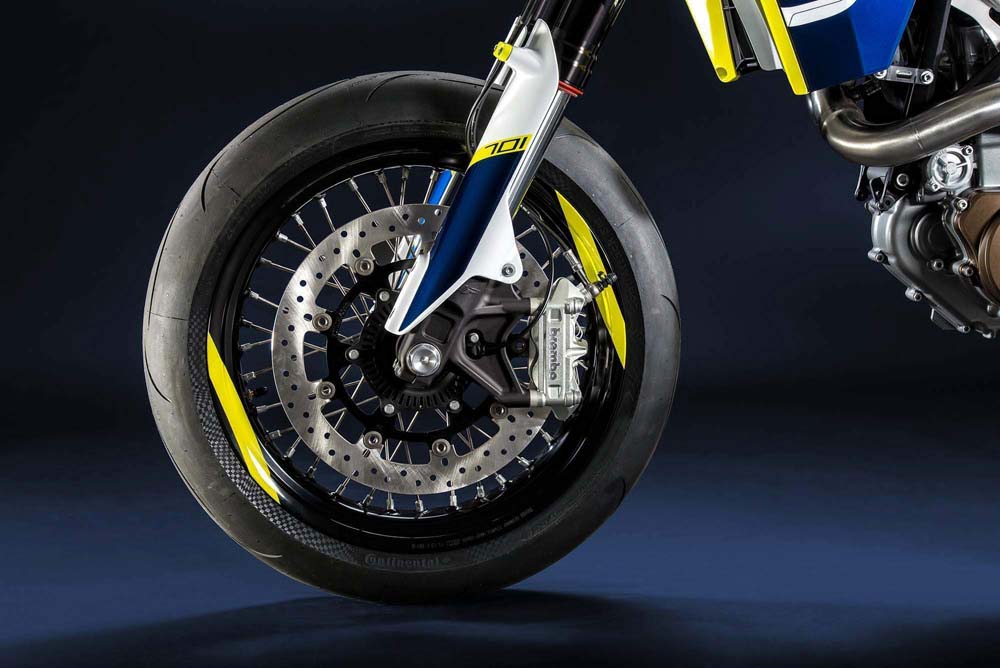 The state-of-the-art manufacturing facilities in Austria are located in the area around Mattighofen, the most technologically advanced motorcycle manufacturing site in Europe.
The Research and Development facility is strategically placed alongside the main headquarters and between the main assembly facility and the engine manufacturing facility, with the Motorsport building just a short distance away. WP Performance Systems GmbH, also a KTM Motorrad AG Group company, is situated in nearby Munderfing, where frames, radiators, suspension and exhausts are produced to the highest quality standards.
Highly automated production procedures at WP include hydro-forming and robot welding for maximum precision and consistent quality.
Optimal communication between departments thanks to their close vicinity guarantees efficient and integrated development of the products, with technological knowhow from R&D, Motorsport and WP being transferred directly onto the bikes that roll off the four
production lines in Mattighofen.
With the advent of the 701 SUPERMOTO, Husqvarna's vast product portfolio expands in late Summer 2015 to include a new street model. As clearly demonstrated by the striking, new concept bikes 401 VITPILEN and 401 SVARTPILEN at Eicma, dedicated product development will see Husqvarna continue to grow in the coming years, consolidating the premium image of the historic brand, and ensuring a bright future.
In the first half of the 20th century, when motorcycling heroes chased glory on treacherous early road race courses such as the Tourist Trophy, Husqvarna achieved fame throughout Europe thanks to its commitment to street based motorsports.
Despite significant success in those early European Grand Prix and TT race seasons, Husqvarna Motorcycles pulled out of road racing all together by the mid 30's in the wake of the great depression and with the tensions of a looming world war.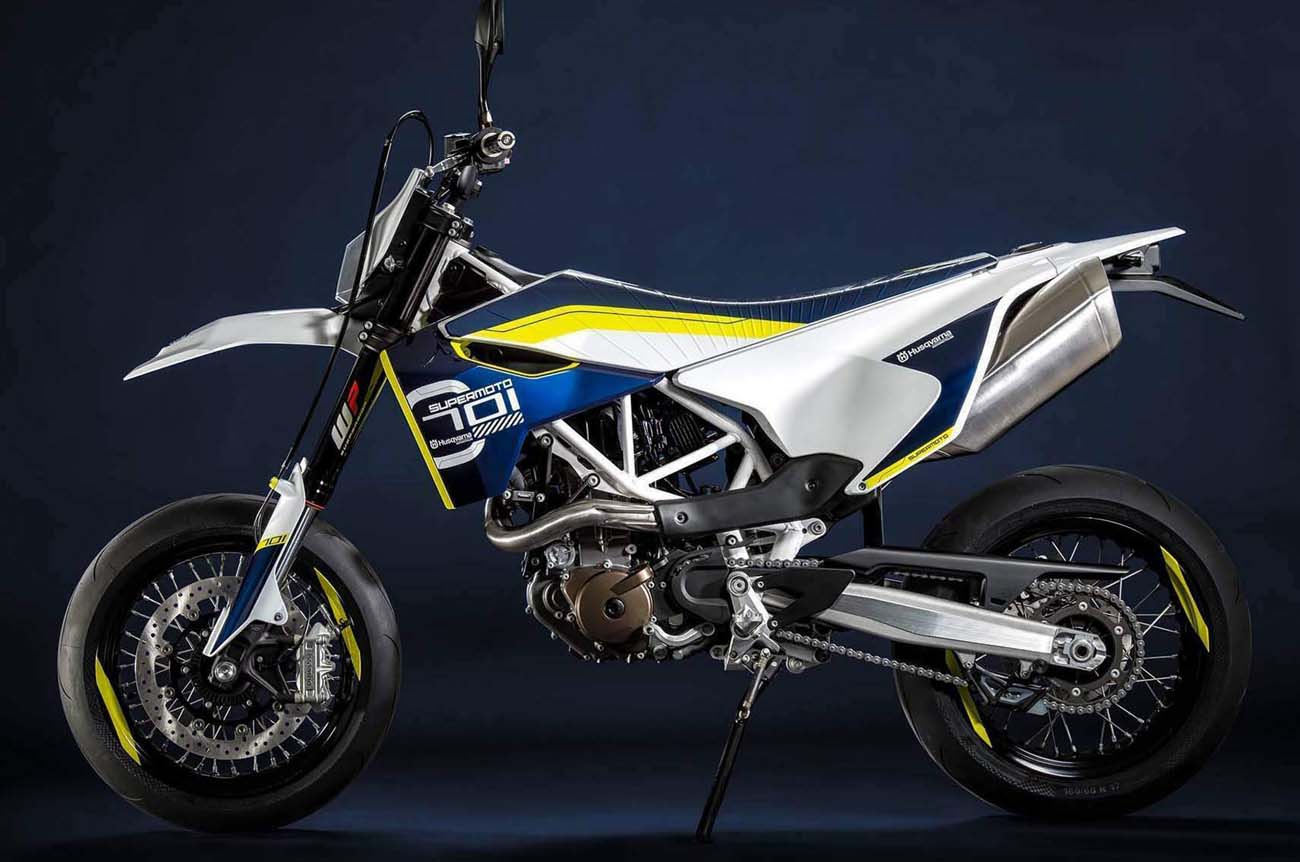 The post-war era was a turning point for Husqvarna. A severely damaged road network in Europe meant the common heavy and cumbersome pre-war designed mainstream motorcycles could not easily navigate bombed, potholed and rubble strewn streets.
Often detours through fields and forests were necessary. This called for lightweight, manoeuvrable, robust and easy-to-ride motorcycles. The subsequent economic climate also called for functional yet affordable machines. Husqvarna's small engined single-cylinder bikes of the day were the answer, and from the mid 40's to late 50's Husqvarna models such as the Svartkvarna, Drombagen, Silverpilen and Guldpilen increasingly grew in popularity due to their minimalist design and functional simplicity.
Husqvarna's winning heritage was further engraved into motorcycling history in the 50's, as the first manufacturer to produce purpose-built motorcycles for offroad disciplines.
Offroad is where the brand forged its legend, dominating the many forms of offroad motorcycle racing up to the late 70's. This reputation built in offroad competition, together with Husqvarna's proven high quality standards are evidence of the brand's
serious intent, and form the basis for success in any motorcycling segment.
Now, with 111 years of heritage in both street and offroad motorcycling, Husqvarna Motorcycles makes its return to the street segment with a new large displacement single-cylinder model, the 701 SUPERMOTO. This renewed enthusiasm for street bikes
fulfils Husqvarna's brand promise and expands its model range. The 701 leads the competition in terms of power, weight, technology and performance. These premium characteristics are highlighted by modern colours, graphics and clean bodywork –
maintaining the Swedish tendency towards functional design. True Husqvarna, faithful to the brand's core values. Premium motorcycles with state-of-the-art technology and a rich sense of heritage.
Engine
The single overhead cam, liquid cooled, single cylinder engine features the latest technology in terms of design and electronics. Maximum power output of 49kW (67hp) at 7,500rpm and torque of 68Nm at 6,000rpm are outstanding figures that leave riders in no doubt of the performance potential of this single cylinder masterpiece. The extremely lightweight engine weighs only 43.4kg without oil but including all components such as electric start, throttle body and clutch and coolant lines. Reliability, durability and efficiency are guaranteed by technical solutions such as active crankcase evacuation and forced lubrication which reduce oil friction and pump losses, and contribute to the long 10,000km service intervals and extremely low fuel consumption; in-turn lowering the cost of ownership of this class-leading single cylinder power plant.
. Advanced technical solutions high power-low weight; 67hp and only 43.4kg
. Long service intervals and low fuel consumption low cost of ownership
. Cutting edge ride-by-wire electronics class-leading single cylinder technology and performance
CYLINDERHEAD
The compact design of the single overhead cam cylinder head features hollow stemmed steel 48g, 40mm intake valves, and 46.5g, 34mm exhaust valves. Ignition is via a double spark plug layout, each of which has individual ignition timing for optimal combustion of fuel in the large bore combustion chamber. This results in smooth engine behaviour and optimum power delivery, especially at low revs, while maintaining low emissions and fuel consumption.
. Single overhead cam compact cylinder head design, low friction, lightweight and cost efficient
. Double spark plugs smooth engine behaviour, better emissions and fuel consumption
ENGINE MAPS
Three engine maps are available and can be selected via a switch under the seat. Riders can choose between "Standard", "Soft" and "Advanced" engine setups according to riding conditions and terrain. The 701 also features a "Bad fuel map" for low-quality fuel that allows the engine to operate efficiently even with 80 RON fuel, ensuring that the riding adventure never stops even in the remotest areas of the world, where high-grade fuel is not available.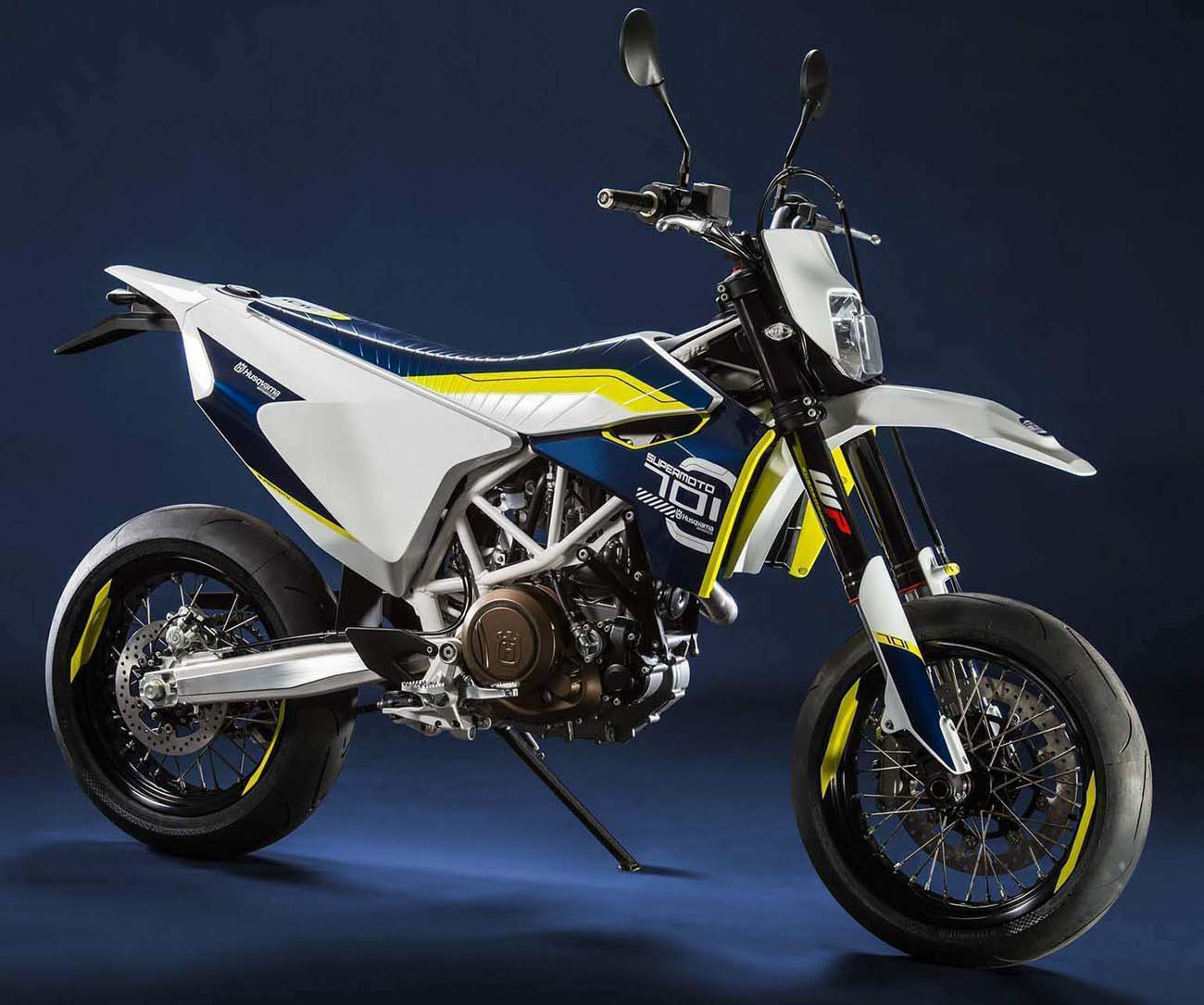 . Switchable engine maps adapt engine characteristics according to conditions
. "Bad fuel map" 80 RON fuel keep the adventure going anywhere on the planet
SLIPPER CLUTCH
The APTC (Adler Power Torque Control) slipper clutch by Adler allows for greater speeds going into and coming out of corners by maximising rear wheel grip under hard acceleration as well as preventing rear wheel instability and hopping when braking hard into the apex of a turn, for maximum control and perfect down-shifting. The unique design makes it up to 50% easier to pull the clutch lever and reduces lever vibration. The Magura hydraulic system guarantees perfect clutch modulation.

. Slipper clutch maximum control under hard acceleration, braking and down-shifting
. Magura hydraulic system perfect clutch modulation
CRANKSHAFT, CONROD AND PISTON
The crankshaft and conrod are produced by Herzog Gmbh in Germany, a guarantee of quality and durability. To increase comfort and reduce vibrations, the crankshaft has a balancer shaft mounted in parallel with it, reducing inertia forces for a smoother ride.
Thanks to a large 102mm bore and a short 84.5mm stroke and a lightweight forged box-type piston (only 471g including rings and clips) produced by Mahle König, the engine revs freely to over 8,000rpm, maximising the advantages of the double spark plugs and advanced engine management system. The compression ratio is 12.6:1.
. Short stroke and large bore high revving and quick response
. Forged box-type piston by Mahle König high performance and only 471g
. Reduced oscillating masses lower vibrations better emissions and fuel consumption
Bodywork
The 701 SUPERMOTO's innovative bodywork features a long seat that reaches over the radiator shrouds, with functional ribbing to improve grip in all conditions. The in-mould graphics on the rear subframe protect the integrated fuel tank and also give the rear an elegant look. Tightly wrapped around the engine and frame, the 701 bodywork is ergonomically designed to connect the rider's body to the bike, for a perfect fit of man and machine, allowing for total control in all riding situations.
. Slim bodywork perfect movement and ergonomics for all rider sizes
. Functional design carefully engineered ergonomics for maximum control