Husqvarna TE 150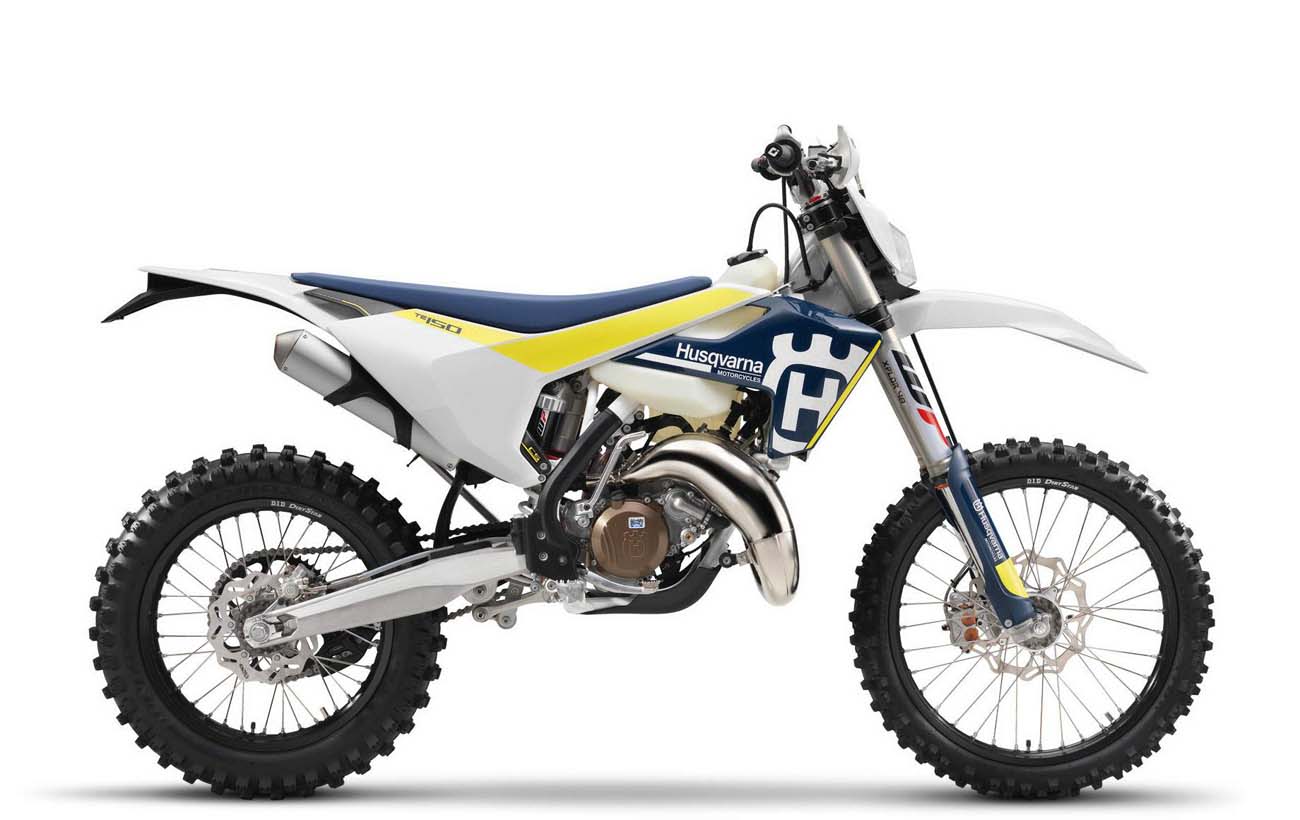 | | |
| --- | --- |
| Make Model | Husqvarna TE 150 |
| Year | 2017 |
| Engine | Two stroke, single cylinder, with reed intake and exhaust control |
| Capacity | 149 cc / 9.0 cu-in |
| Bore x Stroke | 58 x 54.4 mm |
| Cooling System | Liquid cooled |
| Compression Ratio | |
| Lubrication | Mixture oil lubrication |
| Induction | |
| Ignition | Contactless, controlled, fully electronic ignition system with digital ignition timing adjustment, type Kokusan |
| Starting | Kick and electric |
| Max Power | |
| Max Torque | |
| Clutch | Wet multi-disc clutch / Magura hydraulics |
| Transmission | 6 Speed |
| Final Drive | Chain X-Ring 5/8 x 1/4" |
| Frame | 25CrMo4 steel central-tube frame |
| Front Suspension | WP-USD Xplor 48 with preload adjuster |
| Front Wheel Travel | 300 mm / 11.8 in |
| Rear Suspension | WP shock absorber with linkage |
| Rear Wheel Travel | 330 mm / 12.9 in |
| Front Brakes | Single 260mm disc 4 piston caliper |
| Rear Brakes | Single 220mm disc 2 piston caliper |
| Front Tyre | 90/90-21 |
| Rear Tyre | 120/80-18 |
| Seat Height | 960 mm / 37.8 in |
| Ground Clearance | 370 mm / 17.5 in |
| Dry Weight | 92 kg / 202.8 lbs |
| Fuel Capacity | 9.5 Litres / 2.5 US gal |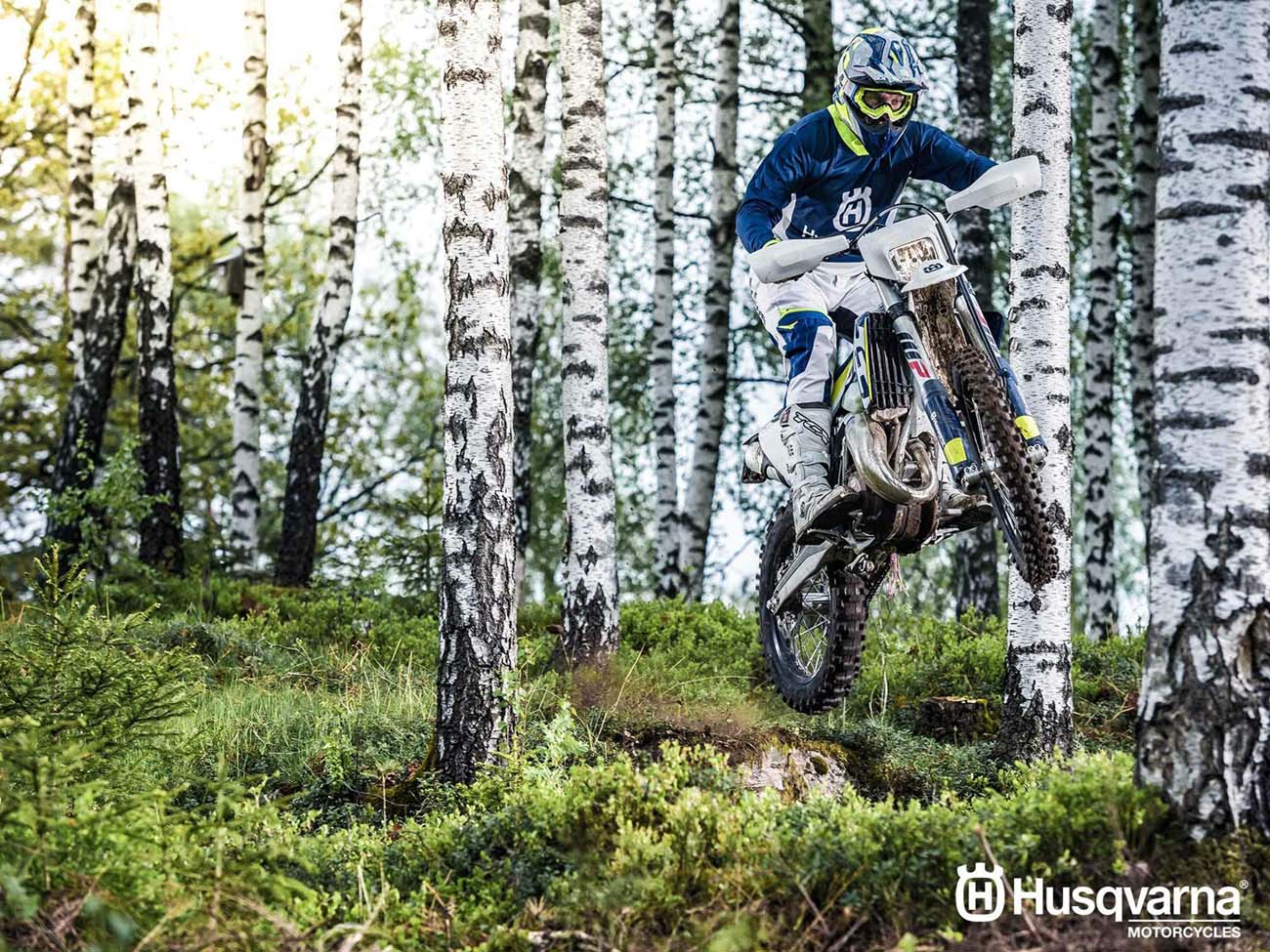 With a completely new design and replacing the TE 125, this is the ultimate lightweight enduro bike with a surprisingly powerful engine. New production processes allow thinner casings without compromising strength, while smarter shaft arrangement and a more compact gearbox centralise rotating masses and improve handling. It also results in a smaller, narrower and lower overall engine layout that is also much lighter. An innovative new power-valve design increases power throughout the RPM range.The TE models now all feature electric start. The 2017 2-stroke models all have a light new fuel tank made of translucent plastic for easy fuel level monitoring. Holding an impressive ten litres, the tank has a quick-release fuel cap, perfect for quick refuelling, making sure you cross the finish line ahead of the pack.

Husqvarna Motorcycles has today officially unveiled their complete line-up of all-new enduro models at the historic brand's homeland in Huskvarna, Sweden.

Embodying Husqvarna's pioneering spirit, each of the enduro machines has been redesigned from the ground up for 2017. Featuring the most advanced technology they set the benchmark in terms of handling, power, weight and aesthetics.

Introducing completely new design, reduced weight, best-in-class handling and dynamic ergonomics, Husqvarna's 2-stroke TX 125, TE 250 and 300 and 4-stroke FE 250, 350, 450 and 501 models offer the ideal blend of functionality and Swedish-inspired style.

All 2017 models are equipped with new lighter and more compact engines, with the 4-stroke range featuring unique traction control system as standard. Fitted within redesigned frames the engines offer class-leading performance that's specifically tailored to ensure a next level enduro riding experience.

Designed to blaze new trails, excel in all conditions and deliver a next-level enduro experience the 2017 Husqvarna enduro range represent the next step for the historic brand's offroad motorcycle range.

MAJOR CHASSIS UPGRADES

Husqvarna's 2017 enduro models feature new frames, which ensure increased rider comfort and confidence. Manufactured to the highest standards by WP Performance Systems, the lighter frames offer 20% higher torsional rigidity for improved stability and agility, while longitudinal stiffness is reduced by 30% for improved suspension functionality.

Remaining unique to Husqvarna, the composite subframe has been redesigned to fit the new chassis. Made with 30% carbon fibre, the subframe is 1 kg lighter than the previous part. All 2017 Husqvarna models have CNC machined triple clamps with an offset of 22 mm fitted as standard. Completing the chassis package the new swingarm has a specifically machined rear axle that allows for the chain adjuster markings to be seen from above.

A major update in the suspension department are the all-new WP Xplor 48 front forks. Featuring an open cartridge layout with a spring in each leg and split damping functions, all adjusters - including an innovative pre-load adjuster as standard - are situated on top of each fork leg. At the rear WP's new DCC linkage shock is 0.36 kg lighter than the previous version.

Positioned 6 mm higher than on Husqvarna's motocross bikes, new self-cleaning footpeg mounts prevent dirt build-up. Along with the new ODI lock-on grips and adjustable throttle assembly (4-strokes), they ensure an improved riding experience.

High quality Brembo callipers and controls combine with GSK discs to deliver optimum stopping power. The rear brake features a 24 mm piston (26 mm on previous models) and a 10 mm longer rear brake lever for better control while braking.

The airbox has a new design with precisely positioned inlet ducts aimed at preventing air deformation and ensuring maximum airflow and protection. The filter cage now features a simple fail proof mounting system for safe and accurate filter installation.

With futuristic new bodywork all models feature Swedish-inspired design and striking blue and yellow colours.

HUSQVARNA MY17 ENDURO CHASSIS HIGHLIGHTS
New frame with optimised geometry
WP Xplor 48 front fork designed specifically for enduro
Three-piece subframe made from composite materials
Swingarm design optimised for easy chain adjustment
Completely new bodywork with modern colours & graphics
Self-cleaning footpeg mounts
Longer rear brake lever
ODI lock-on grips
New airbox design

ALL-NEW 2-STROKE MACHINES

From the lighter TX 125 to the class-leading TE 300, Husqvarna's 2017 enduro models introduce a new era in 2-stroke technology. All engines have been redesigned from the ground up. Lighter and more compact, they feature a completely new construction that focuses on mass centralisation. Updated pistons are designed to match the reworked cylinders, while new crankshafts and counter balancer shafts significantly reduced vibrations.

A major upgrade across the 2017 2-stroke range is the new 38 mm flat slide Mikuni TMX carburettor. Providing an even smoother and more controllable power delivery the new Mikuni carburettor is less sensitive to temperature and altitude changes.

One of the most significant upgrades for 2017 is the lightweight electric start system, which is now placed and well protected under the engine on all the TE models. The system can also be fitted to the TX 125 as an optional extra, available from Husqvarna Accessories.

A complete new exhaust system on the TX 125 is designed to match the specific characteristics of the new engines to deliver top-level performance. The larger displacement TE models have a new header for optimum durability.

For the smaller displacement TX 125 the gearbox is completely redesigned. All the updates have brought massive reduction in weight across Husqvarna's 2017 2-stroke range.

HUSQVARNA MY17 ENDURO 2-STROKE MODELS HIGHLIGHTS
Completely new 2-stroke engines
New piston (TX 125)
Updates on power valve systems
Counter balancer shaft for reduced vibrations
New 38 mm Mikuni TMX carburettor
Electric start system placed under all engines (kit for TX 125)
Completely new exhaust system (TX 125)
New exhaust header (TE 250 & TE 300)
Redesigned gearbox (TX 125)
Massive weight gains

Engine

The new engine features an innovative construction featuring the latest in 2-stroke technology. As a result the engine delivers high levels of performance and usability. Additionally, the new engine is designed to improve mass centralisation resulting in better agility and reduced rider fatigue.

Cylinder and piston

The new cylinder features a 58 mm bore. Combined with an innovative power valve design that increases power throughout the RPM range, the cylinder also features a redesigned water jacket which improves cooling and increases durability. The new piston is designed to perfectly match the new cylinder layout and offer premium reliability.

Crankcase

High-pressure die cast production processes results in a thin wall thickness and a weight saving of 600g. In order to centralise mass, the new layout features a new shaft arrangement. The clutch shaft is now 27mm higher and the crankshaft 37mm higher reducing the effect of oscillating mass for more precise handling. The historical Husqvarna logo adorns the bronze finished crankcase covers.

Carburettor

The TE 150 features a 38mm flat slide Mikuni TMX carburettor replacing the previous Keihin model. This new carburettor provides a smooth and controllable power delivery with optimal performance over the entire RPM range. Additionally, the new Mikuni model is less sensitive to changes in temperature and altitude which reduces the need for setting changes in different conditions.

Chromoly steel frame

While keeping the same successful geometry from MY 16, the hydro-formed, laser-cut and robot-welded frame is expertly crafted by WP Performance Systems. The 6mm wider and 2 mm lower steel tubes offer 20% higher torsional rigidity while longitudinal stiffness is reduced by 30%. The increased torsional rigidity improves stability and agility while reducing the longitudinal stiffness creates increased flexibility for better bump absorption and suspension functionality. The new frame weighs only 8.8 kg making it 0.6 kg lighter than its predecessor.

Composite carbon fibre subframe

The composite subframe is a design unique to Husqvarna motorcycles showcasing pioneering technology and innovation. This 3 piece component is made up of 30% carbon fibre making it remarkably light (1.4 kg) saving 1 kg over the previous design. Specific care is taken to create a calculated rigidity for optimal handling and rider ergonomics.

Functional bodywork

Distinctive and futuristic bodywork highlight the impressive leap forward for MY17, while striking pearl blue and electric yellow colours and graphics stylishly adorn the Swedish inspired design. With completely new ergonomics, rider control and comfort are improved allowing the rider to perform at the peak for longer periods of time. The seat has a low profile design with a new high grip seat cover which keeps the rider planted under hard acceleration and in slippery conditions.

Aluminium swingarm

The hollow, cast aluminium swingarm is designed to offer optimal stiffness and reliability while adding minimal weight. The machining above the rear axle allows the chain adjuster markings to be seen from above for easy maintenance.

WP Xplor 48

The WP Xplor 48 front fork is a completely new feature developed by WP Performance Systems specifically for enduro type riding. The forks consist of an open cartridge layout with a spring in each circuit and split damping functions. Compression can be adjusted from the left side and rebound on the right via clickers situated on the top of the fork tube. Additionally, with the standard pre-load adjuster, pre-load can be adjusted by the rider without the use of tools making the new system simple and easy to set up.

New WP rear shock

The WP DCC rear shock is designed to provide advanced damping characteristics while keeping to a compact and lightweight design. The new rear shock weighs only 3.7 kg which is 0.36 kg lighter than the previous version. With a pressure balance inside the shock, damping is improved resulting in greater rider comfort and handling while the outer contour of the reservoir increases cooling. The component is also fully adjustable and matched to a linkage system with a specific geometry to deliver the best possible traction and absorption.

Tires and wheels

Black high-strength alloy rims by DID are coupled to CNC machined hubs using lightweight spokes and silver anodised aluminium nipples. Fitted to the wheels are new Dunlop Geomax AT81 tires which offer superior grip on a wide variety of terrain.

CNC machined triple clamp

The 22 mm offset black-anodised CNC machined triple clamps offer premium quality and style standard on all Husqvarna enduro models. The triple clamps are expertly crafted using superior techniques and materials to provide high levels of quality and reliability. A 2-way handlebar adjustment is standard and allows for customisable ergonomics.

Large capacity fuel tank

Hours of riding are guaranteed with a new, lightweight fuel tank made of translucent plastic. The design allows the rider to easily see how much fuel is in the tank while 10 litre tank features a quick release fuel cap for quick refuelling.

Magura hydraulic clutch

The high quality German-made clutch system guarantees perfect modulation of the clutch in every condition. This means that the play is constantly compensated so that the pressure point and the function of the clutch remain identical in cold or hot conditions and over time. The Magura clutch also features even wear characteristics and is nearly maintenance-free.

Tool-less air filter access

The new airbox is designed with precisely positioned inlet ducts aimed at preventing air deformation and ensuring maximum airflow and filter protection. The air filter is easily accessed, without tools, by removing the left side panel. Easy maintenance is guaranteed by the Twin Air filter and filter cage design that features a simple fail proof mounting system for safe and accurate filter installation.

Brembo brakes

Class-leading Brembo callipers and controls with high quality GSK discs deliver superior stopping power instilling confidence in all situations. For MY17, the rear brake calliper uses a smaller piston diameter 24mm instead of 26mm, coupled with a 10mm longer rear brake lever the system delivers improved modulation and feeling.