KTM 500 XC-W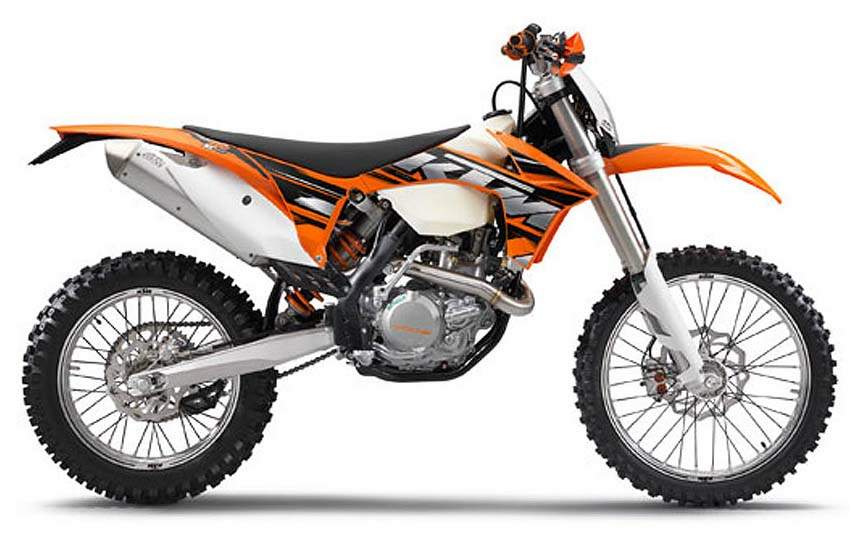 | | |
| --- | --- |
| Make Model | KTM 500 XC-W |
| Year | 2012 - 13 |
| Engine | Four stroke, single cylinder, SOHC, 4 valves per cylinder |
| Capacity | 510.4 cc / 31.1 cu-in |
| Bore x Stroke | 95 x 72 mm |
| Cooling System | Liquid cooled |
| Compression Ratio | 11.9:1 |
| Induction | Keihin MX FCR 39 |
| Ignition | Contactless controlled fully electronic ignition with digital ignition adjustment, type Kokusan |
| Starting | Kick and electric |
| Clutch | Multidisc clutch in oil bath, hydraulically activated |
| Transmission | 6 Speed |
| Final Drive | Chain 5/8 x 1/4" |
| Primary Drive Ratio | 32:76 |
| Final Drive Ratio | 13:50 |
| Frame | Central double-cradle type 25CrMo4 |
| Front Suspension | WP-USD Ψ 48 mm |
| Front Wheel Travel | 300 mm / 11.8 in |
| Rear Suspension | WP PDS-Federbein |
| Rear Wheel Travel | 335 mm / 13.1 in |
| Front Brakes | Single 260 mm disc |
| Rear Brakes | Single 220 mm disc |
| Front Tyre | 90/90 - 21 |
| Rear Tyre | 120/90 - 18 |
| Steering Head Angle | 63.5° |
| Wheelbase | 1482 mm / 58.3 in |
| Seat Height | 970 mm / 38.19 in |
| Ground Clearance | 345 mm / 13.58 in |
| Wet Weight | 114 kg / 251 lbs |
| Fuel Capacity | 8.5 L / 2.2 US gal / 1,9 Imp gal |
| Review: | Enduro 360 |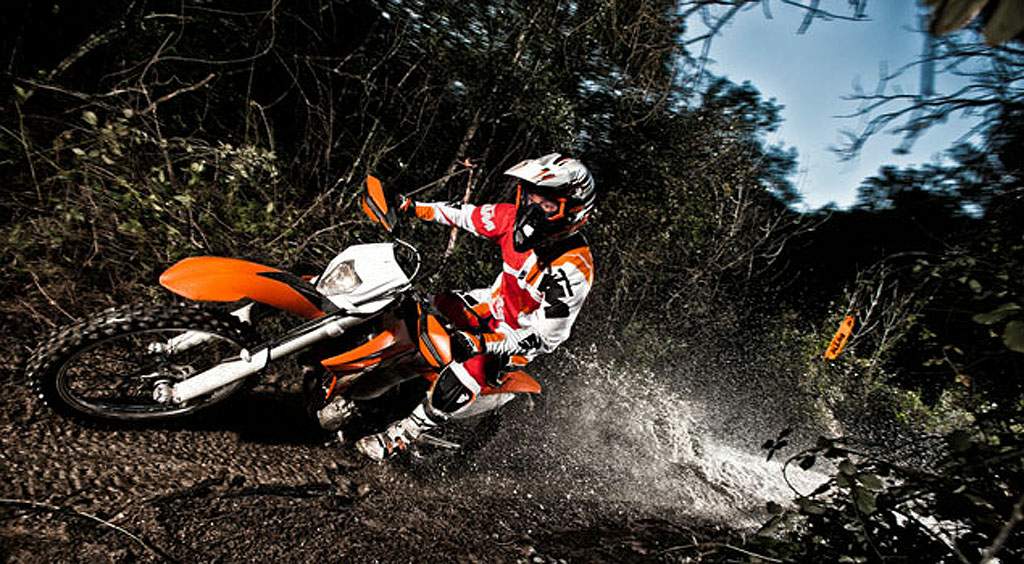 For those who want the biggest beast and most powerful machine of the XC-W line, the 500 XC-W is knocking at your door.

Features and Benefits
• New SOHC EFI engine tuned for enduro riding that is 5.5 lbs lighter than the previous engine

• New cylinder head with new inlet and exhaust port design as well as a new combustion chamber design and new water jacket

• New valve chain guide and new spring loaded mechanical chain tensioner with a ratchet stop for a simpler and lighter weight design

• New lighter weight die-cast cases made of a special alloy

• New single oil circuit for easier maintenance

• New multi-function balancer shaft to keep the engine narrow and reduce weight

• New lighter piston and PANKL con rod

• Newly developed lightweight single diaphragm spring clutch unit with steel billet basket for unbeatable reliability

• 6-speed enduro gearbox for precise shifting

• New electric start system (plus kick start) and stronger 196W stator

• Completely new frame design with PDS that reduces longitudinal stiffness

• New one-piece cast aluminium swingarm with excellent flex characteristics

• New WP PDS mono shock (7mm longer) with new preload adjuster

• WP 48mm USD forks received new oil and dust seals by SKF and new bushings with improved Teflon coating for better sensitivity and durability

• New silencer and larger volume spark arrestor for lower noise level

• New 2.51 gallon/ 9.5 liter translucent fuel tank with integrated fuel pump and regulator

• New competition headlight and taillight

• New intake boot that provides great power and extra protection for Twin-Air filter which still has the same quick change, no-tools access air filter change process

• New bodywork including a white airbox, white rear number plates, and a redesigned reinforced rear fender for perfect ergonomics and excellent contact points

• New handguard mount and flag design

• New Excel AL7 rims with silver anodized stripes, zinc/nickel coated spokes, aluminium nipples and high-end CNC machined hubs

• New integrated routing for the cooling system for better airflow

• New auxiliary radiator fan for improved cooling

• New Dunlop GEOMAX MX51 front and rear tires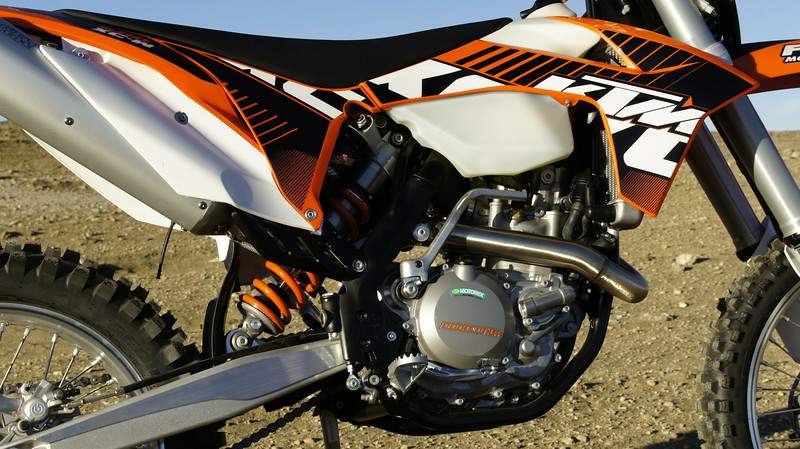 Review:Enduro 360
Well it is time to say goodbye to the big 500. For some reason I always have trouble writing these farewell reviews. I am not sure exactly why. Maybe it is because it feels sort of like writing an obituary. Or perhaps I have just moved on to other things and have to mentally backtrack to get all my thoughts down on paper. It has been a good run with the big bore KTM. After about 50 hours of use, much of that in race mode, there has not been a single mechanical issue arise.

You may recall that I wrote about the servicing and replacement of the fuel injection filters many months ago. My 500 came with the early 10 micron filter. These were to be replaced by a newer 20 micron unit to help avoid clogging.

After I had the fuel lines and filter apart to shoot photos for that story, I realized that changing the filter was a simple task once you understood the procedure. It could even be done trailside. Therefore, I thought I would just leave the original filter in and not change it until a problem arose. To date I have never had a problem and the 10 micron filter is still in our bike. As for fuel, I run the cheapest pump gas that I can find.

For maintenance, I have only done the absolute bare minimum. A few oil and filter changes are the extent of it. The valves have never been checked. Everything continues to run and function like a new bike.

I did one performance modification, the addition of a FMF full exhaust system. This is the Mega bomb header with the 4.1 silencer and quiet core spark arrestor. The biggest benefit of the exhaust is to give a more direct feel between the throttle and rear wheel. The 4.1 with quiet core will still pass a 96db sound test with ease.

With the stock exhaust there is a little lag in reaction time. Of course this is the same with the 350 and 450 KTM models also. The difference with the 500 is that when it does react, you realize that you have grabbed too much throttle, sort of an overreaction. It is not much of a problem for trail riding, but it can make racing in technical terrain tedious. So the exhaust helps that issue, giving a more precise feel to the rider. I also think that the motor is less prone to flame out stalls with the open exhaust.

Interestingly, during a National Hare & Hound, I actually got into a drag race with a racer on a stock 500xcw. It is seldom that a pure contest of speed occurs in a race, but we were on a big open sand road. It was right near the end of the race and I didn't want to lose the position. He pulled up to pass me and I realized I really was not going all that fast, so I down shifted and just opened her up to see what was left. Two gears later, I decided that was as fast as I ever care to go in the desert. I easily outpaced the stock bike. That rider showed up at the next race with a new FMF exhaust on his bike.

For creature comforts, I added my regular items; the Flexx bars and Seat Concepts pillion and Fastway Stabilizer. I asked KTM for a couple of items from the Hard Equipment catalog, a plastic skid plate and the large 13 litre gas tank.

The plastic skid plate did not work out very well, I broke two of them. Each time it was on the first big impact they hit. So I finally went to the KTM aluminum version and it has worked out fine.

The accessory tank is along the lines of the old mxc tank that KTM has always offered. It is a nice option for those who need some serious fuel range. I estimate that it might give as much as 150 miles for trail riding. On the similar 500exc dual sport, I was able to make 115 miles on the stock 2.5 gal tank. Racing the 500xcw in the desert, I am averaging just 1.5 gallons for a typical 40-50 mile loop. These new EFI bikes do very well on fuel mileage.

The big tank is reasonably slim and fits the bike well. The only real drawback is that it does not flow as much air and the bike heats quicker in technical riding. The fan comes on quickly. The only time I ever boiled the coolant was with this tank on. The 3.0 gallon Acerbis tank, that we featured in an earlier report, might be a better solution for most riders. It is nearly as slim as stock, just taller.

As I talked about in the original review, the suspension is quite soft. In the rear I added a 7.6 spring. I sort of cheated in the front. I just took a set of my own Trail Tricks modified forks and put them on the bike. These came off my older 450xc. Overall, this improved feel on both ends and was race worthy. Never the less, I think I could have gotten more benefit from doing a revalve to the stock components. As always, time and resources for these kind of things challenge me.

So how does the 500 stack up? First of all, I think we have to say that as a big bore enduro bike, it stands alone in the class. These new generation KTM's have raised the bar for everyone. The 570 Husaberg and 598 Beta would be close in some areas, but cannot boast the kind of all around performance and refinement of the 500. The true competition comes from the sibling KTM models.

While my criticisms are very few, the 500 does still have moments when it feels like a large motorcycle. There is often that sense of mass, of a little extra weight that is always pushing it forward. In the open desert, it makes the bike feel very solid and smooth. However, once the going gets tough, it becomes more work to keep it on line. It always wants to travel just a few inches too far.

For perspective, when I say that it feels big, I am not comparing it to other similar displacement bikes. In an open class contest, the 500 is the lightest on the scales and on the trail. What I am comparing it to is the ultra agile feel of the 350xcw, and to a slightly lesser extent, the 450xcw.

It also requires a little throttle control. Too much work with the wrist just leads to wheel spin. More than once I have had to roll out of the throttle, or upshift, to make the bike go faster up a hill climb.

On the other hand, if you are one of the many riders who are seduced by power, this is just the ticket. This is the most powerful dirt bike that I have ever raced. On at least two different occasions this season I have suffered from a bad start at a desert race. I just pulled off line to get out of the dust and put the hammer down. By the end of the bomb run I had made up all of the ground I had lost. This is one fast motorcycle!

I have seen mentioned a few times that these new generation bikes are not very stable. The addition of a steering stabilizer and working out the proper ride height removes any of those concerns. Like all PDS bikes, the rear spring rate and preload are critical to handling.

So is it my favorite KTM? For me, I think the 450xcw is hands down a better all around bike. It is close on overall speed and the motor is easier to ride. The one race I did on the 450 went very well and it was noticeably easier to ride fast in rough terrain. To further complicate matters, for at least half of all the riding I do, I would probably prefer the 350 to anything else.

That leaves the 500 somewhere in second or third position among my favorite KTM's. Now, if we were talking about dual sport exc models, I could probably give it first place. The 500exc is one of those bikes that I would climb on to ride just about anywhere. It goes down the road with a level of comfort that rivals most midsized adventure bikes.

Like
Speed
Fuel mileage
Dependability
Fit and finish

Don't Like
Headlight
No frame guards
Seat comfort

I think that about covers it. I have had a blast with the 2012 KTM 500xcw. When I look back at my first impression that I wrote last year at the Wyoming National Enduro, I have to say it has remained accurate. It is a great bike, but can be a handful in technical terrain.