Make Model.

Moto Guzzi Audace Carbon

Year

2017

Engine

Four stroke, 90° V-twin, SOHC, 4 valves per cylinder

Capacity

1380 cc / 84.2 cu-in

Bore x Stroke

104 x 81.2 mm

Cooling System

Air and oil cooled

Compression Ratio

10.5:1

Lubrication
Wet sump

Timing System Diagram

Intake valve opens 19° BTDC (1-mm checking clearance) intake valve closes 55° ABDC exhaust valve opens 49° BBDC exhaust valve closes 12° ATDC

Fuel Supply

Phased electronic multipoint sequential injection, Magneti Marelli IAW7SM; "ride by wire" Ø 52 mm throttle body, IWP 243 Magneti Marelli injectors, double oxygen sensor, integrated management of 3 engine mappings, traction control, cruise control

Ignition

Electronic

Spark Plugs

NGK LMAR8F, 2 per cylinder

Starting

Electric

Exhaust system

Stainless steel, 2-in-2 type, three-way catalytic converter with double oxygen sensor, Euro 4

Battery

12V - 18 Ah

Alternator

12 V - 550 W

Max Power

71 kW /

96 hp @ 6500 rpm

Max Torque

121 Nm / 12.3 kgf-m / 89.2 ft/lb @ 3000 rpm

Clutch

Single-disc with integrated anti-vibration buffer

Transmission

6 speed with final overdrive

Final Drive
Shaft
Gear Ratio

1st 17:38 = 1:2.235 / 2nd 20:34 = 1:1.700 / 3rd 23:31 = 1:1.348 / 4th 26:29 = 1:1.115 / 5th 31:30 = 1:0.968 / 6th 30:24 = 1:0.8

Primary Drive

26:35 = 1:1.346

Final Drive Ratio

Double cardan joint and fixed bevel gear seat, drive ratio 10:36 = 1:3.6

Frame

Steel tubing, closed double cradle with elastic kinematic engine mounting system to isolate vibrations.

Front Suspension

Standard fork, Ø45 mm, with radial caliper mounting bracket

Front Wheel Travel
120 mm / 4.7 in

Rear Suspension

Swingarm with double shock absorber with adjustable extension and spring preload with remote tank

Rear Wheel Travel
120 mm / 4.7 in

Front Brakes

2 x

Ø320 mm stainless steel floating discs, Brembo radial calipers with 4 horizontally opposed pistons

Rear Brakes

Single

Ø282 mm stainless steel fixed disc, Brembo floating caliper with 2 parallel pistons

Front wheel

Aluminium alloy 3.50" x 18"

Rear Wheel

Aluminium alloy 6.00" x 16"

Front Tyre

130/70 R18

Rear Tyre

200/60 R16

Trail

155 mm / 6.1 in

Headstock Angle

32°

Steering Angle

38°

Dimensions
Length: 2445 mm / 90.2 in
Width: 940 mm / 37.0 in
Height: 1180 mm / 46.5 in
Wheelbase

1685 mm / 66.3 in

Seat Height

740 mm / 29.1 in

(Optimal 720 mm / 28.3 in)
Ground Clearance
165 mm / 6.4 in

Fuel Capacity

20.5 Litres / 4.7 US gal

Reserve
5 Litres / 1.3 US gal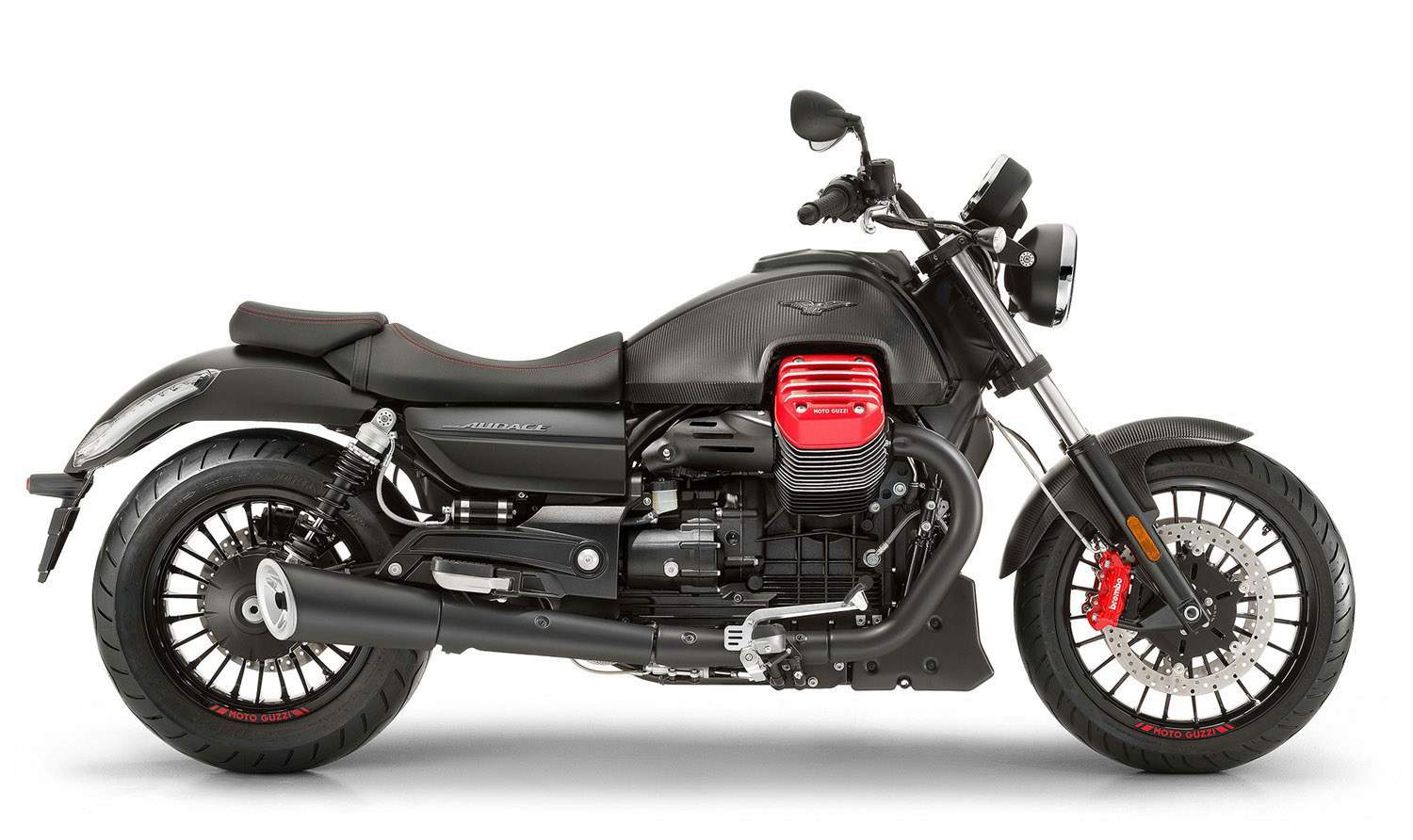 The Moto Guzzi Audace Carbon employing the 1380 cc v-twin. As dictated by the name, the Audace Carbon brings a carbon fiber front mudguard and gas tank ornaments along with an all-black theme. The "Sin City" theme gets complete with red cylinder head covers, front brake calipers, and branded rims.

"Moto Guzzi's desire to grow is perfectly summed up in the strong and uncompromising character of the new Audace," designer Miguel Galluzzi said at the model's launch. "I believe that this bike, today, speaks louder than any words about the more modern soul and future of the brand from Mandello."

"All you have to do is look at it and ride it, and all your questions are answered. Sitting astride this imposing bike, starting the powerful V-twin and riding down the road is all you need to understand what Moto Guzzi represents today. Audace is a perfect interpretation of the most genuine Moto Guzzi spirit," he further explained.

The Moto Guzzi Audace Carbon also gets restyled bars and a secondary air system specially developed for the 90-degree V-twin to make it Euro 4 compliant along with a better catalytic convertor.

Speaking about the engine, the unit got its max torque bumped to 89 lb-ft (120 Nm), and it hits you as low as 3,000 rpm. The powertrain can be controlled in three riding modes as well - Veloce, Turismo and Pioggia (which means rain).

The Audace Carbon also can be had with the Moto Guzzi Multimedia Platform (MG-MP) which connects the bike to your smartphone, and you can view up to five parameters at a time. This includes revs, speed, power, torque, average fuel consumption, average speed and battery voltage along other things.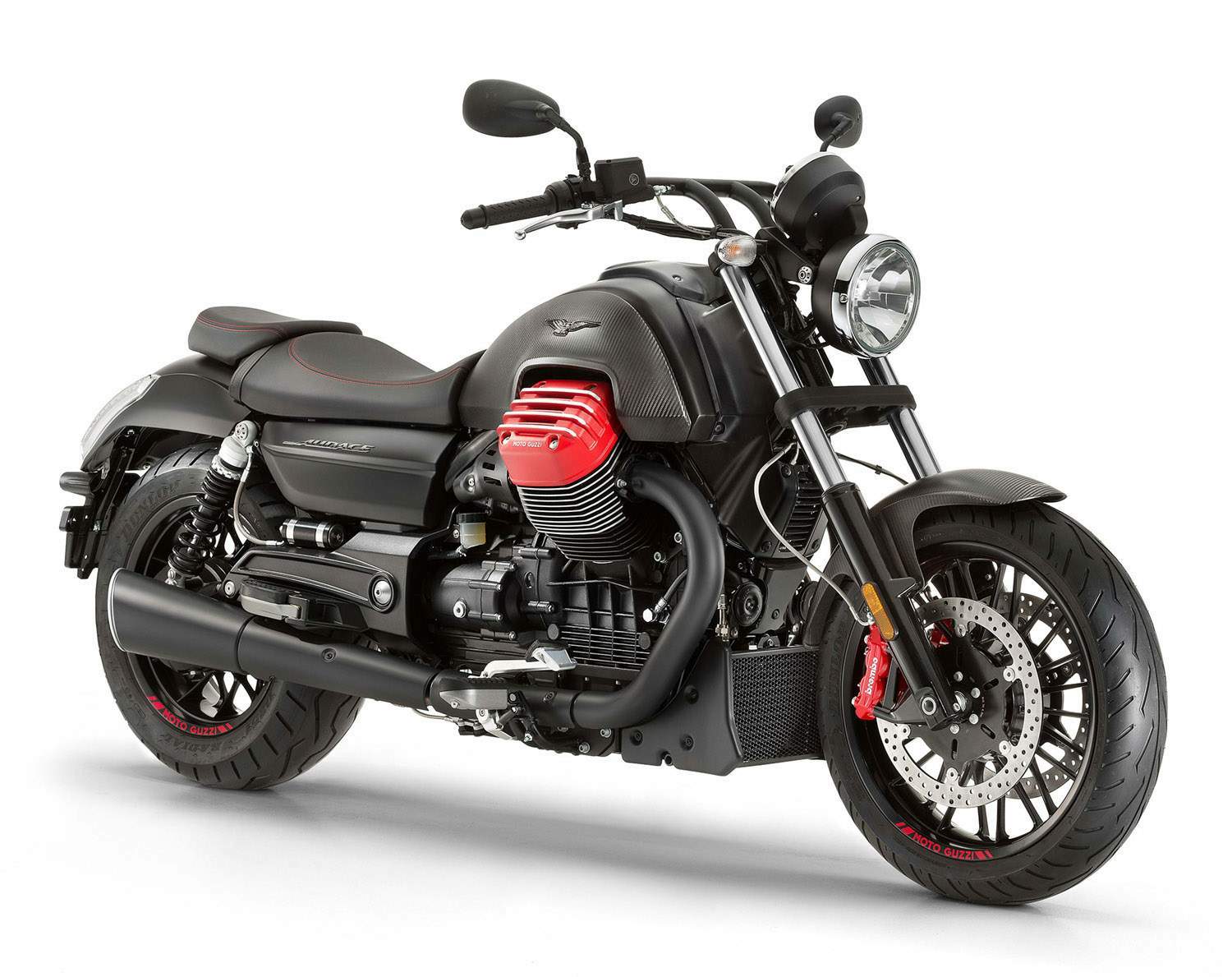 THE MOTO GUZZI MEDIA PLATFORM CONNECTS tAUDACE CARBON TO THE WORLD
MG-MP (Moto Guzzi Multimedia Platform), available as optional equipment, is the innovative multimedia system which allows you to connect the bike to your smartphone and consequently to the web. With this application, downloadable free from App Store and Google Play, your smartphone (iPhone or Android) becomes an actual sophisticated on board multifunctional computer and the link between the vehicle and the Internet.
The wireless connection allows you to simultaneously see important information about the vehicle on your smartphone screen so you will always have your trip parameters under control. The smartphone's touch screen allows you to view five parameters of your choice at a time, selected from a vast menu and including the speedometer, rev counter, instant power, instant torque, instant and average fuel consumption, average speed and battery voltage, longitudinal acceleration and extended trip computer. The "Eco Ride" feature helps to limit fuel consumption and to maintain eco-compatible riding conduct, providing a brief assessment of the results obtained during the trip.
You can also store your trip data and review it later on your computer or directly on the app so you can analyse your route along with the vehicle performance parameters.
When the fuel reserve light comes on MG-MP indicates the location of the closest petrol stations; the system also helps you easily find the vehicle when you are parked in an unfamiliar area, automatically saving the position where it was last switched off.
MG-MP includes the "Grip Warning" function which replicates the indications on traction control operation for maximum visibility and provides information in real time on your riding performance with relation to the road surface conditions. A dedicated indicator light warns in the event of excessive use of available grip. Thanks to the synergistic use of gyroscopes and the information coming from the vehicle, the smartphone becomes a sophisticated instrument to measure the lean angle in turns thanks to specifically developed algorithms developed. The limit thresholds can be set both for lean angle as well as vehicle and engine speed. When these limits are exceeded the relative indicator lights will come on or the virtual dashboard will flash.
A VAST RANGE OF DEDICATED ACCESSORIES
The original range of accessories for the Audace Carbon was designed to meet the needs of style sensitive bikers who want to reinforce the decisive and powerful image of their bikes, giving them an even more muscle look (for example with the black anodised hand grips that are installation-ready for black "corsa" ends, short shank black mirrors, CNC billet aluminium sleek and lightweight brake and clutch levers) or a more sporty look (with fuel cap cover and injectors cover and the footpeg covers completely in aluminium).
The range also includes components dedicated to increasing comfort, such as the mirror-polished or black stainless steel cylinders heat shield kit.
Audace Eagle motorcycle cover: made to measure cover for indoor use to protect your bike from gathering dust when parked in the garage. It is made specifically for the Audace in an elastic fabric with a special graphic.
"Dark" short shank mirrors: made in anodized black billet aluminium. This pair of short shank mirrors embodies the maximum in manufacturing technology expressed in some special machining done on three axes. They are approved for use in all countries.
"Dark" hand grips: made from black anodised billet aluminium, they enhance your bikes handlebar, giving it a personalised and elegant look and they are installation-ready for "Corsa" ends.
Black "Corsa" hand grip ends: the "Corsa" hand grip ends, made from black anodised billet aluminium, match the "Dark", hand grips, perfectly completing the style and aesthetics of your bike.
"Dark" black front brake lever: made from black anodised billet aluminium, the dark front brake lever, thanks to its feel and adjustments, increases riding comfort, enhancing the look of the bike.
"Dark" black clutch lever: made from black anodised billet aluminium, the dark clutch lever, thanks to its feel and adjustments, increases riding comfort and characterises the aesthetics of the Audace Carbon.
Aluminium rider and passenger footpeg covers: high quality billet aluminium covers that replace the factory rubber parts. The facing creates a specific design and guarantees maximum grip in any riding conditions.
Aluminium head bushings set: set of four billet aluminium aesthetic spacers which replace the fastening screws on the cylinder head covers. Polished stainless steel screws are included.
Engine crankcase hole covers - black: made from laser-cut and black anodised aluminium, these cover the engine crankcase machining holes. The number "1400" is laser inscribed.
Aluminium fuel tank cap cover: made of real carbon, it matches the other original Audace Carbon parts perfectly.
Pair of carbon injector covers: another part made in prestigious carbon.

Electronic anti-theft system: compact, latest generation self powered alarm system with wireless remote control. Its features include: engine lock, built-in motion sensor, high level of protection.
Cylinders heat shield: each heat shield is made in black painted stainless steel with ABS inserts that improve the design. They protect from the heat generated by the cylinder in order to give you a more comfortable ride.
Chromium plated tank side covers: the chromium plated fuel tank side covers give your bike a completely different style.
Cylinder head guards: special lateral cylinder guards made in billet aluminium with a black painted or mirror polished finish. They match the style and design of the Audace Carbon perfectly. They come complete with stainless steel mounts.
Swingarm washers: special washers made in billet aluminium.
Rear brake fluid reservoir cover: made in billet aluminium with polished finish, this personalises the look of your bike. It completely covers the brake fuel reservoir body, obviously not interfering with its operation. Easy to install.