Make Model.

Moto Guzzi California Eldorado

Year

2017

Engine

Four stroke, 90° V-twin, SOHC, 4 valves per cylinder

Capacity

1380 cc / 84.2 cu-in

Bore x Stroke

104 x 81.2 mm

Cooling System

Air and oil cooled

Compression Ratio

10.5:1

Lubrication
Wet sump

Timing System Diagram

Intake valve opens 19° BTDC (1-mm checking clearance) intake valve closes 55° ABDC exhaust valve opens 49° BBDC exhaust valve closes 12° ATDC

Fuel Supply

Phased electronic multipoint sequential injection, Magneti Marelli IAW7SM; "ride by wire" Ø 52 mm throttle body, IWP 243 Magneti Marelli injectors, double oxygen sensor, integrated management of 3 engine mappings, traction control, cruise control

Ignition

Electronic

Spark Plugs

NGK LMAR8F, 2 per cylinder

Starting

Electric

Exhaust

Stainless steel, 2-in-2 type, three-way catalytic converter with double oxygen sensor, Euro 3

Battery

12V - 18 Ah

Alternator

12 V - 550 W

Max Power

71 kW /

96 hp @ 6500 rpm

Max Torque

120 Nm / 12.1 kgf-m / 89 ft/lb @ 2750 rpm

Clutch

Single-disc with integrated anti-vibration buffer

Transmission

6 speed with final overdrive

Final Drive
Shaft
Gear Ratio

1st 17:38 = 1:2.235 / 2nd 20:34 = 1:1.700 / 3rd 23:31 = 1:1.348 / 4th 26:29 = 1:1.115 / 5th 31:30 = 1:0.968 / 6th 30:24 = 1:0.8

Primary Drive

26:35 = 1:1.346

Final Drive Ratio

Double cardan joint and fixed bevel gear seat, drive ratio 10:36 = 1:3.6

Frame

Steel tubing, closed double cradle with elastic kinematic engine mounting system to isolate vibrations.

Front Suspension

Standard fork, Ø45 mm, with radial caliper mounting bracket

Front Wheel Travel
120 mm / 4.7 in

Rear Suspension

Swingarm with double shock absorber with adjustable extension and spring preload with remote tank

Rear Wheel Travel
120 mm / 4.7 in

Front Brakes

2 x

Ø320 mm stainless steel floating discs, Brembo radial calipers with 4 horizontally opposed pistons

Rear Brakes

Single

Ø282 mm stainless steel fixed disc, Brembo floating caliper with 2 parallel pistons

Front wheel

Aluminium alloy 3.50" x 16"

Rear Wheel

Aluminium alloy 5.50" x 16"

Front Tyre

130/90 R16

Rear Tyre

180/65 R16

Trail

155 mm / 6.1 in

Headstock Angle

32°

Steering Angle

38°

Dimensions

Length: 2445 mm / 90.2 in

Width: 940 mm / 37.0 in

Height: 1180 mm / 46.5 in

Wheelbase

1685 mm / 66.3 in

Seat Height

740 mm / 29.1 in

(Optimal 720 mm / 28.3 in)
Ground Clearance
165 mm / 6.4 in

Curb Weight

314 kg / 692 lbs

Fuel Capacity

20.5 Litres / 4.7 US gal

Reserve
5 Litres / 1.3 gal
Eldorado is a luxurious motorcycle on the cutting-edge of technology which, powered by the largest V Twin ever manufactured in Europe, is a perfect interpretation of the most genuine Guzzi spirit. Eldorado is a true flagship in the bike world, embodying a splendid tradition in an increasingly solid present. And it does so looking decidedly to the future: chromium inserts and finely crafted details combine with LED lights and come together in classic lines that bring Moto Guzzi into a new dimension where refinement speaks Italian.
Moto Guzzi Eldorado: back to the future
Fifty years of history. This is the calling card of the by now legendary Moto Guzzi 90° V Twin designed by engineer Giulio Cesare Carcano. From its first appearance on the V7, this legendary powerplant has been modified into countless versions and on a vast range of motorcycles.
It was in the third evolution of the 90° V Twin that Moto Guzzi breathed life into the Eldorado. The year was 1972. Less than two years earlier, on the wave of a surprising supply of 750cc V7 bikes to the LAPD (the Los Angeles Police Department), the first Guzzi California was born and, on the same base, the luxurious Ambassador. In the constant displacement increase, Carcano's twin cylinder had already been taken from 700 to 757 cc and, with a third increase in size, the 850 cc version was born. With this engine, the Eldorado was made as a replacement for the Ambassador with an even more complete, refined and luxurious model, but also one that would be able to provide a powerful and satisfying ride.
The goal was clearly achieved: "if Roman gods had ridden motorcycles, the Moto Guzzi Eldorado would have been chosen by Bacchus." In the late '60s, this was how the American Cycle World magazine concluded their test of the luxurious Italian bike, the latest evolution of the 90° V-twin with cardan final drive just introduced in the States. The metaphor effectively highlighted the intoxication experienced on a modern, powerful, luxurious and fast bike, painstakingly studied down to the smallest details and extremely satisfying to ride.
More than forty years later, this extraordinary experience is repeated in the shape and substance of the Eldorado. By looking at it, one can see clearly how this Moto Guzzi has preserved all the personality of its ancestor, drawing it from the past to the future along the path of technological evolution and stylistic continuity. It is a bike that, even when it is parked, evokes the travelling spirit, the hundreds of kilometres travelled with that perfect feeling between rider and mount, as the fundamental component of the Moto Guzzi soul. A bike with a powerful identity with a fiercely proud Italian heritage which comes onto the scene as a global traveller, at home in any latitude, able to bring to mind spaces which, from coast to coast, cross over faraway continents.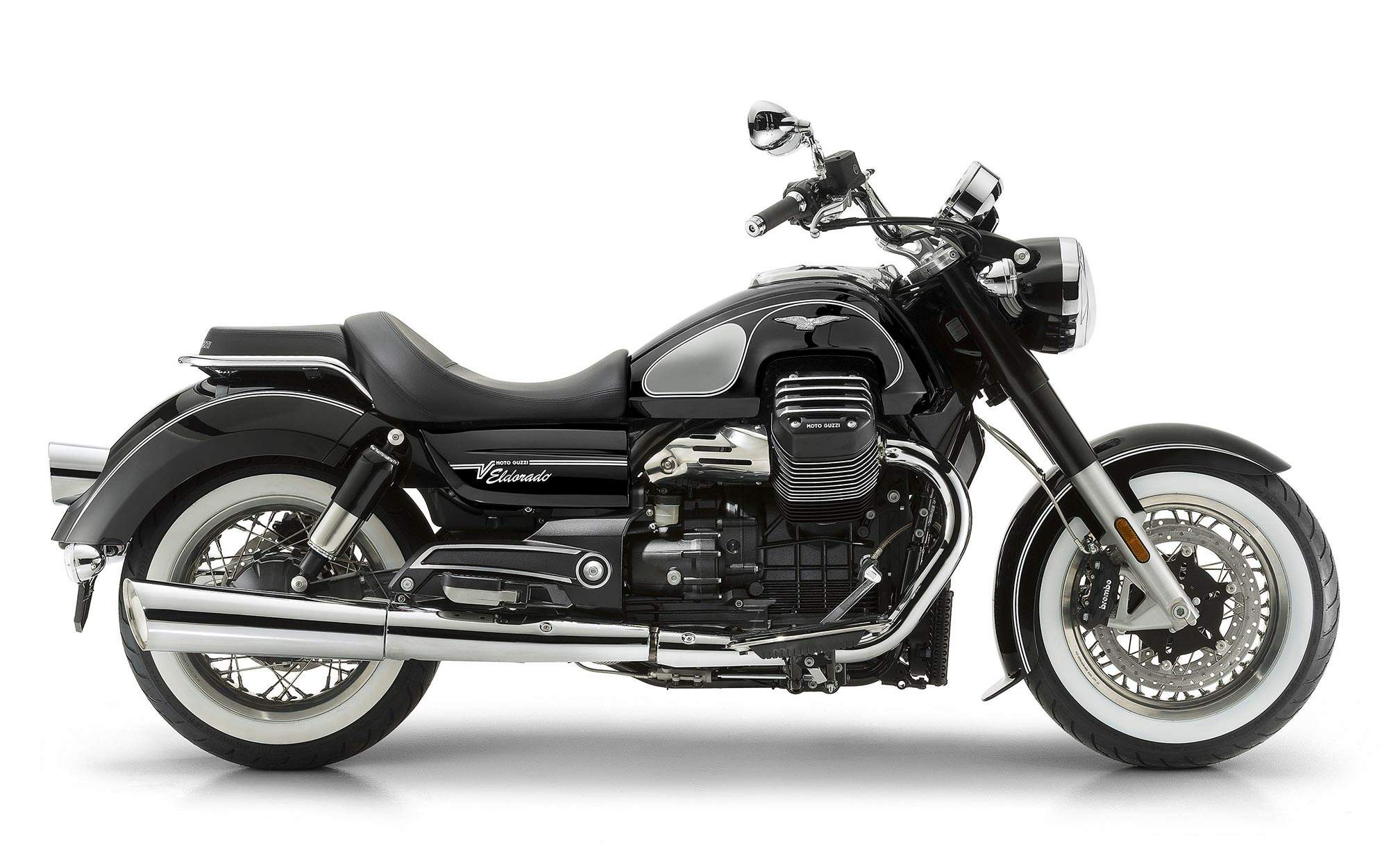 This is how designer Miguel Galluzzi, who is in charge of the Piaggio Group PADC at Pasadena, introduces it: "At 95 years of glorious Moto Guzzi history, a new wind of passion has pushed us to explore new horizons for this prestigious brand, not to mention the most important milestones. Great respect for tradition combined with a search for the best possible technology and the purest Italian design leads us today in the creation of the best Moto Guzzi bikes ever built. Searching for new horizons should be understood not only in terms of technique, but also as new riding experiences. All of this is blended in the soul of the new Moto Guzzi Eldorado: a bike designed to evoke riding excitement, the joy of ownership and admiration down to the smallest details like no other bike can do."
The flashback effect comes out in the details: the spoked wheels, the oversized saddle, the rear mudguard with the gem-shaped taillight and the bullhorn handlebar. Even the fuel tank is full of appeal: the two-tone paint is accentuated by a teardrop motif characterised by a mirror-finish chrome treatment. A twin white coachline (Eldorado is available in Nero Classico and Rosso Pregiato) protected by another layer of clearcoat adds an even more prestigious touch to the tank and emphasises its lines.
The front and rear mudguards and side panels are also highlighted by a dual white coachline under another protective layer of clearcoat, which ends in a point evocative of the tip of a paintbrush.
The Moto Guzzi Eldorado logo takes its stylistic inspiration from the unforgettable Eldorado 850 badge. Also, the passenger saddle is mounted on a chromed luggage rack with built-in grab-handle: when needed, the passenger saddle can be easily removed to make plenty of room for luggage.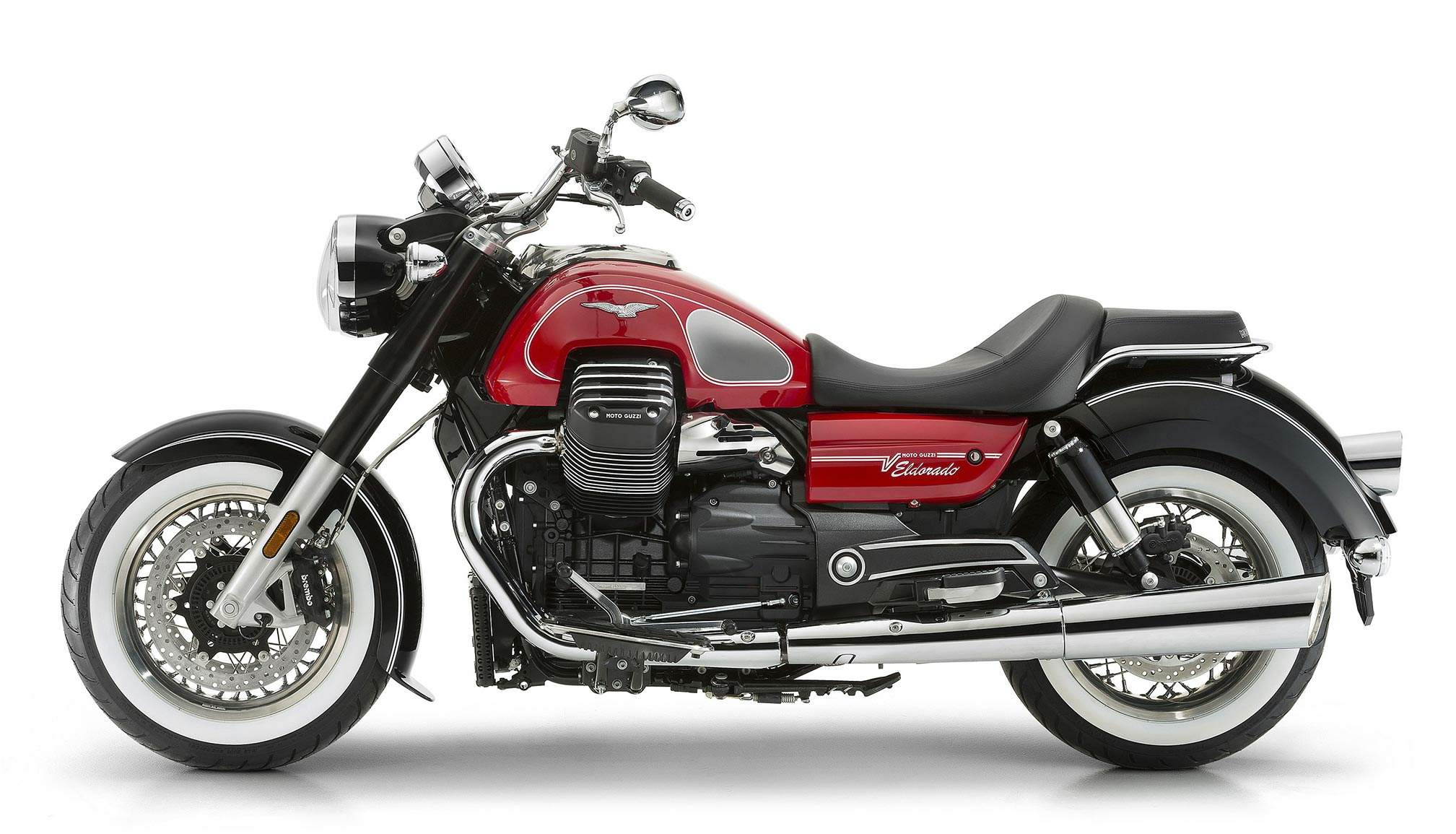 Eldorado's spoked wheels, both sixteen inches, mount classic whitewall tyres (130/90 on the front and 180/65 on the rear), which draw attention to the new wraparound mudguards. The wheel rims themselves are in unpainted polished aluminium, with an inner rim width of 3.5" (front) and 5.5" (rear): true works of art that manage to combine the most classic style with the modern technology of tubeless tyres. The front end has a particularly "clean" design that enhances the powerful front end, whereas the rear, on the other hand, is the most distinctive stylistic element on this ultra elegant Moto Guzzi. Its smooth and decisive shape integrates with the new full cover shock absorbers, the gem-shaped rear light cluster and the classic rounded turn indicators.
The Eldorado is easily distinguishable by its original complex surface headlight with polyelliptical light equipped with LED daylight running light (DRL). Speaking of digital technologies, the instrumentation is particularly satisfying, contained in a 150 mm diameter circular panel with the analogue rev counter scale finding its place along the external circumference and a multifunction full-matrix suspended display at the centre, all packaged neatly, like a luxury watch, in a bright chromium housing. The quality of the outfitting improves, thanks to the introduction of the new handlebar electric controls, more functional and with an aluminium finish. The left side hosts the controls for the new Moto Guzzi cruise control. The system allows the selected speed to be maintained without acting on the throttle and the cruising speed to be increased or decreased by pressing the cursor button on the left side electrical control. The speed can be temporarily increased with a twist of the throttle. After the throttle is released, the cruising speed will be resumed. The system disengages automatically, not only when the rider brakes or presses the selector button, but also when the throttle grip is twisted in reverse. Once deactivated, the last cruising speed set can be resumed with the "resume" feature.
You don't climb onto the Eldorado - you settle comfortably into the saddle. Situated at just 740 mm from the ground, the new seat, generous floorboards and comfortable chromium plated cowhorn tapered handlebars simply cry out for you to sit down, press the start button and let the tarmac roll past under your wheels.
If the road ahead is an endless Interstate Highway you can activate cruise control and sail along as you listen to the throbbing 90° V-twin filtered by the big block's elastic-kinematic mounting system, knowing that if you need or desire it, the cardan final drive will be ready to unleash up to 121 Nm onto the tarmac at 3,000 rpm. The twin cylinder confirms its monumental architecture enhanced by the valve covers painted black with Moto Guzzi laser printed on them and the tight and smoothed cooling fins crafted with a facing technique, the same popular and precious method used to make the passenger footrest brackets. Having been designed from the beginning to comply with the increasingly strict pollution regulations, it was not difficult to obtain Euro 4 approval. The current limit has been more than achieved thanks to the use of the secondary air system at the exhaust and the specific catalytic converter.
The engine is an absolute benchmark in its category for engine capacity-performance-consumption ratio thanks to excellent thermodynamic performance combined with new and advanced full Ride-by-wire multimap electronic management. The system guarantees even more fine tuned and accurate throttle control, thereby allowing the engine to return a top shelf, smooth response, without being twitchy in opening and closing. This technology allows the rider to choose one of three engine management maps: Turismo, Veloce and Pioggia. And that's not all: the dynamic performance of the vehicle is also kept under control by its latest generation traction control (MGCT) which can be adjusted on three actuation levels in order to increase active safety without impacting performance and riding pleasure. The Eldorado's chassis was developed with the goal of increasing precision and ease of riding: the stiffness of the frame, the choice of tyres, the trail and the suspension calibration are all perfectly harmonised to increase the Eldorado's ride to levels which are unheard of on bikes with similar characteristics.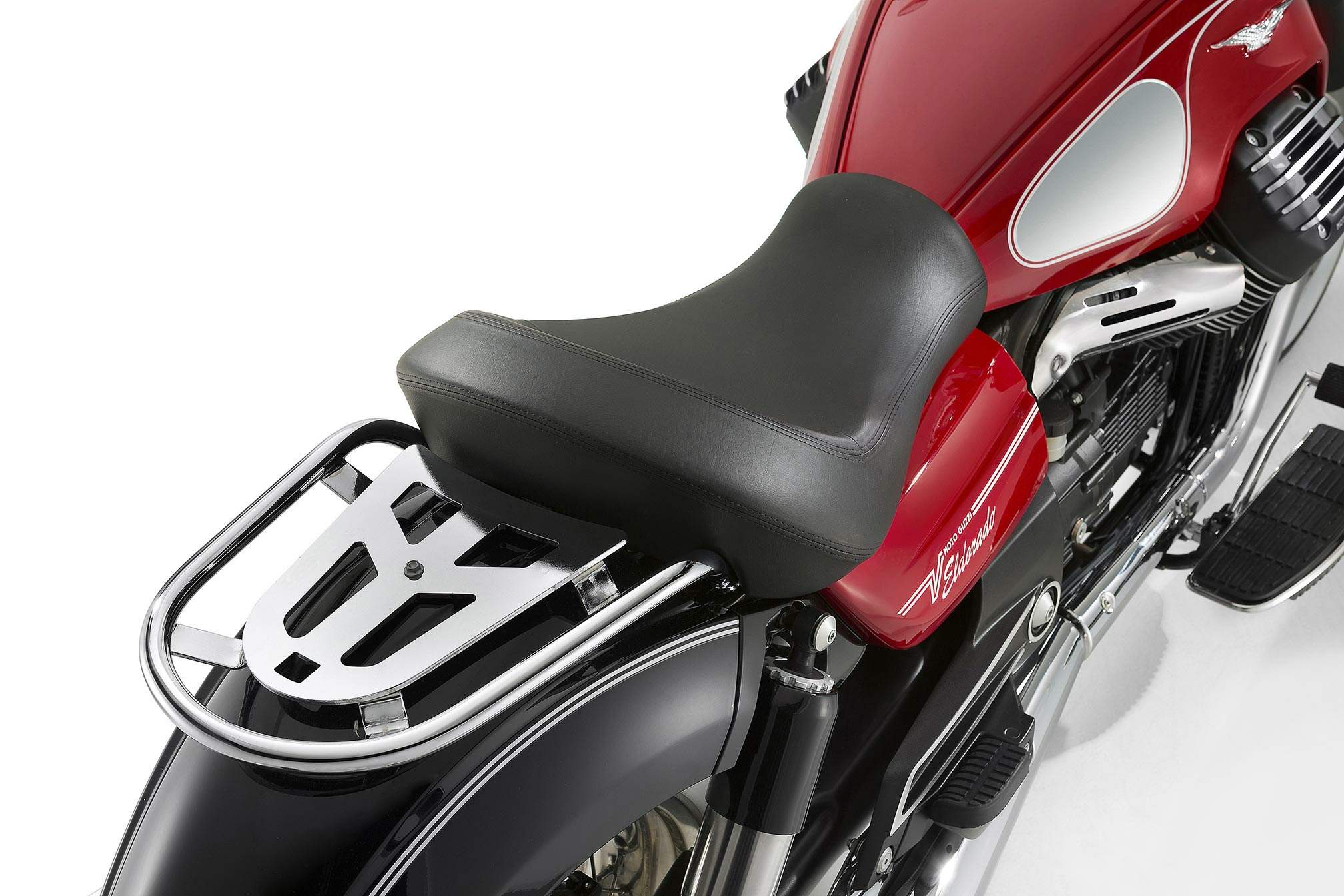 The Moto Guzzi Media Platform connects Eldorado to the world
MG-MP (Moto Guzzi Multimedia Platform), available as optional equipment, is the innovative multimedia system which allows you to connect the bike to your smartphone and consequently to the web. With this application, downloadable free from App Store and Google Play, your smartphone (iPhone or Android) becomes an actual sophisticated on board multifunctional computer and the link between the vehicle and the Internet.
The wireless connection allows you to simultaneously see important information about the vehicle on your smartphone screen so you will always have your trip parameters under control. The smartphone's touch screen allows you to view five parameters of your choice at a time, selected from a vast menu and including the speedometer, rev counter, instant power, instant torque, instant and average fuel consumption, average speed and battery voltage, longitudinal acceleration and extended trip computer. The "Eco Ride" feature helps to limit fuel consumption and to maintain eco-compatible riding conduct, providing a brief assessment of the results obtained during the trip. You can also store your trip data and review it later on your computer or directly on the app so you can analyse your route along with the vehicle performance parameters.
When the fuel reserve light comes on MG-MP indicates the location of the closest petrol stations; the system also helps you easily find the vehicle when you are parked in an unfamiliar area, automatically saving the position where it was last switched off. MG-MP includes the "Grip Warning" function which replicates the indications on traction control operation for maximum visibility and provides information in real time on your riding performance with relation to the road surface conditions. A dedicated indicator light warns in the event of excessive use of available grip. Thanks to the synergistic use of gyroscopes and the information coming from the vehicle, the smartphone becomes a sophisticated instrument to measure the lean angle in turns thanks to specifically developed algorithms developed. The limit thresholds can be set both for lean angle as well as vehicle and engine speed. When these limits are exceeded, the relative indicator lights will come on or the virtual dashboard will flash.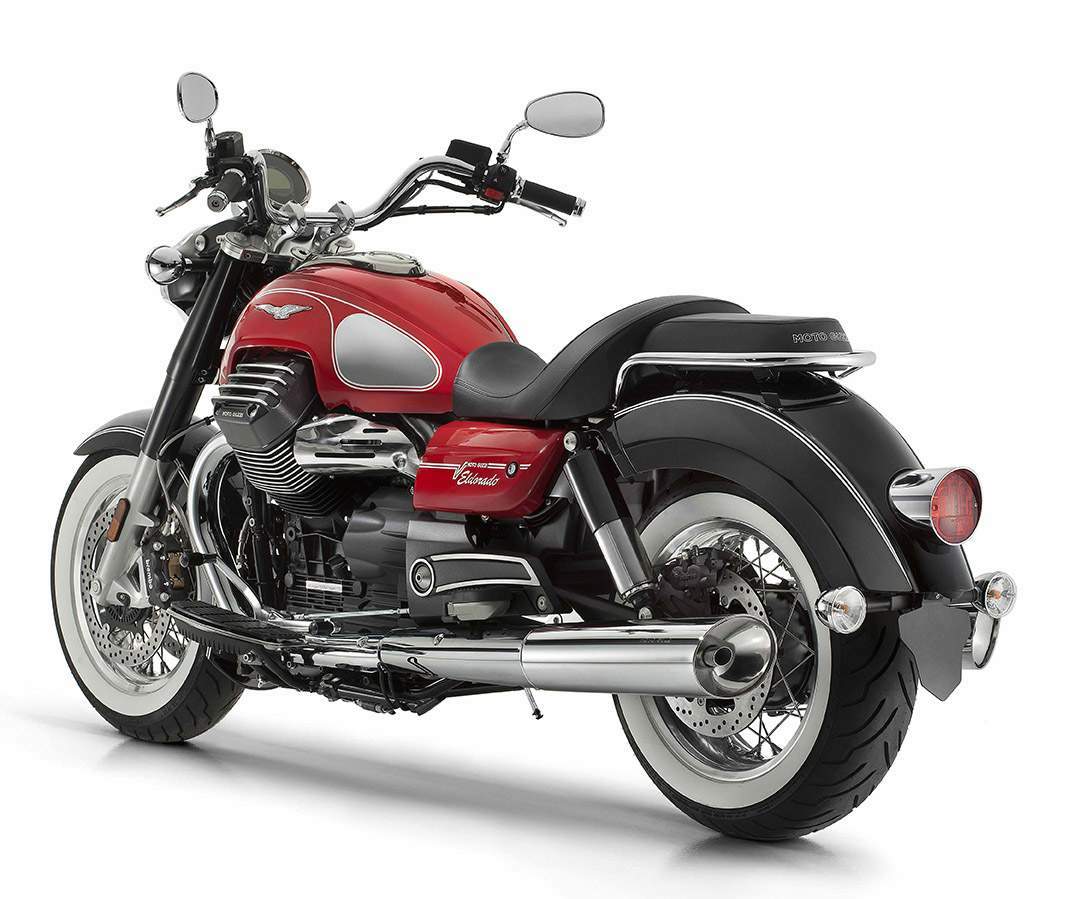 Eldorado Standard Features:
- 1400 V-TWIN producing explosive torque of 87 ft. lbs. at just 2750 rpm
- 96 hp at 6500 rpm
- Innovative elastic engine mounts for zero vibrations and total riding comfort
- 6-speed gearbox
- Traction Control - (MGTC) Adjustable 3-stage
- Ride-by-wire, three engine maps: Touring, Sport, Rain
- Electronic cruise control
- Unique polyellipsoidal shaped headlamp with DRL (daytime running lights)
- ABS / Brembo brakes
- 5.4 gallon fuel capacity
- New spoked tubless 16' rims, whitewall tires (front 130/90 & 180/65 rear)
A vast range of dedicated accessories
Moto Guzzi has always been synonymous with strong personality, attention to detail, innovation and unmistakeable style. All of the accessories for Guzzi bikes are created with the same characteristics in order to provide owners of Eagle Brand motorcycles the opportunity to make their bikes unique and personal without altering the DNA, but rather enhancing it in the trend of an inimitable tradition.
For Eldorado the mission is to enrich the aesthetic experience and the "heritage character of the bike, nevertheless without losing sight of functionality and "lounge" comfort on two wheels. A range of more than 50 items tells this story, made up of carefully crafted details, comfort and simple and pure beauty.
"Journey" aluminium mirrors: made from billet aluminium, these bring even more elegance to the Eldorado. This pair of mirrors embodies the maximum in manufacturing technology expressed in some special machining done on three axes. Already approved for use in all countries.
"Round" handgrips, made from billet aluminium, match the "Journey", handgrips, perfectly completing the style and aesthetics of your bike.
"Show off" aluminium clutch and brake lever: made from billet aluminium, thanks to their feel and adjustments, these levers increase riding comfort, enhancing the look of the bike.
"Journey" aluminium rear brake lever kit: cover made in billet aluminium. Combined with the brake pedal cover, this kit personalises and enhances the rear brake control.
"Journey" aluminium rear brake pedal kit: pedal cover made in billet aluminium with machining that guarantees maximum grip. Combined with the rear brake lever cover, this kit significantly enhances the look of the brake control.
"Journey" aluminium gearshift lever kit: cover made in billet aluminium for the gearbox control.
Fork stanchion covers: the chromium finish fork stanchions match the other aluminium elements on the vehicle in order to enhance the side areas.
Brake and clutch master cylinder cover: special brake and clutch master cylinder covers made from billet aluminium with polished scratch-resistant finish.
Rear brake fluid reservoir cover: made from billet aluminium with polished finish. It completely covers the brake fuel reservoir body without interfering with its operation. It is also characterised by its extreme ease of installation.
Front mudguard badge: made in laser-cut stainless steel and hand polished. Mounting it on the mudguard is guaranteed by the special stainless steel brackets. It elegantly completes the bike's classic look.
Aluminium fork cap covers: made from billet aluminium and easy to install, these covers are stably secured to the screws that close the fork stanchions with a small steel screw.
Front brake disc cover kit: made from laser-cut and mirror polished stainless steel, thanks to particularly precise machining these are easy to install on the front wheel discs with billet aluminium fastening bushings. They give your bike a cruiser look.
Machined head covers - grey: elegant painted cylinder head covers with special faced machining. These are a special element to personalise the vehicle.
Cylinders heat shield: each heat shield is made from mirror polished stainless steel with ABS inserts that improve the design and protect from the heat generated by the cylinder to provide a safer and more comfortable ride.
Front engine guard: made in chromium piping and designed by the Moto Guzzi Style Centre, these follow the lines of the bike. They provide specific protection for the engine and the rider's legs.
Chromium plated tank side covers: the tank side covers personalise the style of your bike, making it a true "custom".
Cylinder head guards: special lateral cylinder guards made in billet aluminium with a mirror polished finish. They match the style and design of the bike perfectly. The come complete with mirror polished stainless steel mounts.
Rider footpegs: tilting rider footpegs in mirror polished billet aluminium, they maintain the same riding ergonomics as the factory parts but they provide a lighter and personalised design in line with the style of the bike.
Folding passenger footpegs: made from billet aluminium with mirror polish. They can be horizontally adjusted to four different positions with a spring mechanism which facilitates optimum positioning.
Supplementary lights: the supplementary lights provide better visibility for night riding and they match the look of the vehicle perfectly thanks to their chromium finish.
Swingarm washers: special washers made in billet aluminium to personalise the style of your Eldorado.
Sport windshield: reduced size windshield. Made in impact-resistant and scratch-resistant material. DOT Approved. It mounts easily thanks to the lowered supports (available for purchase separately).
Medium windshield: medium size impact-resistant and scratch-resistant windshield. Also DOT Approved.
Lowered windshield brackets: heavy-duty, reduced size mounting kit equipped with specific brackets to mount the windshield.
Standard windshield brackets: heavy-duty, standard size mounting kit equipped with specific brackets to mount the windshield.
Windshield: windshield made in impact-resistant and scratch-resistant material, DOT approved.
Large windshield: large size windshield made from impact-resistant and scratch-resistant material. DOT Approved.
Windshield air deflectors: deflectors to be applied in the area under the windshield in order to increase riding protection and comfort.
GPS bracket: polished stainless steel mount for installation of a satellite navigation system.
Handlebar bag: elegant and functional handlebar bag made in Cordura and natural leather that frames the Moto Guzzi brand, handy for carrying small items. Its functionality is guaranteed by easy installation and removal from the vehicle handlebar.
Leather tank bag: expandable leather bag with practical pockets and a carry handle, fits onto tank cover with quick release clips and an adjustable fastener. Includes rain cover.
Strap for leather tank bag: made from leather, it follows the profile of the fuel tank and allows you to mount the dedicated bag.
Pair of leather side panniers: pair of black leather side panniers with a classic cut, 23 l capacity each. They are fastened to subframes with a lock that prevents them from being removed. They contain an adjustable shoulder strap for easy carrying. A waterproof cover protects them from the rain.
Side brackets for panniers: mounting kit for leather side panniers.
Eldorado "Eagle" motorcycle cover: made to measure cover for indoor use to protect your bike from gathering dust when parked in the garage. It is made from an elastic fabric with a special graphic.
Eldorado "Eagle" motorcycle cover with top box: made to measure cover for indoor use to protect your bike from gathering dust when parked in the garage. It is made from an elastic fabric with a special graphic. Version for vehicle fitted with rear top box.
Electronic alarm: latest generation self powered alarm system with wireless remote control its features include: engine lock, built-in motion sensor, high level of protection.