Moto Guzzi Sport 1100 EFI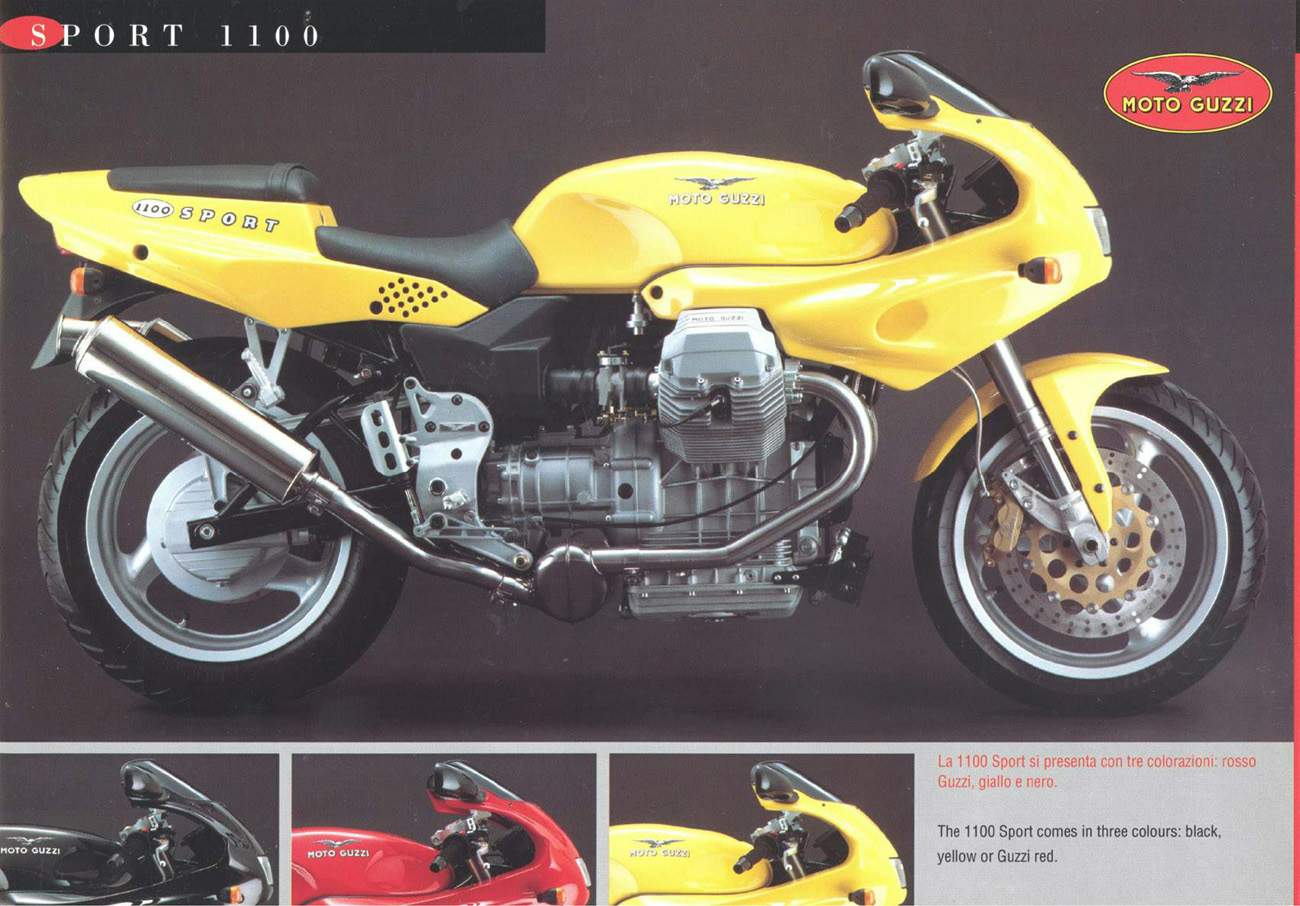 Make Model

Moto Guzzi Sport 1100 EFI

Year

1996 - 98

Engine

Four stroke, V twin, longitudinally mounted, light alloy push-rod, 2 valves per cylinder

Capacity

1064 cc / 64.9 cu-in

Bore x Stroke

92 x

80

mm
Cooling System
Air cooled

Compression Ratio

9.5:1

Induction

Weber Marelli electronic injection with one injector per cylinder. Alfa-n system, electric fuel pump with pressure regulator, optimized digital control of injection times and high efficiency air filter with 2 dynamic intakes.

Lubrication

High volume geared pressure pump, pressure regulator, thermostatic valve and cooling radiator

Ignition

Weber Marelli digital electronic ignition with inductive spark and high efficiency coils

Starting

Electric

Max Power

90 hp / 65.7 kW @ 7800 rpm

Max Power Rear Tyre

81.9 hp @ 6900 rpm

Max Torque

95 Nm / 9.4 kgf-m @ 5800 rpm

Clutch
Double disc, dry type

Transmission

5 Speed
Final Drive
Shaft
Frame
Chrome-molybdenum single steel beam, rectangular section with engine as stressed member

Front Suspension

40mm Upside-down hydraulic telescopic WP forks, adjustable for compression and rebound damping

Rear Suspension

WP hydraulic monoshock cantilever swing arm, adjustable for pre-load compression and rebound damping

Front Brakes

2x 320mm disc 2 piston calipers

Rear Brakes

Single 282mm disc

Front Tyre

120/70 ZR17

Rear Tyre

160/60 ZR18

Seat Height

730 mm / 28.7 in

Dimensions
Length 475 mm / 58 in

Dry Weight

221 kg / 487 lbs

Fuel Capacity

19 Litres / 5.0 US gal

Consumption average

39 mp/g

Standing ¼ Mile

12.7 sec / 105.5 mp/h

Braking 60 - 0 / 100 - 0

13.9m / 38.5m

Top Speed

231.8 km/h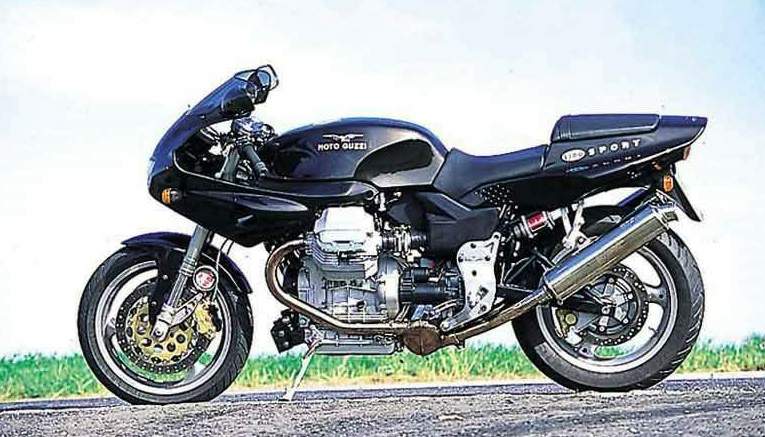 Moto Guzzi's 1100 Sport Injection was an attempt to produce a sporting machine using the firm's dated OHV engine design. Launched in 1996 as a replacement for the carburettor-equipped 1100 Sport, it was a budget version of the powerful Daytona 1000 race replica. While the Daytona had an OHC four-valve design, the 1100 Sport stuck with the OHV design common to the rest of Guzzi's range. The chassis was equipped with high-quality WP suspension and lightweight wheels wore sporting radial tyres. The result, with the slow-rewing, rather agricultural engine, was a sportsbike full of character which could be ridden surprisingly quickly on the road, where its extra weight ensured a stable ride through fast bends.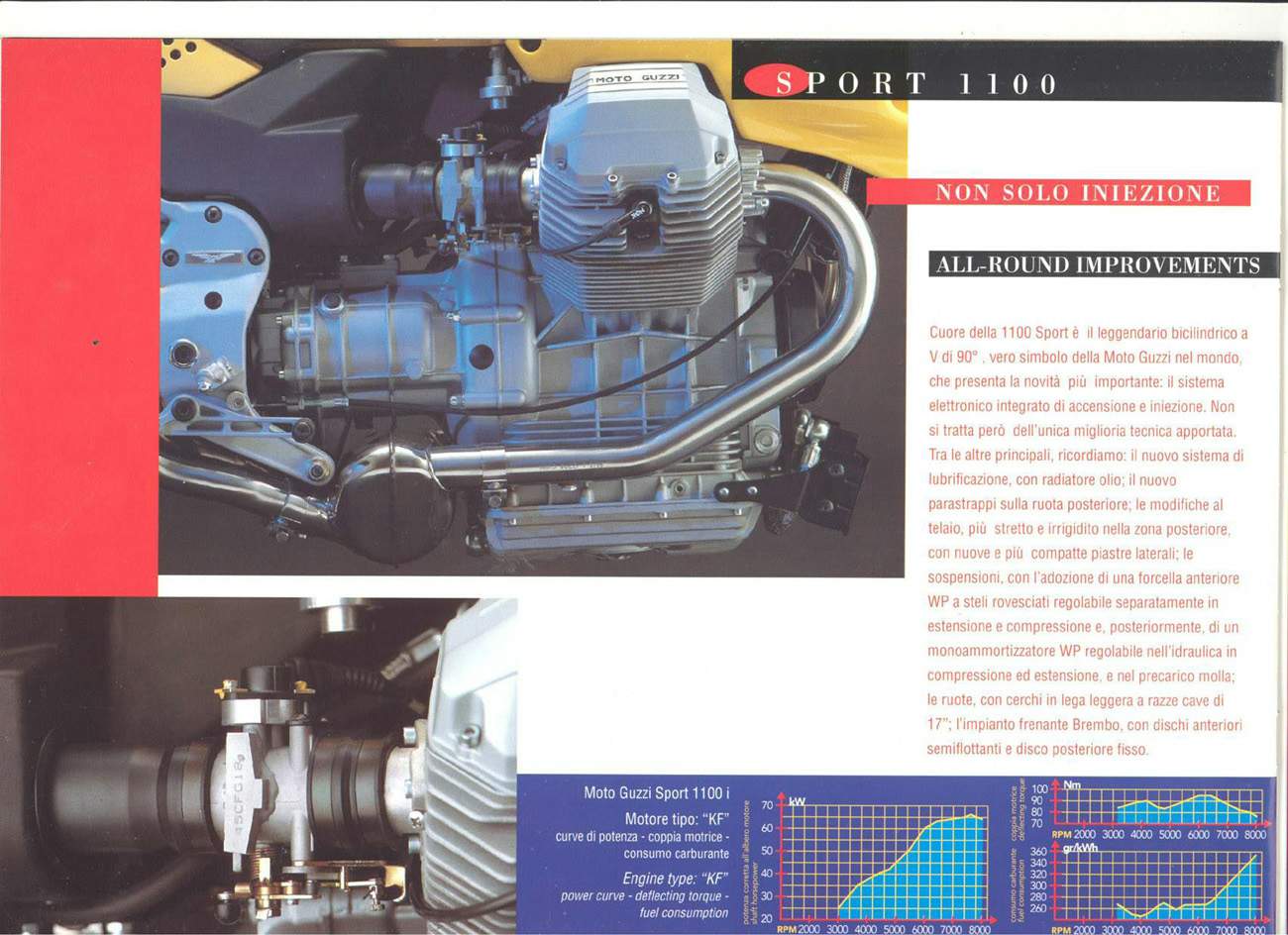 Big, simple, handsome and strong, the 1100 Sport was a mid-'90s sports bike of the old school. The latest in a long line of Moto Guzzi V-twins to be fitted with the Italian firm's traditional pushrod-operated transverse V-twin engine, the Sport was introduced in 1994 as a cheaper version of the eight-valve Daytona 1000. The new bike dispensed with the Daytona's costly fuel-injection system in favour of a simple pair of 40mm DeH'Orto carburettors, as used by Guzzi for decades. If the result was inevitably a little crude by contemporary standards, the Sport still made for a rapid and charismatic roadburner.
Its engine was essentially that of the faithful two-valves-per-cylinder Le Mans sportster, with bore and stroke increased to give a capacity of 1064cc. The Sport's larger pistons also gave a reshaped combustion chamber. Other changes including revised camshaft design and a lighter crankshaft combined to produce Guzzi's most powerful two-
valve motor yet, its claimed peak output of 90bhp being 5bhp lower than the Daytona's figure.
This new engine sat in a steel spine frame closely related to that of the Daytona, and used a similar suspension combination of 41mm Marzocchi forks and remote-reservoir rear shock from Dutch specialists White Power. Wheel sizes remained 17 inch front and 18 rear, the Sport's only cycle-part change being that its four-piston Brembo front brake calipers gripped larger, 320mm discs. The Sport's subtle restyle incorporated a new seat unit that made room for an occasional pillion while maintaining a lean and purposeful look.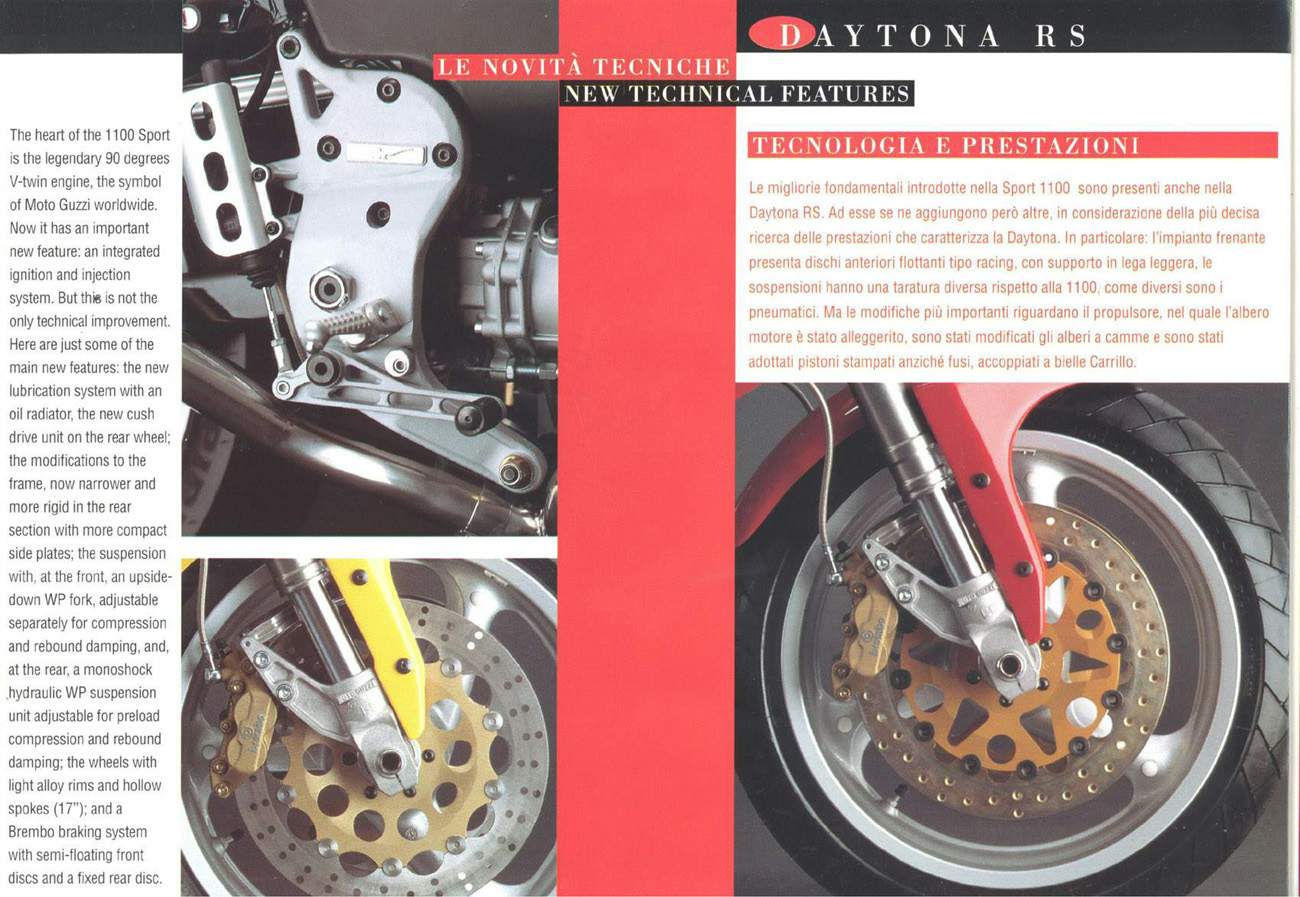 The bike felt every bit a Moto Guzzi as its V-twin motor churned into life with a characteristic lurch from its longitudinal crankshaft. The aggressive riding position pulled the pilot forward to the low handlebars, with seat and footrests set high, and was ill suited to town use - as was die Sport's rather clunky transmission and hesitant power
delivery below 3000rpm. Once spinning properly, though, the big V-twin thudded along with even more of the characteristic torque and charm that have traditionally made Guzzis so enjoyable.
The V-twin unit's strong midrange performance encouraged short-shifting through the slow but fairly precise gearbox, and meant there was little need to take the tacho needle to the 8000rpm redline. The typical low-pitched V-twin vibration never became unpleasant, and the Sport felt unstressed as it cruised at lOOmph with just 5000rpm showing on its tachometer. Revved harder, the Sport's lightened engine internals helped it accelerate with very respectable enthusiasm towards a top speed of 140mph.
Handling was typical of a Guzzi, combining slow but neutral steering, firm suspension and excellent high-speed stability. The Sport was not best suited to slow, twisty roads, feeling rather long and unwieldy. But once into a turn the bike felt reassuringly precise, and it thundered through faster curves with ease. On smooth surfaces, in particular, its stability, ground-clearance and the grip of its Michelin Hi-Sport radial tyres made the Sport a genuinely quick superbike. Braking power was good, too, thanks to the uprated Brembo set-up, although this was not fitted with Guzzi's traditional linked system.
The 1100 Sport lacked the power and handling finesse of more sophisticated sports bike opposition, and it couldn't match the impact of earlier Guzzi chargers such as the legendary Le Mans Mk.1 of 1975. But the Sport was stylish, competitively priced and succeeded in delivering stirring performance in a typically relaxed manner. Most of all, it proved there was still plenty of life in Guzzi's familiar transverse V-twin format.
Source Super Bikes by Mac McDiarmid