Münch-4 TTS 1200E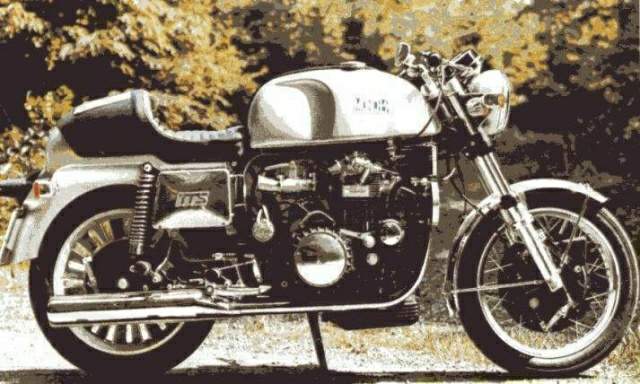 Make Model

Münch-4

TTS 1200E

Year

1973

Engine

Four stroke, traversed four cylinder, OHC, 2 valve per cylinder

Capacity

1176 cc / 71.7 cu-in

Bore x Stroke

75.0 x 66.6 mm
Cooling System
Air cooked

Compression Ratio

9.8:1

Induction

Injection

Ignition

Max power

88 hp / 64.2 kW @ 6000 rpm

Transmission

4 Speed
Final Drive
Chain

Front Suspension

Ko damper units

Rear Suspension

British Rickman or Italian Ceriani con panies, dual shocks

Front Brakes

Drum

Rear Brakes

Drum

Front Tyre

3.25-19

Rear Tyre

4.00 -18

Wet Weight

278.0 kg / 612.9 lbs

Fuel Capacity

Related links
Classic-motorrad.de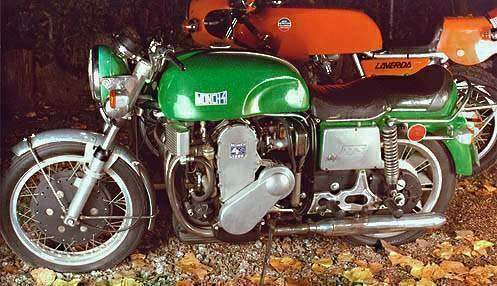 There is an old American motoring adage which states that there is no substitute for cubic inches. Basically it means that when it comes, to engine performance, the bigger the engine's capacity the better. This theory must certainly have been close to German Friedl Munch's heart when he set out to build a super new motor cycle during the mid-1960s.
For maximum performance Munch decided to use a car engine and after a good look at all the available options he settled for the four-cylinder unit normally fitted in the NSU Prinz.
Getting his project off the ground was a tricky business, however, and Munch's subsv.iuent history is strewn with financial problems, failed business partnerships and a great deal of heartache, soul searching and confusion. Whatever his commercial problems, however, Munch's bikes are well worth a second look.
Probably the best known of all the Munch models is the standard 1200TTS of the mid-1970s, a super-bike in every sense of the word. The power unit was a single-overhead-camshaft NSU engine of 1177cc which punched out 88bhp at 6000 rpm, with two twin-choke Weber carburettors, or 100bhp at 7500 rpm in its later, fuel injected form. The 1200TTS used a four-speed gearbox developed
from the now obsolete German Horex Imperatj vertical twin of the late 1950s. The gearchang while effective, was somewhat rough, however, sign that the mating of car engine to motor eye gearbox was not without its problems. For thos rather braver riders who required even more perfo mance, modified 1300 and even 1400cc versioi were also available.
In appearance, the 1200TTS was an imposin machine. It carried a large, 5-1/2 gallon fuel tan which gave it a strange hump-backed look in spi; of its 55-1/2 inch wheelbase. A nice touch wastt addition of a huge all-enclosed final drive chai complete with its own oil bath.
The earliest versions of the Munch were repute to handle badly; the combination of a heavy rj engine and lightweight frame needed a great de of sorting to work efficiently. By the mid-1970 however, the handling of the 1200TTS models he improved beyond recognition, but was still hardly the sports category, of course. Weighing 630 meant that the big machine could not be throw around like a lightweight and its real forte was as high speed cruiser.
The roadholding, however, was first class, as tt rear suspension made use of highly effective Ko damper units, while the front forks were the work either the British Rickman or Italian Ceriani con panies, depending on the owner's order. Brakir was also very effective, the front wheel being equi| ped with a huge, 12 inch, magnesium drum brak The last Munch fours had Marzocchi forks and du front discs, but very few of these were ever mad<
By the end of the 1970s, however, recurring final cial problems meant that Friedl Munch was force to sell his company and bring production of h beloved machines to a standstill.
Munch is nothing if not a dedicated ma however, and at the Cologne Show of 1978 \ announced details of his new company and the showed the startled world his latest creation. It wi powered by a 1400cc NSU car engine fitted with turbocharger and fuel injection, for which a pow> output of 143bhp was claimed. The new bike bo the Horex name, a make which had played i important part in Friedl's life as a young man. On one question remained, however. Was the wor ready for a machine with that kind of performance Only time would tell.