Make Model

MV Agusta F3 675

Year

2016

Engine

Four stroke, transverse three cylinder. DOHC, 4 Valve per cylinder,

Capacity

675 cc / 41.1 cu-in

Bore x Stroke

79 x 45.9 mm

Compression Ratio

13.0:1

Cooling System
Liquid Cooled

Induction

Integrated ignition - injection system with six injectors Engine control unit Eldor EM2.0, throttle body full drive by wire Mikuni, pencil-coil with ion-sensing technology, control of detonation and misfire Torque control with four maps, Traction Control with eight levels of intervention

Ignition

Digital CDI

Alternator
350 W @ 5000 rpm
Battery
12 V - 8.6 Ah
Starting
Electric

Max Power

94.2 kW / 126 hp @ 14400 rpm

Max Torque

71 Nm / 7.24 kgm @ 10600 rpm.
Clutch
Wet, multiple discs, cable operated

Transmission

6 Speed
Final Drive
Chain
Gear Ratio
1st : 1/14.493 2nd: 1/10.821 3rd: 1/9.053 4th: 1/8.040 5th: 1/7.274 6th: 1/6.712
Final Drive Ratio
16/43
Frame
ALS Steel tubular trellis, Rear swing arm pivot plates: material Aluminium alloy

Front Suspension

43mm "UPSIDE - telescopic hydraulic fork with rebound-compression damping and spring preload external and separate adjustment,
Front Wheel Travel
125 mm / 4.92 in

Rear Suspension

Progressive, single shock absorber with rebound and compression (High speed/
Low speed) damping and spring preload adjustment
Rear Wheel Travel
123 mm / 4.84 in

Front Brakes

2x 320mm Double floating discs, 4 pistons calipers

Rear Brakes

Single 220mm disc, single piston calipers
Rim Front
Material/size Aluminium alloy 3.50 " x 17 "
Rim Rear
Material/size Aluminium alloy 5.50 " x 17 "

Front Tyre

120/70-ZR17

Rear Tyre

190/55-ZR17
Trail
99 mm / 3.8 in
Rake
23.6°
Dimensions
Length 2060 mm./ 81.0 in
Width 725 mm / 28.5 in
Saddle height 805 mm / 31.6 in
Wheelbase
1380 mm / 54.3 in
Seat Height
805 mm / 31.6 in
Min. ground Clearance
125 mm / 4.9 in

Dry Weight

173 kg / 381.4 lbs

Fuel Capacity

16 Litres / 4.2 US gal

Consumption average

17.9 km/lit

Standing ¼ Mile

11.1 sec

Top Speed

258.5 km/h / 160.3 mph
After being elected the "Most beautiful 600 in the world", the MV Agusta F3 675 is now ready to become the new reference both on the street and on the track. A Supersport that boasts a ultra-advance chassis and vehicle dynamics control that is on par with the most advanced Superbikes thanks to the new system MVICS (Motor & Vehicle Integrated Control System).

The MV Agusta F3 675 is a revolutionary motorcycle offering extreme emotions to the rider on the street and on the track. The three cylinder engine utilizes a revolutionary counter-rotating crankshaft, a solution that has only been previously seen on MotoGP motorcycles, together with the most compact and light weight layout ever seen on a Supersport bike. These are only a few of the characteristics that make the new F3 675 the most sophisticated supersport with the best handling of any sport motorcycle.
The MV Agusta F3 675 engine is the most advanced and powerful middle weight engine ever produced. It is a ultra-compact in-line three cylinder with the perfect balance between advanced mechanical engineering, extremely advanced materials and electronics technology. Thanks to the MVICS system it is the first middle weight motorcycle with Full Ride By Wire engine controls including 4 pre-set maps and one personally tunable map including traction control that can be selected between 8 different levels.
The chassis is also incredibly advanced: studied and designed to obtain the maximum dynamic performance, it was born with the optimum rigidity that offers an unparalleled level of feeling during all riding conditions when compared to the other motorcycles in this category.
The development of the style of the MV Agusta F3 675 was based on the core philosophy that has always characterized all previous MV's: the perfect balance between form and function that meld together to create an object that is unique not only for its beauty but also for its effectiveness.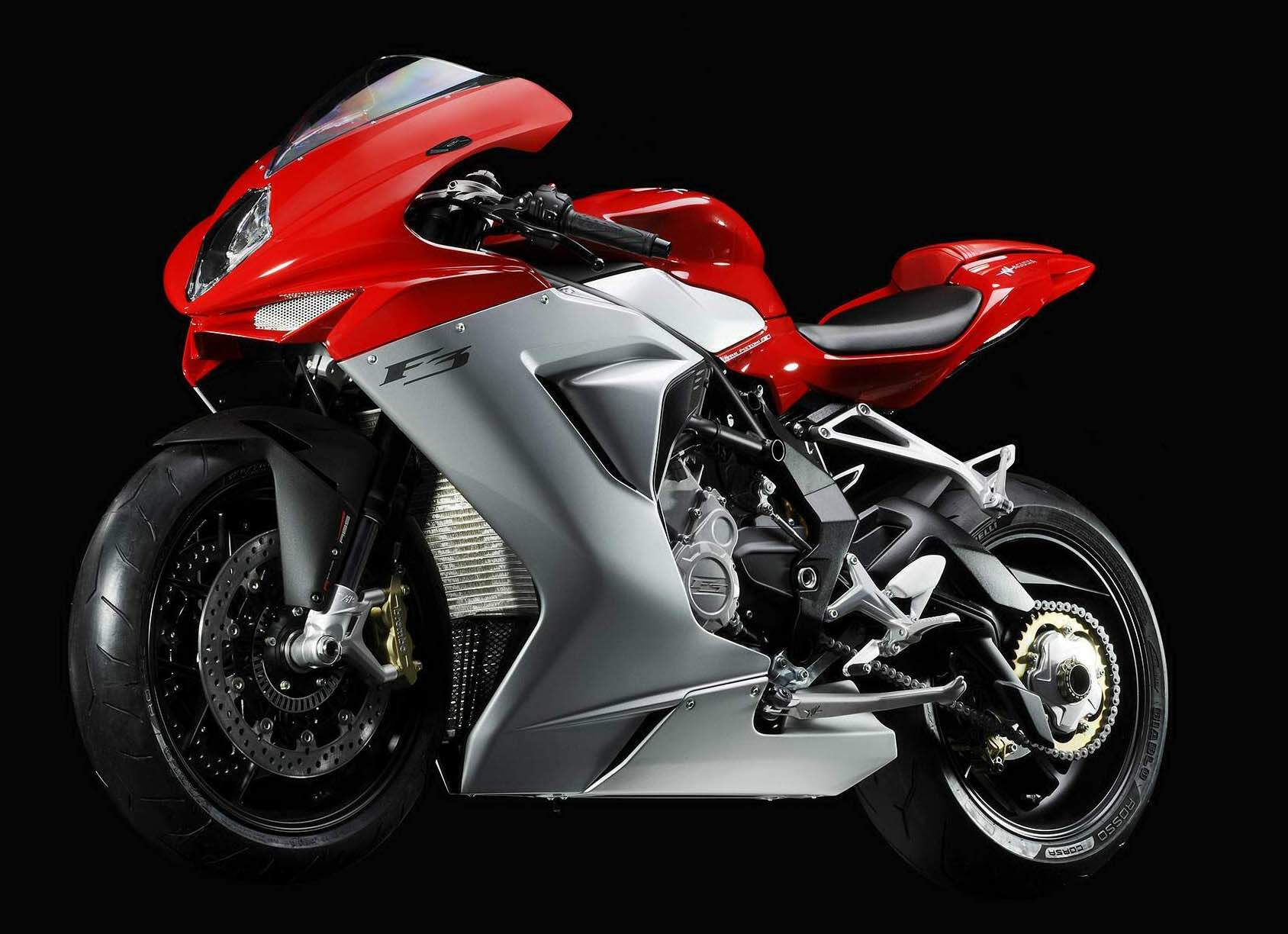 Key Features

Engine

The powerplant of the new F3, an inline 675cc three cylinder, plays homage to the most victorious motorcycle brand in the word. With this layout MV raced and won an unprecedented number of races and world championship titles. Today the 3-cylinder engine has returned in the form of a Supersport with the most advanced technical solutions and performance.

This ultra-compact engine which is both incredibly short and narrow due to the unique layout of internal organs that only MV has been able to develop. Utilizing a 79mm bore and a super-short stroke of 45,9mm the MV Agusta 3 cylinder engine is extremely over-square and able to rev the highest levels ever achieved by three cylinder sports bike. Ultra-modern, extremely advanced and capable of 128 cv at 14.500 rpm coupled with 71 Nm of torque at 10.600 rpm. This level of performance has never been available in this category on par with the performance of a number of 4 cylinder engines thanks to a 15.000 rpm limit. For the first time ever, a production motorcycle has utilized a counter-rotating crankshaft that contributes to the perfect dynamic balance as well as increasing the lightning quick handling of the motorcycle.
Ultra-compact dimensions, reduced weight and maximum performance: these are the characteristics that make the engine of the new MV Agusta F3 675 the new reference in the Supersport class, an engine that is destined to become the new benchmark of supersport engines. Contributing to the reduced weight and compact design is the application of the "closed deck" integration of the cylinders into the crankcase in a single shell mold casting along with the MVICS system and the use of titanium both for the intake and exhaust valves. Another unique feature is the integrate oil and water system: the pump system (water and oil) is placed entirely inside the crankcases and all of the passages are contained internal to the engine castings offering both performance and styling advantages to the most powerful Italian 3 cylinder ever produced.
Electronics

The most advanced electronic engine control system ever seen on a Supersport has been designed specifically for this extraordinary new three cylinder. A system of fuel injection that is extremely sophisticated using a two fuel injectors per cylinder coupled with a throttle body employing 50mm throttle valves, a new record for a Supersport! The F3 675 introduces for the first time the MVICS system that allows the engine to unleash a record level of power and control in every situation. The rider can select one of the 4 maps available, or customize an additional map to obtain the power delivery desired. With the MVICS system it was possible to generate a perfect harmony between the power delivery and the traction control which offers 8 levels of adjustment and is accessible through the input on the left handlebar and dashboard interface. This system is incredibly advanced and can be custom tailored by the rider with a series of MV Agusta Special Parts optional: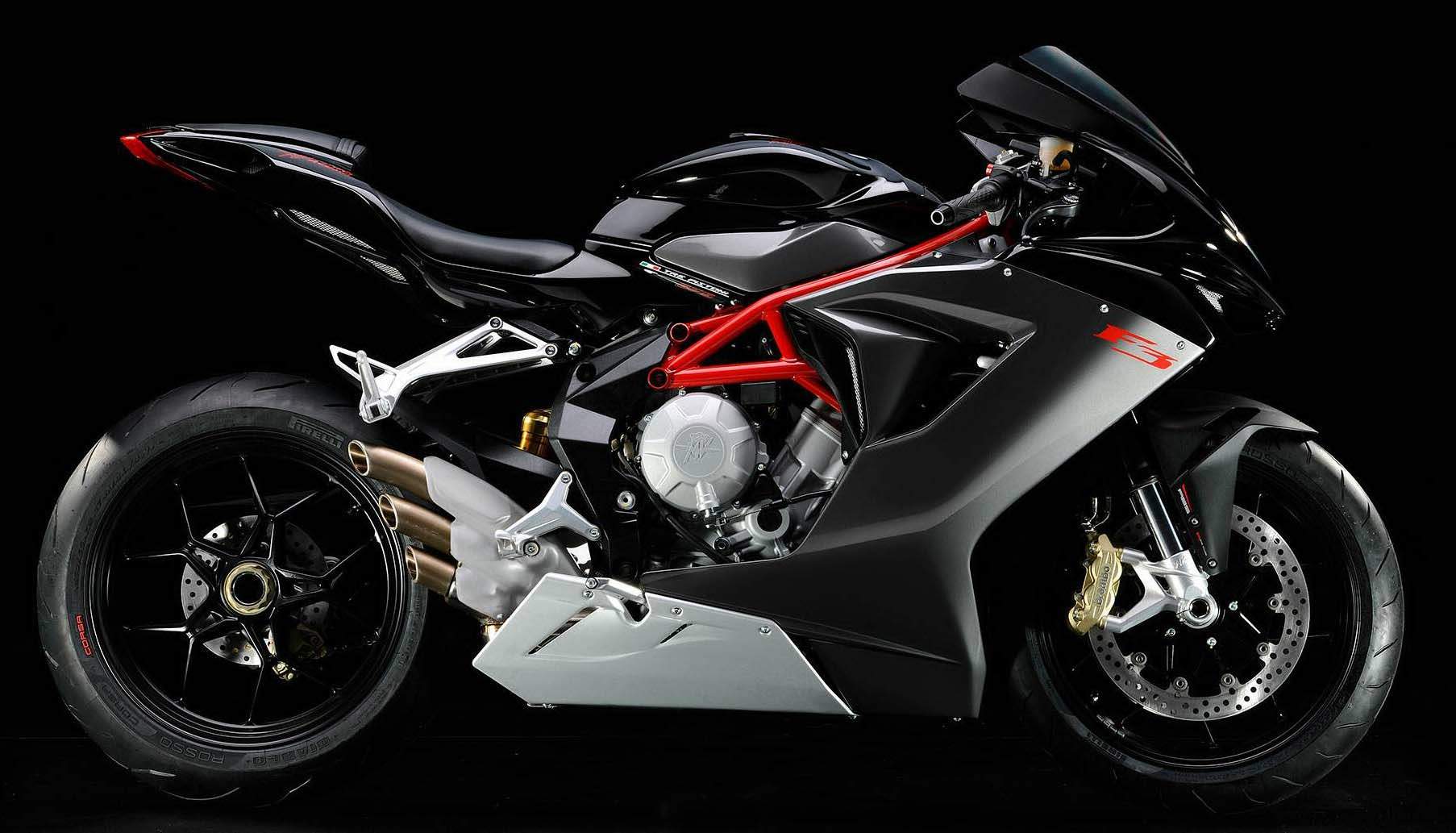 Vehicle lean sensor capable of reading all of the vehicle inclination data. This interfaces with the traction control and engine control algorithms effectively reading the wheel slip during all angles of lean and then adjusting the throttle opening, spark advance and fuel delivery to ensure the optimal safety and acceleration in all dynamic conditions

Launch Control which permits the optimum performance during starts from stopped and offering the maximum acceleration possible
Anti-wheeling which permits the optimization of the vehicle acceleration

MV Agusta EAS (Electronically Assisted Shift) which allows incredibly rapid shifting without ever having to close the throttle or employ the clutch.
Chassis

As always, those who ride MV Agusta's have become accustomed to having the very best components and the maximum performance from the chassis. The new F3 675 follows this tradition with a level of quality that exceeds most of the 1000cc superbikes on the market.
As with all previous MV's, the advanced frame design incorporates a mix of steel tubing and aluminum side plates that wrap around the ultra compact engine offering a level of compactness never before seen on a supersport motorcycle. The compact engine dimensions left the maximum liberty to design the most advanced chassis on the market with an exceptionally long single sided swingarm that guarantees traction and feedback to the rider. All of this without penalizing the wheelbase of only 1.380 mm is a new record for the Supersport category as is the 173 kg weight.

The components, as always, are of the highest quality. The Marzocchi 43mm front fork is completely adjustable as well as the Sachs piggy-back rear shock. The front brake system consists of a Nissin radial master cylinder and Brembo radial calipers and 320 mm discs and are coupled with ultra-light wheels that contribute to the reduced unsprung mass which allows the F3 675 to offer handling never before experienced on a Supersport motorcycle.

COLORS

The new F3 675 is available in 3 colour combinations:
Pearl white / Black
Red / Silver
Matt metallic black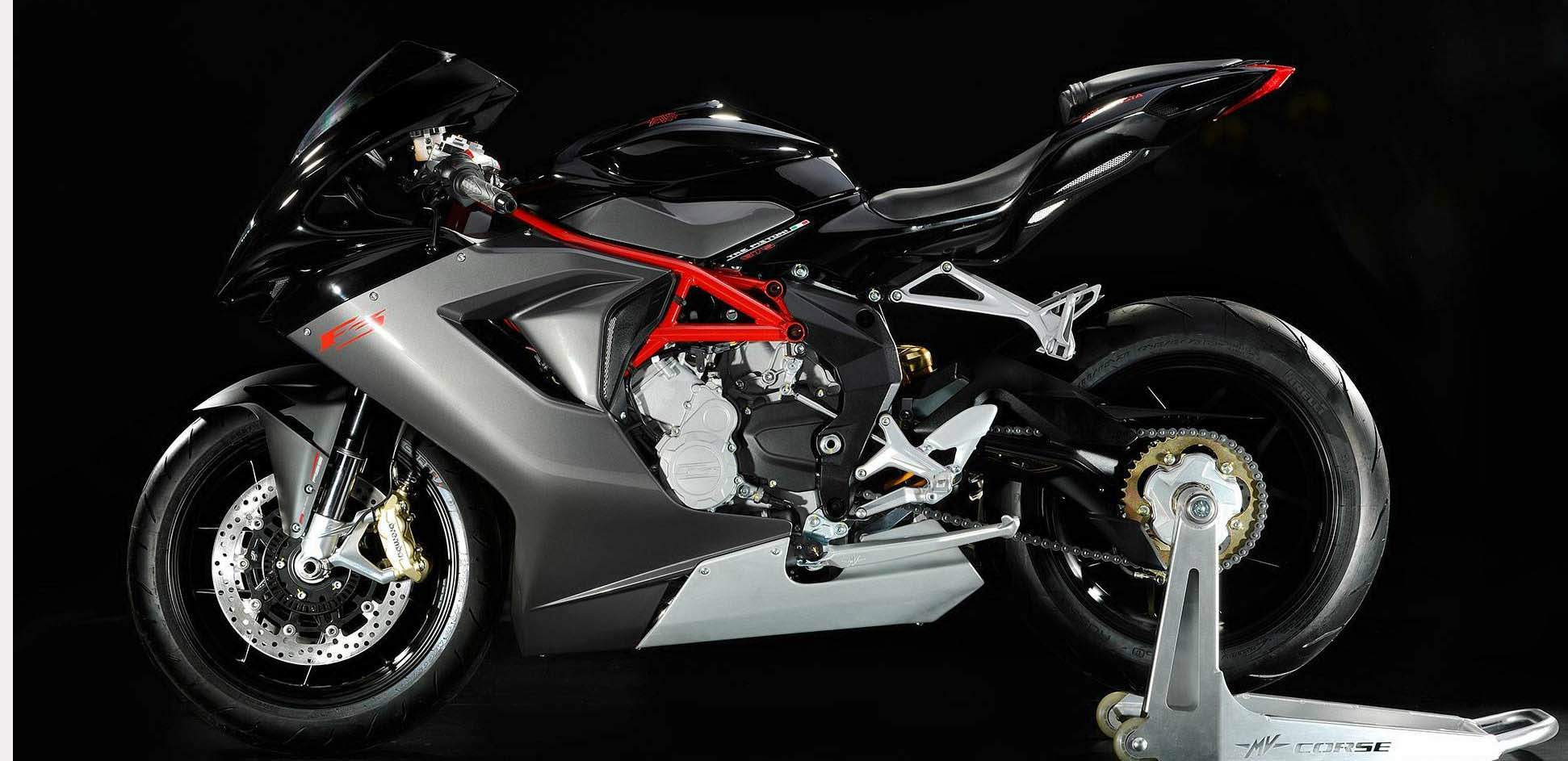 Review
My journey back to Paul Ricard this past February for the press launch of the new MV Agusta F3 675 was special. This enchanting high-speed circuit is perched above the French Riviera in the arid mountains of Southern France. When I was in my early 20s, Paul Ricard was a place of "firsts": my first race on European soil; my first team endurance race; my first time speeding at 180 mph through dense campfire smoke in the black of night; and my first 130-plus-mph crash. It took half of a French fire brigade to knock down the flames and bring the melted bike to its final resting place.

In stark contrast to the ambitious youngster who arrived here 13 years ago, I am sitting calmly in the media center enjoying an espresso that's as smooth as the lines on the beautiful MV Agusta resting on the stand before me. With the pressure of professional racing behind me, my job today is to simply enjoy this little firecracker for all she is worth.
Incredibly, just four engineers are behind the new F3. Technical Director Marco Cassinelli, who was recruited from Lamborghini, tells me this small group is very efficient, that it directs all of its energy toward what it believes to be the future of the brand. Upholding MV Agusta's heritage of beauty and performance is critical, says Cassinelli, but attracting mainstream consumers is also important.

While the engineers dive proudly into the many features incorporated into the electronic dash, my jet-lagged attention span goes no deeper than the panel's elegant exterior. The display is spartan, its clean, simple design unencumbered by gadgetry. In fact, it's more like the simple analog clocks on older racebikes than the bulky dashes that are so common today. Same goes for the rest of the bike; there are no flashy badges or logos, just the raw beauty of metal and performance.

I glance around the briefing room and am distracted by a tiny engine that looks like it belongs in a dirtbike. That little thing is the F3's powerplant? While one of the engineers talks about fuel maps and torque curves, I sneak over for a better look at this compact engine. Yep, it would fit easily in my gearbag.
I'm still in a bit of a haze when I suit up and climb aboard the 675 for my first track session. My senses are confused straight away. The F3 is far too narrow to be an inline-Four, yet it feels curiously similar to a Yamaha YZF-R6. Pressing the Start button evokes different emotions; this Triple is grumbly like a Twin, but it's too highly strung to be one. I accelerate down pit lane with the front wheel hovering above the pavement. This little torque monster revs out!

Reacquainting myself with Paul Ricard is anti-climactic. The lean 675 quickly finds its way from apex to apex with ease. Balanced ergonomics and a low seating position promote aggressive riding while keeping weight transfer to a minimum. The throaty exhaust note is solid gold, and the F3 seems to beg for more throttle, inviting its most remarkable feature, the engine, to come alive.

Capitalizing on six perfectly spaced transmission ratios and an excellent, full-throttle EAS (Electronic Assisted Shift) auto-shift feature, I busily hustle from first through sixth down the long front straight. The six-injector, 12-valve, dohc, 79.0 x 45.9mm motor is phenomenal, with a wide range of power and the ability to overrev. Strong torque is delivered linearly and right on time in relation to throttle position, with the potent power curve giving an extra pull on the bars between 10,000 and 14,000 rpm. MV claims 126 horsepower at 14,400 rpm and 52 foot-pounds of torque at 10,600 rpm. Redline is 15,000 rpm.

Now that I am fully awake, I'm ready for a second explanation about the many electronic functions. Engineer Mauro Marelli begins by saying the system is new from the ground up. It starts with a ride-by-wire throttle using a standard open-and-close potentiometer. This is augmented by a "safety closing" default to eliminate any surprises.
Moving on, Marelli says a new ECU was designed specifically for the traction control, torque maps and quick-shift functions on the F3. I watch as he scrolls through the well-lit display. The F3 boasts four map settings. The first three—Rain, Normaland Sport—are self-explanatory and preset for user ease. The fourth mode is called "Corono," which allows on-the-fly customization using thumb switches located, MotoGP-style, adjacent to the left handgrip. Within Corono are five different parameters ranging from eight levels of traction control to torque delivery. Leaving no request unsatisfied, there is even an adjustable highway speed limiter to keep you out of trouble with Smokey. Okay, there are enough options to hang myself. Impressive.

Just how much do I trust the 675's electronics? Getting to full throttle early on cold tires is never a good idea; but it's my only opportunity to test the rain mapping, and, thus far, the engineers have not steered me wrong, so I'm willing to roll the dice. Riding out of the pit box, I scroll through to level eight on the TC selector, which is intended for wet conditions. At the apex of hairpin Turn 1, I aggressively pin the throttle in first gear. The familiar safety-net sound of the engine misfiring to limit wheel slip is music to my ears. As the tires reach optimum temperature, I methodically work my way from level eight down to zero. Each selection performs as it was designed, allowing for more wheel slip in a consistent progression. Although the traction control is well-sorted, the engine delivers such steady Twin-like torque delivery that TC is rarely in demand.
Speed is crucial in the evaluation of chassis. Lapping the track at a pretty good clip, I find it difficult to point out any major faults. Even in street trim on one ofEurope's fastest circuits, the 675 with its hybrid aluminum/steel frame rolling on a 54.2-inch wheelbase carves up the track. Racing speeds, however, ask a lot of the stock suspension. The fully adjustable Sachs shock holds up remarkably well, but the 43mm Marzocchi fork is a little soft at maximum load, diving quickly under hard braking, making the rear end loose on entry and creating some pumping mid-corner. But that I find myself evaluating the F3 as if it were a racebike is the biggest compliment I could pay a stock motorcycle. The 320mm Brembo front brakes are exceptional, as well, offering phenomenal stopping power and feel.

Sitting directly behind the F3's greatest strength lurks its biggest weakness: the transmission. Though solid in feel, the cassette-type gearbox is fickle; having to take a second stab at third and fourth gears gives away the generous gift that the potent engine delivers on corner exits. EAS helps, but considering the many other great choices in this displacement category, the F3 needs to be a complete package.

Can a small European brand like MV Agusta keep up with the big boys in development costs and still deliver an affordable product? Contrary to the popular notion that you buy a racy Italian motorcycle with your heart, the 675 F3 has an attractive price tag: $13,498. Couple that with incredible performance and elegant looks, and you have an amazing machine. Hopefully, MV Agusta will be able to maintain its newfound momentum.
Source Cycle World