Make Model

MV Agusta F3 800

Year

2016 - 17

Engine

Four stroke, transverse three cylinder. DOHC, 4 Valve per cylinder,

Capacity

798 cc / 48.6 cu-in

Bore x Stroke

79 x 54.3 mm

Compression Ratio

13.3;1
Cooling System
Cooling with separated liquid and oil
radiators
Engine management system
Integrated ignition - injection system MVICS (Motor & Vehicle Integrated Control System) with six injectors Engine control unit Eldor EM2.0, throttle body full drive by wire Mikuni, pencil-coil with ion-sensing technology, control of detonation and misfire Torque control with four maps,
Traction
Control with eight levels of intervention Electronic quick shift MV EAS (Electronically Assisted Shift)

Ignition

Multipoint electronic injection
Starting
Electric
Alternator
350 W at 5000 r.p.m.
Battery
12 V - 8.6 Ah

Max Power

108.8 kW / 148 hp @ 13000 rpm

Max Torque

88 Nm / 8.97 kg-m @ 10600 rpm
Clutch
Wet, multi-disc with mechanical drive Cassette style

Transmission

6 Speed
Final Drive
Chain
Gear Ratio
1st 13/37 2nd 16/34 3rd 18/32 4th 19/30 5dth 21/30 6th 22/29
Final Drive Ratio 1
17/4
Frame
Type ALS Steel tubular trellis
Rear swing arm pivot plates material Aluminium alloy

Front Suspension

43mm Marzocchi "UPSIDE DOWN" telescopic hydraulic fork with rebound-compression damping and spring preload external, and separate adjustment
Front Whel Travel
125 mm / 4.6 in

Rear Suspension

Progressive Sachs, single shock absorber with rebound and compression damping and spring preload adjustment Single sided swing arm material Aluminium alloy
Rear Wheel Travel
123 mm / 4.8 in

Front Brakes

2x 320mm floating discs 4 piston calipers

Rear Brakes

Single 220mm disc 2 piston caliper
Rim Front
Aluminium alloy 3.50 " x 17 '
Rim Rear
Aluminium alloy 5.50 " x 17 '

Front Tyre

120/65 ZR17

Rear Tyre

180/55 ZR17
Trail
99 mm / 3.89 in
Dimensions
length 2060 mm / 81.0 in
Width 725 mm / 28.5 in
Height 805 mm / 31.6 in
Wheelbase
1380 mm / 54.3 in
Seat Height
805 mm / 31.6 in
Ground Clarence
125 mm / 4.2 in.

Dry Weight

173 Kg / 381.4 lbs

Fuel Capacity

16.6 Litres / 4.3 US gal

Reserve

5 Litres / 1.3 US gal
The MV Agusta F3 800 pushes back the performance barriers, thanks to Italian-made 3-cylinder engine excellence.

More power, more torque, more adrenaline. The outcome? A motorcycle with exceptional handling, an advanced electronics package and a new 800 cc engine that punches out 148 hp and 88 Nm of torque. Coupled with a super-low weight of 173 kg, the resulting power-to-weight ratio puts it in a position to do battle with litre-class Sportbikes.

The MV Agusta F3 675 redefined the mid-weight Supersport concept by offering up a perfect engine-chassis balance, a power unit packed with quintessential Italian technology and a chassis with class-leading performance on both road and track. The MV Agusta F3 800 goes even further, pushing the mid-range Supersport boundaries all the way up to Superbike replica level thanks to a segment-revolutionising design that is nothing less than a technological and performance milestone.

F3 800, Superbike revolution.

As exhilarating as a 1000, yet as fun to ride as a 600: the MV Agusta F3 800 is the ultimate expression of three cylinder supremacy. Striking the perfect balance between performance and ridability, no challenge is beyond reach with 148 horsepower that are harnessed by state of the art electronics. Superlative agility achieved with thoroughbred frame and suspension that is incredibly effective whether on the road or the track.

State of the art technology

Performance or lightness? Power or agility? Have it all with the MV Agusta F3 800, from class-beating riding pleasure and performance to sophisticated electronic engine management with four engine maps and eight levels of traction control.

From it's styling to its engineering, every detail of the MV Agusta F3 800 embodies excellence. With ultra-light pistons, the three-cylinder powerplant revs all the way up to 13,000 rpm. The counter-rotating crankshaft exudes the racing spirit of the bike: derived
directly from the GP race track, this solution reduces the directional inertia of the bike to make it even easier to ride and instantly responsive, with the unique character typical of an MV Agusta. At just 1.17 Kg/hp, the power to weight ratio is extraordinary.

Denominated M4.34 a, these Brembo monoblock calipers are conceived to generate safe and easily controlled deceleration. Brakes that let you decide exactly how much stopping power you need - from extreme braking on the circuit to smooth modulation in traffic - without compromises, thanks in part to the Bosch 9 Plus Race Mode ABS system with RLM (Rear wheel Lift-up Mitigation), which comes as standard. These calipers are radially mounted to transfer all of the braking torque to the 320 mm diameter discs. At the rear, a 220 mm steel disc with a two-piston caliper contributes to controlling the load transfer.

Engine management is one of the strong features of the MV Agusta F3 800. With an integrated electronic control system overseeing everything from the Ride-By-Wire throttle to the injectors, the rider can tap into instant, incredible urge from the three-cylinder powerplant even at low engine speeds, for outstanding performance in all conditions. Weighing in at just 52 Kg, the extremely light engine boasts state of the art technical solutions such as double overhead camshafts with titanium valves and water and oil circuits integrated in the crankcase, for maximised compactness and overall efficiency.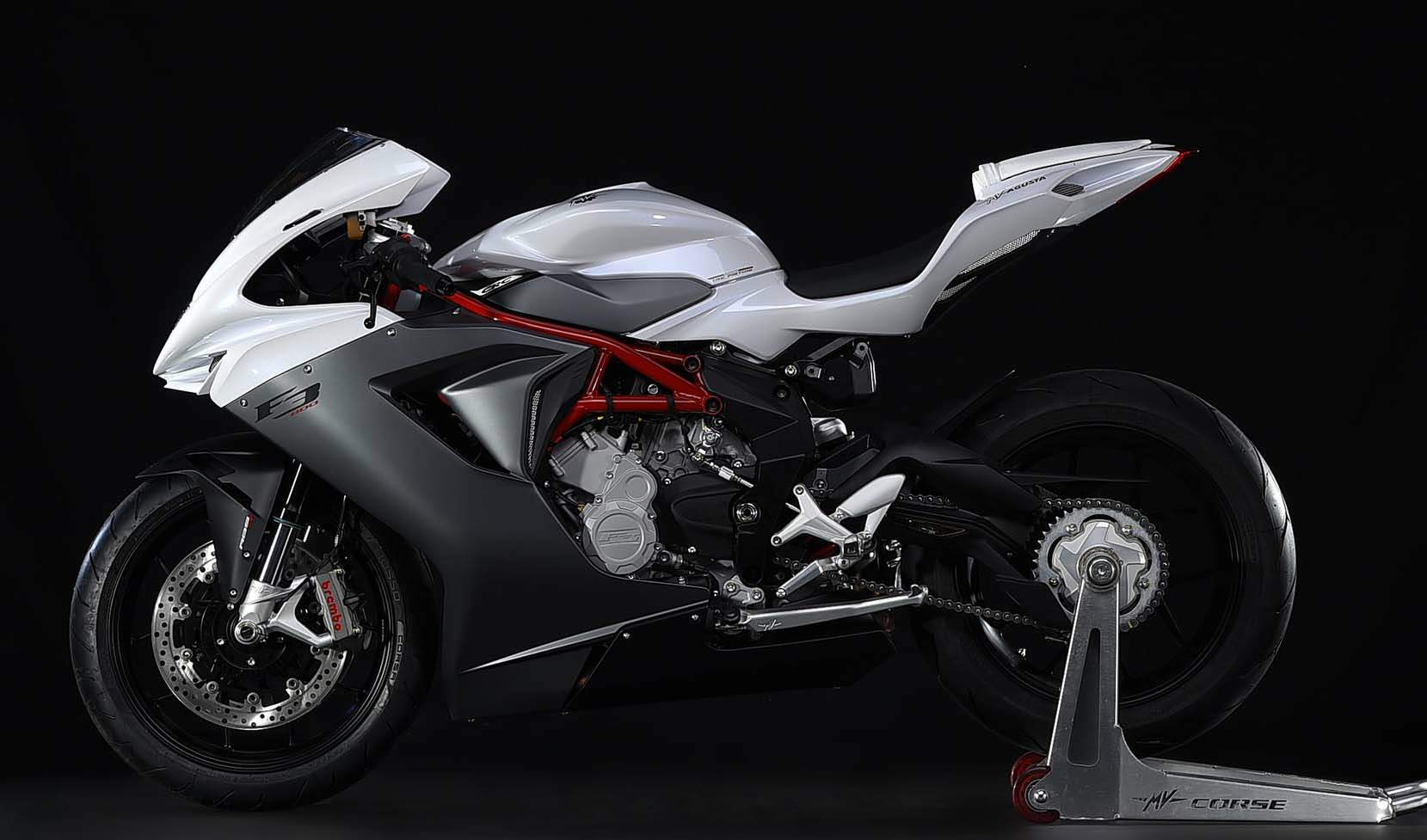 Features

•Three-cylinder inline 798 cc engine
•Bore 79.0 mm, stroke 54.3 mm (8.4 mm more than the F3 675)
•Max. power 148 hp at 13,000 rpm (20 hp more than the F3 675)
•Max. torque 88 Nm at 10,600 rpm
•13,500 rpm limiter
•Slipper clutch
•Dry weight: 173 kg (same as the F3 675)
•Power-to-weight ratio: 1.17 kg/hp (13.5% less than the F3 675, which has a ratio of 1.35 kg/hp)
•New front brake set-up with Brembo monobloc calipers • Pirelli Diablo Rosso Corsa tyres

AVAILABLE IN COLORS:
•MATT METALLIC SENNA BLACK
•PEARL ICE WHITE / MATT AVIO GREY
•RED / AGO SILVER

Engine

Bore diameter remains unaltered at 79.0 mm, while the stroke has been increased from 45.9 mm to 54.3 mm, boosting displacement from 675 cc to 798 cc. Power output reaches a stunning 148 hp at 13,000 rpm, with the peak torque of 88 Nm arriving at 10,600 rpm. The rev limiter has been set to kick in at 13,500 rpm. A double overhead cam timing system with four titanium valves per cylinder gives awesome performance, especially at high revs. Improvements have also been made to the fuel injectors, which ensure higher flow rates than those on the F3 675.

The three-cylinder engine is an astonishing feat of motorcycle engineering: extremely light and compact (weighing just 52 kg), it features a closed-deck shell-cast crankcase with integral bores. Its water and oil circuits are actually incorporated in the crankcase castings and their respective pumps are located inside the engine, giving clear-cut advantages in terms of both styling and compactness. Further innovations on the 3-cylinder MV Agusta F3 800 include the counter-rotating crankshaft, a technical solution that, prior to the F3 675, was strictly reserved for MotoGP bikes. The aim? To reduce inertia during quick directional changes, enhance engine balance and so make the intrinsic handling qualities of the F3 even better.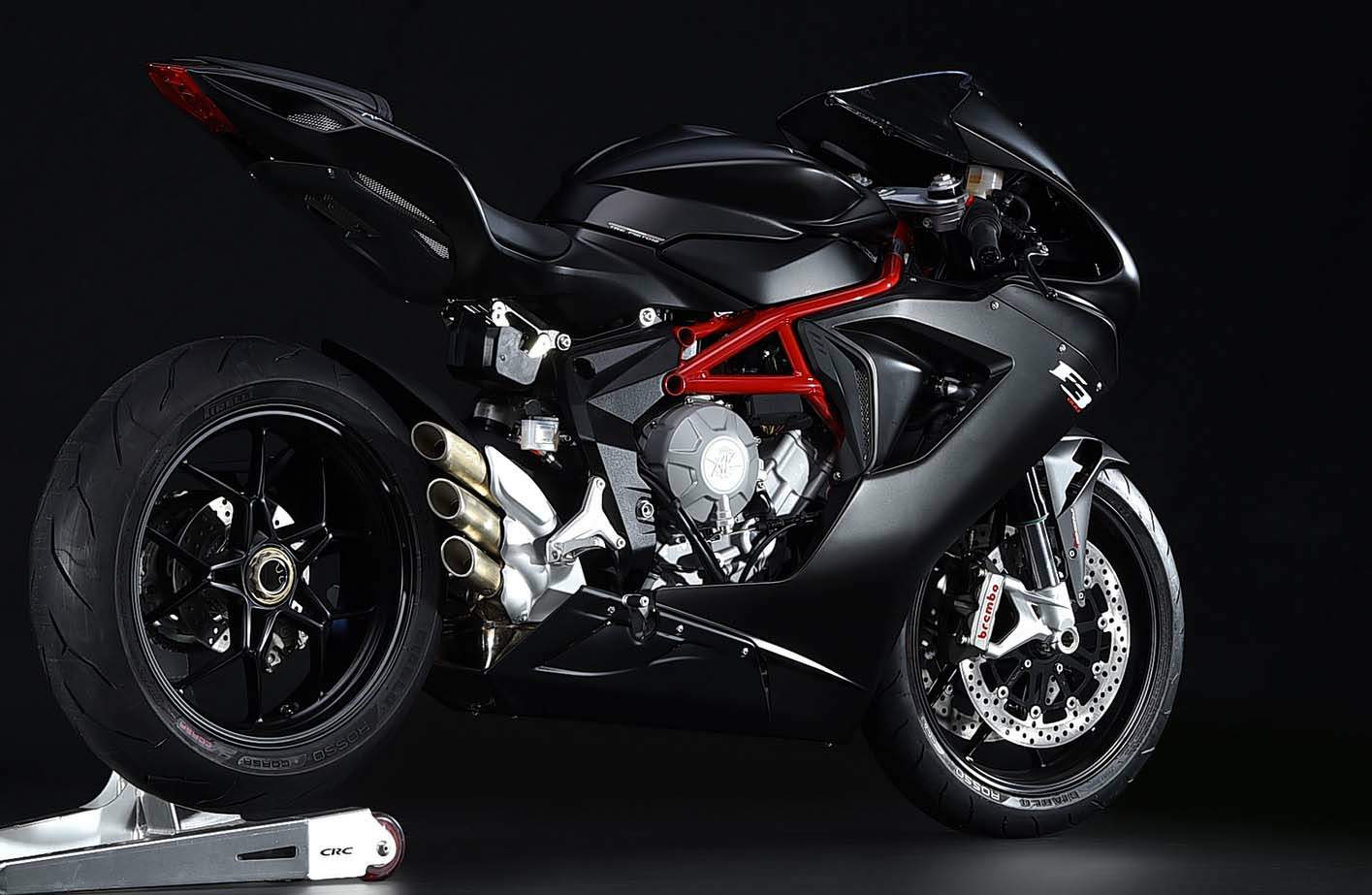 The considerably higher performance - bike mass remaining equal – is highlighted by an augmented power-to-weight ratio (1.17 kg/hp) compared to the F3 675. And that's not all: acceleration responsiveness has been remarkably improved under all conditions, as has mid-range power delivery smoothness. These two crucial factors mean off-the-scale road riding pleasure and faster lap times on the track.

A full 148 hp of oomph translates into a top speed of around 269 kph, achieved also by way of a final drive ratio that has been raised from 16/43 to 17/41. Lastly, the mechanical slipper clutch system, designed and developed by MV Agusta, ensures tip-top performance however hard you're braking.

Electronics

The 3-cylinder MV Agusta project features the most advanced electronics package ever seen in the mid-weight category, with the MVICS (Motor & Vehicle Integrated Control System) platform combining fully electronic control of throttle and throttle body with traction control.

At the technological heart of the MVICS platform lies the Full Ride By Wire system: moment by moment, this defines the ideal throttle body aperture independently of the angular rotation of the twist grip. There is, in fact, no rigid mechanical linkage between throttle and butterfly: the optimum fuel-air mix is, instead, defined by injection-ignition mapping, giving best-ever performance at all times and under all load conditions.

The MVICS provides a multi-map approach, with three modes devised by MV Agusta technicians and a fourth that can be fully customised by riders, letting them tweak parameters as desired and get a solution that best suits their individual tastes.
Nowadays, traction control is a must: here, it offers the same performance criteria that made the system such a success on the F3 675, letting riders enjoy 8 different sensitivity levels that can easily be selected via the handlebar controls and the compact, fully digital dashboard.

Chassis

The same excellence that made its smaller sister bike so successful is, of course, an essential part of the MV Agusta F3 800. For a start, the wheelbase is a mere 1,380 mm, a record-breaking measurement that forms the foundation of this three-cylinder bike's exceptional handling. The frame is the result of a clever combination of a main ALS tubular steel structure, a mid-section consisting of cast aluminium side plates and an extended swingarm (576.5 mm) designed to maximise traction.

A sophisticated 43 mm Marzocchi front fork - with 125 mm of travel, adjustable spring preload and compression and rebound adjustment – features dedicated settings that let the rider wring every last drop of excitement from the higher-performance 800 cc engine.

The Sachs monoshock provides 123 mm of travel, has a separate piggyback nitrogen reservoir and is fully adjustable in spring preload, compression and rebound. The braking system has been upgraded as well and mounts Brembo monobloc (M4.34a) front calipers to ensure incomparable stopping power even under the most demanding track conditions.
The diameter of the two front discs remains unaltered (320 mm) and the rear brake system retains the two-piston caliper mated to a single 220 mm diameter disc. The F3 800 mounts Pirelli Diablo Rosso Corsa tyres as standard; 120/70-ZR17 at the front and 180/55-ZR17 at the rear.
Review
On paper, the 2014 MV Agusta F3 800 is a spectacular machine. The specifications look every bit as gorgeous as the bike does in the flesh. Promising 600 class handling with open class power, the new MV triple makes a claimed 148 hp at the crank at 13,000 rpm from a displacement of 798cc. Inside the cases that hold the 675cc F3, the 800 carries the same bore, but added stroke. This gives the 800 nearly 20 additional hp over the already healthy 675, and gobs more torque.
With the same narrow engine cases as the 675, and essentially the same dry weight of 381 pounds, the F3 800 promises to be a very nimble mount. MV's use of a reverse rotation of the crank shaft effectively cancels some of the inertia created by the wheel rotation, which further reduces the effort necessary to change direction.
The F3 800 is loaded with top shelf components and electronic assist mechanisms. The Marzocchi forks measure 43 mm in diameter and are fully adjustable for spring preload, as well as compression and rebound damping. The Sachs shock features a separate nitrogen reservoir, and is also fully adjustable for preload, compression and rebound.
The brakes are a fantastic spec, including particularly the Brembo monobloc, radially-mounted front calipers and 320 mm discs, controlled by a Nissin radial master cylinder. Acceleration and braking forces are transferred through Pirelli Diablo Rosso Corsa tires (including a rear-sized 180/55-17). For our track testing, Pirelli DOT racing tires were fitted.
The electronics package is about as sophisticated as you can find on a showroom floor. MV calls the system MVICS (Motor and Vehicle Integrated Control System) and, according to MV, the ride-by-wire throttle "makes it possible for the ideal throttle body aperture to be defined at any moment in time, so it is not dependent on the angular rotation of the twist grip." Utilizing an ECU from Eldor (supplier to Ferrari and Lamborghini, among others), MV claims it has made the throttle twist completely linear with regard to torque creation, i.e., 50% throttle results in 50% of the torque available from the engine at the current rpm given the current load factors. Four maps are available for rider selection in the MVICS system, including Sport, Standard, Rain and Custom. Within the Custom setting, the rider can fine tune several variables to his liking, including but not limited to throttle sensitivity and engine braking level. Tommy adjusted both of these settings to great effect on the track (more about that later).
Traction control is also available, of course, and can be set at any one of 8 levels (from least intrusive to most intrusive), as well as turned off entirely. In 3 of the 4 maps, the rider can choose any one of the TC settings, while in Rain mode, the TC setting defaults to level 8.
Upshifts are aided by an electronic ignition cut, and corner entry benefits from a slipper clutch. For added strength (given the added torque), the F3 800 clutch has an additional 2 plates in comparison with the F3 675.
MV Agusta readily admits that, in the past, it has struggled somewhat with fuel injection mapping, something that has become increasingly more complicated as ECUs have become more sophisticated. We remember Hinkley Triumph having the same problems for several years before ironing them out. MV says it has worked extremely hard at fine-tuning the maps available on the F3 800, and continues to update maps to "state-of-the-art" from time-to-time. Notifications on the MV web site allow owners to determine when new maps are available, and your MV dealer will update your maps free of charge.
During our track testing, it was immediately clear MV's claim that the F3 800 changes directions easily was accurate. Despite all the added power and torque, together with the heavier crank, the F3 800 changes direction as easily as a 600 on the track. In fact, the bike feels lighter than the claimed 381 pounds likely as a result of the counter-rotating crank shaft uniquely employed by MV in its production machine. Very impressive stuff!
Together with the nimble handling, the F3 800 delivers big power in a smooth, linear fashion. Our test rider is used to highly tuned race 600s, and he felt peak power was similar from the stock F3, while torque represented a substantial increase over the supersport class machines.
Three cylinder engines can combine some of the best traits from both twins and in-line fours, and the F3 800 is no exception. We were able to exit corners a gear higher than peaky 600s, and drive hard through a broad powerband straight through to the 13,000 rpm power peak. A very flexible motor that is deceptive in its smoothness and linearity, but very quick.
Back to the subject of handling. The F3 800 feels extremely light and agile, allowing you to put it anywhere you like on the track, but at the same time offers excellent stability. It also allows you to hold the line you select through bumpy corners.
The brakes provide exceptional power and feel, on par with well set-up race brakes. Suspension is firm and damped well for track use, feeling well-balanced front-to-rear.
MV Agusta seems to have cured any problems with abrupt throttle response found on some of its earlier models. Using the custom mapping feature, we were able to dial in a very smooth, progressive power delivery coming out of corners at a large lean angle. Exactly what you need from a race bike or a track day weapon.
After becoming comfortable on the bike, Tommy turned off the traction control and played with some big power slides coming out of slower corners … reporting that the throttle and engine response made these maneuvers easy to control, due to their predictable nature.
The electronically controlled speed shifter worked well even though the ignition cuts seemed a bit longer than necessary. We had no problems with the transmission while shifting either up or down. With the Custom map feature, we were able to reduce engine braking to provide more control, and maintain rear wheel traction, during aggressive corner entries. This is a very useful feature for the track.
After making some minor suspension adjustments, tire pressure adjustments and tuning the Custom map, it was hard to fault the performance of the MV Agusta F3 800 on a race track. This is probably the best bone stock, street legal bike we have yet tested on a race track.
Criticisms are few and minor. The footpegs are a bit slippery, and the wind screen offers a blurry view when tucked in tight at the track.
MV Agusta is a relatively small manufacturer, for sure, with only 212 employees. Its bike line-up has expanded rapidly, however, from 3 models in 2010 to 14 models for 2014. MV sales have grown 130% during the same period, despite a significant reduction in the total, relevant motorcycle market these past few years.
Source Motorcycle Daily