Make Model

MV Agusta F4RC

Year

2015 - 16

Production
250 Units

Engine

Four stroke, transverse four cylinder. DOHC, 4 radial valves per cylinder

Capacity

998 cc / 60.9 cu-in

Bore x Stroke

79 x 50.9 mm

Compression Ratio

13.4:1

Cooling System
Cooling with separated liquid and oil radiators
Lubrication
Wet sump

Engine Management

Integrated ignition - injection system MVICS (Motor & Vehicle Integrated Control System) with eight injectors (4 lower fuel injectors by Mikuni + 4 upper fuel injectors by Magneti Marelli with
increased fuel flow). Engine control unit Eldor EM2.0, throttle body full drive by wire Mikuni, pencil-coil with ion-sensing technology, control of detonation and misfire - Torque control with four maps, Traction Control with eight levels of intervention with lean angle sensor - TSS Torque Shift System employing variable length intake runners

Electronically

Assisted Shift - TSS Torque Shift System employing variable length intake runners

Alternator
350 W at 5000 r.p.m.
Battery
Li-po 12.8 V - 4.0 Ah

Starting

Electric

Max Power cranckshaft

158.0 kW / 212 hp @ 13600 rpm

Max Power

151.0 kW / 205 hp @ 13450 rpm

Max Torque

115.0 Nm / 11.7 kgm @ 9300 rpm

Clutch

Wet, multi-disc with back torque limiting device and Brembo radial pump/lever assembly

Electronic quick-shift
MV EAS 2.0 (Electronically Assisted Shift)

Transmission

Cassette style; six speed, constant mesh

Final Drive
Chain

Primary Drive

48/82

Gear Ratio

1st Speed 14/37
2nd Speed 16/33
3rd Speed 18/31
4th: Speed 20/30
5th peed 22/29
6th Speed 21/25

Final Drive Ratio

15/41

Frame

Type CrMo Steel tubular trellis Rear swing arm pivot plates material is Aluminium alloy

Steering damper
Öhlins linear telescopic, manual adjustment

Front Suspension

43 mm (1.69 in.) Öhlins USD front fork, NIX 30 type with TIN coating on inner tubes, left compression and right rebound manual adjustment, top out spring.

Front Wheel Travel
124 mm / 4.72 in

Rear Suspension

Öhlins progressive, TTX36 twin tube rear shock absorber with piggyback resevoir, compression and rebound adjusted with anodized aluminium
adjustment knobs Single sided swing arm material Aluminium alloy

Rear Wheel Travel
120 mm / 4.72 in

Front Brakes

2x floating 320mm discs and aluminium flange, Front brake caliper Brembo radial-type, single-piece with 4 pistons Ø 34 mm (Ø 1.34 in.)

Rear Brakes

Single 210mm disc Nissin with 4 pistons caliper

ABS
Bosch 9 Plus with Race Mode and RLM
(Rear wheel Lift-up Mitigation)

Rim Front

Aluminium alloy 3,50 in x 17 in

Rim Rear

Aluminium alloy 6,00 in x 17 in

Front Tyre

120/70 ZR17 M/C (58 W)

Rear Tyre

200/55 ZR17 M/C (78 W)

Material
Carbon fiber and thermoplastic

Dimensions

Length 2115 mm / 83.3 in
Width 750 mm / 29.5 in

Wheelbase

1430 mm / 56.2 in

Seat Height

830 mm / 2.6 in

Ground Clearance
115 mm / 4.7 in

Dry Weight

175 kg / 385.8 lbs

Dry Weight Street Version
183 kg / 403.4 lbs

Fuel Capacity

17 Litres / 4.4 US gal

Exclusive Features
Light crankshaft - Cylinder head with new intake ducts - Magnesium engine covers.
Light pistons and rods - Titanium bolts, screws and fasteners - Limited Edition
All this, and much more, swathed in the seductive, streamlined carbon fibre fairing of the most powerful, fastest and hardest-hitting F4 ever built. Built to race. To weave around Superbike racetracks. And ignite the dreams of even the most demanding enthusiasts.
RC, Reparto Corse: every detail, even where of no apparent significance, has been conceived, designed and built with the sole purpose of providing maximum race competitiveness. And, therefore, maximum road riding pleasure.
The new F4 RC is the sharp end of a project that began with the first incredible F4. The model that put MV Agusta back in the spotlight, changing the sports bike concept forever. Acclaimed, coveted and loved by motorcyclists the world over.
A flawless blend of style and substance, this bike has gone from strength to strength while remaining ever-faithful to the panache and technology that make it so unique.
The culmination of that development is the F4 RC. Produced in a limited edition of just 250 bikes, each F4 RC comes complete with a certificate of authenticity and a comprehensive special components kit that provides an awesome power peak of 212 hp at 13,600 rpm.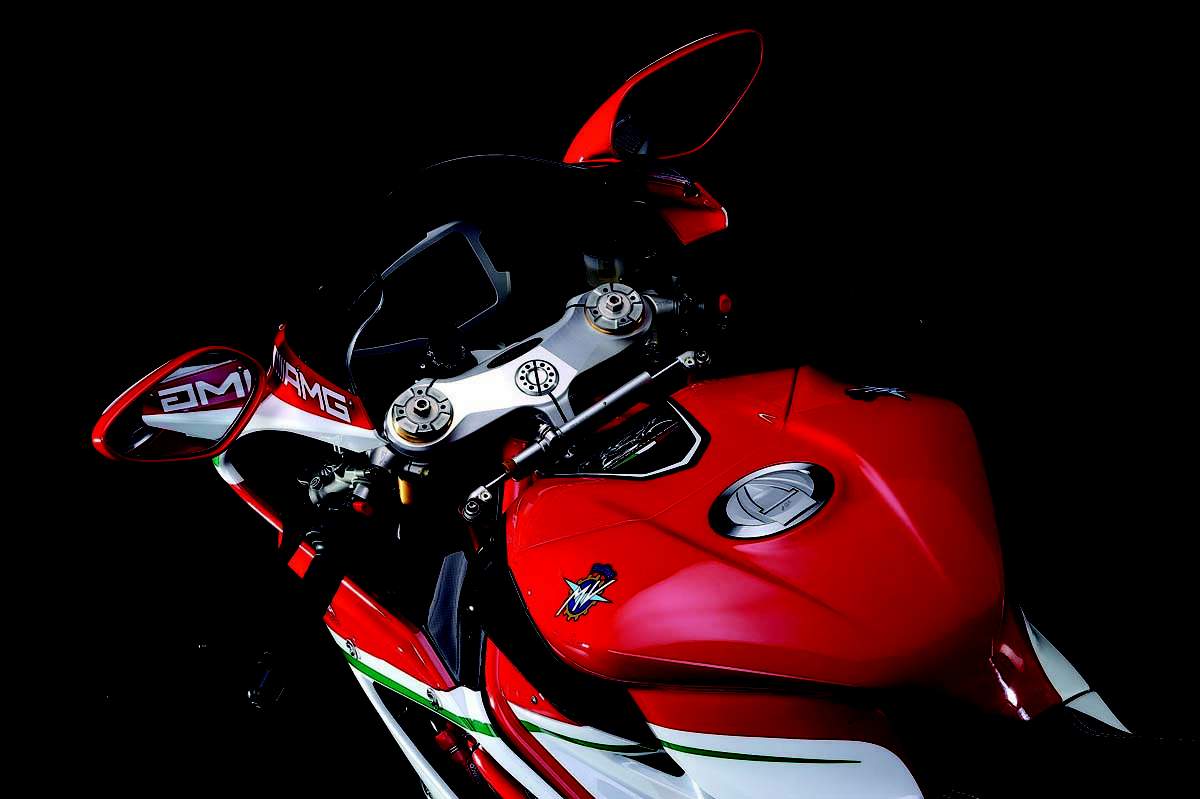 At the same time, this version, which joins the standard and RR line-up, is gearing up for success in the 2015 Superbike World Championship. Just approved race regulations, in fact, drastically limit the modifications that can be made to production models. Consequently, to have a bike that will be extremely competitive right from the first world championship race, technical specifications need to be defined with near-manic attention to detail.
Exclusiveness is one of the distinguishing traits of the F4 RC. A bike that is unique at first glance, thanks also to a great choice of graphics and an eye-catching colour scheme that immediately marks it out as a thoroughbred. The striking livery - evidently designed for the racetrack - features an attentiongrabbing combination of colour and trim that emphasises the bike's instantly recognisable lines and exceptional technical components. And those who want a colour scheme identical to that used on the bikes competing in the Superbike World Championship need only choose their own personal race number on the front and lower fairing. Performance and lightness: the pursuit of these goals has been boundless, with work being carried out on every component in every possible area.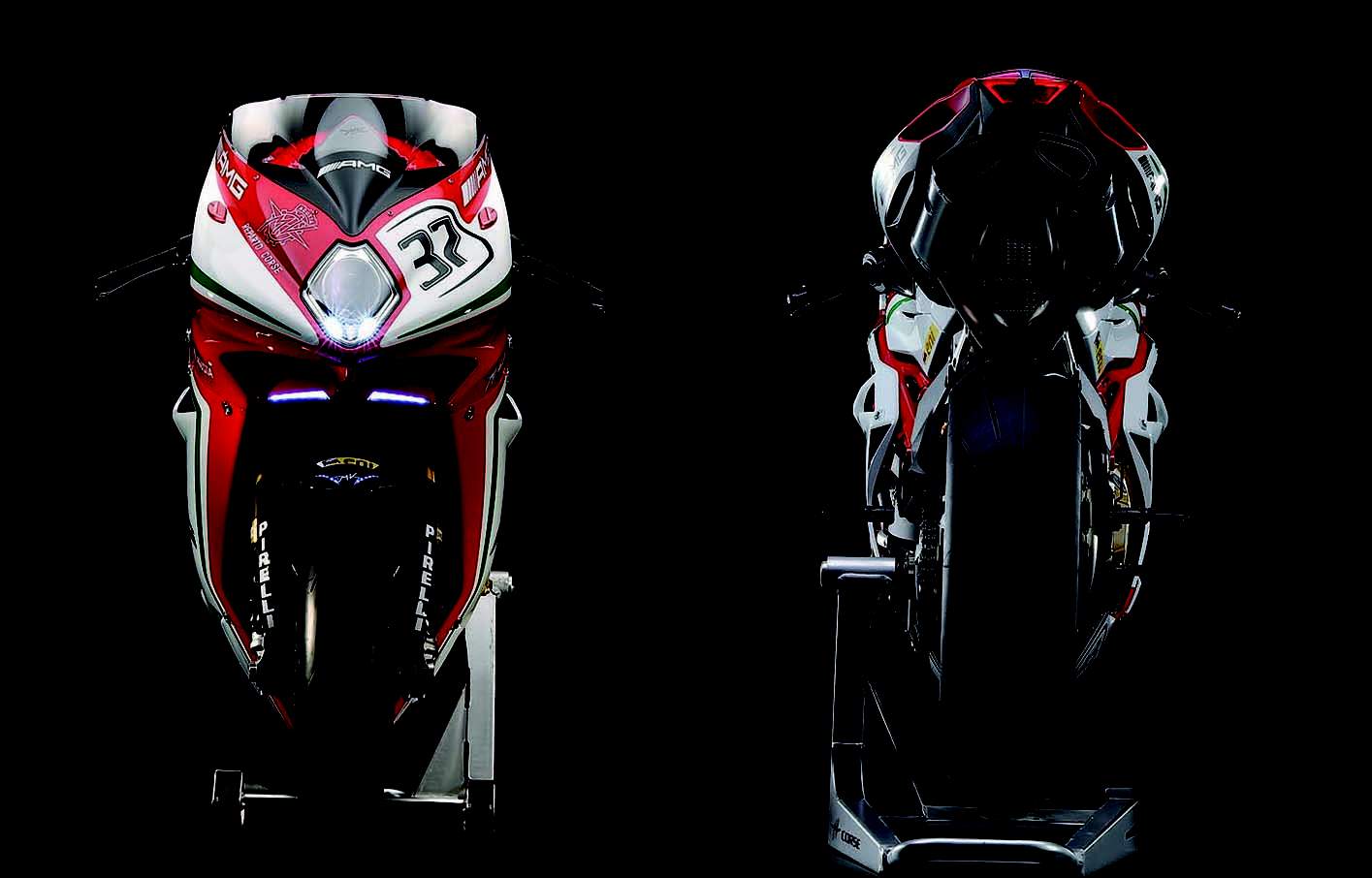 ENGINE

The 4-cylinder Corsa Corta engine with central timing chain and radial valves has undergone a series of modifications aimed at reducing the already-low overall weight and boosting performance. This compact power unit is characterised by a 79 mm bore and a 50.9 mm stroke. Hand-assembled to ensure optimisation of all components and maximum uniformity among the 250 F4 RC bikes that will be coming off the production line, each motorcycle features radial valves, a technical tradition that began with the very first F4 engine. Those same valves, both intake and exhaust, are each moved by a spring to reduce total moving masses and make it easier to achieve the extremely high RC-standard engine revs. Already redesigned for the most recent F4 version, the lubrication circuit ensures outstanding reliability whatever the riding conditions, even in the most demanding situations so typical of racing. In order to further reduce weight, MV Agusta has employed a series of components in magnesium alloy, a material used, most importantly, for the cylinder head cover yet also on the clutch, chain, removable gearboxselector, labyrinth blow-by, alternator, ABS pick up sump and lubricating filter and oil duct support flange covers. All-titanium bolts and screws, which have saved 1.1 kg, sharpen the personality of the F4 RC further, giving the technical content a decidedly racing flavour. And, as you'd expect from a real Superbike, the quest to lighten the machine has gone much further: pistons, rods, and crankshaft have all been designed to be as light as possible.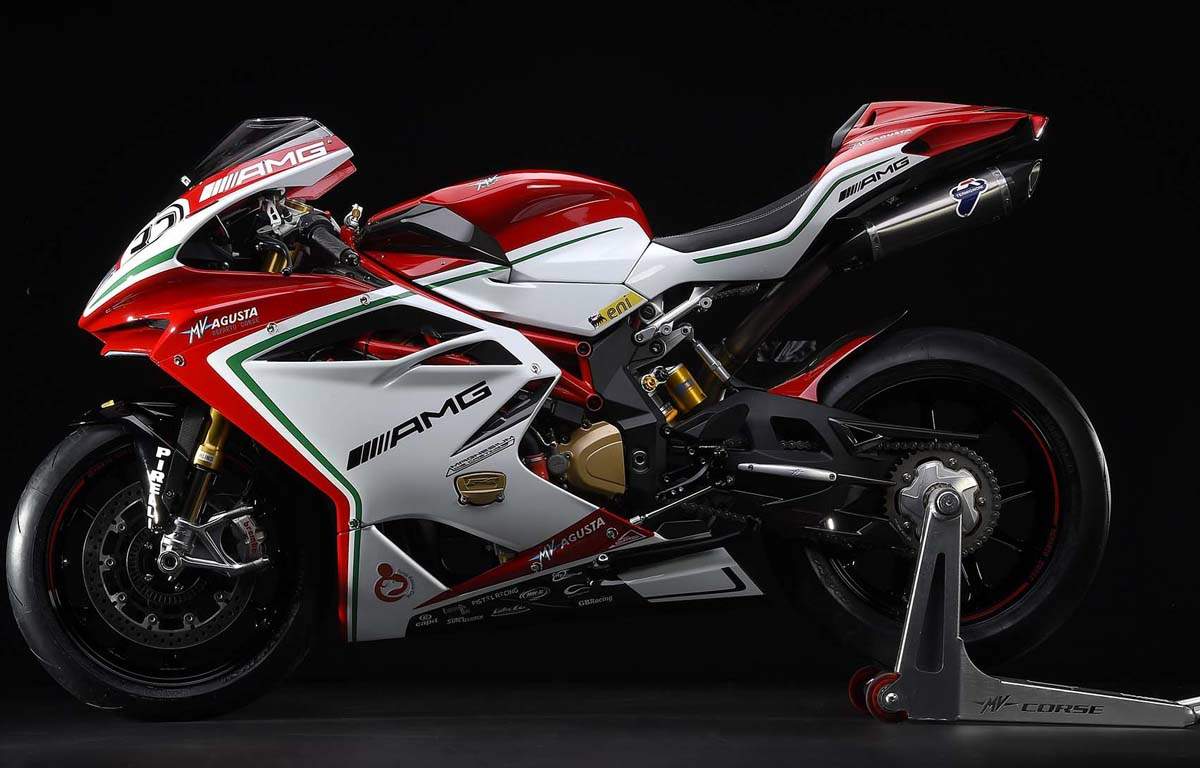 Meticulous work has been carried out on all internal steel parts, including numerous gear components and, of course, the camshafts, all of which have been given a thorough overhaul using sophisticated machining tools to remove, quite literally, every redundant gram.
The head features new intake and exhaust ducts that, together with all the other changes, have increased maximum power further to 205 hp at 13,450 rpm (212 hp on the kit version with exhaust system and dedicated control unit) against a torque of 115 Nm at 9300 rpm. As stated, the intake has been modified by designing new ducts. The 50 mm throttle bodies have been integrated in the TSS variable-length intake system. The injectors are arranged on two banks: the upper one uses specific Magneti Marelli components that offer high performance in terms of fuel delivery; the lower bank instead features 4 Mikuni injectors. To maximise efficiency, silicone cooling circuit hoses have been employed.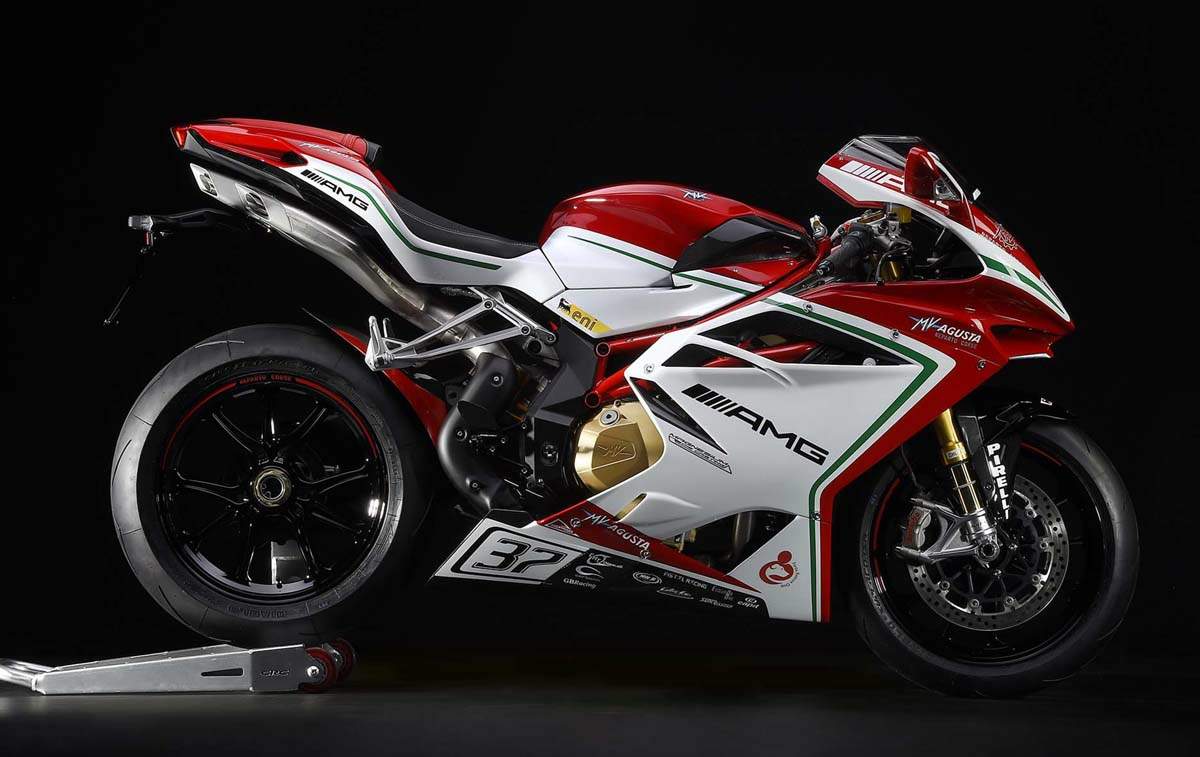 ELECTRONICS

Electronic support is both complete and effective thanks to MVICS 2.0 (Motor & Vehicle Integrated Control System) technology, specifically developed by MV Agusta for all its models. The ELDOR electronic control unit manages the complete Ride-By-Wire system (with redundant circuits) and the 4 engine maps. There is also plenty of scope for parameter adjustment.

- throttle sensitivity
- maximum torque
- engine braking
- engine response
- rev limiter

The inertial platform with lean angle sensor uses three gyroscopes and three accelerometers, plus the ABS pick up ring, to gather all the data, which is then algorithm-processed to determine required traction control (which has an 8-level setting range and can also be disabled). The EAS 2.0 (Electronically Assisted Shift) system allows clutchless gear changes, speeding up shifts significantly and resulting in shorter lap times.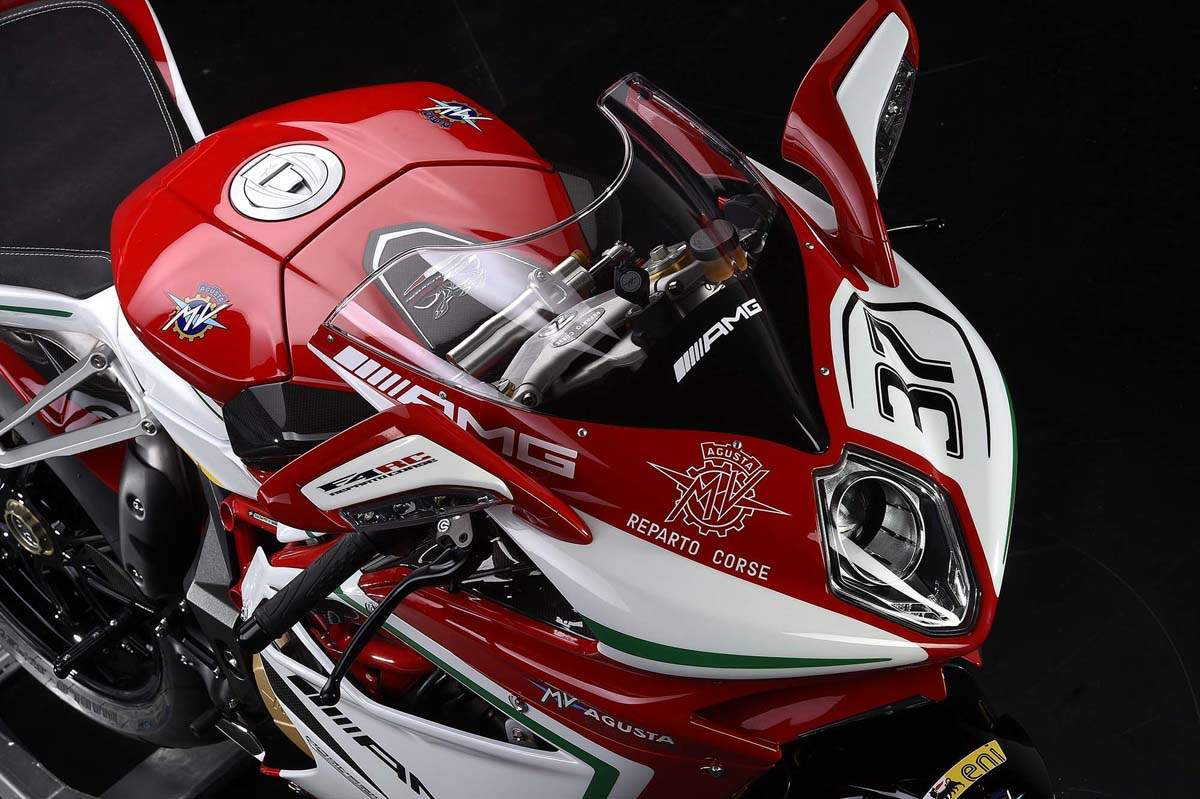 FRAME AND SUSPENSION

Throughout the history of the F4, the frame has played a vital role: devised to combine the advantages of different design solutions, its success gradually saw it extended to the entire MV Agusta range. On the F4 RC the CrMo tubular steel trellis frame is TIG-welded by hand; the lower part is finished off with aluminium alloy plates on which a seat has been machined to insert the singleside swingarm pin, the fulcrum of which can be height-adjusted. Compared to the F4 RR, basic measurements remain unaltered: 1,430 mm wheelbase, steering head angle (23.5°) and single-sided swingarm length (565 mm).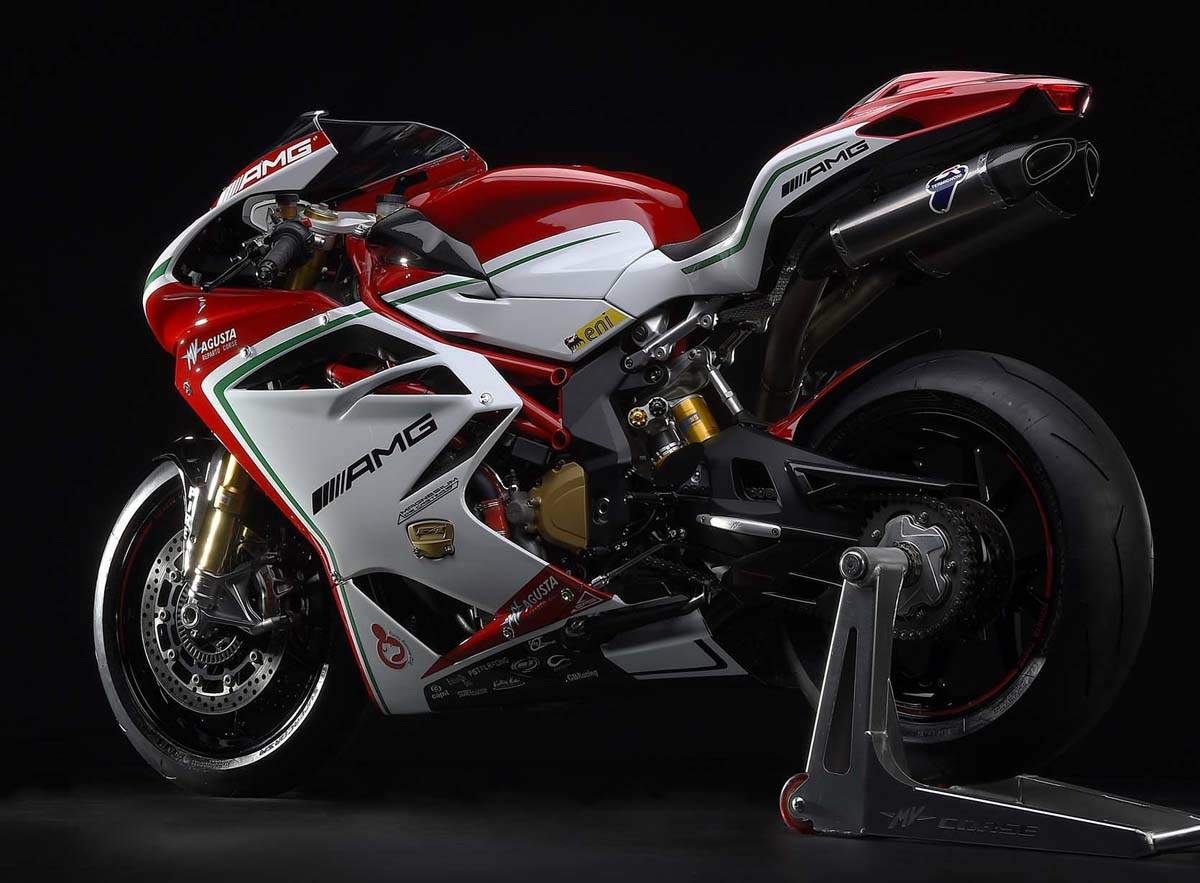 The choice of suspension set-up shows the extent to which the F4 RC has been inspired by racing - and built to race. Fork, rear shock and steering damper are, in fact, mechanical instead of electronic : more detail is , the front fork is a TiN-coated Ohlins USD NIX 30 with separate hydraulic adjustment of compression (left stanchion) and rebound (right stanchion), plus spring pre-load adjustment. At the rear there is an Ohlins TTX 36 shock absorber with piggyback reservoir: manual compression/rebound adjustment is effected via the anodised aluminium knobs. Similarly, the steering damper, also made by Ohlins, can be mechanically adjusted too. Thanks to the absence of the control unit and actuators needed on electronically controlled suspension, the weight of the F4 RC has been reduced even further.
The unique components of this version are further highlighted by widespread adoption of carbon fibre on the side panels, lower fairing, rear mudguard and front mudguard spoiler, upper and lower chain guard, the upper airbox section and the left and right intake covers.
Made of forged aluminium alloy, the wheels have been designed and built exclusively for this model. Even the battery - a light lithium (Li-Po) 12.8 V 4 Ah unit - is model-specific. Foot controls are also new: peg positions are adjustable and the shift lever features a sensor for fast gear changes.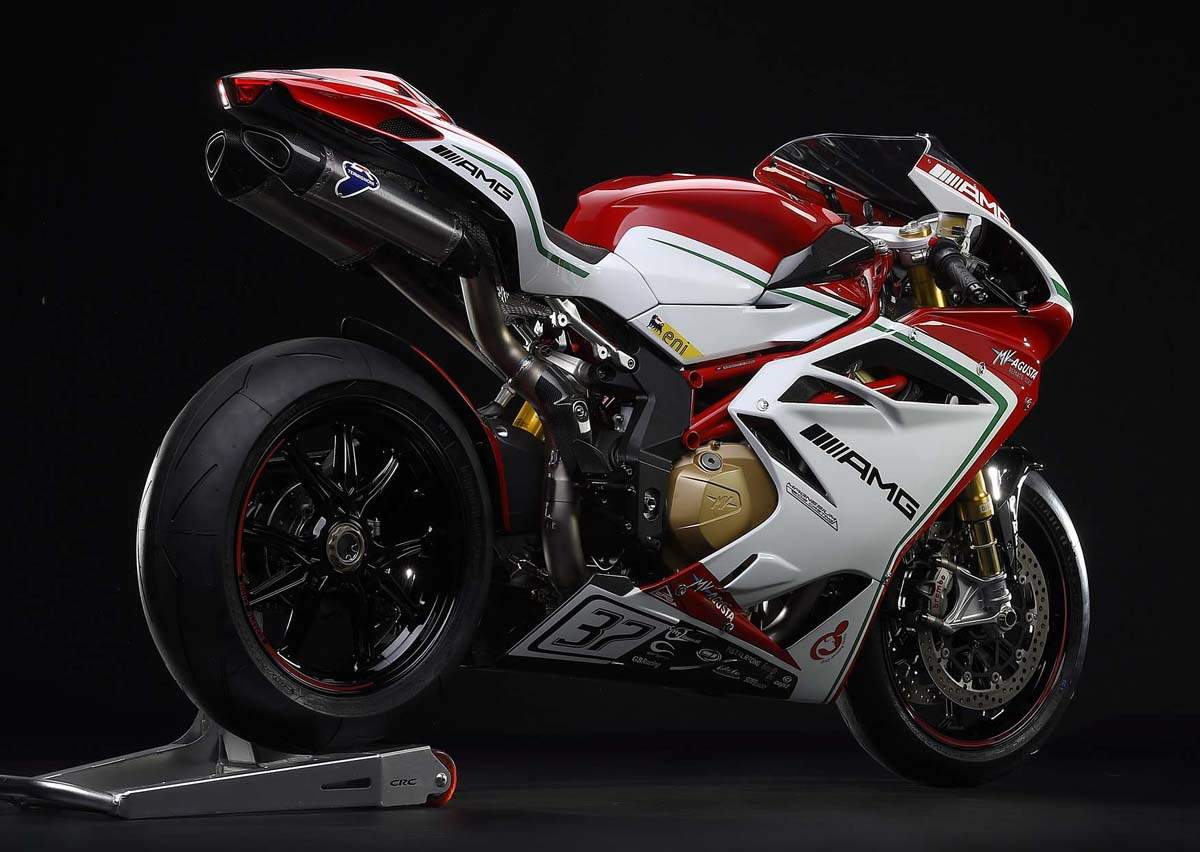 BRAKES

The braking system confirms the degree of excellence seen on the F4 RR: a pair of 320 mm front discs with steel braking rotors and monobloc Brembo M50 callipers with dedicated radial pump provide unbeatable performance, weight and stiffness.
At the rear a 4-piston calliper and 210 mm disc are mounted.
WEIGHT AND KIT

To see just how exclusive the new F4 RC is, just take a look at the figures: to start with, it weighs a full 7 kg less than the F4 RR. And that's not all: the price includes a complete track riding kit which cuts weight by another 6 kg, pushing total weight savings up to an impressive 13 kg. With the assembly of specific components, such as the titanium Termignoni exhaust system with dedicated control unit, the bike reaches an exceptionally high maximum power of 212 hp at 13600 rpm.

The kit includes:

- Termignoni exhaust system in titanium, with carbon fibre heat guard;
- dedicated control unit;
- carbon fibre rear seat cowl for single-seater use;
- quick-release tank cap;
- red anodized Ergal plugs to be applied after removal of rear view mirrors;
- certification demonstrating that each motorcycle belongs to a limited edition of just 250 units
- personalised motorcycle cover
COLOR AND PRICE

The new F4 RC is limited to 250 units and each is numbered and supplied with a certificate, the bike includes a "ready to race" component kit with everything needed to configure the bike to be used exclusively on race circuits.

F4 RC

- WITH ABS BOSCH 9 PLUS RACE
- RLM (REAR WHEEL LIFT-UP MITIGATION)
- EAS 2.0
http://www.mvagusta.com/en/motorcycles/f4-rc/
Source MV Agusta