MV Agusta F4RR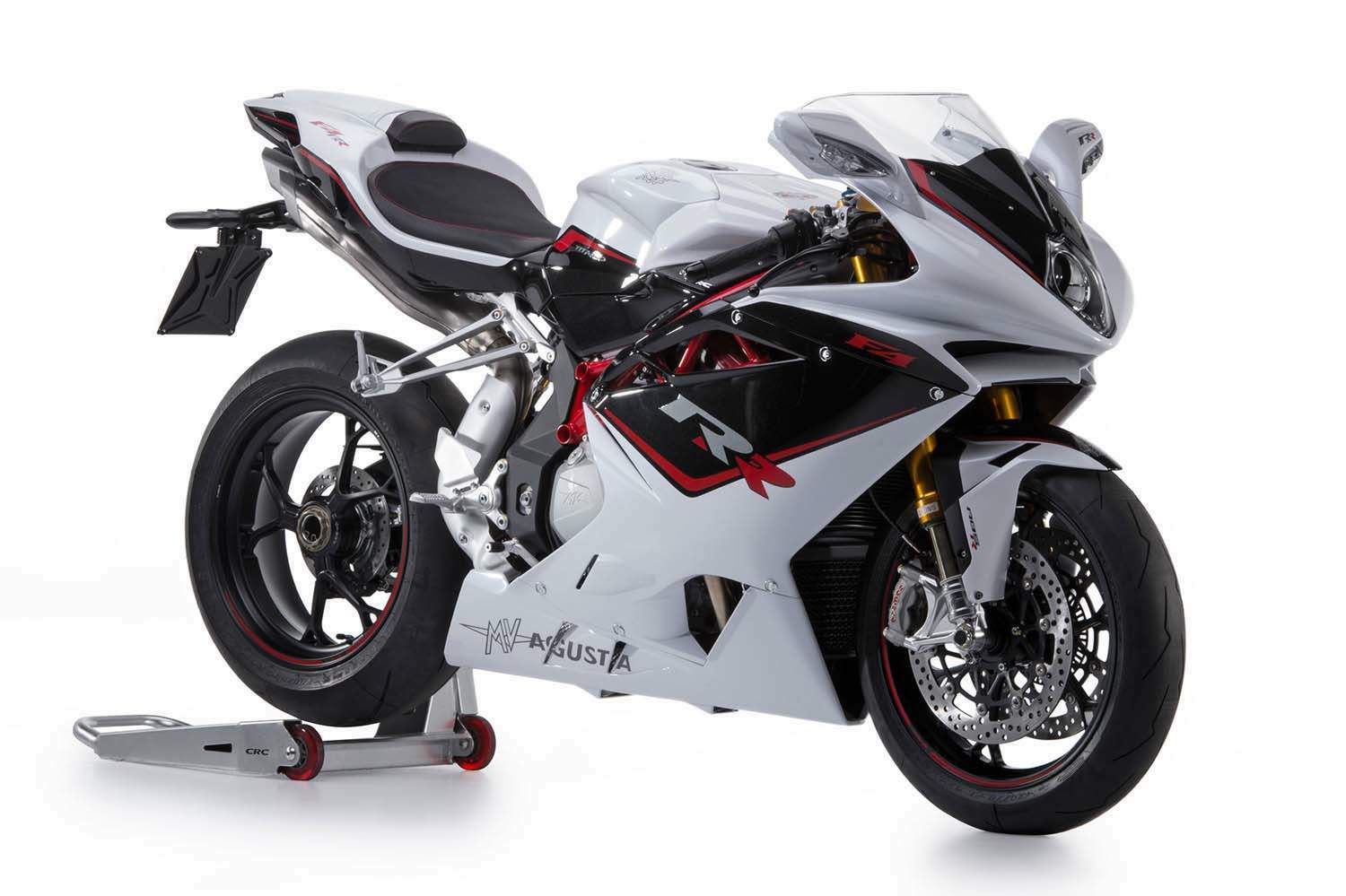 Make Model

MV Agusta F4RR

Year

2016

Engine

Four stroke, transverse four cylinder. DOHC, 4 radial valves per cylinder

Capacity

998 cc / 60.9 cu-in

Bore x Stroke

76 x 55 mm

Compression Ratio

13.4:1

Cooling System
Liquid cooled,
Lubrication
Wet sump

Engine Management

Integrated ignition - injection system MVICS (Motor & Vehicle Integrated Control System) with eight injectors Engine control unit Eldor EM2.0, throttle body full drive by wire Mikuni, pencil-coil with ion-sensing technology, control of detonation and misfire, Torque control with four maps, Traction Control with eight levels of intervention with lean angle sensor, EAS

Electronically

Assisted Shift - TSS Torque Shift System employing variable length intake runners

Alternator
350 W @ 5000 r.p.m.
Battery
12 V - 8.6 Ah

Starting

Eelectric

Max Power

143.5 kW / 195 hp @ 13400 rpm

Max Torque

110.8 Nm / 11.3 kgm @ 9600 rpm

Clutch

Wet, multi-disc with back torque limiting device

Transmission

Cassette styl 6 Speed

Final Drive
Chain

Primary Drive

48/82

Gear Ratio

1st: Speed 14/37 2nd : Speed 16/33 3rd Speed 18/31 4th Speed 20/30 5th Speed 22/29 6th Speed 21/25

Final Drive Ratio

15/41

Frame

Type CrMo Steel tubular trellis Rear swing arm pivot plates material Aluminium alloy

Front Suspension

43mm Öhlins EC Nix hydraulic "UPSIDE DOWN" front forks with TiN superficial treatment. Completely adjustable electronically controlled compression and rebound damping with manual, spring preload

Front Wheel Travel
120 mm / 4.72 in

Rear Suspension

Progressive, single shock absorber Öhlins TTX. Fully adjustable hydraulic electronically controlled compression and rebound damping with manual, spring preload Single sided swing arm material Aluminium alloy

Rear Wheel Ttavel
120 mm / 4.72 in

Front Brakes

2x 320mm floating discs and aluminium flange, Brembo radial-type, single-piece with 4 pistons calippers

Rear Brakes

Single 210mm disc Nissin with 4 pistons caliper

Rim Front

Aluminium alloy 3,50 in x 17 in

Rim Rear

Aluminium alloy 6,00 in x 17 in

Front Tyre

120/70 ZR17

Rear Tyre

200/55 ZR17

Trail

100,4 mm / 3.93 in.

Dimensions

Length 2115 mm / 83.3 in
Width 750 mm / 29.5 in

Wheelbase

1430 mm / 56.2 in

Seat Height

830 mm / 2.6 in

Ground Clearance
115 mm / 4.7 in

Dry-Weight

190 Kg / 418.9 lb

Fuel Capacity

17 Litres / 4.4 US gal.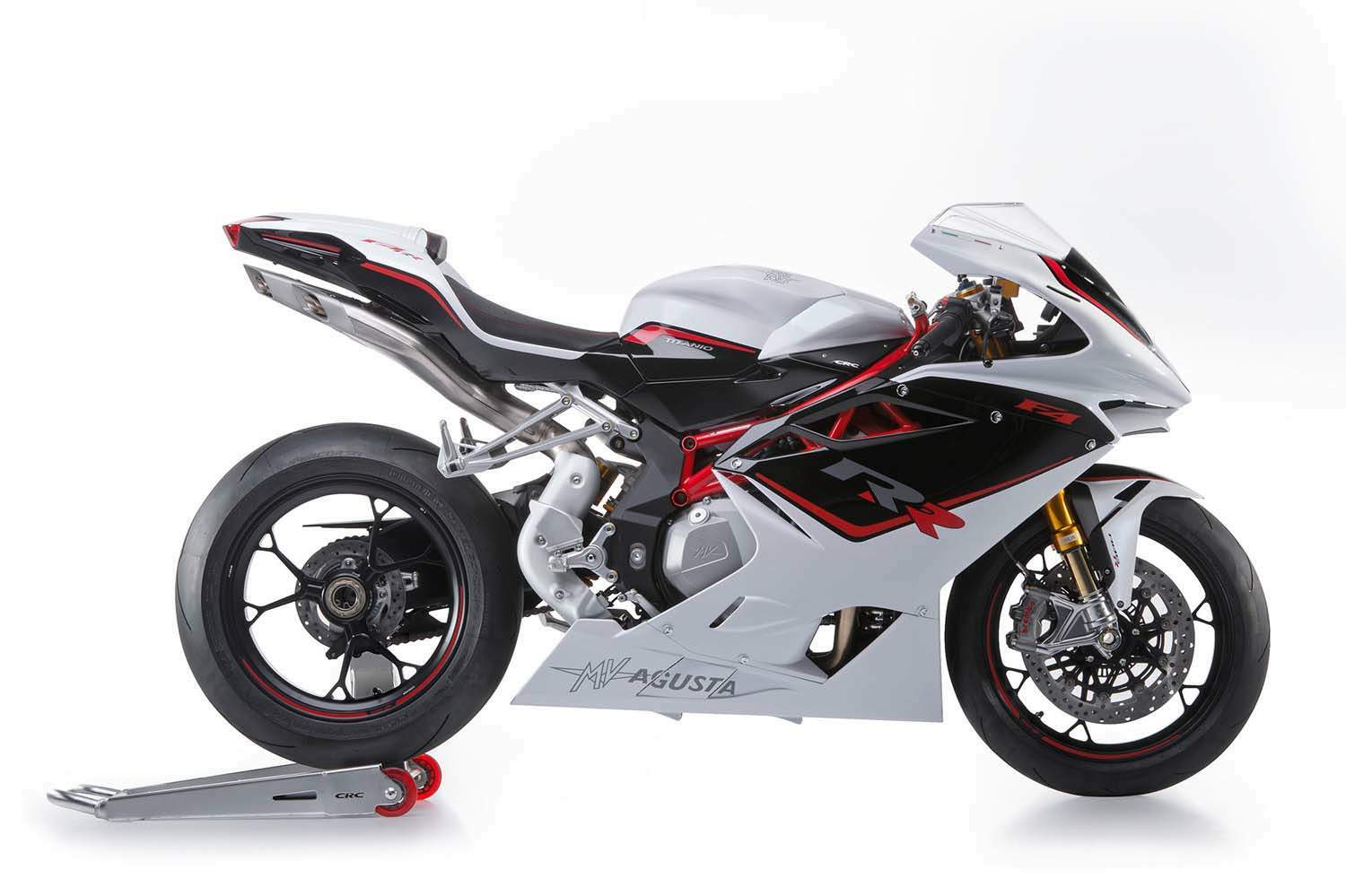 THE MV AGUSTA F4. Breaking down the barriers of imagination. Encompassing cutting-edge technology and the latest engine design, the F4 is the best yet. A masterpiece. The top-of-the-range F4 RR contains unparalleled engineering solutions and thoroughbred excellence, ensuring total bike control and heart-stopping performance: an inertial control platform with lean angle sensor, a redefined riding position, full Ride-By-Wire, Öhlins electronic suspension and steering damper as well as GP-spec titanium con rods. All with completely new graphics and colors.

F4 RR, unlimited performance.

201 horse power, lean angle sensor, electronically adjustable Öhlins suspension, designed for maximum customization, with perfect engine map integration. Electronic steering damper. Ride-By-Wire system for controlling engine power and torque characteristics on all road surfaces and at all speeds. Handwelded frame. The F4 RR is beyond anything imaginable. Lighter, faster... Extreme in every sense, racing in every detail.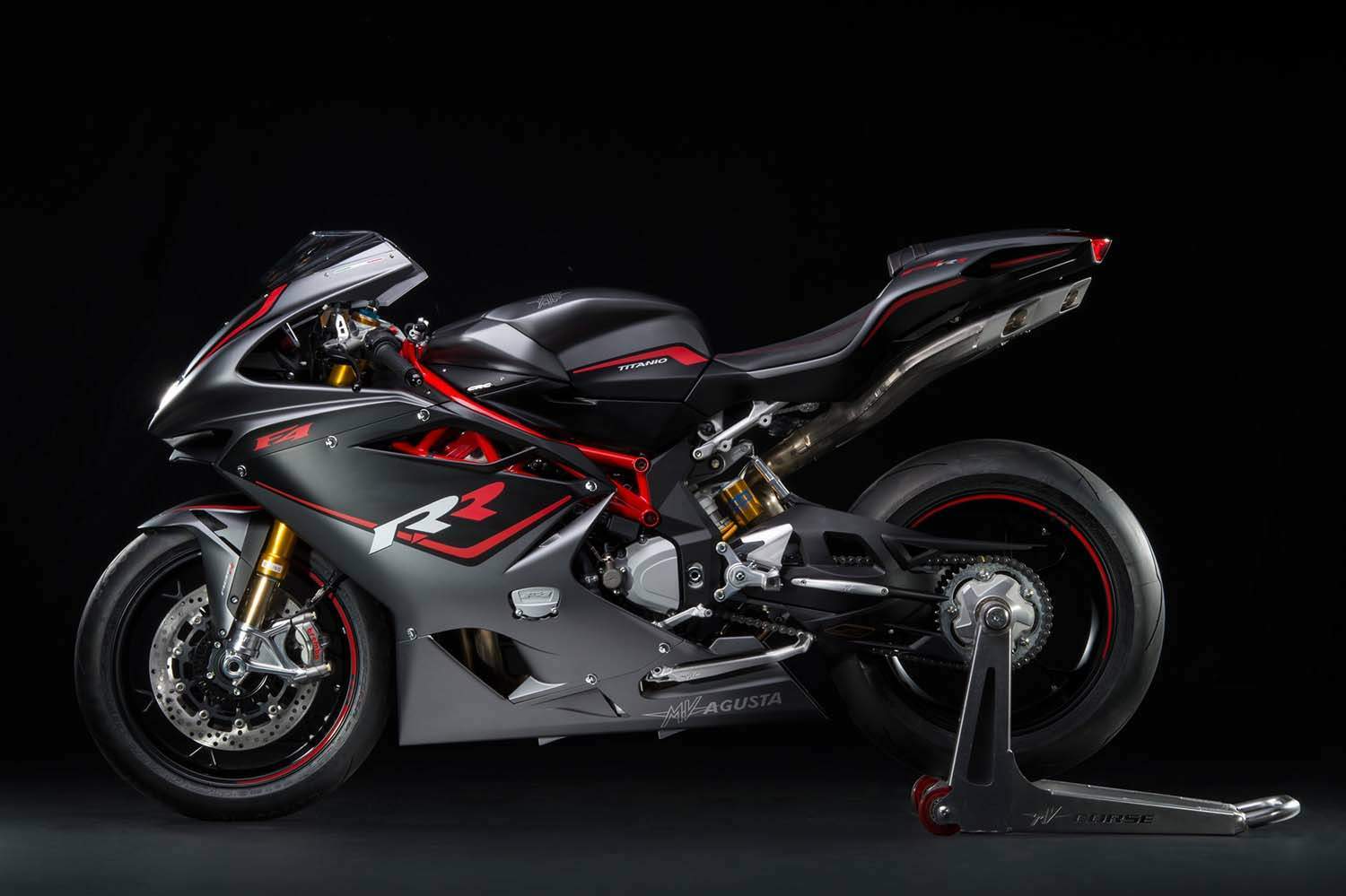 Features

Designed for the track and for those who love racing around tight curves. Thanks to its Superbike electronics, Race mode ABS incorporating RLM strategy (anti-rear wheel lift) and the most powerful engine in the history of MV Agusta this model is second to none in performance. Lighter and faster than ever, for unrivalled riding emotions.

Maximum performance: an objective that was reached by further refining the prodigious in-line four-cylinder engine with a central cam drive. Inside, each component has been weighed, revised and improved: the F4 RR is equipped with unrivalled titanium connecting rods which provide for exceptional strength and a record-setting weight permitting a 14.000 RPM rev limit. The crankshaft weight and inertia has been reduced as well as rebalanced in order to enhance the engine's power and torque characteristics.

700 grams: the forged wheels allow for a significant weight and inertia reduction, precisely where it's needed. The result? Increased agility when entering curves and changing directions, thus providing for an improved riding experience and performance, especially under the keen eye of the stopwatch. Made from aluminium alloy, the F4 RR wheels are forged using a process that guarantees an optimal strength to weight ratio. What's more, they have extremely thin spokes that are doubled at the ends, thus combining cuttingedge design with absolute lightness.

The front end of the F4 RR is a technological masterpiece: the pair of 320 mm diameter discs are complemented by the most highly advanced Brembo radial callipers available. Made of aluminium, the M50 monoblock is the result of experience obtained under extreme racing conditions. Thanks to the TiN surface treatment of the legs, the Öhlins fork slides superbly. The regulation is managed via a special control software which allows for the most appropriate response to be obtained in relation to the most widely-varied conditions.

Engine

An advanced four-cylinder 'short-stroke' engine powers the entire F4 range. Piston diameters of 79 mm are combined with a stroke of 50.9 mm. On the F4 RR the peak rev limit has been raised to 14,000 rpm. Assembly is now marked by an even greater degree of expert craftsmanship to give absolute precision, with all components being selected and measured to ensure perfect uniformity and maximum performance: a procedure unique to MV Agusta. The engine timing system has been given an extensive upgrade: the intake and exhaust valves now use a single spring instead of the two seen on the previous model, thus reducing moving mass and boosting both maximum engine revs and the rev variation rate. The piston blanks are hard-anodized, making them even more durable and reliable. The con rods on the F4 RR are made of titanium, a solution more akin to a GP racer than a production machine, giving improved strength and lightness; the engine also features a rebalanced crankshaft. The oil circuit has been redesigned, both inside and outside the crankcase, ensuring perfect main bearing and con rod lubrication and thus boosting reliability, even under extreme conditions. Moreover, the engine now runs at lower temperatures thanks to enhanced radiator efficiency and redesigned oil routing. The short-stroke inline four-cylinder engine is available in two power configurations: on the F4 it reaches 195 hp, while the F4 RR puts out a jaw-dropping 200.8 hp. The fuel delivery system features 50 mm diameter throttle bodies with a fully revised variable length intake tract (TSS). The gearbox is - as on all MV Agusta four-cylinder engines - a six-speed unit, with the clutch featuring a mechanical slipper device. Four engine maps are available: three default one plus a fourth that can be customized by the rider.

Design

The personality of the F4 has now been sharpened even further by combining a design solutions with distinctive features that have already seen the F4 walk away with countless best-looking-bike awards. Now details boost its appeal even further, this time with light playing a key role in the choice of new graphics and color and, of course, in headlight and tail light design. The front headlight is flanked by two distinctive 'light guides' on the leading edge of the spoiler, thus making an aerodynamic part essential to the bike's frontal look, both day and night, and boosting safety by improving frontal visibility. Similarly, an integrated light guide increases the brightness of the rear light assembly. Completely wheel designs offering considerable weight reduction are available in two versions. The first, on the F4, utilizes razor thin spokes and a silver finish. The second, on the F4 R cuts weight and material thickness even further thanks to a special aluminium alloy forging process and offers attention-grabbing race-inspired design. There has also been a significant upgrade to the four-tailpipe exhaust system, a characteristic feature of the F4 ever since its inception. The two outer pipes are now much shorter and tapered, while the central pair extends beyond the end of the tailpiece. Making the F4 even racier - and lighter - than ever.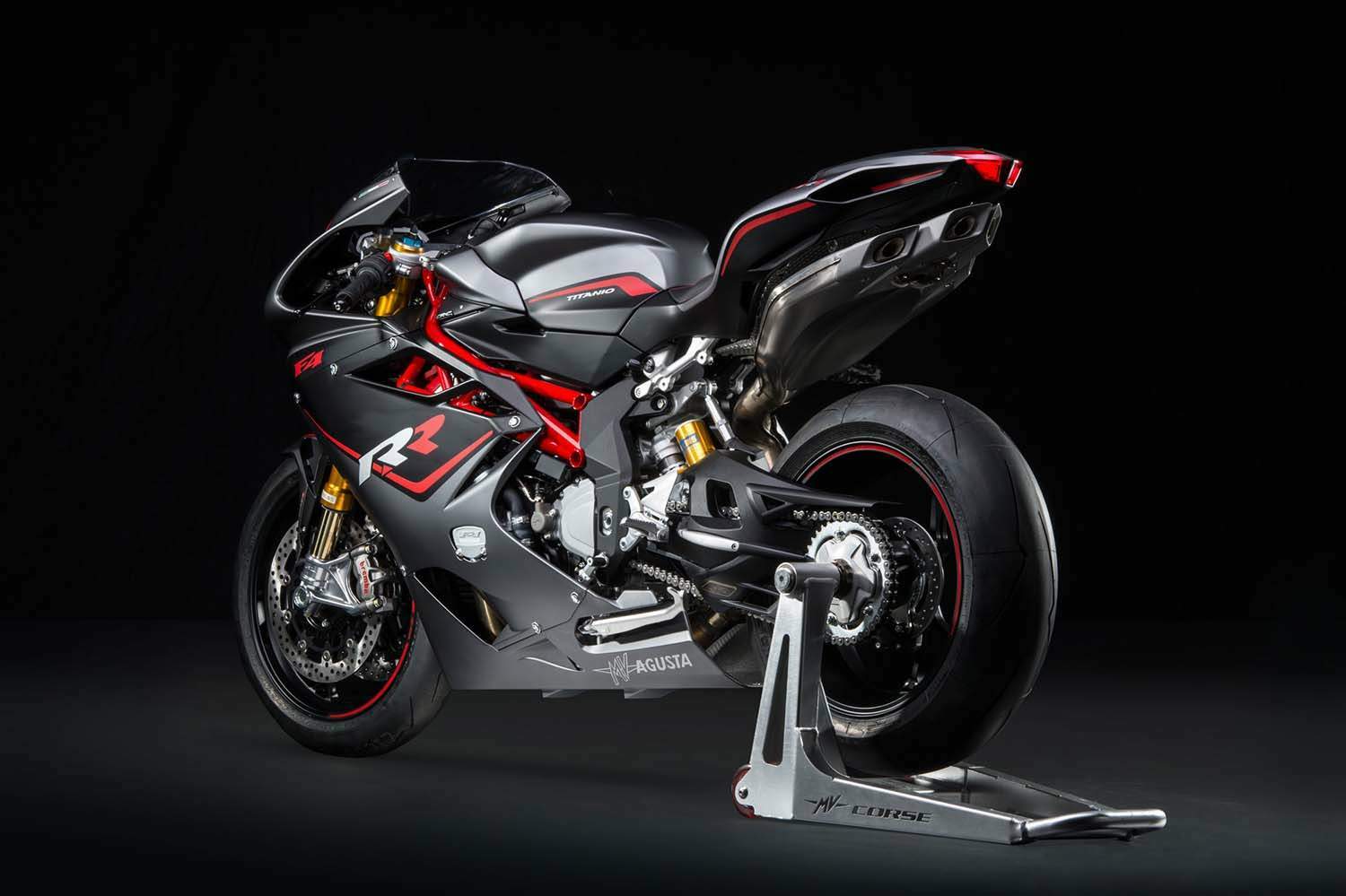 Electronics

The MVICS (Motor & Vehicle Integrated Control System) platform integrated on the F4 ensures precision control of multiple engine maps and rider assistance devices such as traction control and EAS (Electronically Assisted Shift) ready (accessory). Electronic redundancy ensures maximum effectiveness and safety: data from the two potentiometers is cross-checked with analogue signals, while a third sensor confirms the complete throttle closure requirement; two additional sensors are installed on the throttle bodies. Developed specifically for F4 - is the inertial platform sensor set-up: this uses three gyroscopes and three accelerometers and provides the electronic control unit with an array of moment-by-moment info on vehicle dynamics. Consequently, traction control intervention is particularly accurate, thanks also to an encoder on the front wheel. This is a system that boosts both safety and performance, simplifying the entire riding experience, a key goal of the F4 project. The algorithms that define operation of the MVICS system continuously maximize the available torque at the rear wheel according to both road conditions and the rider's own demands while electronically assisted gear shift, shortens gear changing times. A further innovation is the Custom map, which lets you choose your own settings as an alternative to the default Normal, Sport and Rain options. This lets you customize five parameters (throttle sensitivity, torque, speed limiter, engine response and engine braking) so you can build up an engine control map that reflects your own individual riding style.

Frame and Suspension

The hallmark structure and geometry of the F4 remain unchanged. The frame consists of two distinctive elements, developed by MV Agusta to offer the advantages of two solutions that are usually proposed separately. The main section of the frame, in fact, is made of CrMo steel tubing: this joins to a pair of cast aluminium alloy plates to form a complete structure and provide a pivot point for the sculpted single-sided swingarm. Further frame optimization has reduced weight without sacrificing rigidity. The F4 RR is also hand-welded using TIG technology and uses a dedicated steel with exceptional mechanical properties. The three versions offer three distinct combinations of fork and shock, while all provide the traditional F4 handling strengths. The F4 features a 50 mm Marzocchi fork and Sachs monoshock, both fully adjustable. As you'd expect, the F4 RR offers up a concentrate of technological excellence and complete personalization: Öhlins suspension with electronic control lets the rider choose between different setups directly from the dashboard. A different suspension set-up is available for each of the four-cylinder engine maps; however, the rider can also adjust suspension independently of the maps. The system provides separate control for compression and rebound damping, while spring preload personalisation is manual. The electronic steering damper has both a manual and automatic setting, the latter varying its response according to vehicle speed.

Brakes

Offering state-of-the-art stopping power for the hypersports category, the F4 RR braking system features two 320 mm front discs with steel braking rotors, paired with the Brembo Monobloc M50 – (M4 for F4) the very best in terms of performance, weight and stiffness - and a dedicated radial pump. The system is completed by a four-piston rear caliper operating on a 210 mm disc.