MZ Baghira Enduro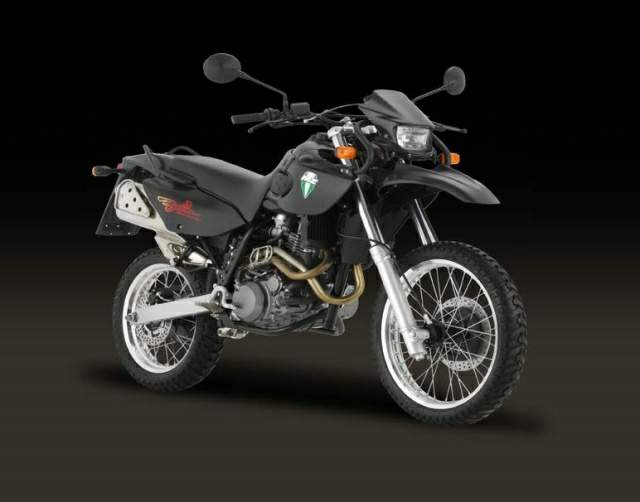 | | |
| --- | --- |
| Model | MZ Baghira Enduro |
| Year | 1999 |
| Engine | Liquid cooled, four stroke, single cylinder, SOHC, 5 valve per cylinder. |
| Capacity | 660 |
| Bore x Stroke | 100 x 84 mm |
| Compression Ratio | 9.2:1 |
| Induction | |
| Ignition / Starting | Electronic / electric |
| Max Power | 50 hp 36.4 kW @ 6500 rpm |
| Max Torque | 57 Nm @ 5250 rpm |
| Transmission / Drive | 5 Speed / chain |
| Front Suspension | Paioli 45mm telescopic fork, 280mm travel |
| Rear Suspension | White Power gas-suspension mono-shock |
| Front Brakes | Single 298mm disc 2 piston caliper |
| Rear Brakes | Single 245mm disc 1 piston caliper |
| Front Tyre | 90/90 -21 |
| Rear Tyre | 120/80 -18 |
| Dry Weight | 164 kg |
| Fuel Capacity | 12.5 Litres |
The Mastiff is basically the same bike as the Baghira off-road machine, with road wheels, tyres and brakes. The styling is more radical, with twin headlights enclosed in a tough wire cage, and a neat, short front mudguard. The 43cm (17in) wheels allow sticky sportsbike rubber to be fitted, and are better suited to road use. The Grimeca brakes are uprated too - the front brake has a larger 298mm (11.7in) floating disc, which gives much better stopping power. The suspension is the same spec as the Baghira - 45mm (1.7in) conventional front forks and a WP rear monoshock unit. As a budget introduction to the pleasures of supermotard riding, the Mastiff can be a good option. It is also available in a 24kW (33bhp) version for restricted license holders.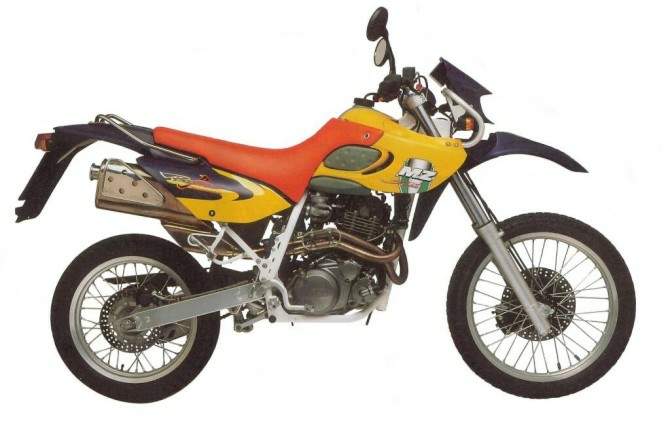 NO QUESTION, THE BUG-EYED MASTIFF IS VERY cool, but with its wide, 17-inch wheels and sticky low-profile rubber, it's best suited to terrorizing repli-racers in the canyons. Fun, in other words, but not terribly versatile.
If it's all-around ability you want, consider the dual-purpose Baghira. As MZs go, it's inexpensive, undercutting the Mastiff and the fully faired Skorpion Sport Cup by $200. Don't equate inexpensive with cheap, though: Top-shelf compo-nents-46mm Paioli fork, WP shock, Acerbis plastic and Grimeca brakes-are standard fare.
Except for more relaxed steering geometry and an inch-longer swingarm, the Baghira's steel frame mirrors the Mastiffs. Ditto the twin-piston front brake caliper, single-piston rear, one-piece seat, plastic tailpiece and goliath muffler. Tweaks include a smaller-diameter front brake rotor, motocross-style handlebar, an additional 3.5 inches of suspension travel both front and rear and narrower, larger-diameter wheels shod with dirt-capable Pirelli MT60s.
There are no surprises in the engine department. The Baghira (though spelled differently, the name comes from the black panther in Rudyard Kipling's classic, The Jungle Book) is powered by the same liquid-cooled, twin-carb, five-valve 660cc Yamaha Single that propels most MZs. The overall gear ratio is different, though, to compensate for the larger circumference of the 18-inch rear tire.
Swinging a leg over the tall seat takes some coordination-passengers may need a step-stool. Once aboard, even 6-foot riders will find themselves on tip-toes at stoplights.
In all fairness, though, the view from the saddle is spectacular. Only drivers of jacked-up 4x4s have a better take on traffic.
Off the pavement, the Baghira's potential is limited mostly by its mass, much of which is located high in the chassis. Full of fuel, the bike scales-in at 383 pounds, light for around-town work, but positively anchor-like if you're trying to shed speed on a whooped-out fireroad. Nonetheless, the high-fendered machine is a capable explorer, its plush suspension easily soaking up moderately sized rocks and ruts. But be forewarned, the fork has lots of underhang to snag on ruts and tree roots, and there's no skidplate, leaving the waterpump, among other things, unprotected.
For most potential buyers, though, the biggest hurdle will be the skyscraper seat height. Get past that, and the Baghira is one appealing steed, indeed. -M