Suzuki DL 1000 V-Strom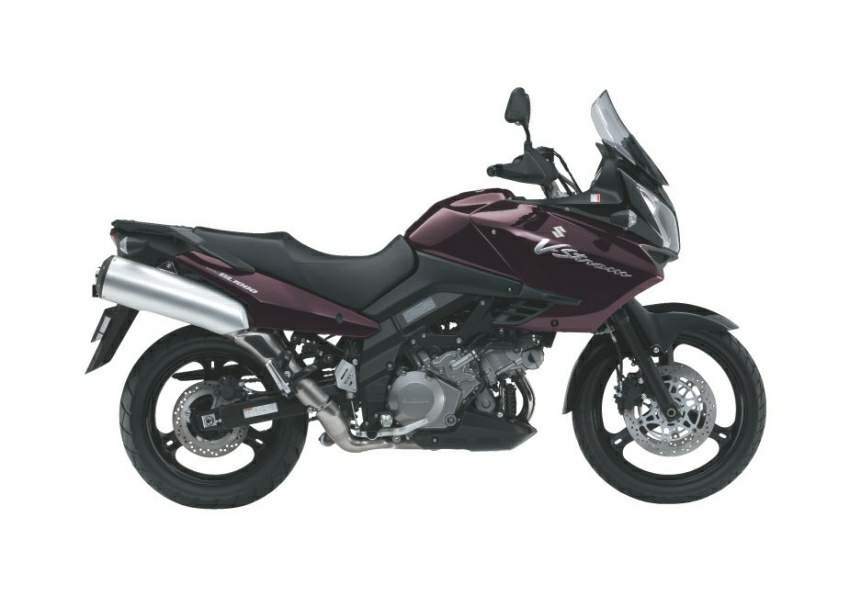 Make Model.

Suzuki DL 1000 V-Strom

Year

2010 - 11

Engine

Four stroke, 90°-V-twin, DOHC, 4 valves per cylinder.

Capacity

996 cc / 60.8 cu-in

Bore x Stroke

98 X 66 mm
Cooling System
Liquid cooled

Compression Ratio

11.3:1

Induction

Fuel injection with 45mm throttle bodies

Ignition

Electronic ignition

Spark Plug
NGK, CR8EK
Starting
Electric

Max Power

72 kW / 98 hp @ 7400 rpm

Max Torque

101 Nm / 10.3 kg-m / 74.5 lb-ft @ 6400 rpm

Clutch
Wet, multiple discs, hydraulic

Transmission

6 Speed

Final Drive
Chain
Frame
Aluminium, twin spar

Front Suspension

Telescopic, coil spring, oil damped, 43mm forks

Front Wheel Travel
160 mm / 6.3 in

Rear Suspension

Swingarm, coil spring, oil damped, adjustable for preload and rebound damping

Rear Wheel Travel
162 mm / 6.4 in

Front Brakes

2 x 310mm discs, 2 piston calipers

Rear Brakes

Single 260 mm disc, 1 piston caliper.

Front Tyre

110/80 R19

Rear Tyre

150/70 R17

Trail
110 mm / 4.3 in
Dimensions

Length 2285 mm / 89.9 in

Width 910 mm / 37.0 in

Height 1335 mm / 52.5 in

Wheelbase
1535 mm / 60.4 in
Ground clearance
165 mm / 6.5 in
Seat Height
840 mm / 33.1 in

Wet Weight

236 Kg / 520 lbs

Fuel Capacity

22 Litres / 5.8 US gal / 4.8 Imp gal

Standing ¼ Mile

12.2 sec / 181 km/h / 112.5 mph

Standing 0 - 1000m
23.3 sec / 199 km/h / 123.7 mph

Top Speed

207.5 km/h / 128.9 mph
Review
It's all BMW's fault. If they hadn't come along and proved that great big in-yer-face trail bikes could be an absolute hoot, nobody would build them. But they did, and as a result everyone is now producing large, comfortable and fairly bizarre looking trail cum tourer cum commuter cum whatever bikes. They all have a different class name, of course, because none of them can possibly be seen to be copying each other. Despite the fact that they patently are.

The latest to hit the streets is the Suzuki V-Strom. They call the class "Adventure Sports" which, to be fair, is as good a name for it as any. Apparently the name comes from the engine layout (V) and the German phrase for "a stream of wind" (Strom). Quite.

First impressions, they say, count for a lot. And this bike makes a big first impression. Did I say big? I meant enormous. The numbers don't do it justice - this bike is huge. Everything that first catches your eye - the headlights, the twin exhausts, the massive tank - seems that much bigger than usual. The feeling is reinforced when you climb aboard. Despite being a reasonable size I struggled to get both feet on the ground and mainly found myself sliding a cheek off the saddle and resting it on one foot. This is greatly eased, though, by the fact that despite its size the V-Strom is not especially heavy and is particularly well balanced.

At the risk of overusing a slightly tired cliché, the size and weight simply disappear as soon as you start moving. For such a big bike the V-Strom is quite extraordinarily agile. While obviously not a sports bike, the wide bars give great leverage and allow it to be thrown around like something far smaller. That it manages this while still remaining stable and predictable is even more impressive. Once the pace hots up, handling seems to be on a par with the benchmark for the breed, the evergreen BMW GS with only a slightly soft front end raising a slight question mark when braking hard.

As far as performance is concerned, the V-Strom has plenty. It is a fast bike. Not "Oh my God" fast, but certainly real world fast. Lets face it, most of the time 140mph is more than enough, and it's an unusually irresponsible rider who really craves the ability to cruise all day at more than 120 or so. In which case the V-Strom is just fine. The big vee twin pulls hard as well. There's plenty of urge for overtaking, even in top, which is tall enough to justify the overdrive light on the dash. Like most big vees with a sporting bent, the V-Strom drives well out of corners and is deceptive in the way that it builds speed. In fact, if you were so inclined you could really upset a few sportsbike riders at track days. Especially if you left the optional hard luggage fitted.

Dynamically, the only fly in the ointment is the brakes. Not that there's anything wrong with them per se, it's just that they seem to lack a bit of feel and bite. They stop the bike perfectly adequately and I never had any problems with them, they just don't inspire confidence in the way that the rest of the bike does.

You'd think that long gearing combined with a huge fuel tank would give truly intercontinental range. And you'd be right. Well, if your continents are less than 250 miles across, anyway. But. The fuel gauge starts to cry wolf after just 160 miles, when 40 miles later there are still 3½ Litres (or nigh on another 40 miles) in the tank. Actually, that's another gripe, because the gauge doesn't actually cry wolf, it more sort of mutters it quietly. As in flashing a really discreet little black pump symbol on a grey LCD background. Now correct me if I'm wrong but when you don't fill a bike up that often (and with a tank this size you don't) I think you need to be told it needs filling up. Give me flashing lights and even a buzzer if you like, but with no reserve tap I want to know I'm about to start pushing before the engine dies, please. Thank you.

Minor instrumentation gripes apart, the overall impression is one of quality. The bike is clearly very well screwed together, everything is neat and tidy and there is a refreshing attention to detail often missing on bikes like this. The mirrors, for example, are not only a decent size but they actually show what is behind you rather than just your elbows. And they don't blur into uselessness at high speed, either. The integrated rack is well made and useful, complete with it's moulded in bungee hooks. The lights are excellent and the clocks (apart from that darn fuel gauge) are a model of clarity. The alloy silencers look as though they should get in the way but don't, although I'm sure that the bike would benefit from something just a trifle more vocal than the standard set up.

I mentioned optional hard luggage earlier. With or without the options, the V-Strom would, I'm sure, make an excellent tourer. It's certainly got the range and it's comfortable enough to be able to carry on happily even after a fuel stop. It's fast enough to make the journey bearable and handles well enough to have a laugh when you get there.

All in all, then, we have a bike which handles well, goes well and is built well. It's comfortable, practical and it doesn't look bad either. It has a strange name, but I've never yet bought a bike because of its name. Or been put off by it. Hopefully you won't either, because if you're looking for a large, comfortable bike that will take pretty well everything you throw at it and looks different to boot then you could do a whole lot worse than this.

In conclusion:
After living with the V-Strom for a couple of weeks day in, day out, I can honestly say that I failed to find anything it didn't do well and managed to find lots of things it did brilliantly. I had some initial misgivings about the sheer size of the thing and the style is an acquired taste, but after just a few minutes the size worries faded, and who cares what it looks like when it goes and handles this well? I never thought I'd say it, but I'd buy one. It really grew on me that much.
Source Motorbikes Today
Giant adventure tourer showdown
With the release of the 2010 Yamaha Super Tenere and the Ducati Multistrada 1200, there's now five serious adventure tourers competing for your round-the-world budget. We've broken them down by their performance figures to help you decide which one's best.

All these numbers come straight from the manufacturers. We've chosen to use dry instead of wet weights since the relatively large difference in tank sizes would artificially skew the comparisons. While these aren't the weights you'll experience as you try to navigate across a sandy slope, they do lead to the fairest comparison possible. We've italicized what we feel is the winner in each category; in the case of rider aids, this is a bit subjective, feel free to decide which setup works best for you. We've thrown the originator of the current adventure tourer archetype, the 1980 BMW R80G/S into the mix just to give you an idea how far things have come.

Power
BMW R1200GS: 110bhp @ 7,750rpm
Ducati Multistrada 1200 150bhp @ 9,250rpm
Yamaha Super Tenere 110bhp @ 7,250rpm
KTM 990 Adventure 105bhp @ 8,250rpm
Suzuki V-Strom 1000 98bhp @ 7,400rpm
'80 BMW R80G/S: 50bhp @ 6,500rpm

Torque
BMW R1200GS: 88lb/ft @ 6,000rpm
Ducati Multistrada: 88lb/ft @ 7,500rpm
Super Tenere: 85lb/ft @ 6,000rpm
KTM Adventure: 74lb/ft @ 6,250rpm
V-Strom 1000: 74lb/ft@ 6,400 rpm
'80 R80G/S 41lb/ft @ 5,000 rpm

Tank Size
BMW R1200GS: 5.3 gallons
Ducati Multistrada: 5.3 gallons
Super Tenere: 6.1 gallons
KTM Adventure: 5.2 gallons US
V-Strom 1000: 5.8 gallons
'80 R80G/S: 5.2 gallons

Front Wheel
BMW R1200GS: 19"
Ducati Multistrada: 17"
Super Tenere: 19"
KTM Adventure: 21"
V-Strom 1000: 19"
'80 R80G/S: 21"

Dry Weight
BMW R1200GS: 203kg (448 lbs)
Ducati Multistrada: 189kg (417lbs)
Super Tenere: 244kg (538lbs)
KTM Adventure: 209kg (461lbs)
V-Strom 1000: 207kg (456lbs)
'80 R80G/S: 186kg (410lbs)

Power to weight (bhp:kg)
BMW R1200GS: .54:1
Ducati Multistrada: .79:1
Super Tenere: .45:1
KTM Adventure: .50:1
V-Strom 1000: .47:1
'80 R80G/S: .27:1

Torque to weight (lb/ft:kg)
BMW R1200GS: .43:1
Ducati Multistrada: .47:1
Super Tenere: .35:1
KTM Adventure: .35:1
V-Strom 1000: .36:1
'80 R80G/S: .22:1

Rider Aids
BMW R1200GS: optional and fully-defeatable ABS
Ducati Multistrada: push-button adjustment of suspension height, power delivery and traction control, fully-defeatable ABS
Super Tenere: combined brakes, non-defeatable ABS, three-mode traction control, two-mode power delivery
KTM Adventure: fully-defeatable ABS
V-Strom 1000: none
'80 R80G/S: balls

As you can see, the new Multistrada comes out on top in terms of performance, but its 17" front wheel, street-biased tires and lack of engine or frame protection means its off-road capability is extremely limited. This comparison is very unflattering for Super Tenere; it's the heaviest bike here by 77lbs and, thanks to the strong Yen, it'll likely be the most expensive too. That weight, combined with the 19" front wheel and non-defeatable ABS is also going to limit its ability off-road.

All that means the BMW R1200GS and KTM 990 Adventure are, in our minds at least, still the leaders in this category. Both are genuinely capable off-road, fast on it and comfortable over long distances. If the high prices put you off, the Suzuki V-Strom looks like a bargain. Sure it'd need a couple grand in modifications before it could hit the dirt, but even with the add-ons, it'd still be the cheapest of this group.