If you're looking for an unforgettable sport-adventure, there's no better machine than the new V-Strom 1000 Adventure. With sleek aluminum side cases that are large enough to hold a full coverage helmet, it takes versatility to a new level. It boasts the same exceptional performance as the original V-Strom 1000, with a Suzuki fuel-injected, 90-degree V-twin engine tuned for incredible low-end and mid-range torque. It also has a lightweight chassis and advanced suspension to provide crisp handling even on tight back roads. When you reach the open highway, the V-Strom 1000 Adventure excels. Its smooth engine performance, aerodynamic windshield and ergonomic riding position make it one of the finest sport-touring machines available. With the Suzuki V-Strom 1000 Adventure, Sport-adventure is yours for the taking.

Choose your own adventure. For those who love carving corners and the call of the wild, our DualSport machines deliver comfort on the street, control off the beaten path, and full command everywhere in between. Get ready for an ideal combination of lightweight agility and crisp handling.
Suzuki V-Strom 1000 Adventure Key Features
Large, stylish side cases are large enough to hold a full-coverage helmet.
Upright, relaxed riding position, well-padded seat and aerodynamic fairing provide all-day-long comfort
Height-adjustable windshield for increased wind protection and comfort can be adjusted to three positions in a 50mm vertical range, work together with hand guards designed for maximum wind protection.
Engine Features
996cc Liquid-cooled, Suzuki fuel-injected, 90-degree V-twin engine with four valves per cylinder, dual-overhead cams and oil provides exceptional low-end and mid-range torque for exhilarating performance.
Advanced digital engine management system featuring Suzuki Dual Throttle Valve (SDTV), delivers optimum combustion efficiency for linear response, fuel economy and superior low-end torque along with low emissions.
Auto Fast Idling System (AFIS) automatically sets throttle valve opening during cold engine starts by monitoring coolant temperature.
Digital ignition system provides optimum ignition timing with seperate maps for each cylinder to provide outstanding performance and smooth throttle response.
Semi-gear driven valve system simplifies maintenance and minimizes cam sprocket size and engine height for optimum engine placement. A short crankshaft and staggered transmission shafts further contribute to the light and compact design.
Lightweight shim-under-bucket valve system operates 36mm intake and 33mm exhaust valves, with valve timing designed to enhance low-RPM power.
SCEM (Suzuki Composite Electrochemical Material) plated cylinders for durability, weight reduction and superior heat transfer, working together with a high-efficiency liquid cooling system includes a compact oil cooler for optimum engine operating temperature.
High-mounted stainless steel exhaust system with aluminum mufflers are tuned to enhance engine torque.
PAIR (Pulsed-AIR) system injects fresh air into the exhaust port after the exhaust valves open to ignite unburned hydrocarbons, further reducing emissions.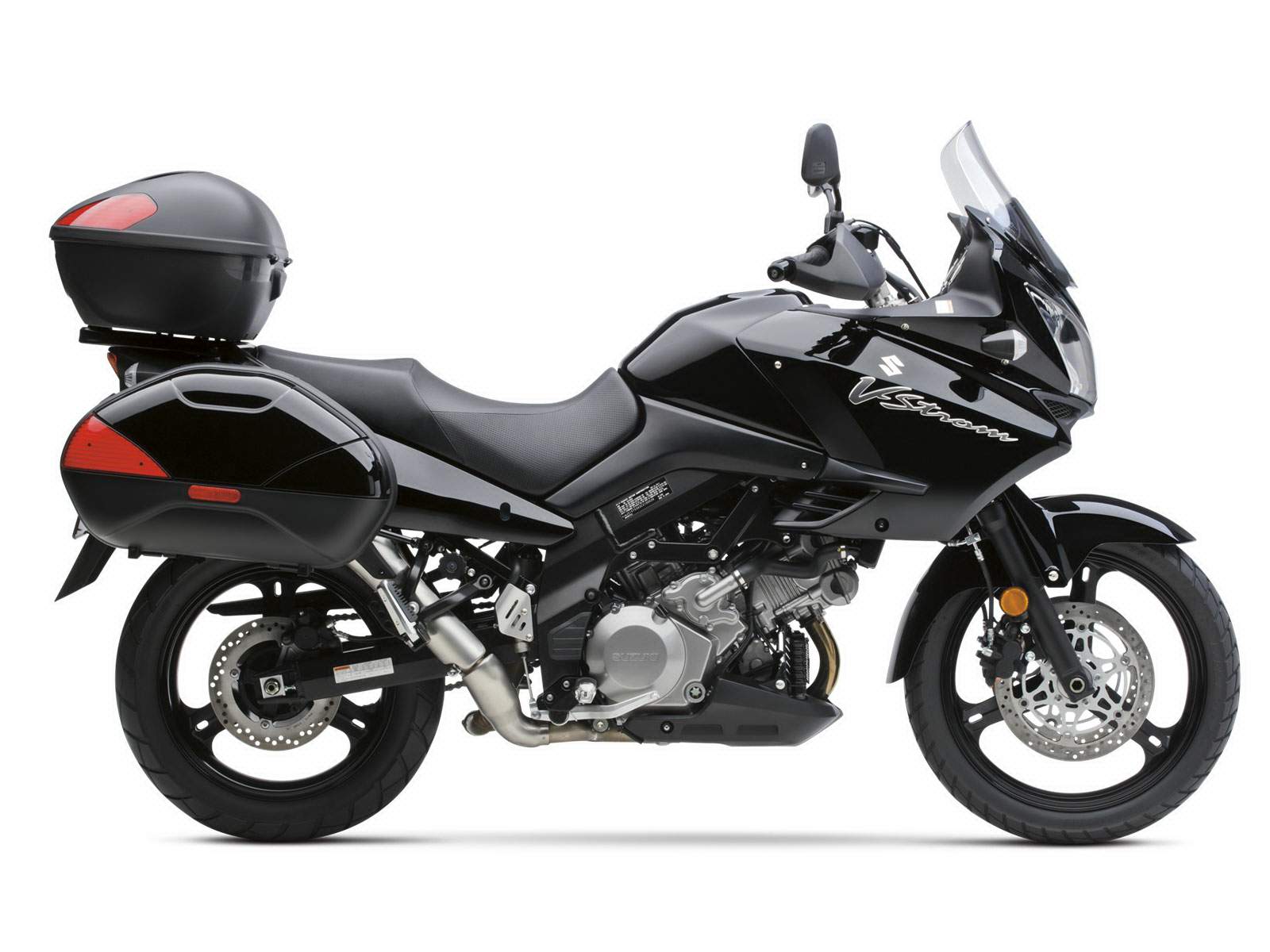 Transmission Features
Smooth-shifting six-speed transmission with sixth gear overdrive features a hydraulic clutch for light pull at the lever improving rider comfort.
Lightweight magnesium valve and ignition covers are complemented by a sound deadening plastic outer clutch cover.
Chassis Features
Lightweight, compact and rigid aluminum twin-spar frame and swingarm provide agile handling. A bolt-on sub-frame simplifies maintenance.
Cartridge-style 43mm front forks with adjustable preload provides 6.3 inches of wheel travel for a comfortable ride.
Link-type rear suspension features 6.3 inches of wheel travel and a piggyback-style shock absorber with adjustable rebound damping and a knob-operated hydraulic preload adjuster.
Multi-reflector 60W/55W headlights.
Easy-to-read instruments include a large speedometer and tach dials, plus LCD display for fuel level, engine temperature, odometer, tripmeters and clock.
Engine undercover panel is designed for ample ground clearance and sleek appearance.
Large rear luggage rack features a rubber-padded platform to help keep bags and luggage in place.
Rugged seat cover material enhances comfort and durability.
Dual front dist brakes with large 310mm rotors and twin-piston calipers, plus a single-disc rear brake with 260mm rotor and single-piston caliper provide strong stopping power.
Lightweight cast aluminum wheels with DualSport-style tires for optimum traction.
Large 5.8 gallon fuel tank for long-range operation.
Pearl Nebular Black