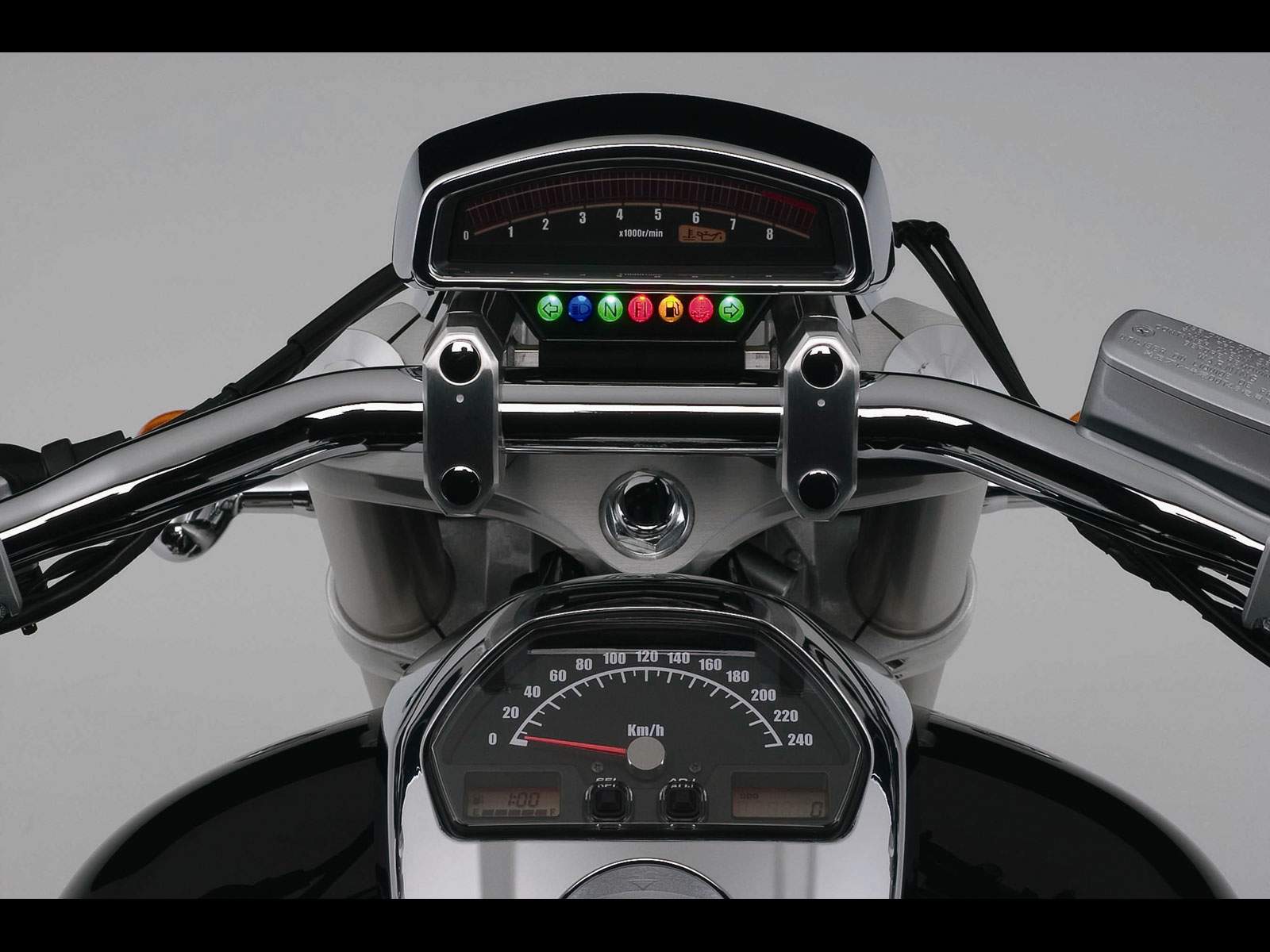 Call it the best of all worlds. Suzuki's award winning Boulevard M109R - an incredible combination of cruiser styling and renowned Suzuki power and handling.

By injecting the Boulevard M109R with a potent shot of race-proven technology developed for the championship-winning GSX-R sport bikes, Suzuki has literally redefined the concept of a cruiser. The Boulevard M109R's exhilarating performance begins with its 109-cubic-inch, fuel injected V-twin engine. It's tuned to produce massive torque all the way from idle to redline, which translates into acceleration that you have to feel to believe - and makes this the most powerful cruiser Suzuki has ever produced.

To reward every one of your senses, the big V-twin also produces a throaty, aggressive exhaust note designed to let the world know they're looking at - and listing to - the hottest cruiser on the road. Like Suzuki's sport bikes, the Boulevard M109R balances extraordinary performance with crisp handling, thanks to a technically advanced chassis and suspension, matched by world-class brakes. And when it comes to wrapping that performance package in cruiser styling, a picture is worth a thousand words.

Check out its sleek, flowing lines and GSX-R inspired styling touches, and you'll realize that the Boulevard M109R is in a class of its own.

The Boulevard M109R is the most powerful cruiser Suzuki has ever produced. The all-new liquid-cooled 1,783cc engine featuring four valves per cylinder and SDTV digital fuel injection gives you all the power you need, when you need it.

This monster packs the largest engine pistons of any production car or bike on the planet. Each of the huge 112mm forged aluminium-alloy pistons use short skirts and cutaway sides to reduce friction and provide the rider with raw, unstoppable muscle.

The Boulevard means business in every way - from its purpose-built chassis and high-tensile steel frame, created to handle its enormous torque, through to its GSX-R1000 styled front brake system for unmatched stopping power. Adding hi-tech brains to its brawn are a handlebar-mounted instrument cluster with digital tachometer, LED taillight and tank-mounted analog speedometer. The classic look is slick yet muscular.

The wide, stretched-out 19-litre fuel tank and massively beefy 240-section rear tyre (the widest ever used on a Suzuki motorcycle) sit seamlessly within its long, sleek flowing lines. The innovative styling is enhanced even further by the lustrous deep chrome finish.

From the moment you unleash the Boulevard M109R, you'll experience ultimate freedom.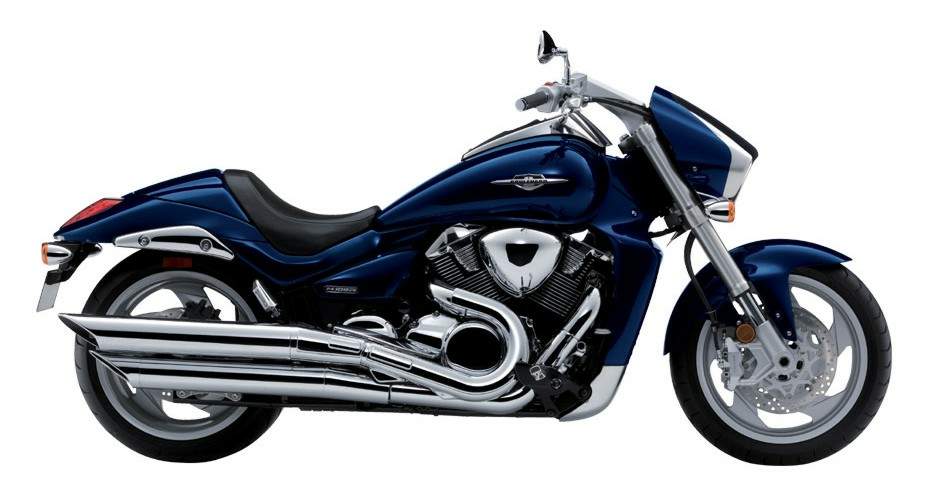 Key Features
- A streamlined headlight cover carrying a unique trapezoidal shaped multi reflector H4 halogen headlight and a maintenance free LED tail light built into the tailsection
- 1,783cc, liquid-cooled, DOHC, V-Twin engine is designed to produce a massive tractable power and responsive torque.
- Huge 112mm forged aluminum-alloy pistons. These are one of the largest reciprocating gasoline engine pistons being used in any production passenger car or motorcycle, while featuring race-proven design to reduce friction and inertial mass.
- Suzuki Dual Throttle Valve (SDTV) fuel injection system produces smooth throttle response even at low engine rpm.
- Suzuki Advanced Sump System (SASS), a compact dry-sump lubrication system, designed for reduced engine height, a lower crankshaft position and lower center of gravity.
- The race-proven brake system came straight off the sportbike, including radial-mount opposed-4-piston front brake calipers and a dual-piston rear brake caliper.
- Inverted front forks featuring race-proven cartridge internals with 46mm stanchion tubes.
- Cast aluminum-alloy swingarm works with a progressive linkage and a single rear shock absorber; adjustable spring preload to suit rider and passenger weight.
- The widest, massive 240mm rear tyre, ever used on a Suzuki motorcycle.
- A sporty solo-seat cover that can be quickly swapped for the included passenger seat.
- Handlebar-mounted instrument cluster, including a digital tachometer and LED indicator lights.
- Tank-mounted analogue speedometer and LCD odometer, dual tripmeters, fuel gauge and clock.

Engine Features
1783cc, 8-valve DOHC, 54-degree, liquid-cooled, fuel injected V-twin engine designed for strong throttle response and quick acceleration
A compact dry sump lubrication system SASS (Suzuki Advanced Sump System) provides reduced engine height, a lower crankshaft position and lower center of gravity
An Idle Speed Control (ISC) system improves cold starting and stabilizes engine idle speed in various conditions
Dual spark plug per cylinder ignition system is controlled by the powerful 32 bit ECM for improved combustion efficiency and reduced exhaust emissions
Each bore is lined with Suzuki's race proven SCEM (Suzuki Composite Electrochemical Material) for optimum heat transfer, tighter piston-to-cylinder clearances and reduced weight
Electronic fuel injection system features the Suzuki Dual Throttle Valve system (SDTV) with 56mm throttle bodies - maintains optimum air velocity for smooth low- to mid-range throttle response
Five speed transmission features carefully selected gear ratios for comfortable cruising in a variety of riding situations
Massive 112mm bore and 90.5mm stroke utilizing huge 112mm forged aluminum alloy pistons with short skirts, and cut away sides riding on chrome moly steel connecting rods
The 2-into-1-into-2 stainless steel chromed exhaust system features Suzuki's digitally controlled SET (Suzuki Exhaust Tuning) system for optimum engine performance and powerful V-twin sound
Three piece airbox uses dual intakes with 9.5 Litresof internal volume working through a pleated fabric air cleaner element
Unique two-stage cam drive system creates a compact cylinder head design, reduces overall engine height and creates a lower center of gravity

Chassis Features
A cast aluminum alloy swingarm works with a progressive shock linkage and a preload adjustable single rear shock delivering 4.66 inches of wheel travel working through a shaft drive system
A handlebar mounted digital tachometer and LED indicator lights flow nicely with the tank mounted analog speedometer and LCD odometer, dual tripmeters, fuel gauge and clock
A sleek wide fuel tank with 19.5 L (4.3 Imp gal) fuel capacity that flows into integrated side covers, a comfortable low seat and stylish radiator cowl.
Front brake system includes radial mounted four piston front calipers and 310mm front brake rotors. Rear brake system includes a dual piston caliper and 275mm rear disc
High-tensile double cradle steel frame is built to comfortably handle all the power and torque while delivering agile handling and a plush smooth ride
Inverted cartridge forks with 46mm stanchion tubes proved an aggressive front end look with 5.12 inches of wheel travel
Single seat cover is standard equipment and emphasizes the beautiful flowing lines of the M109R
Spiral spoke cast aluminum alloy wheels measure a 3.50 x 18 inch up front and a massive 8.50 x 18 inch rear tire wearing a huge 240mm rear Dunlop radial tire