Make Model.

Suzuki Boulevard S40

Year

2007 - 08

Engine

Four stroke, single cylinder, SOHC

Capacity

652 cc / 39.8 cu-in

Bore x Stroke

94

x

94.0

mm

Cooling System
Air cooled

Compression Ratio

8.5:1
Lubrication
Wet sump

Induction

Mikuni BS40

Ignition

Transistorized

Starting
Electric

Max Power

23 kW / 31 hp @5400 rpm

Max Torque

50 Nm / 5.1 kgf-m / 37 lb-ft @3400 rpm
Clutch
Wet, multiple discs, cable operated

Transmission

5 Speed
Final Drive
Belt

Front Suspension

Telescopic 38 mm stanchions, coil spring, oil damped

Front Wheel Travel

140 mm / 5.5 in

Rear Suspension

Twin shock, 5-way adjustable spring preload

Rear Wheel Travel

80 mm / 3.1 in

Front Brakes

265 mm Single disc

Rear Brakes

Drum, rod operated

Front Tyre

100/90-19 57H, tube type

Rear Tyre

140/80-15 67H, tube type
Rake
35°
Trail
147 mm / 5.8 in
Dimensions
Length 2180 mm / 85.8 in
Width 720 mm / 28.3 in
Height 1105 mm / 43.5 in
Wheelbase
1480 mm / 58.3 in
Seat Height
700 mm / 27.6 in
Ground Clearance
135mm / 5.3 in

Dry Weight

160 kg / 352 lbs

Wet Weight

172 kg / 380 lbs

GVWR

356 kg / 785 lbs

Fuel Capacity

10.5 Litres / 2.6 US gal

Review

Motorcycle Cruiser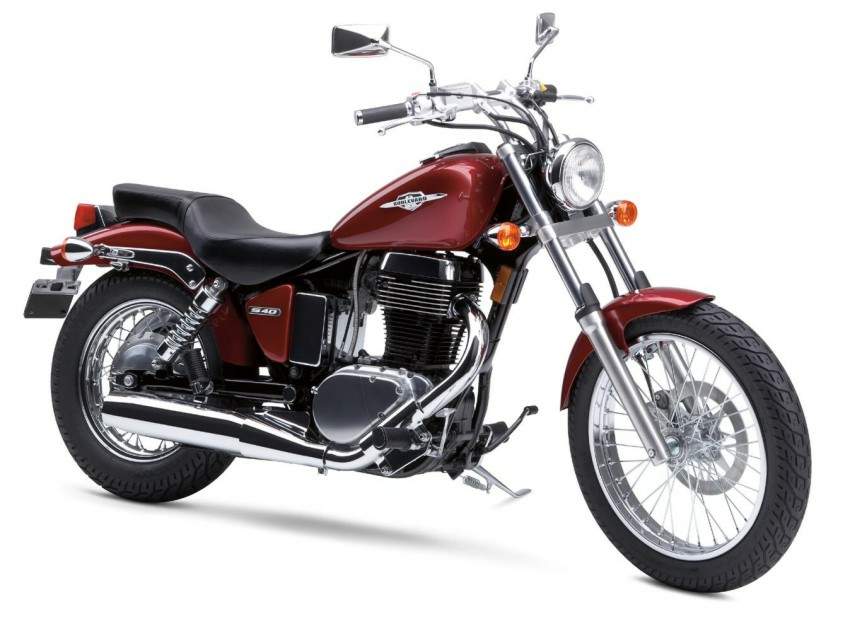 Built For Fun, Pure and Simple.

There's a good reason so many road bikes in the '50s and '60s were big single-cylinder machines: they're incredibly fun to ride! The Boulevard S40 adds a shot of advanced Suzuki technology to this timeless design to create a bike that combines exciting performance with rock-solid reliability. One of the S40's major attractions is its lightweight responsiveness. Weighing just 352 pounds*, it's great for cruising down the boulevard or getting outside the city limits. Wherever you ride, one twist of the throttle rewards you with a blast of low-end and mid-range torque. And when you're up to cruising speed, you'll really appreciate the engine's smooth performance.

Engine Features
- 5-speed transmission with low-maintenance belt-drive system - the drive belt is quiet, durable, simple to adjust and clean
- 40 cubic inch, SOHC, single-cylinder engine with TSCC cylinder head and high mass crankshaft - produces strong low-end power and torque
- Black engine case and cylinder with polished cylinder head fins for a finished appearance
- Zinc-plated cylinder mounting bolts - high quality plated finish is corrosion resistant and blends with black engine color for a more detailed appearance
- Headlight switches off during start-up to reduce load on the battery
- Electric starter with automatic decompression system for quick, easy engine starting

Chassis Features
- Custom flat handlebar design provides a clean, sporty appearance
- Sleek, one-piece saddle adds to the S40's already streamlined appearance
- Low seat height - only 27.6 inches - great for smaller riders or entry-level riders
- Hydraulic front disc brake and drum-type rear brake provide strong, reliable braking performance
- Front fork guards protect the inner fork tubes from road debris and help reduce dust seal and oil seal wear
- Polished upper fork bracket features an attractive and durable clear coat finish
- Push-to-cancel turn signal switch for easy turn signal operation
- Standard 4-way emergency flasher and high-beam passing switch
- Bright multi-reflector turn signals designed for high visibility and attractive appearance
- Rear reflector integrated with the taillight for a clean, finished appearance to the rear section of the bike
- Attractive tear drop-shaped fuel tank with flush-mounted speedometer
- Custom-style rear view mirrors for more attractive appearance - similar to larger Boulevard models
- Polished spoke wheels for a classic look like larger cruiser models
- Wide 15" rear tire and slim 19" front tire for a classic cruiser look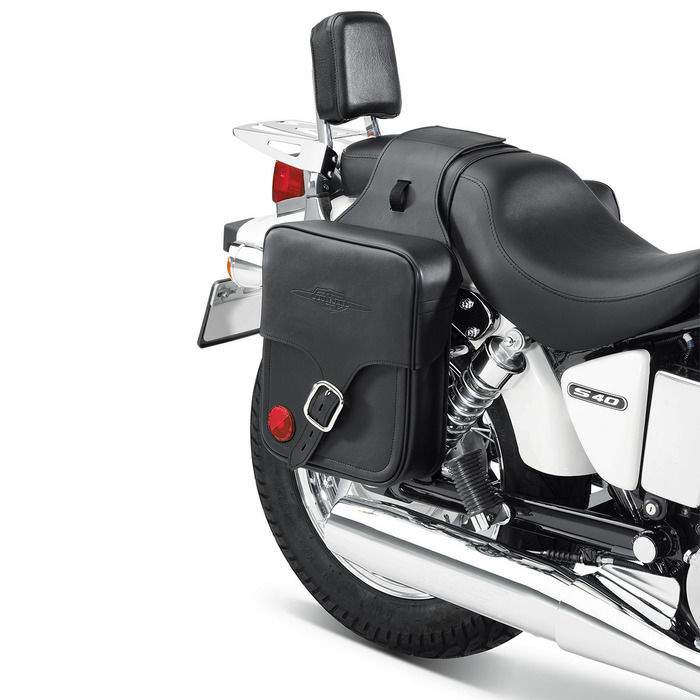 Review
For 2005, the Savage was swept under Suzuki's new Boulevard banner that is now used for all the company's cruiser motorcycles. The 650 single was re-designated with the Boulevard line's cubic-inch nomenclature as the S40. It was lightly restyled, with flatter bar and seat, and the short passenger backrest was discontinued. However, it remains the largest single-cylinder cruiser around, and the only belt-drive model among Suzuki's cruisers.

Though large-displacement singles are relatively simple, narrow, light, and tractable compared to multis of the same size, they also tend to vibrate and aren't as powerful as bikes with more cylinders. However, those positive characteristics plus the Savage/S40's low weight (380 pounds wet), low (27.6 inches) seat height, low price and clean Intruder-style looks make Suzuki's 650 attractive to beginners, riders of shorter stature and those shopping for motorhome lifeboats. The engine is a paragon of simplicity. It's air-cooled and has a single carb, one chain-driven overhead camshaft and two intake and two exhaust valves. Fortunately, Suzuki did incorporate the slight complexity of a counterbalancer, which reduces but doesn't quite eliminate vibration.

Although it feels a bit out of breath at 65 mph, the S40 doesn't shake with anything like the ferocity of an unbalanced 650cc single. If you don't plan to cruise at 75 mph, there is enough power. Though it offers good fuel economy (over 50 mpg on the highway), its limited power means that it's not particularly happy out on a wide-open interstate. The powerband is broad though, and you don't need to make much of an effort to keep the rpm up to tap its power potential around town. However, it won't accelerate as hard any of the other 500 to 650cc cruisers except the Honda VLX, which is still a bit stronger on top end. Ours tended to backfire rather frequently during deceleration. The gearbox and clutch perform admirably. The final-drive belt is quiet, clean and probably absorbs a little of the big single's power pulses.

Because it's low, lightweight, and short (58.4 inches) between the axles, the Boulevard S40's handling is very responsively. It's narrowness short legs to reach the ground at a stop easily. Its steering is quick and precise, yet the motorcycle is acceptably steady at all speeds. Lean angle is respectable too, especially by cruiser standard. Its only weakness is the somewhat pedestrian suspension components. The S40 is lightly sprung and damped with the result that it surges a bit on roads with bigger bumps. Although we wouldn't call the S40 a wobbler, it takes longer than most comparable motorcycles to stabilize if you give the handlebar a good shake at highway speed. Because it's light, the modest brakes, a single disc up front and a drum on the back, are well matched to it, and offer good feel and control.

Average and larger (over five-foot-ten or 32-inch inseam) riders feel somewhat confined. However, shorter riders find that Suzuki's single fits them quite handily and are less likely to complain about the stiff saddle or ride quality. Passengers don't get much room, but riding two-up kind of overloads the S40 anyway. Both the suspension and acceleration suffer when you add a passenger. The narrow bar makes wind pressure less of an issue at highway speeds.

Overall, the Boulevard S40 fills the vast gap between the 250s and the other cruisers in the 500 to 650cc range. Although its displacement makes it a 650, its physical size, weight, and position it like a smaller cruiser. Its feature list is also more like a 250's; there isn't even a tripmeter. In terms of performance, Suzuki's 650 single is neck-and-neck with the more expensive 600cc Honda VLX four-speed V-twin, but slightly ahead in comfort. However, the smaller twin-cylinder, six-speed Kawasaki Vulcan 500 LTD will leave both those bikes and the Yamaha V-Star 650s for dead in an acceleration contest.

Because the same basic bike has been around for a couple of decades, dealers are familiar with their needs, and there are online American and European owners clubs to turn to for support. There are also a fair number of accessories available.

Suzuki's Boulevard S40 makes great urban transportation because it is narrow, maneuvers easily, has willing power characteristics, gets terrific fuel mileage and is inexpensive to insure .
Art Friedman