Suzuki AN 400 Burgman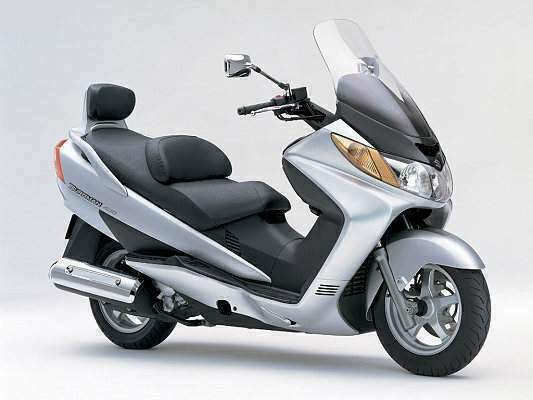 | | |
| --- | --- |
| Make Model. | Suzuki AN 400 Burgman |
| Year | 2003 - 04 |
Burgman 400 was largely unchanged for 2003 to 2006 (shown bottom left) aside from a sporty "Type S" model offered in 2005 & 2006.
The both generations of Burgman 400 have used a single cylinder, 4-stroke, 4-valve, liquid cooled engine, while the second generation adds fuel injection, dual cams and an extra 15cc (385cc vs 400cc). Both motors are capable of propelling a single rider to about 95mph, but the second generation motor boasts improved efficiency. The 2003-2006 Burgman 400 normally records about 50-55mpg, while the second generation sips fuel at 55-60 mph which is pretty good for a 489 lbs (dry) machine. The first generation motor was smaller at 385cc but it also propelled a much lighter 406 lbs machine which is why performance between the generations is quite similar.
Overall, the 400cc Burgman is a practical machine for maxi-scooterists who aren't addicted to power. One could spend $2000 more to get the larger 650cc Burgman, but 400cc offers ample amenities and plenty of power for highway cruising along with better milage than it's larger sibling. If you're used to a lot of power or you plan on doing a lot of fast 2-up riding, you might want to look at a 500-650cc machine, but otherwise the Burgman 400 will be a great choice.