Triumph Adventure 900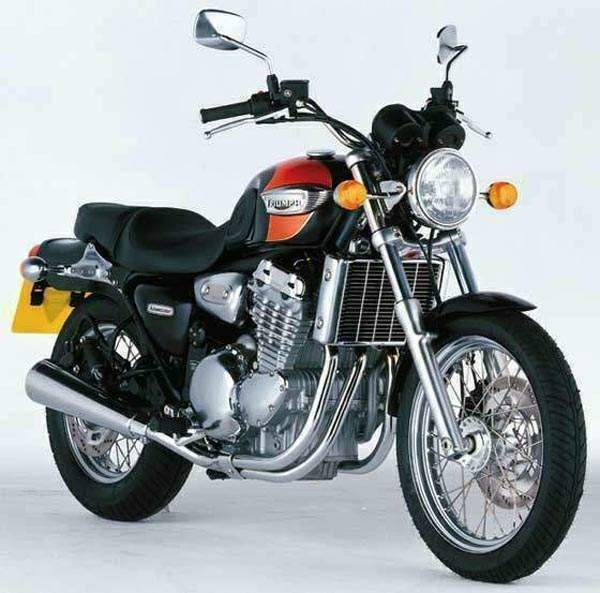 | | |
| --- | --- |
| Make Model. | Triumph Adventure 900 |
| Year | 2000 - 02 |
| Engine | Four stroke, transverse three cylinder, DOHC, 4 valves per cylinder |
| Capacity | 885 cc / 54.0 cu-in |
| Bore x Stroke | 76 x 65 mm |
| Cooling System | Liquid-cooled |
| Compression Ratio | 10.0:1 |
| Induction | 3 x 36 mm Mikuni carburetors |
| Ignition | TCI (Transistor Controlled Ignition) |
| Starting | Electric |
| Max Power | 51 kW / 70 hp @ 8000 rpm |
| Max Power (rear tyre) | 50.3 kW / 67.5 hp @7300 rpm |
| Max Torque | 72 Nm / 53.1 ft. lbs @ 4800 rpm |
| Transmission | 6 Speed |
| Final Drive | Chain |
| Front Suspension | 43 mm Kayaba telescopic fork |
| Rear Suspension | Monoshock adjustable preload. |
| Front Brakes | 2 x 320 mm Discs, 2 piston calipers |
| Rear Brakes | Single 285 mm disc, 2 piston caliper |
| Front Wheel | 2.50 x 18, wire spokes |
| Rear Wheel | 3.50 x 16, wire spokes |
| Front Tyre | 110/80-18 Avon AM27 |
| Rear Tyre | 160/80-16 Avon RL30 |
| Wheelbase | 1580 mm / 62.2 in |
| Seat Height | 750 mm / 29.5 in |
| Dry Weight | 220 kg / 496 lbs |
| Wet Weight | 233 kg / 513.6 lbs |
| Fuel Capacity | 15 Litres / 4 US gal / 3.3 Imp gal |
| Consumption Average | 6.3 L/100 km / 15.8 km/l / 37.2 US mpg / 44.6 Imp mpg |
| Braking 60 km/h - 0 | 14.6 m / 47.9 ft |
| Braking 100 km/h - 0 | 42.7 m / 140.1 ft |
| Standing ¼ Mile | 13.4 sec / 159.2 km/h / 98.9 mph |
| Top Speed | 191.5 km/h / 119 mph |
| Review | Carole Nash |
Launched in 1996, the 'Adventurer' name came from a 500 cc parallel-twin trail bike from the early 1970s. The water-cooled, 12-valve triple engine was the same 885 cc as the Triumph Thunderbird 900, as were the steel spine frame and other cycle parts including front forks, rear shock, wheels and brakes. Modifications included raised handlebars and a single seat option. The most prominent features are the large rear fender, extra chrome-plated engine, cam and radiator covers, and the megaphone-shaped silencers. The Adventurer had pre-load adjustment on the rear mono-shock suspension. It was one of the best selling bikes in the Triumph line-up.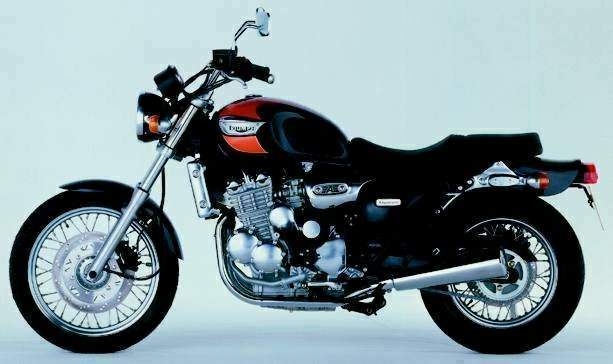 We must have been halfway to Portland when it hit me. Anna and I were riding the Adventurer down to the coast, just for a good day out - what could be more typical use of a retro-cruiser? Whatever bike we test, it does my regular Dorset/Cornwall commute, plus trips up to London or the Midlands, regardless of weather or time of year. And you can't help thinking, battling up some three-lane blacktop into the wind, that this isn't really a fair test for cruisers - you end up complaining about high, wide handlebars and small, narrow fuel tanks.
Right, from now on, we'll only test cruisers in the height of summer, preferably in the south of France. Or maybe not. Anyway, this outing was a welcome chance to use Triumph's cruiser in the way it was doubtless intended.
It was a rare sunny Sunday in February, surprisingly warm as we crested the hills of north Dorset and thrummed down that superb ridgeway road that runs from Lyons Gate, within a couple of miles of the Cerne Giant's head, and down to Dorchester - it's unclassified, but feels more like a good (empty) A-road, all sweeping bends, fast straights and glorious views. Coffee in Dorchester (at the second cafe - the first turned us away) then back roads down to Weymouth (in dress rehearsal for the summer rush) and on to that shingle causeway which is all that connects Portland to the mainland.
Parked up on Portland Bill, the Triumph attracted the usual amount of attention - there was a group (including an XS8S0 and GSX-R -who says bikers are separatist?) from our part of Dorset. An old man told us about his Velocette, and a toddler was fascinated by her first sight of a motorbike. Reactions were unanimously good.
Overview
It wasn't always so - not only did young Tom the photographer describe the Adventurer as "unspeakably ugly" but it's always had a bit of a bad press. Launched five years ago, it was clearly just a subtle variation on the Thunderbird theme - new colour, different tailpiece, 15-inch rear wheel...mustn't forget the '60s style tank badge...and some hideous high-rise bars.Think '60s MeridenTrophy with a hint of Harley, and you get the picture. Since then, they've lowered the seat (to 750 mm) and raked out the forks a little more, to differentiate it, while the bars have been lowered. Mechanically, it sticks with Hinckley's familiar triple in its mildest (69bhp) state of tune, and a five-speed box.
And in fact that motor remains one of the best things about the bike. As other engines acquire fuel injection, electronic management and balance shafts, the original Triumph triple gets more 'characterful' by the year. Despite which (or maybe because of which) I still love it. It's never really smooth - there's a background thrumminess that never goes away, but never gets any worse, even when you rev round to the 8,S00rpm red line, which even in this guise the triple is happy to do. It's a pleasing sensation, in the way that aV-twin is -it doesn't feel sophisticated, but it's not meant to.
Take it right through to that red line, and you can expect around 55mph in first, seventy-eight in second, ninety-five in third. Fifty-three lb ft isn't a huge amount for a 225kg motorcycle, but the Triumph still has that gutsy feel to it, for brisk (if not quick) top gear acceleration - certainly enough for relaxed overtaking and powering out of B-road corners. It'll actually pull cleanly from 1,500rpm, even in top, so the engine's flexible enough for the cruising thing too. What it doesn't have is high speed relaxed cruising, as the Adventurer's five-speed gearbox is simply the six-speeder of other Triumphs with the highest ratio lopped off. At 80mph in top, the engine's spinning over at 5,000rpm, which makes it feel a bit buzzy and undergeared, certainly for something so laidback - it's got enough torque to support a higher ratio anyway. Maybe six gears would be overkill - what it really needs are five more widely-spaced. Still, can't complain about the change itself - good, solid and positive with an easy-find neutral.
If the Triumph doesn't really feel like your average cruiser at speed, the same goes for the riding position, but this time it's good news. Lowering both seat and the bars gets you away from the arms-out crucifix position and into something more compatible with higher speeds - fine at 70mph, and OK (head winds apart) at an indicated eighty. Certainly good enough for the odd motorway trip without having to resort to a screen. As for the position itself, it simply felt one of the most natural I've used for a long time - certainly the most natural of any cruiser, without forward-mounted pegs or over-wide bars. The lower seat allowed me one foot flat on the ground, though the longer-legged might find it a little cramped.
Handling? Well, whatever may or may not be true about centre of gravity and its affect on how bikes go round corners (letters page followers will understand this reference), the Triumph's lower seat and hence lower CG makes it feel handier to me. Maybe more to the point are the reasonably well damped forks and monoshock - this is no soft and wallowy cruiser, and there aren't any ultra-low pegs and pipes to ground out when halfway round a bend. The tyres (Metzeler MEZ2s) felt fine, and it all added up to a confidence-inspiring package - don't expect sports tourer responses and grip, and you won't be disappointed. It's backed up by single discs front and rear, which are good enough for the bike's weight and performance.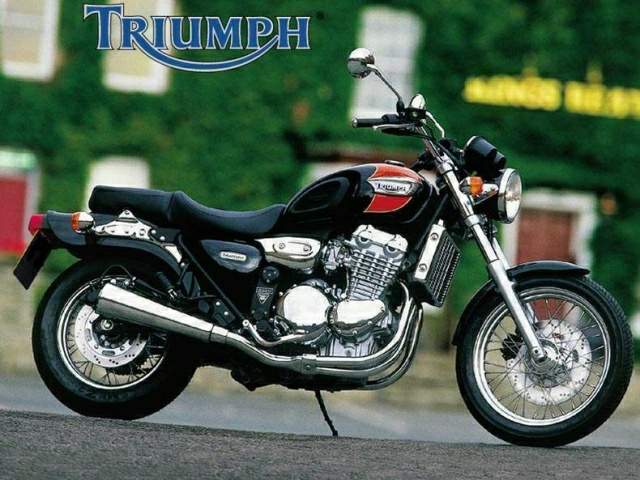 Details
When Ted Simon rode an Adventurer to the Ukraine and back (MCSSd., September '98) he ran out of fuel on the first day. So did I. The tank's a reasonable size (15.6 Litres) and there's a reserve, but no fuel warning light! Unbelievable. Spookily enough, Ted's bike ended up horizontal, and so did this one. The difference was that his fell over when a Romanian border guard lost control of it, while ours toppled off its stand, parked on a negative camber while Tom was taking pictures. CRUMP! And there it lay, like a beached whale. The actual damage was limited to a snapped footrest (around £39), broken headlamp bracket, indicator lense and a couple of scratches - not too bad, considering. Not that there's anything wrong with the Triumph's side stand, though of course there's no centre stand, making chain lubing awkWard and punctures something I'd rather not think about.
Anyway, we've strayed away from the point, which was heading inexorably towards fuel consumption. The Adventurer averaged a respectable 49.8mpg, which as ever covered a big range, with a low of 42.3mpg (cruising at 80-85mph) and a best of 61.7 (our laidback Portland trip, keeping to 60mph or so and changing up at less than 4,000rpm). So you won't need to be ultra-gentle to average something in the low fifties and you can depend on a 150-mile range - just don't wait for the fuel light to come on.
Most of the detailing is good, with Hinckley's standard, simple, useable switchgear and some big, nicely adjustable mirrors which don't blur at speed. All the chrome (of which there's a great deal) and paintwork looks to be of a good standard. Underseat space is limited to the tool kit.
Verdict
With its high & wide bars, the original Adventurer looked like a Transatlantic mishmash. It's nicer now, a fully useable everyday cruiser that's easy to ride and comfy enough for longer trips. Not everyone goes for the classic Triumph look but that triple does have a good gutsy character all of its own - if you don't fancy the Harley look, have a go. PH
Pillion Opinion - Anna Finch
I liked the seat - it's low enough to sling a leg over easily, and wide and comfortable once you get there. The pegs were in just the right place too, and the only problem was the useless grabstrap, too tight to get even my fingers through - I'm told a proper grabrail is an option. AF