Triumph Daytona 675SE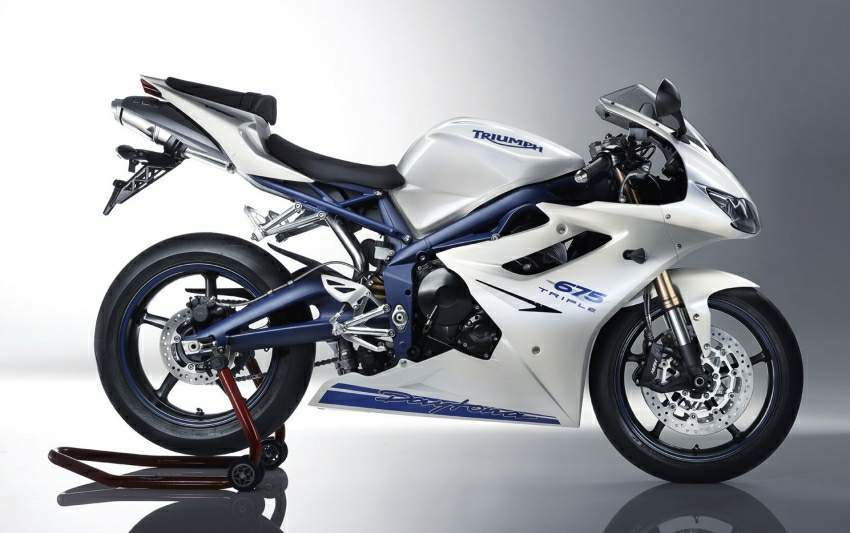 Make Model

Triumph Daytona 675 Special Edition

Year

200

9

Engine

Four stroke, in-line 3-cylinder, DOHC, 4 valve per cylinder.

Capacity

675 cc / 41.2 cu in

Bore x Stroke

76 x 49.6 mm
Cooling System
Liquid-cooled

Compression Ratio

12.65:1
Lubrication
Wet sump
Oil Capacity
3.6 Litres / 1.0 US gal / 0.8 Imp gal

Induction

Multipoint sequential electronic fuel injection with forced air induction
Exhaust
Stainless steel 3 into 1 system with valve in secondary and under seat silencer

Ignition

Digital - inductive type
Starting
Electric

Max Power

94 kW / 126 hp @ 12600rpm

Max Torque

73 Nm / 7.4 kgf-m / 54 ft/lb @ 11750rpm
Clutch
Wet, multi-plate

Transmission

6 Speed
Final Drive
O ring chain
Frame
Aluminum beam twin spar, swingarm braced twin sided, aluminum alloy with adjustable pivot position

Front Suspension

41mm USD forks with adjustable preload, rebound and compression damping

Rear Suspension

Monoshock with piggy back reservoir adjustable for preload, rebound and compression damping

Front Brakes

2 x 308 mm Discs, 4 piston calipers

Rear Brakes

Single 220 mm disc, 1 piston caliper

Front Tyre

120/70 ZR 17

Rear Tyre

180/55 ZR 17
Rake
23.9º
Trail
89.1 mm / 3.5 in

Dimensions

Length 2020 mm / 79.5 in

Width (handlebars) 710 mm / 27.9 in

Height without mirrors 1105 mm m / 43.5 in

Wheelbase
1395 mm / 54.9 in
Seat Height
820 mm / 32.3 in

Dry Weight

161 kg / 356 lbs

Fuel Capacity

17.5 Litres / 4.6 US gal / 3.8 Imp gal

Consumption Average

6.0 L/100 km / 16.6 km/l / 39 US mpg / 47 Imp mpg
Instruments
Display/Functions LCD multi-functional instrument pack with digital speedometer, trip computer, analogue tachometer, lap timer, gear position indicator and programmable gear change lights and clock

Standing ¼ Mile

11.38 sec

Top Speed

251 km/h / 156 mph

Review

Motorcycle-USA
This stunning limited-edition Daytona 675SE is the latest model from Triumph – with pearlescent white bodywork, blue frame, swingarm and subframe costs just £150 more than the standard bike.
The graphics and pinstriped graphite-coloured wheels are all new and unique to the 675SE which is mechanically identical to the standard 675 which was changed for this year and won the MCN 600cc class shootout this year. The three-cylinder Daytona 675 has been a massive success for the British firm around the world.
The 675SE will cost £7739 compared to £7589 for the stock bike that comes in red or black. A full range of official accessories are available for the Daytona 675SE, giving owners with an opportunity to personalise the looks and performance of the bike. This includes racing accessories, such as lightweight carbon fibre parts, a 'plug-and-play' quickshifter set, race-style rear footrests and silencers developed in cooperation with Italian firm Arrow.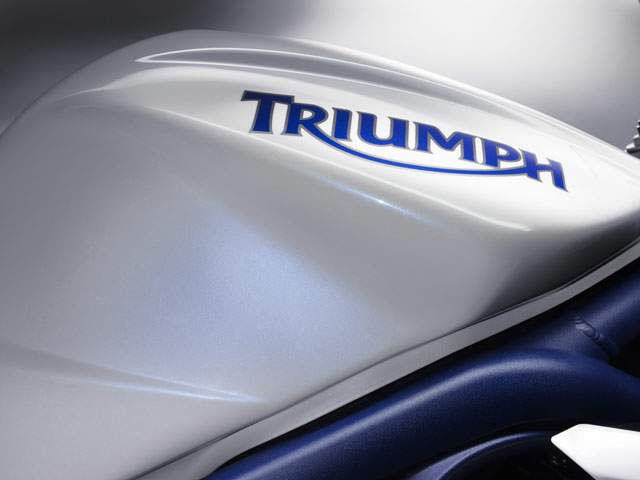 Introducing the Triumph Daytona 675 SE, a stunning special edition of the award winning supersport machine that really stands out from the crowd.

Triumph is offering customers across North America the opportunity to own a truly unique factory sport bike with the Daytona 675 Special Edition. The limited edition model takes the award-winning Daytona 675 and covers its body panels, tank and fenders in a stunning new Pearl White while the frame, swing arm and subframe receive a distinctive Sparkle Blue paint.

"The Daytona 675 has received exceptional reviews for its performance and styling," said Jim Callahan, North American Marketing Manager for Triumph Motorcycles. "Now, Triumph has taken the bike's styling a step further with this incredible new color scheme. You absolutely have to see the Daytona 675 Special Edition in person to appreciate the way sunlight makes this bike shine."
The Daytona 675 SE is mechanically identical to the standard 2009 Daytona 675, which has received praises worldwide by winning several road and track-based tests against its competitors.

The race-bred machine utilizes a 126bhp three-cylinder engine and the very latest chassis technology, including a highly sophisticated and adjustable front and rear suspension. Riders can adjust both high and low speed compression damping to obtain unparalleled levels of control that are suited to both spirited street and track riding as well as compliance for rough road surfaces. New radial-mount Nissin monobloc front brakes give tremendous stopping power while the latest Pirelli SuperCorsa SP tires give outstanding levels of grip and feedback.

A full range of genuine accessories and factory race parts also are available for the Daytona 675 SE, giving owners an opportunity to personalize both the looks and performance of their machine. Track day enthusiasts will find a number of accessories that include lightweight carbon fiber parts and a 'plug-and-play' quickshifter as well as race-style rear set footrests and a racing inspired exhaust that were developed with Italian racing specialist Arrow Special Parts.

Similarly, Triumph's association with Alpinestars technical riding apparel has resulted in a range of performance jackets, pants, gloves and boots that are designed for male and female Daytona 675 riders.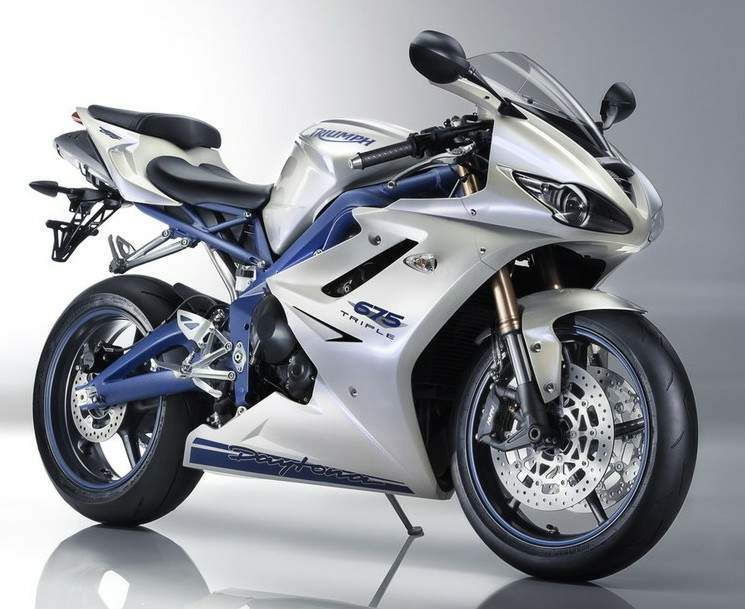 Features & Benefits
Engine
Powered by the critically-acclaimed 675cc three-cylinder engine producing 126bhp, the Daytona 675 SE is mechanically identical to the standard Daytona 675, which has received universal praise since its introduction at the start of the year, winning numerous road and track based group tests against its supersport class competitors.

Bodywork
The Daytona 675 SE features an attention-grabbing new Pearl White color scheme, a brand new color that has not been used on any other model, with eye-catching new blue decals for a distinctively high-class finish.

Wheels
Lightweight cast aluminum five-spoke wheels front and rear contribute to class-defining handling, with the race-inspired blue pinstripes confirming the Daytona 675 SE's racetrack heritage.

Frame
Triumph's highly-acclaimed fabricated aluminum chassis comes with a distinctive Sparkle Blue frame, swing arm and subframe that really make the Daytona 675 SE stand out from the competition.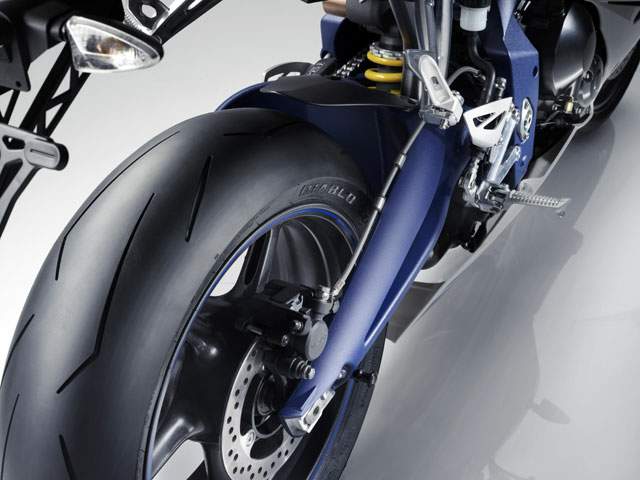 Review

The whine of the exhaust power-valve resetting itself signifies all is well with Triumph's latest middleweight hot-shot. When the tach needle and dash warning lights settle, it's time to pull the clutch and thumb the starter button. Without any throttle input the 675 quickly settles into a rhythmic tickover.

Cautious blips of the throttle warm the Daytona. Does the groaning airbox sound louder than the old model? Maybe. What is different is the bike's ability to drop back to tickover instantly. New electronics have been installed in the Daytona to ensure smooth engine manners at small and less hurried grabs of the throttle tube.

It's noticeable the moment the clutch is let out. The Daytona pulls so cleanly it leaves me wondering if the Daytona is going to excite or cause sleep. As the revs build the airbox note takes on a stronger howl and we are rapidly covering ground. This feels so good, so right I'm all but sold on the new Daytona already.

There's a flat torque curve built into the Daytona's 675cc lump and although it has only grown 1lb/ft over the old model's 53 lb/ft, it feels substantially greater. There are two reasons for this: 1) first gear has been replaced with the taller race kit item, and 2) the rev range has been upped by 400rpm to 13,900rpm across all gears. But it's not just the extra revs that make you smile when the blue shift lights finally come into play; it's the way the engine drives from minimal revs regardless of the gear selected.

Riding the swooping mountain roads near to Cartagena circuit was a blast on the Daytona. On the odd occasion where I barrel into a turn too hot, all braking and unable to hook a lower gear in time, the Daytona's airbox honks and the engine pulls without protest to drag me clear of the turn without losing face. Impressive stuff. Docile on one hand; howling banshee on the other - and these are the two main reasons why the Daytona's engine will draw in new admirers. This is a bike that is all too easy to ride because of its engine. And be ridden fast if needs be - something only Honda appears to be able to do in its 600 and 1000 CBR models, which is a massive compliment cocked at Triumph.

The Daytona has always been an agile beast and this is also true of the new model. Slashing three kilos off the dry weight figure is always a good thing, but whether this is noticeable while ripping up the queen's highway is debatable. The Daytona can still be cajoled into turns very easily and without fuss - thanks mainly to the new Kayaba suspension. High- and low-speed compression damping on front and rear suspension units could be construed as a simple selling point. But the fact is Triumph has worked hard to get the Daytona's suspension to work as brilliantly as it does.

Not all roads in Spain are brand new and super smooth, built with the glut of EC-sponsorship money. Indeed most backroads are pockmarked with craters, cracks and dips with cambers changing every ten yards. They are the sort of roads that would give a Yamaha R6 rider a bloody hard time, but not the Triumph. It managed to keep its calm at all times by simply riding all but the worst of the bumps. And this was on standard setting with just a shade less high-speed compression damping to make sense of the hundreds of sleeping policemen lining Spain's shanky villages

Not once did the non-adjustable steering damper have to work hard keep the bike in check - it too has been revised with a smoother action under slow speed movement. Not even when charging over crests with the front wheel cutting through fresh air and landing at angles that would make even a vicar swear.

The new Daytona retains the tall rear end and low-slung front. The riding stance is pure supersport - the clip-on bars aren't low enough to hurt wrists but the 825mm seat height will be the one area that may cause possible buyers to think twice about the Triumph. But don't let this put you off - strike a deal to have the aftermarket 10mm lower seat included in the price. And also get the dealer to include some scuff-resistant genuine fake carbon-fibre pads to stick on the swingarm. If you are the sort of rider to ride with balls of feet on the pegs then you need to be aware certain types of hard boot heels will mark the swingarm's coated finish.

The final piece of the Daytona's armory is the Nissin one-piece monoblock front calipers. Although there wasn't much wrong with the old bike's units, these give a much more secure feel at the lever when braking from high speed, which makes them ideal for the track.

Part two of the Daytona's launch was a day spent running riot around Cartagena circuit. This test underlined how good the bike's road capability is by performing superbly. Quite simply it has to be one of the best trackday bikes to be pushed out of a dealer's showroom. With the suspension set for the rigors of hard braking, acceleration and cornering forces, the Daytona could be hustled through Cartagena's twists like a fettled production race machine.

And yet this was on the tires the bike is sold with: Pirelli's latest Diablo SuperCorsa SP. Now these are good. They might not last that long but if its piece of mind you want when dragging knee-slider across the countryside, Triumph has pulled off a masterstroke by using these tires.

The track test also showed quite clearly how good the Daytona's new electronics package is. The bike doesn't have a slipper clutch (the race kit includes one), but the effect of engine braking from high rpm downshifts was negligible. Not once did the rear wheel lock or slow savagely to upset the chassis especially when banked over. This is down to the ECU and Keihin fuel injection working out throttle position against crank rpm (amongst other sensors) and allowing the butterflies to partially open and allow air through to the cylinder head to reduce the effect of engine braking.

The chassis also allows the bike to be picked up without effort to track another line - you know the sort of maneuvers, where you've suddenly found yourself rushing into the back of someone, or about to run across the curbing. Maybe the bike's nimbleness can be attributed to the 3kg weight reduction, but only a back to back test of the old and new Daytona would clarify this.

But hey, why am I being so picky? The simple fact is figures don't always tell the true story. Three brake-horsepower and three kilos less weight, along with myriad of other detail changes have led to the Daytona 675 challenging for top spot in the supersport section.

Source Motorcycle USA