Norton JPS 750 Daytona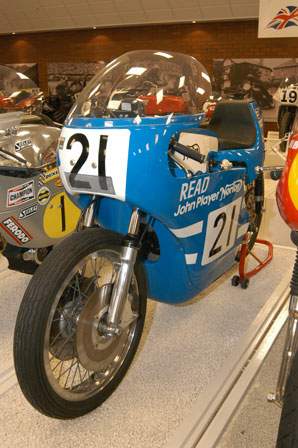 Norton withdrew from racing in 1954. The company protested that the cost of racing was constantly rising because four-cylinder motorcycles were used, especially by the Italians, that had nothing in common with normal production motorcycles.
In 1972 Norton went back into racing with a vehicle derived from its Commando 750. The new racer, a Norton two-cylinder 750, was prepared for top-class world championship racing. It was the product of detailed study and work by the finest technicians in British motorcycling.
The pride of British motorcycles was their chassis. Following the success of the famous Featherbed chassis of Norton's two-shaft Grand Prix,
many other large-cylinder British motorcycles—built by Triumph, Norton, BSA, and AJS—gave stiff competition to the big Japanese, German, and Italian two-wheelers, and this was chiefly due to their chassis. Thus Norton concentrated all its efforts on the body and chassis of its 750 Daytona.
The redesigned Commando that Norton entered at Daytona Beach in 1972 came in fourth overall, thanks chiefly to the skill of Phil Read. The following year the Norton was again redesigned. It was now called the John Player Special (JPS), because of financing from the Player cigarette company. It was raced at Daytona Beach and at Imola, Italy.
The engine was still the usual two-cylinder one derived from the production models, while the chassis was constructed with a steel-plate body. The fairing, according to the builders, provided an increase in speed equal to 15 more h.p. in the engine.
In 1973 Peter Williams, one of the world's finest racers, rode the Norton JPS with limited success, having to settle with modest placings. But in Britain he won the Tourist Trophy in the 750 class, slightly bettering the record.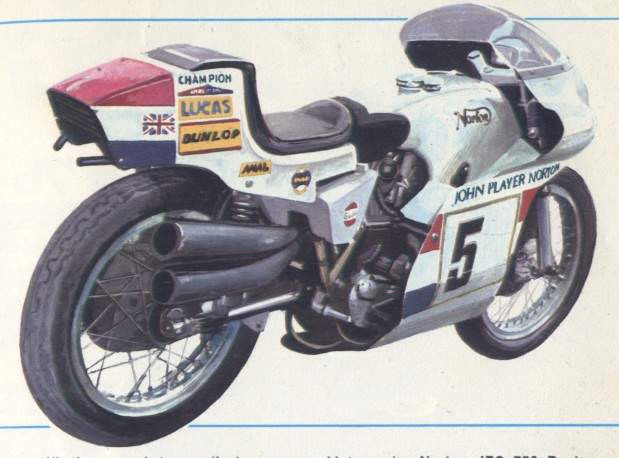 By the end of 1973 the Norton JPS's poor performance was being blamed on the chassis. The single-piece body was abandoned in favor of a complicated structure of tubular elements. During the 1974 season the performance of the JPS improved and it often came in among the leading positions. It was ridden by Williams and by Dave Croxford that season. Between 1975 and 1976 the most important modification was made—the engine was changed. But this last attempt to make the motorcycle competitive, if not a winner, was disappointing, and Norton withdrew from racing for a second time.
Motorcycle: Norton JPS 750 Daytona Manufacturer: Norton Motors Ltd., Birmingham
Type: Daytona and Formula FIM 750 Year: 1973
Engine: Norton two-cylinder, four-stroke, overhead valve distribution, rod and rocker. Displacement 745 cc. (73 mm. x 89 mm.)
Cooling: Air, piped through the chassis
Transmission: Five-speed separate
Power: About 80 h.p.
Maximum speed: Over 165 m.p.h.
Chassis: Single body and chassis in electrically welded steel plate. Front and rear, telescopic suspension
Brakes: Front, hydraulic double disk; rear, hydraulic disk