Make Model

Honda VFR 800F Interceptor

Year

2014-15

Engine

Four stroke, 90°V-four cylinder, DOHC, 4 valve per cylinder.

Capacity

781 cc / 47.6 cu-in

Bore x Stroke

72 x 48 mm

Compression Ratio

11.8:1
Cooling System
Liquid cooled
Lubrication
Wet sump
Oil Capacity
3.8 Litres

Induction

PGM-FI electronic fuel injection

Ignition

Computer-controlled digital

Starting
Electric

Max Power

77.9 kW / 104. hp @ 10,250rpm

Max Torque

75.1Nm / 55.3 lb-ft @ 8,500rpm

Clutch
Wet, multiplate with coil springs

Transmission

6 Speed

Final Drive
O-ring sealed chain
Frame
Diamond; triple-box-section aluminium twin-spar\

Front Suspension

43mm HMAS cartridge-type telescopic fork with stepless preload and ten DF adjustment,

Front Wheel Travel
108 mm / 4.2 in

Rear Suspension

Rear Pro-Link with gas-charged HMAS damper, 7-step (stepless remote-controlled hydraulic) preload and stepless rebound damping adjustment,

Rear Wheel Travel
119 mm / 4.7

Front Brakes

2x 310mm x 4.5mm dual floating hydraulic disc with radial fit 4-piston calipers and sintered metal pads ABS

Rear Brakes

Single 256mm x 6mm hydraulic disc with 2-piston caliper and sintered metal pads ABS

Rims
10-spoke diecast aluminium -
Rims Front
17M/C x MT3.5 -
Rims Rear
17M/C x MT5.5

Front Tyre

120/70-ZR17M/C (58W)

Rear Tyre

180/55-ZR17M/C (73W)

Rake
25°
Trail
95 mm / 3.7 in
Dimensions

Length 2134 mm / 84.0 in

Width 748 mm / 29.3 in

Height 1203 mm / 47.3 in

Wheelbase
1460 mm / 57.4 in
Seat Height
789 mm - 809 mm / 31 in - 31.7 in
Ground Clearance
126 mm / 4.9 in

Wet Weight

239 kg / 526.9 lbs

Fuel Capacity

21.5 Litres / 4.9 gal

Instruments
Digital speedo, analogue tachometer, fuel meter / fuel consumption / water temp. / gear-position / ambient temperature / clock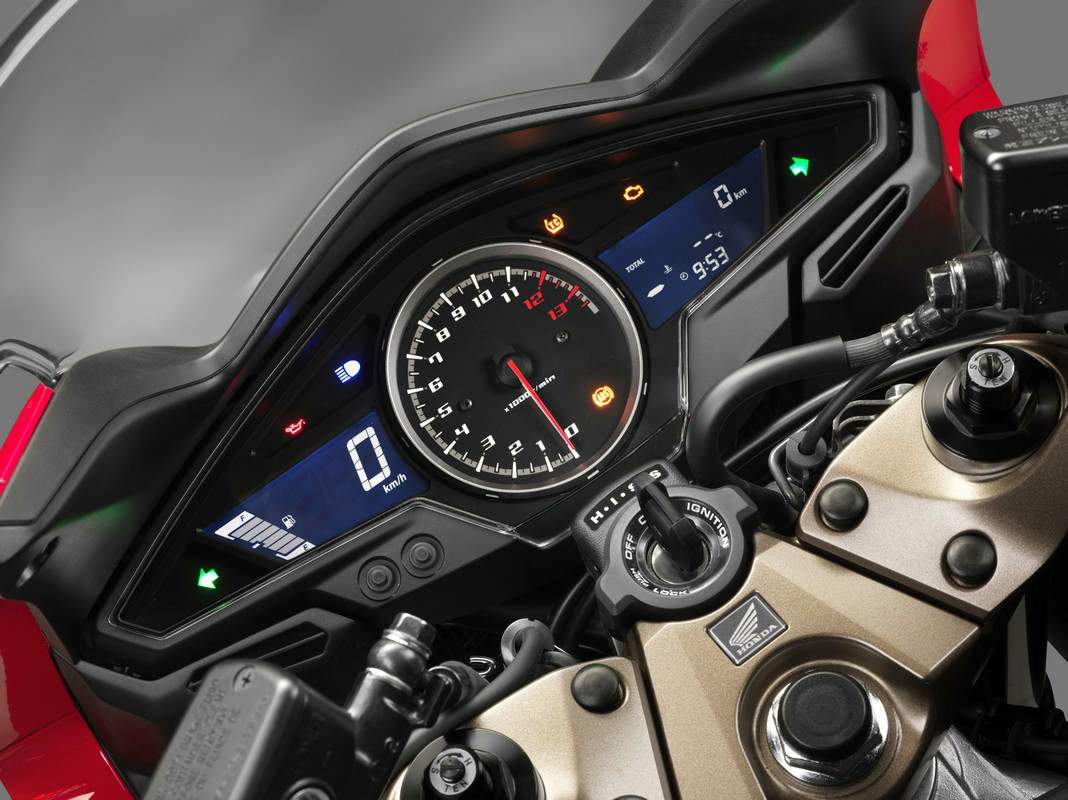 The legendary VFR800F is completely updated with sharp, contemporary looks, a brand new telescopic fork, Pro-arm swingarm, wheels and bodywork. Plus adjustable seat height, standard-fit Traction Control System, ABS, heated grips and Honda's unique new self-cancelling indicators. 10kg lighter than the previous model, with the engine re-tuned for greater low and mid-range torque.

The V4 engine configuration is a special one for Honda, going back nearly 40 years. A complex, yet compact unit, it has a unique power delivery and a soul all its own. Honda's current RC213V MotoGP machine uses a V4, as does the flaghip sport-touring VFR1200F. It's a powerplant woven tightly into Honda's engineering DNA.

And nowhere has the V4 engine been more at home than in the legendary VFR800F series – a truly all-round motorcycle that's always done sport as well as it tours, and all areas in between, with or without a pillion. It has inspired huge loyalty among owners over the last two decades and it's estimated there are still 75,000 VFRs in regular use across Europe.

The legion of VFR800F fans know exactly what they like about their bike and also what they'd like more – and less – of in a new model. With such an important model Honda has listened intently to customers' views; in essence they want a high-quality motorcycle with strong low and mid-range torque, light and slim but just as capable and adaptable, with a return to the evocative look and feel of VFRs of the past.

Two factors were key drivers for Honda's engineers in development of the new VFR800F – firstly, to retain and expand the essential VFR qualities that inspire so many, and, secondly, to update the new model with modern features and technologies.

Starting with the 782cc V4-VTEC engine, bottom and mid-range power have been boosted, to strike the ideal balance of enjoyable sports riding and easy commuting. The VTEC transition has been softened and the resulting power delivery is smooth, strong and linear. Honda's TCS (Traction Control System) has also been added.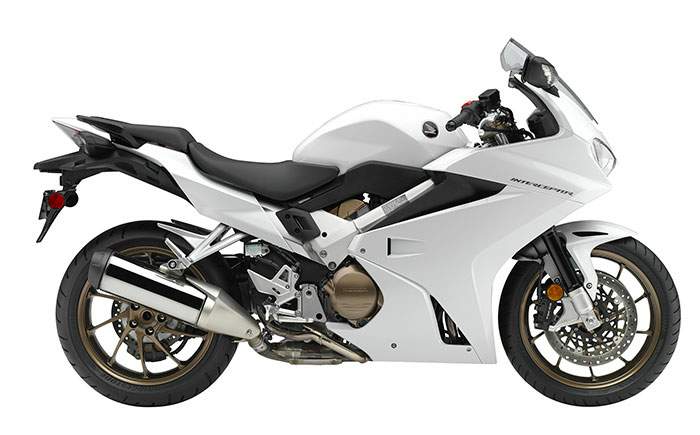 Extensive work has gone into making the new VFR800F lighter than its predecessor, a whole 10kg lighter in fact. A single exhaust muffler has replaced the dual underseat design of the previous model and a host of detail changes save weight.

A brand new Pro-Arm single-sided swingarm, 43mm telescopic fork, radial-mount four-piston front brake calipers and redesigned wheels hang from the quintessentially VFR twin-spar aluminium beam frame. Seat height is adjustable by 20mm, ABS is fitted as standard and – for the first time – a Honda Genuine Accessories shift assist system is available to bolt straight on.

And then there's the styling. Considerably slimmer in the middle than the outgoing bike the 2014 VFR800F mixes a sleek silhouette with crisp, contemporary angles – and more than an echo of classic VFR design.

The VFR800F's 782cc, liquid-cooled 16-valve DOHC 90° V4-VTEC engine has received significant development – mainly focusing on cam timing and valve duration/overlap – to deliver the required increase in low-to midrange power and torque. Peak power of 77.9kW is delivered at 10,250rpm, with peak torque of 75.1Nm arriving at 8,500rpm.

VTEC valve timing still operates one pair of inlet/exhaust valves per cylinder at low rpm, and then switches to four as revs rise but the transition is now seamless. Combined with the uprated torque, the effect is a remarkably linear power delivery and effortless overtaking at highway speeds.

Bore and stroke is 72mm x 48mm, with compression ratio of 11.8:1. The PGM-FI fuel injection – with 36mm throttle bodies – has been remapped to suit the engine's new performance parameters, and fuel economy is 17.8km/l (WMTC). The single exhaust design saves 7kg weight.

Honda's Traction Control System (TCS) is fitted as standard equipment. It's operated from the left handlebar and a single mode covers a wide variety of riding conditions and situations.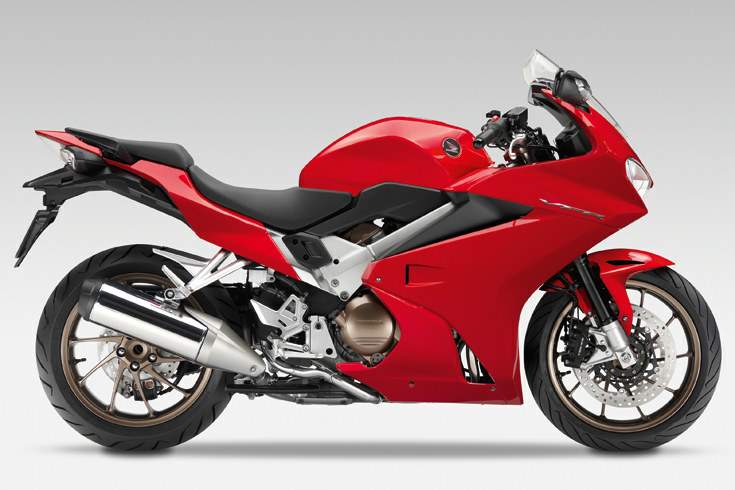 The diamond triple-box section aluminium twin-spar frame is unchanged; a revised die-cast aluminium subframe is 3kg lighter than the previous model. In total, kerb weight is reduced by 10kg to 239kg. Rake is set at 25°30' with trail of 95mm and 1,460mm wheelbase.

Completely new are the aluminium single-sided Pro-arm swingarm and 43mm Honda Multi-Action System (HMAS) telescopic fork. They feature stepless spring preload adjustment and 108mm wheel travel; the HMAS gas-charged rear shock operates through a Pro-Link suspension linkage with remote spring preload and stepless rebound damping adjustment.

The fork lowers have been redesigned in two pieces to accept radial-mount four-piston brake calipers. New Fine Die-Cast (FDC) hollow aluminium wheels employ dual 310mm floating discs up front and a 256mm disc at the rear. The front rim is a 17M/C x MT3.50, the rear a 17M/C x MT5.50 with 120/70 ZR17M/C (58W) and 180/55 ZR17M/C (73W) tyres. 2-channel ABS provides consistent and safe all-weather stopping control.

'Elegant Sport' is the essence of the VFR800F and its stunning new bodywork not only provides a contemporary outline, with a mixture of sharp angles and soft curves it pays respect to design elements from the VFR's history – details like the small air intake duct on the fairing's flank.

The VFR-signature 'X' headlight shape is updated and now features LED lights – a first for Honda. Positional lights are integrated with the wing mirrors, just like the VFR1200F. At the rear, the wide, angular tailpiece offers plenty of room for a pillion and features an LED rear light unit with combined indicators for a clean look. With fuel economy of 17.8km/l (WMTC), the 21.5-litre fuel tank offers a 350km plus cruising range.

At 500mm the width around the middle cowl is reduced by 40mm giving the VFR800F a slim and compact feel. The seat is height adjustable (789mm or 809mm) using the tool provided and a handlebar height spacer, adding 15mm is available as a Honda Genuine Accessory.

Unique to Honda is the VFR800F's self-cancelling indicator system. Rather than using a simple timer it compares front and rear wheel speed difference and calculates when to cancel the indication relative to the riding situation.

A new dashboard houses a digital speedometer/tachometer plus gear position indicator, ambient temperature gauge, fuel consumption information and clock. There's also an indicator for the 5-stage heated grips, which are fitted as standard. A compact automotive-style 'wave' design key – with internal grooving – reduces the chance of breakage.

For the very first time Honda Genuine Accessories are offering a shift assist system. Designed to bolt on and plug straight in it provides race-style split-second upshifts with no need to use the clutch.

A new rear hugger protects the shock and Pro-Link suspension from water and the colour-matched 45L top box and panniers have been redesigned to accept the wave key. Other Honda Genuine Accessories for the VFR800F include:

Rear carrier
Colour-matched top boxes
Pannier and top box inner bags
Averto security kit
U-lock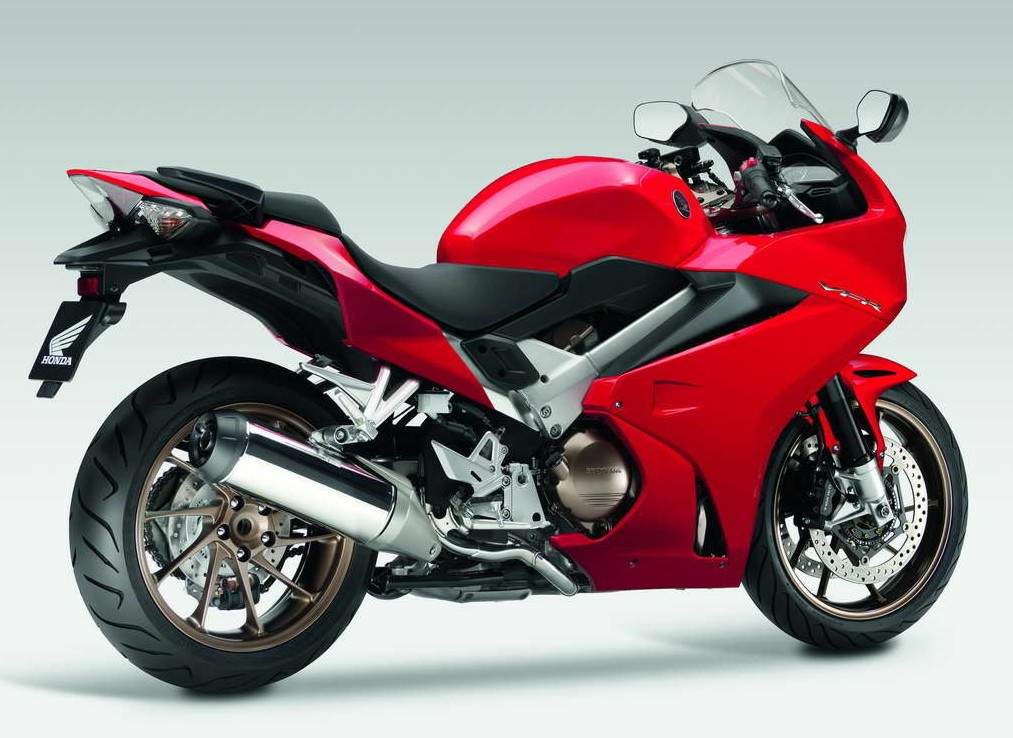 Review
The VFR800 is a cultish bike, with a loyal following. It's a motorcycling tribe enamored by the V-Four engine, and Honda's history behind it. But these hard-core VFR enthusiasts have been left wanting in recent years, at least in the US, as the 800 was dropped from American Honda's lineup in 2009. In its stead was the VFR1200 – an intriguing bike in its way, but an expensive one and not a blockbuster hit by any means. Now Big Red returns the 800 to US shores with significant revisions as the 2014 VFR Interceptor.
As American Honda's media representatives described the VFR800 demographic during our recent press ride in Southern California, the most distinguishing trait was that VFR riders actually ride – amassing higher-than-average mileage on their mounts. This claim stuck out in my mind in particular, as I'd recently received an email from a MotoUSA reader who mentioned his personal ride was a VFR with 70,000 miles on it. These are the sort of folk that geek out on the tech details and spec sheets. They likely have strong opinions about gear driven vs. chain-driven cams, and Honda's VTEC system (more on this in a moment). This Interceptor redesign attempts to refine, rather than revolutionize. And after a day strafing through MotoUSA's familiar Southern California testing haunts, including Palomar Mountain, I suspect VFR loyalists will be pleased with the result.
So what's new? Styling updates are the most noticeable revisions, as new bodywork delivers a sleeker look. The LED headlight also draws attention. More subtle stylish cues include the bronze magnesium finish on the engine covers and 10-spoke wheels. A singlesided swingarm returns, but with a new cross brace to increases torsional rigidity. Honda ditched the dual undertail exhaust for a single right-side canister, which lightens up the back end both physically and aesthetically. A lighter aluminum subframe, which replaces a steel-tubed design, furthers the weight drop out back. All told, the 2014 Interceptor's claimed 529-pound curb weight is an 11-pound reduction from the previous model.
The VFR is a slimmer bike too, thanks to a new stacked radiator configuration (as opposed to the previous side-mounted units) which narrows the bodywork by 1.5 inches. The subframe is also narrower, which allows a thinner seat. The result is an easier reach to the ground for riders despite its 31.8-inch seat height raising fractionally (0.1 inch). Shorter riders will also appreciate the seat's two-position adjustability, lowering to an even 31 inches. Straddling the bike for our press ride, my 32-inch inseam saw me comfortably resting on the ball of my foot with the tall seat.
The 2014 Interceptor remains powered by a 782cc V-Four, but engineers have elongated intake funnels and tweaked the cam timing, engine mapping and fuel delivery to improve bottom-end power. The updates also promise a smoother transition of the VTEC valvetrain, when the engine switches from two to four-valves, at higher revs. The VTEC system is a bone of contention for some VFR folks, who have been leery ever since it made its debut with the 2002 generation – this latest iteration also changing from gear-driven cams to the current chain-driven design.
Fire the Interceptor to life and riders are greeted with a familiar V-Four cadence. I can't vouch for improvements compared to the 2008 model, as I haven't ridden the latter model, but the bottom-end power is more than enough for regular street and touring duty. The real treat for riders is when the V-Four ratchets up in the higher revs. The VTEC transition, between 6500 and 6800 rpm, transforms the VFR into a true sportbike.
Honda bills the V-Four's revised settings as making for a smoother tickover from 2- to 4-valve operations. Again, I can't compare without direct experience, but I found the transition smooth enough. (A future VFR event with my fellow Pacific Northwest riders may remedy this back-to-back comparison, so stay tuned…) There's no sudden ka-chunk surge with the VTEC changeover, but there is a noticeable performance increase. My favorite change at higher rpm, however, is the V-Four's wonderful intake howl and engine sounds. Only a truly hardhearted rider will fail to enjoy the Interceptor's raucous high-revving tunes, and VFR aficionados will relish them.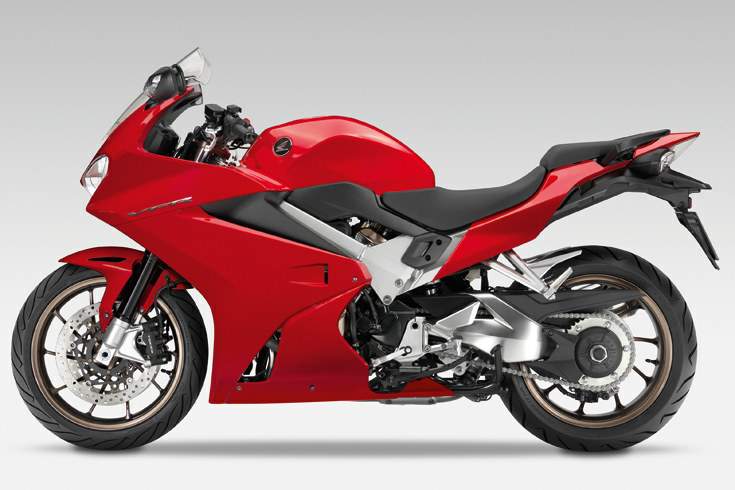 The VFR is not a ride-by-wire design, with the throttle feel steady and predictable. The bike scoots around at lower rpm with a buzz-free easy-to-ride power delivery. But the top-end performance gains are such that riders will happily put in the extra effort to keep the revs high, particularly during sporty runs. Thankfully, the six-speed transmission does its part well enough, although I did find a handful of false neutrals during the day. There's no slipper clutch to be had, unlike many of its Supersport cousins, but I didn't have any overly disruptive moments with downshifts.
Handling-wise the VFR feels smaller at the controls than its specsheet weight would imply, with a low center of gravity. The bike changes direction with minimal effort, but also maintains a stable and planted feel in the corner. The Interceptor splits the difference between the razors-edge performance of a 600 supersport and a larger displacement sport-touring mount – not too twitchy and not too heavy.
A 43mm Showa fork and single rear shock are adjustable for preload, with the shock offering rebound adjustment as well. Honda also offers a Deluxe spec that adds rebound damping adjustment for the front fork. I spent the majority of my time aboard the standard spec VFR and found the base setup more than acceptable for a sporting pace on some of California's most famous backroads, including Palomar Mountain. Aggressive riders will want a firmer setup, but I found baseline settings a pleasing compromise of comfort and performance – as the VFR offers a plush ride in urban/touring duties.
Braking power improves with the addition of dual radial-mount four-piston calipers up front, and dual-caliper setup in the rear. The VFR's brakes aren't linked, with ABS standard on the Deluxe model and an option on the standard bike.
The Tokico front stoppers, which clamp on 310mm discs, deliver all the stopping power I need. I found the VFR's two-finger actuation and fine-tune modulation at the lever preferable than the all-or-nothing bite delivered by some top-shelf brakes.
I'm not as fond of the Interceptor's riding position, which is definitely on the sporty side. VFR fans are likely rolling their eyes at the wincing wuss writing this review, as sportiness is exactly what defines the VFR family. Fair enough, but the forward lean put pressure on my wrists – affecting all-day comfort. The seat, however, felt great and the footpeg position, while somewhat cramped, was not insufferable. Honda offers optional bar risers, which moves the handlebar placement up 13.5mm (0.5 inches) and slightly rearward. I reckon that change would make a world of difference.
Behind the controls Honda has given the VFR's instrument console a solid redo. It may lack the crisp TFT display found on some high-end bikes, but it does showcase all the must-have info a rider really needs: Large analog tach in the center, flanked on the left by digital speedo and LCD display on the right with gear position indicator, tripmeter, clock and ambient air temperature.
The base model VFR Interceptor sports a $12,499 MSRP. The Deluxe version costs an extra grand and includes a host of options as standard kit, including: ABS, traction control, heated grips and self-cancelling turn signals. We spent only a couple minutes on the Deluxe model and can say this: Heated grips are always a treat, if unnecessary, and a great touring addition. The self-cancelling signals work too, even though I found myself cancelling them before they themself-cancelled… if that makes any sense. The VFR's TC system is of the save-your-bacon variety, as opposed to the tunable performance aid on some sportbikes. Applying too much throttle in the gravel or hamfisting it on the road I saw the VFR's TC indicator light up as the ECU cut in. Aside from the Deluxe add-ons, there are VFR accessory options galore. The obvious extras are 29 liters of space from integrated hard saddlebags, which are similar in function to the VFR1200 bags. Another notable accessory is a quickshifter, the first Honda has offered in its motorcycle lineup.
Source Motorcycle USA