| | |
| --- | --- |
| Make Model | BMW F 650 Funduro |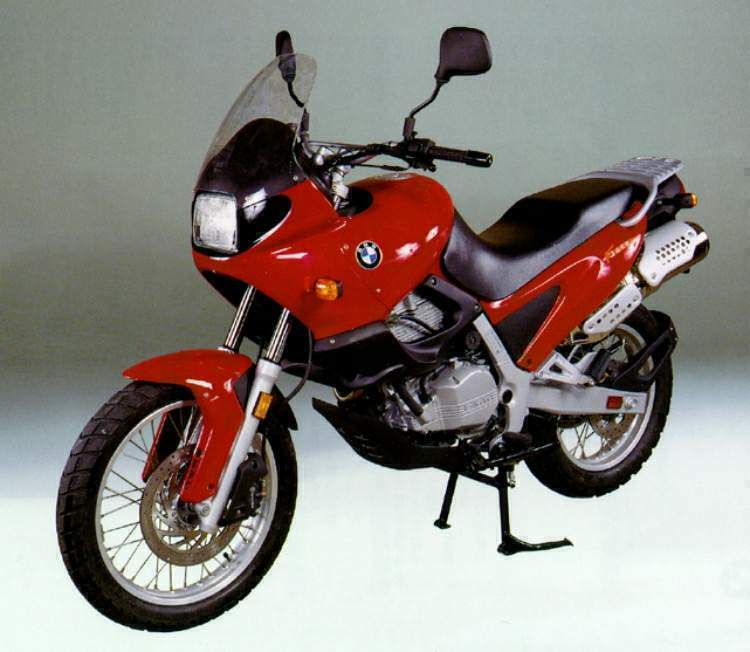 For years BMW has offered buyers a varied line-up of sportbikes, tourers, and dual-purpose machines with engine configurations ranging from twins to triples to fours. Despite this wide range of styles and powerplants, not since 1967 has BMW built a single-cylinder machine designed for the beginning rider.
That has changed with the 1997 F650. After three successful years in Europe, BMW has finally brought their popular single to North America. With its unintimidating 652cc single-cylinder engine, lightweight chassis, great ergonomics and tremendous flexibility, it just may have been worth the wait.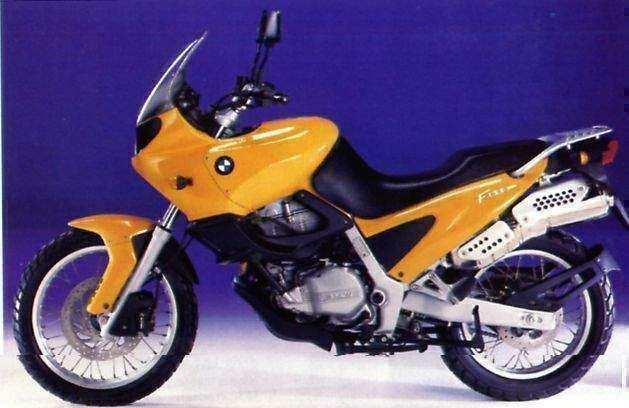 Inspiration for BMW's F650, dubbed the Funduro in Europe, came when company representatives visited Aprilia's factory in Italy. At that time, Aprilia was in the final stages of production on their Pegaso 650, a high-performance bike powered by Rotax's liquid-cooled five-valve single. The innovative German firm quickly recognized the benefit of cooperative effort between these manufacturers, and immediately sought their assistance in releasing a similar model. By using a Rotax engine in a bike built by Aprilia, all to BMW specifications, an important beginner-level bike could be added to their line at a competitive price.

For BMW to use an Austrian engine in a bike built in Italy and still have it look and feel like a BMW required careful design planning. Various configurations were experimented with before the final nod was given to a draft by freelance stylist Martin Longmore. An Englishman now living in Bavaria, Longmore's concept while designing the F650 was "to create a harmonious blend of aesthetic, technical, functional and innovative qualities with emotional appeal - a blend providing that unique touch which makes every BMW absolutely unmistakable." One look at the F650 will tell you that Longmore's design was successful. While the bike has many styling touches of its own, the family resemblance to R-series Boxers is undeniable.

Chassis design is fairly straightforward. A square-section steel frame carries engine oil in its top tube and uses the engine as a stressed-member to increase rigidity. A pair of 41mm forks with a generous 6.69 inches of travel handle suspension duties, while a single shock with hydraulic preload adjustment and 40-position rebound damping is used in the rear. Swingarm construction is of aluminum-alloy to reduce weight. Braking chores are handled by a single four-piston Brembo caliper putting the squeeze on an 11.8 inch disc on the front wheel. A twin-piston caliper grabbing a 10.9 inch disc is used at the rear.

Equally crucial to the F650's success was an engine that provided the smoothness and reliability that BMW and its customers demand. Rotax has long been one of the premier manufacturers of large-displacement single-cylinder four-strokes, and their five-valve engine had a proven track record. Still, BMW made several engine modifications to suit their needs. Rotax's dry-sump lubrication and single-piece connecting rod were retained but the engine's roller bearings were changed to low-friction plain bearings in the interests of longer life and reduced mechanical noise. A K-series styled, pent-roof, four-valve combustion chamber with dual overhead camshafts, bucket tappets and shim-type valve adjusters was used. The four-valve head provided room for a dual-plug setup that adds horsepower while lowering exhaust emissions, an important concern for BMW. Feeding the engine is a pair of constant-vacuum Mikuni carburetors, each with its own intake port. Similarly, exhaust gases are carried out by a pair of headers through twin ports. These modifications allow the engine to produce a healthy 48 horsepower at 6500 rpm with 41 lbss-ft of torque at 5200.

Riding the F650 shows that BMW's engineers have done their homework. Performance is linear throughout the entire rev range, and the motor is surprisingly smooth for a single. This engine likes to rev, and is more than happy to pull beyond its 7500 rpm redline. However, that tendency to rev means some low-end grunt has been sacrificed. Wheelies? Sure, with some effort: But if you're looking for XR600 stump-pulling torque, you'd better check elsewhere.

Around town, the BMW's long-travel suspension make commuting a breeze. Handling is quick and predictable, due mainly to the F650's light (421 lbs. wet) weight. Brembo brakes enable the rider to avoid even the most inattentive commuter. Meanwhile, the 6.69 inches of suspension travel provided by the front forks easily soak up even L.A.'s huge earthquake-sculpted potholes.

While engine vibration makes some dual-sport singles a chore to ride at freeway speeds, the F650 is as smooth as many multis. Cruising at 75 mph is comfortable, and vibration isn't more than a mild buzzing. Only at 80 mph and beyond does the buzz increase to the point of annoyance. However, buffeting at these speeds is tiresome due to the tall windscreen. Here the street-only F650ST's lower screen would be preferable. Seat comfort is good, allowing several hundred miles to pass without complaint. Fuel mileage was excellent with a combination of fast freeway and city riding yielding 50 miles per gallon. With its generous 4.6 gallon tank, a cruising range of 230 miles is possible.

Experienced riders will also appreciate its combination of simplicity, light weight and refinement

Adding to the long-distance capability of the F650 are its optional saddlebags, top case, heated handgrips and electrical accessory socket. Our test unit came equipped with a set of BMW's K-series saddlebags. While pricey at $645 plus another $197 for the mounting hardware, these bags offer tremendous carrying capacity. With its ability to carry both a full-face helmet and 18-pack of cans with ease, the F650 proved itself a valuable mule. Also available is a top case for $315, plus $96 for the mounting kit. Another option is a set of smaller city cases for $331. However, like all of BMW's K-series luggage they still use an awkward mounting system. Attaching the bags always seemed to take a few minutes longer than we would have preferred.

Similar to the R1100GS, the F650 version is offered as a dual-purpose bike. Off-road its light weight puts it miles ahead of its portly big brother. While nobody is going to enter an F650 in the Baja 1000, it does possess a surprising amount of dirt capability. We took the F650 to our official MO off-road test area and found that, while it did bottom out over larger bumps and get out of shape on fast bumpy sections, it could be ridden with reasonable confidence through areas where larger adventure bikes would fear to tread.

Shorter riders will be glad to hear that BMW offers a lowering kit for the F650. Unlike other BMWs with adjustable seat heights, the lowering kit actually drops the center of gravity, via a modified swingarm and shock stop. Shortened side and centerstands are included with the kit.

BMW's F650 is a complete, refined motorcycle that'll do many things well. It's as capable of exploring bumpy dirt roads as it is commuting or highway touring. While it may be an attractive model for beginners, experienced riders will also appreciate its combination of simplicity, light weight and refinement.

Source Motorcycle.com

Review

The BMW F650, better known as the Funduro, has been one of the success stories of the 1990s for the German company, with over 64,000 units sold.

The heart of its appeal is the simple, easygoing nature of the Rotax derived single cylinder engine, which makes it an ideal bike for beginners, or those who just ride for relaxing fun.

Formerly manufactured under license by Aprilia of Italy, the all-new F650 for 2000 onwards is now made in Germany and features a redesigned chassis, more powerful engine, and a welcome dash of street style too.

With optional extras like heated handlebar grips and variable riderīs seat height, the F650 makes a credible solo touring machine, with the ability to cruise comfortably all day in the 60-75mph speed range.

For BMW the F650 is an important bike, representing as it does a serious effort to break into a totally new sector of the market with an entry-level machine. The Funduro name is a combination of fun and enduro, which sums-up the bikeís dual-purpose nature. But itís the price that reveals more, as it puts the F650 in a different league to previous BMWs. In Britain, at least, the F650 is barely more than half as expensive as the R1100RS. It costs only £140 more than Hondaís NX650 Dominator, and will almost certainly be cheaper when the yenís strength forces Honda to raise prices in the near future.

Whilst the F650ís engine is impressive, its chassis is more so, at least for the road riding for which the bike is primarily intended. The steel frame, which uses the engine as a stressed member, and the steel deltabox swing-arm are suitably rigid. Perhaps though, the key to the BMWís road going poise is in its suspension, with 170mm of axle movement at the front and 165mm at the rear.

Serious dirt riding is not perhaps what the F650 was built for. Most enthusiasts will never take it off-road, and instead will be impressed by such road-friendly details as the wide and clear mirrors, the broad dual-seat with its built-in carrier and pillion grab-handles, and the four-gallon tank that allows a range of well over 150 miles. This is a practical roadster that you could ride around town in the week, and load up with a passenger and luggage for a longer trip at the weekend.

The bike may have been named the Funduro, but this winter ride was no fun at all. The motorway was slippery and jammed with cars, the temperature was barely above freezing, and the low afternoon sun was combining with my dirt-smeared visor to make visibility almost impossible. Itís on cold, damp days like this, I reflected, that you really appreciate traditional BMW comforts such as a big fairing, ABS brakes and heated handlebar grips. Ironically the bike I was riding had none of those things, which in the circumstances was unfortunate, but not exactly surprising. For the F650 is the machine with which BMW abandons tradition to take a bold leap into the unknown. The familiar blue-and-white propeller badges are in place on its petrol tank and instrument console, but there are few other clues to link this bike with the long line of previous BMWs.

The F650 is a revelation, and not just because itís the first single-cylinder BMW since the 1960s, and the first bike in the German firmís 70-year history to have chain rather than shaft final drive. More importantly itís the first BMW to be built not in Germany at all, but in Italy using components from Austria, Italy and Japan. Radical stuff indeed, for a firm with such a conservative image.

The desire to reduce development costs, and to complete the production process in a relatively short two and a half years, explains the German firmís decision to team with Aprilia and Rotax in building what they call the first European motorcycle. Naturally BMW are quick to emphasise that this is much more than a rebadged model from Aprilia, whose Pegaso trail bike also uses a 652cc Rotax engine. There are indeed significant differences between the two singles, which each have dimensions of 100 x 83mm, and use chain-driven twin overhead camshafts. Most obvious is that the BMWís cylinder head has four valves to Apriliaís five, and is cooled by water, like the cylinder barrel, instead of air.

The F650 motor also differs in having a plain-bearing rather than roller-bearing crankshaft, a gear-driven balancer shaft and a new stainless steel exhaust system. The chassis is derived from that of the Pegaso, based around a steel, single-downtube frame which incorporates the oil tank in its main spine. Suspension is a modified version of the Apriliaís Showa units, incorporating 41mm non-adjustable forks. The vertical, rising-rate monoshock can be adjusted for rebound damping, with a conventional screw at the bottom of the unit, and for spring preload using a remote knob on the left of the bike. A handful of items, notably the Honda-like switchgear and Pirelli-shod wire wheels (in 19-inch front, 17 rear sizes), are shared with the Pegaso. But for all the similarities, the F650 is a unique bike that has BMWís stamp running right through it. Although many other components originate in Italy, they are produced to the German firmís specification. And construction is overseen by a group of BMW engineers permanently situated at Apriliaís plant at Noale, near Venice in north-eastern Italy.

Styling is a personal matter but Iíll admit to being impressed with the Funduroís looks, and also with what seems to be good build quality. Cost-cutting measures are apparent in the bikeís lack of equipment, at least by BMW standards, and in the fairly basic nature of a few parts such as the small metal fuel tap, potentially disastrous spring-loaded sidestand and non-adjustable hand levers. But the bulbsous bodywork, styled by British freelance designer Martin Longmore, looks fresh and interesting, fits well and appears well finished. More importantly, the F650 radiates thoughtful design from the moment you ease yourself into a seat which, at 810mm, is both low and wide by the standards of big dual-purpose bikes (most of whose seats are higher by 40mm or more). Even fairly short-legged riders should have few problems here. The riding position is typical trail bike, with wide, raised handlebars and fairly forward-set footrests, but the bike feels light and manageable despite, at 189kg, weighing 25kg more than the Dominator and almost as much as the twin-pot Transalp.

It accelerates pretty handily, too, thanks to an engine that feels pleasantly punchy despite a modest peak power output of 48bhp at 6500rpm. (Apriliaís Pegaso 650 produces 50bhp at 7000rpm.) The maximum torque figure of 57Nm at 5200rpm is more relevant, in conjunction with the flat curve. Aided by crisp response from its pair of 33mm Mikunis, the F650 pulls seamlessly and respectably strongly all the way from below three grand to the 7500rpm redline. Thereís enough power for a genuine top speed of around 100mph, but a more relevant figure is the comfortable cruising speed of precisely 80mph. Below this figure, which equates to 5000rpm in top gear, the BMWís balancer-shaft helps give a ride that its impressively smooth by single standards. Go any faster, and the vibration that comes drumming through the otherwise comfortable seat soon reminds you that thereís only one big piston banging up and down below. By then, the exposed riding position normally means youíre going fast enough anyway. Even BMW couldnít possibly fit this bike with shaft drive, and its transmission works well. Certainly the five-speed gearbox is slick, positive and generally the best I can recall on a BMW. In fact my only real complaint with the motor is its occasional tendency to cut out at low speed, generally when I was trickling through traffic on cold mornings. In each case Iíd ridden only a few miles, but the engine had warmed up enough to idle without choke. It always restarted instantly but the fault was annoying and untypical of an otherwise sophisticated bike whose manoeuvrability made it excellent in traffic.

If the F650ís engine was impressive, its chassis was more so, at least for the road riding for which the bike is primarily intended. The steel frame, which uses the engine as a stressed member, and the steel deltabox swing-arm are suitably rigid. To my mind, though, the key to the BMWís roadgoing poise is in its suspension, which with 170mm of axle movement at the front and 165mm at the rear has substantially less travel than that of rivals such as Hondaís Transalp (which has 200/190mm front/rear), let alone the more dirt-friendly Dominator (220/195mm) and Pegaso (210mm each end). What that means is that the Funduro can not only sustain its modest top speed with no hint of a weave, but that it can be braked and cornered considerably harder than a typically squashy big trail bike. Thereís enough travel at both ends to give a comfortable ride on all but the worst road surfaces. But although a handful of front brake makes the front end dip more than is sometimes ideal, and for hard road riding even less travel would help, the forks are well-damped and the BMW retains control far better than most rivals.

Itís a similar story at the rear, where the Showa unit kept everything taut even when the roads eventually dried out and the pace hotted up. Although Iím heavy at 90kg the F650 coped well on the shockís standard setting. Adding a few turns of the remote preload adjuster and a couple of clicks of rebound damping gave a marginal improvement on bumpy bends, though the real benefit would be for two-up riding. The F650ís wide bars and reasonably light weight meant that it was fairly easy to flick around, despite a conservative 110mm of trail. The Pirellis are biased towards road use, and provided more than enough grip to allow peg-scraping lean angles. The front brake, a combination of twin-piston Brembo caliper and 300mm disc, gave plenty of feel and as much power as youíd want given the relatively narrow, 110/90-section front tyre. I was less happy with the 240mm rear disc, which locked too easily. Naturally you canít have things both ways, and the BMWís road-friendly suspension and tyres are far less suited to the off-road excursions encouraged by the bikeís name and the hefty bash-plate protecting its engine.

The Funduro coped well with the gentle trails I ventured down, happily blasting through loose dirt with the same blend of grunty motor, balance and suspension control that worked so well on the street. But faced with mud, water, sand or big bumps, it would inevitably be outclassed by bikes with serious suspension travel and grippier tyres. Serious dirt riding is not what the F650 was built for, though. Most people who buy this bike will never take it off-road, and instead will be impressed by such road-friendly details as the wide and clear mirrors, the broad dual-seat with its built-in carrier and pillion grab-handles, and the four-gallon tank that allows a range of well over 150 miles. This is a practical roadster that you could ride around town in the week, and load up with a passenger and luggage for a longer trip at the weekend. The F650 may not have a 100bhp motor, shaft drive, a big fairing or ABS brakes (and plenty of times during my midwinter test I wished it had the fairing, at least). But heated grips are an option as are hard luggage, an alarm system and a catalytic converter. Despite its Austrian engine, British stylist, Japanese suspension, Italian construction, and despite its equally non-German price, the F650 Funduro offers much of what is traditionally good about BMW.

Source carolenash.com