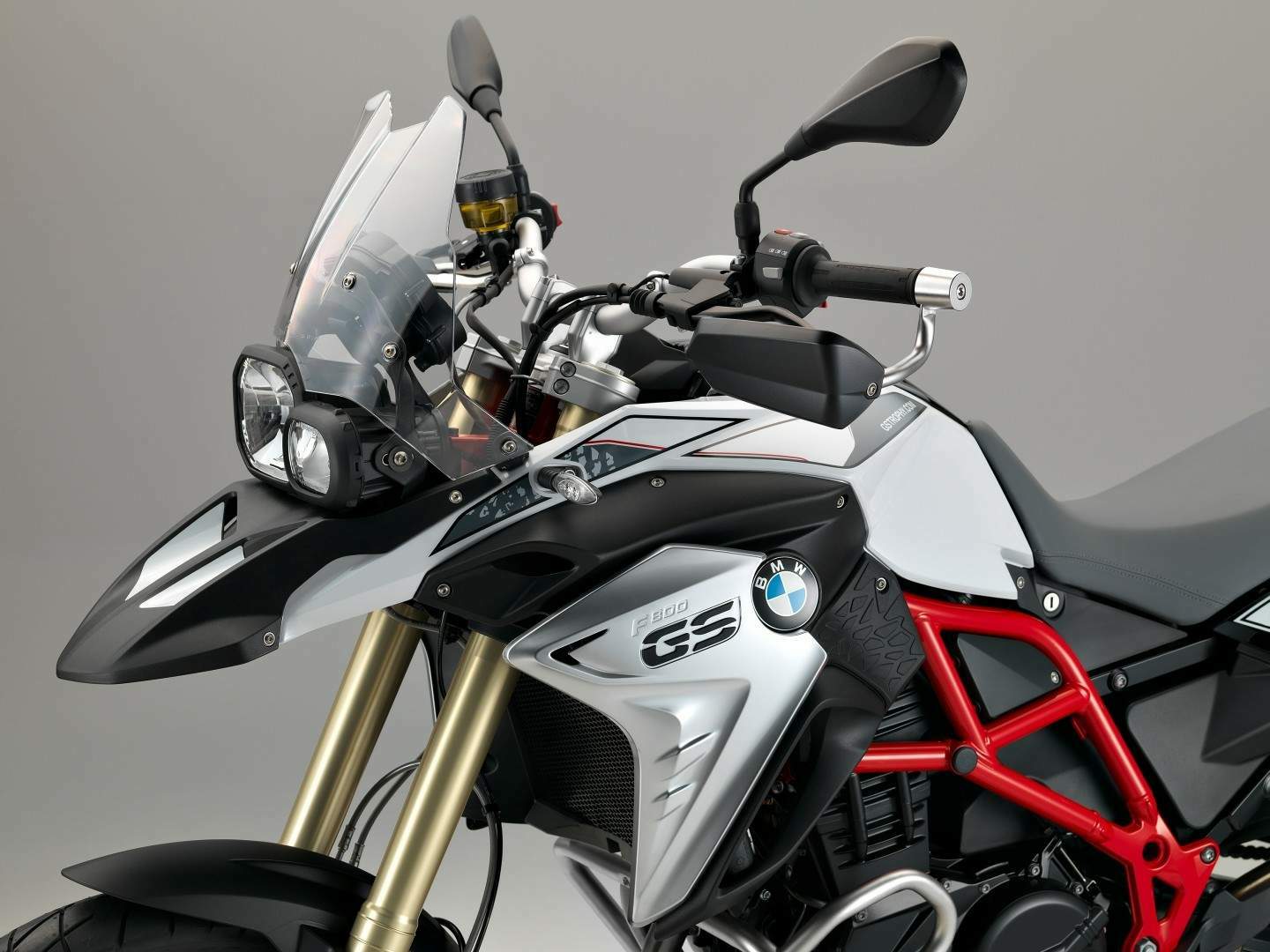 BMW Motorrad has updated the 2017 F800GS with several new refinements. As before, BMW's popular parallel-twin middle-weight adventure bikes offer the same versatility and accessible seat height, along with excellent fuel efficiency everyday driveability. Now with several key functionality and styling updates for 2017, BMW has improved the breed even further. See a description of the new model year changes below:
EU4 Adaptation and Newly Designed Tailpipe
The 798 cc engines have been adapted to the EU4 regulations for model year 2017. The visual hallmark here is the newly designed end piece of the stainless steel tailpipe. The HP sports exhaust by Akrapovič has also been redesigned and is available as an Original BMW Motorrad accessory.
Electromotive Throttle Controller for Improved Response
An electromotive throttle controller now passes on the rider's commands directly from a sensor on the twist grip to the engine control system and therefore to the throttle valve. The result is even finer controllability and an improved response. At the same time, this also enables the new standard riding modes "Rain" and "Road" to be used for riding on damp or dry surfaces as well as the modes "Enduro" and "Enduro Pro" – available as an ex works option (for the 2017 F800GS / F800GS Adventure only) – which are designed for lighter and more intense off-road use respectively.
Instruments with New Dials and More Information
The 2017 F700GS, F800GS and F800GS Adventure are fitted with newly designed and more easily readable dials. An additional Malfunction Indicator Light (MIL) ensures the EU4 norm is met, while the display has been extended to include riding mode information.
New Paint Schemes and Styling
Powerful yet distinct character qualities are expressed in three paint finish/style variants for each of the new F700GS and F800GS, and there are two additional paint finishes, New side reflectors are also used on fork slider tubes and fixed fork tubes.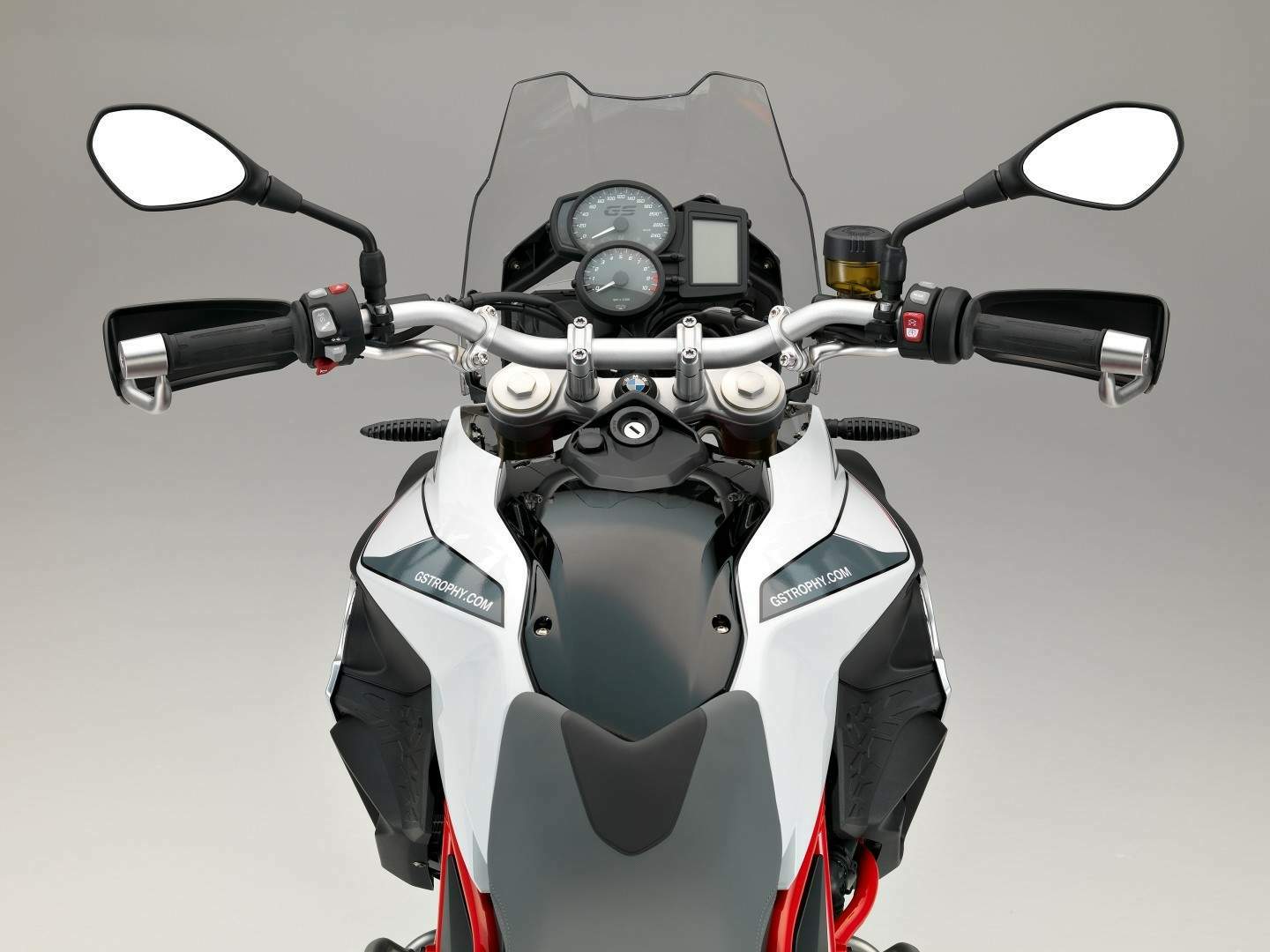 An overview of the highlights:
o Adaptation to EU4 requirements.
o Newly designed end piece of the standard tailpipe and HP sports silencer by Akrapovi? available as an Original BMW Motorrad accessory.
o Full E-Gas ride-by-wire system for improved response and controllability.
o Riding modes "Rain" and "Road" as standard. Riding modes "Enduro" and "Enduro Pro" (only F 800 GS / F 800 GS Adventure) as an ex works option.
o Instrument panel with new dials, MIL indicator lamp and riding mode display.
o Dynamic paint finish and style concepts.
o Side reflectors on fork slider tubes and fixed fork tubes.
Carefree enduro riding fun in further enhanced style. Ever since BMW Motorrad expanded the BMW enduro family in 2007 with the addition of the F series GS models for the entry-level and mid-range class, these motorcycles have become well established with their excellent all-round qualities: lots of riding fun, simple and secure control on all surfaces and plenty of pushing power and endurance when travelling – even when the journey happens to take the rider off the beaten track. For the new model year 2017, BMW Motorrad has now optimised and honed the qualities of the mid-range segment models once again.
Adaptation of the dynamic engine variants to EU requirements and a newly designed tailpipe. In all three motorcycles, the distinctive liquid-cooled 4-valve 2-cylinder engine with fuel injection and 6-speed gearbox ensures powerful forward thrust as before. It has now been adjusted to meet the new EU4 regulations, however. The visual hallmark of the adapted engines is the newly designed end piece of the stainless steel tailpipe. Together with the redesigned HP sports silencer by Akrapovi?, this fulfils the new R41-4 noise requirement.
With 55 kW (75 hp) at 7000 rpm and a maximum torque of 77 Nm at 5500 rpm, the new F 700 GS offers punchy engine performance, pulling power and low fuel consumption.
The F 800 GS and F 800 GS Adventure also rely on the 2-cylinder with 798 cc, here generating 63 kW (85 hp) at 7500 rpm and a maximum torque of 83 Nm at 5750 rpm.
Another unique feature in serial production motorcycle manufacture is the mass balance of the 2-cylinder engine by means of an additional connecting rod. It compensates for the first and second order inertia forces, ensuring that the engine runs with a pleasingly low level of vibration.