Mechanically the Kawasaki ER-6f is no more than an ER-6n streetbike fully clothed; the 53kW, 649cc parallel twin engine is the same, as are the straightforward, no-tricks front end, offset rear monoshock and stubby, underslung tailpipe.

But the tall, slim fairing with its conservative lines, 1990's-style double headlight (borrowed from the Z1000) and analogue instrument panel invest the bike with a totally different persona to its in-your-face naked sibling, helped by a few neat styling cues such as a two-tone seat that makes the ER-6f look like a single-seater at first glance
In contrast to the lime green and tan-your-eyeballs yellow that are popular colour options for the ER-6n the faired model is available in black or silver only, which gives you a good idea of its target market – born-again bikers, commuters and weekend tourers.

And it is, indeed, eminently suited to any or all of those roles; the tall, narrow screen keeps the slipstream off your chest without buffeting your head so you relax into an unstressed, slightly forward-leaning sitting position with your weight evenly divided between seat and footpegs, hands slightly further apart than you'd expect but not unduly so.

The bike's slim chassis lets it thread easily through traffic and the steering is lightly responsive without being twitchy; the engine pulls strongly from about 4000rpm to the red line at 11 0000 and its wide spread of torque allows you to grab the gaps as they open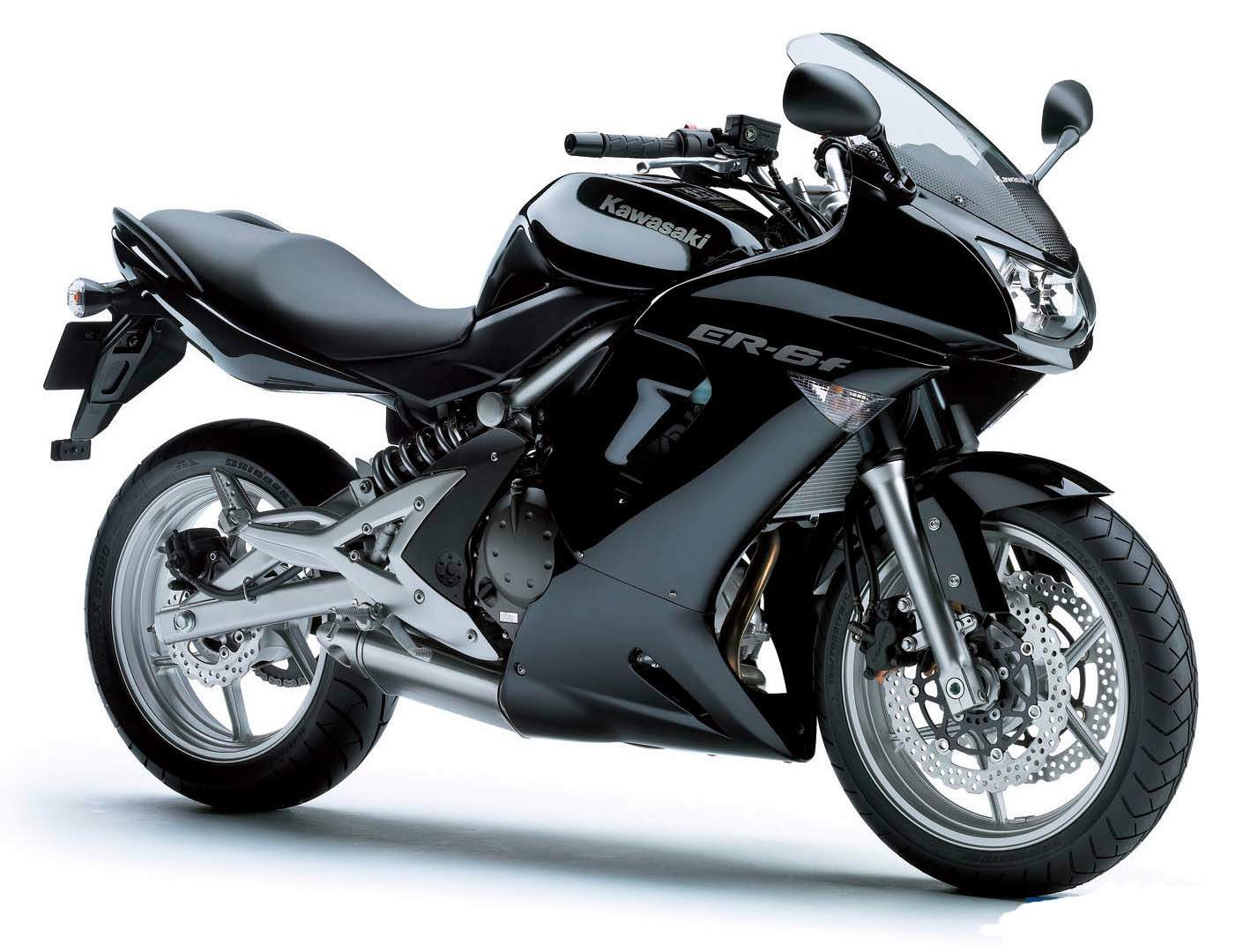 The only jarring note is a nasty buzzing vibration from somewhere behind the instruments between 3000 and 4000rpm. It's been the same on both ER-6f's I've ridden, so it's not just a foible of this test bike.

The instrument pod is rubber mounted and can move a couple of millimetres in any direction; something, somewhere inside the fully lined fairing is touching something solid and picking up a sympathetic vibration.

Annoying though it is, it's relatively easily cured by removing the fairing and looking for the inevitable chafe marks; slip a small piece of neoprene foam between the two offending parties and the noise should be gone.

The gearbox is noisy first thing in the morning when the oil is cold – the day's first shift into first will wake you up as sharply as jumping into an icy shower – but improves as the engine warms up, and by dropping the idle speed to just under 1000rpm, easily done via a small knob on the right just above the clutch housing.

Once you get beyond the street lights the bike settles into a smooth, easy pace at about 140km/h with a little less than 7000rpm showing on the rev-counter.

Dual balance shafts take care of the primary shakes but a tingling secondary vibration becomes apparent above 8000rpm, persisting through to the rev limiter at 11 250rpm.

On our long test straight the ER-6f went very smartly up to 200km/h, and topped out about 600m later at an indicated 215km/h, a needle's width short of 10 000rpm, a long way past Kawasaki's quoted power peak of 53kW at 8500rpm.

Controlled stopping

When it came time to stop the brakes reacted much as those on the ER-6n, with reassuring initial bite and strong, easily controlled stopping, although they did fade a little to wards the end of a hard afternoon's point-and-squirting, as floating-calliper disc brakes tend to do.

The ER-6f is available with ABS, which was very reassuring when I had to ride the test bike in heavy rain. I never felt it working, but that's not to say it didn't; neither wheel skidded despite very harsh conditions.

Pay the extra R4500; it's worth every penny, especially for a bike that's going to be ridden every day.

The suspension, adjustable only for rear preload, seemed merely firm on smoother roads, with the bike holding its line effortlessly through long, sweeping bends at up to 140km/h, but on our bumpy test track it was downright harsh, lacking both suppleness and initial compliance, seemingly both oversprung and overdamped.

Once I got used to having my kidneys both shaken and stirred, however, I noted that no matter how rattly the ride the tyres seldom parted company with the tar and the bike never went out of line. So even though it got only a C for ride quality it rated an A for roadholding.

The deeply padded seat, however, takes the worst sting out of bad roads; although deeply dished, it's also wide and flat enough to allow the rider to squirm around a little and postpone the onset of the dreaded numb bum syndrome.

Unexpectedly long ride

I rode out two tankfuls of fuel one long spring afternoon, stopping only when the reserve warning light came on and then only for petrol, arriving back home without aches or stiffness.

And it was an unexpectedly long ride; I'd thought the 15.5-litre fuel tank too small for any real touring but the bike used only five Litres /100km, giving a touring range of around 235km before the yellow light came on.

Unfortunately there are only two bungee hooks, right at the back of the tailpiece – on my long ride I lashed my tour-pack to the holes in the ankle-guards above the rear footpegs, but it wasn't ideal.

Other than that Kawasaki's midweight parallel twin (when did we start calling a 650 midweight?) is an impressive all-rounder – at ease in traffic, comfortable on the (smooth) open road, its styling sufficiently conservative to appeal to born-agains.

And, thanks to clean-burning Keihin fuel-injection and a catalyser in the exhaust box, it's both eco-friendly and economical to run – now you can do your bit to save the planet and have fun at the same time.