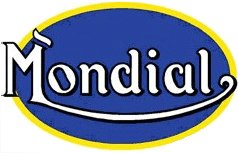 | | |
| --- | --- |
| | 1966 |
| 125 Bialbero GP | 1951 |
| 125 Champion Lusso | 1956 |
| 125 Lusso | 1956 |
| 125 Nova | 1961 |
| 125 OHV Sport | 1950 |
Fratelli Boselli) was a motorcycle manufacturer from Milan, Italy between 1948 and 1979, known for its Grand Prix motorcycle racing successes during the 1950s. Prior to World War II, it manufactured delivery tricycles. The firm produced some of the most advanced and successful Grand Prix road racers of the time, winning 5 World Championships.
Mondial was established by Count Giuseppe Bosselli in Milan who recognised the need for economical transport to assist Italy in recovering from the ravages of the Second World War. In common with Count Domenico Agusta he realised that the best and quickest way of establishing his new enterprise in the minds of potential buyers was through competition, consequently the first machine to appear bearing the soon to be famous FB Mondial tank badge was a twin cam 125cc racing motorcycle. Campaigned during 1948 with considerable success the new machine went on to win the 1949 125cc World Championship.
After the 1957 Grand Prix season, the major Italian motorcycle manufacturers including Gilera, Moto Guzzi, MV Agusta and Mondial announced that they would pull out of Grand Prix competition citing increasing costs and diminishing sales (MV Agusta later reconsidered and continued racing).Mondial had prepared a bike with desmodromic valve actuation (before Ducati) but did not produce it.
The company introduced their first production roadsters in 1950, utilising 125cc pushrod engines displaying features inherited from the GP machine in their design and establishing a pattern that would see subsequent production machines benefiting from the firms success on the track.
The Mòndial Name is Reborn
The Mondial marque was resurrected in 1999, when newspaper printing and lithography magnate Roberto Ziletti, of Lastra Group SpA, purchased the trademark and manufacturing rights from Count Giuseppe Boselli's heirs.