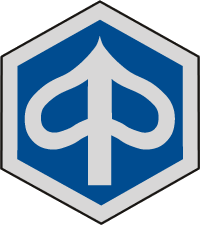 Piaggio based in Pontedera, Italy encompasses seven brands producing scooters and motorcycles. As the fourth largest producer of scooters and motorcycles in the world, Piaggio produces more than 600,000 vehicles annually, with five Research and development centers, more than 6,700 employees and operations in over 50 countries. Piaggio was founded by Rinaldo Piaggio, in Genoa, Italy, in 1884.

Founded in Genoa in 1884 by twenty-year-old Rinaldo Piaggio, Piaggio initially undertook luxury ship fitting before going on to produce rail carriages, goods vans, luxury coaches and engines, trams and special truck bodies.

World War I brought a new diversification that was to distinguish Piaggio activities for many decades. The company started producing aeroplanes and seaplanes. At the same time, new plants were springing up.

In 1917 Piaggio bought a new plant in Pisa, and four years later it took over a small plant in Pontedera which first became the centre of aeronautical production (propellers, engines and complete aircraft, including the state-of-the-art Piaggio P108 in passenger and bomber versions).

Before and during World War II, Piaggio was one of Italy's top aircraft manufacturers. For this reason, its plants were important military targets and the Piaggio factories in Genoa, Finale Ligure and Pontedera were irrevocably damaged by the war.

The 1946 Invention
Rinaldo Piaggio's sons Enrico and Armando began the process of re-starting industrial production immediately after the war. The hardest task went to Enrico, who was responsible for the destroyed Pontedera plant. He arranged for part of the machinery transferred to Biella in Piedmont to be brought back.

Enrico Piaggio opted for an industrial reconversion, focusing on personal mobility in a country emerging from war. He gave shape to his intuition, building a vehicle destined to become extremely famous, thanks to the extraordinary design work of the aeronautical engineer and inventor Corradino D'Ascanio (1891-1981).
Vespa:
The Birth of a Legend
The Vespa (which means "wasp" in Italian) was the result of Enrico Piaggio's determination to create a low cost product for the masses. As the war drew to a close, Enrico studied every possible solution to get production in his plants going again - starting from Biella, where a motor scooter was produced, based on a small motorcycle made for parachutists.