AC Schnitzer K1300R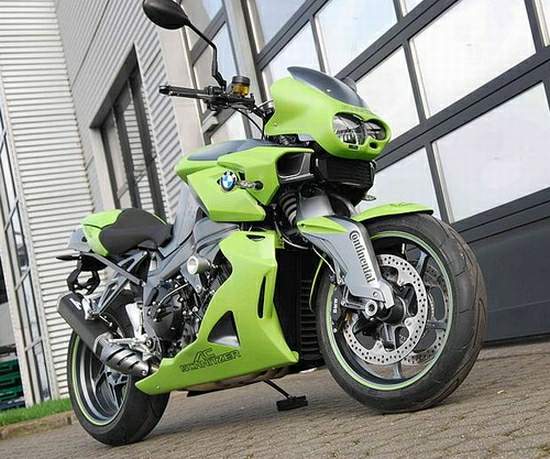 The AC Schnitzer have given a facelift to the BMW K1300R. The package includes slick forged alloy wheels that take 8 kilos off the bike's body mass, a Stealth silencer (approved by the EC) with detachable DB Killer , a Superbike bar conversion package, lamp trim, belly cover, and a pillion sheath. With the appearance taken care of, AC has lent its magical touch to the performance department as well. The clutch and brake levers get more muscle with high-strength aeronautical aluminum. And there is a performance manifold thrown in with the package too.
Source AC Schnitzer,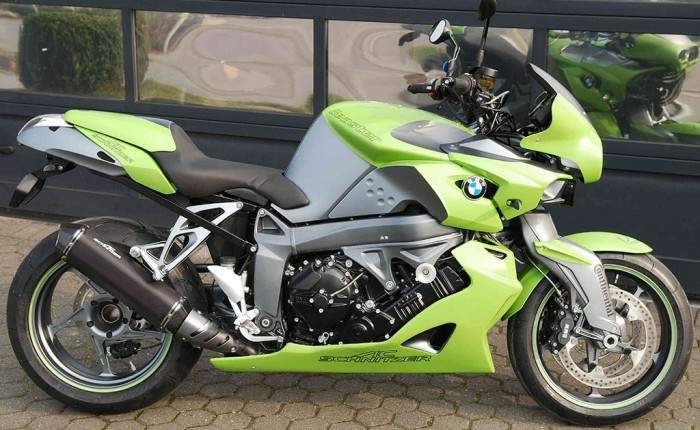 A real racing look and flowing transitions are achieved on the AC Schnitzer K 1300 R by the cockpit and lamp trim, the front spoiler and the pillion cover. In their design, priority was given to perfect fit and simple installation while retaining the powerful styling lines. The engine spoiler is totally new and guarantees adequate ground clearance for every setting of the ESA suspension.

The aim in development of the superbike handlebar conversion was to ensure the complete control essential for top performance. This conversion is also available for the BMW K 1300 S.

The necessary deep note is provided by the high performance racing exhaust made fully from titanium or stainless steel, which supplies that powerful extra boost in racing. For road use, there is the new AC Schnitzer STEALTH silencer with EC approval and removable DB Killer, available with catalyst, to give the AC Schnitzer K 1300 R the final visual and acoustic touches on the road.

A new design of universal crashpad is also available, together with various designs of crashpads in aluminium or nylon/aluminium mix.

Tested clutch and brake levers of high-strength aeronautical aluminium not only look sophisticated, but are also adjustable over a wide range. These are also available for the complete F 800 series and for many other BMW models.

Good rearward visibility is ensured by the AC Schnitzer mirror extensions available for the entire BMW range.