Can-Am Spyder RS Roadster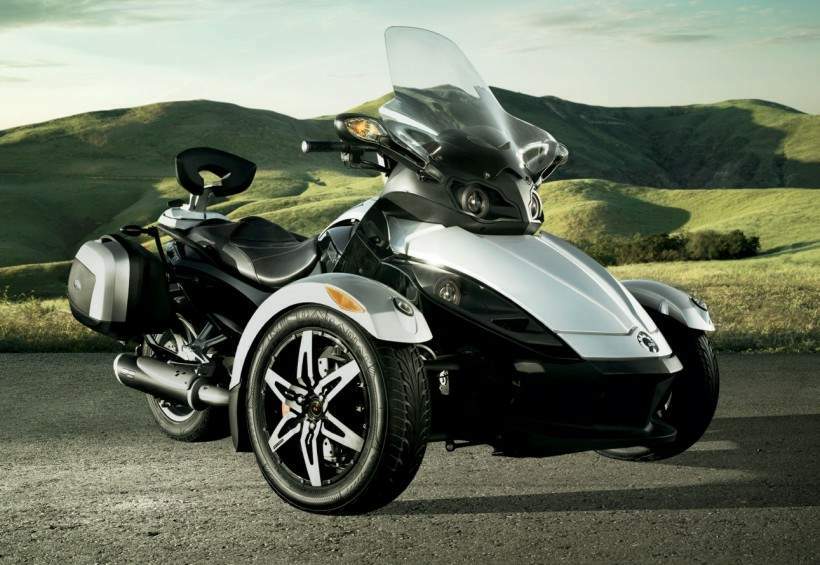 | | |
| --- | --- |
| Make Model | BRP Can Am Spyder RS Roadster |
| Year | 2010 - 11 |
| Engine | BRP-Rotax, Four stroke, V-Twin, DPHC, 4 valve per cylinder |
| Capacity | 998 cc / 61 cu-in |
| Bore x Stroke | 97 x 68 mm |
| Cooling System | Liquid cooled |
| Compression Ratio | 10.8:1 |
| Induction | Multi-point EFI with 57 mm diameter throttle bodies |
| Ignition | Electronic ignition with dual output coil |
| Starting | Electric |
| Exhaust | 2-into-1 with catalytic converter |
| Max Power | 106 hp / 79 kW @ 8500 rpm |
| Max Torque | 77 lb/ft / 104.3 Nm @ 6250 rpm |
| Clutch | Wet, multi-plate, manual or electronic operation through a hydraulic piston |
| Transmission | Sequential Manual 5-Speed (SM5) with transmission-based reverse |
| Final Drive | Belt |
| Front Suspension | Double A-Arm with anti-roll bar, .5.67 in 144 mm front suspension travel. with adjustable cam |
| Rear Suspension | Swing-arm with monoshock, 5.71 in 145 mm with adjustable cam rear suspension travel. |
| Brakes | Foot-actuated, fully integrated hydraulic 3-wheel braking system |
| Front Brakes | 260mm discs 4 piston caliper |
| Rear Brakes | Single 260mm disc 2 piston caliper |
| Front Tyre | 2x 165/65R14 |
| Rear Tyre | 225/50R15 |
| Seat Height | 737 mm / 29 in |
| Dry Weight | .316 kg / 697 lbs |
| Fuel Capacity | 25 Litres / 6.6 US gal |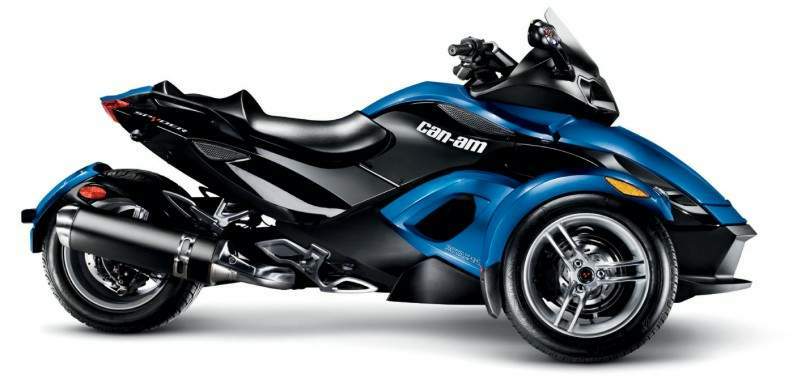 The Can-Am Spyder RS Roadster. Riding Reinvented.

There's nothing ordinary about the way it looks. Or the way it rides, for that matter. You gas, it comes to life.

You steer, it reacts and adapts. With its Rotax® 990 V-Twin engine and unique, three-wheeled stance, the Can-Am™ Spyder® roadster offers a bold, new way to experience open-road freedom. And it all starts at the end of your driveway.

A trip on the Can-Am Spyder RS roadster isn't just an escape, it's a full-on performance get-a-way.

Features and Specifications

Rotax 990 V-Twin Engine

3-spoke aluminum wheels

Multi-Function gauge display

Storage

Mechanical reverse

44-Liter Front Storage - Lockable front storage with 44 Litresof space. Can fit two helmets.

3-Spoke Aluminum Wheels - A unique, die-cast aluminum design that echoes the RS roadster's distinctive footprint.

Vehicle Stability System (VSS) - The Y-architecture enables the Spyder to host an innovative and unique stability system. Developed in conjunction with Bosch, the Vehicle Stability System (VSS) reduces the risk of losing control, integrated into Vehicle Stability System (VSS) and Stability Control system (SCS), Traction Control System (TCS) and Anti-lock Braking System (ABS) functions.

TRANSMISSION OPTIONS
Manual 5-speed gearbox, true mechanical reverse (SM5).
Semi-automatic finger-trigger shifting (SE5).

Features
RS RS-S
Sport windshield X X
11.62 US gal. (44 l) front storage X X
Parking brake X X
Digitally Encoded Security System X X
Speedometer X X
Tachometer X X
Electric fuel gauge X X
Dual trip meters X X
Engine temperature X X
Ambient temperature X X
Gear position indicator X X
6-Spoke custom wheel kit o X
Custom white trim seat o X
Spyder rolling travel bag o X
Custom decals NA X
Exclusive pearl white color NA X
Two-year warranty X X

X - Standard Feature on RS
X - Standard Feature on RS-S
o - Optional Feature

For the authorized Can-Am dealer nearest you, call 1-888-864-2002 or visit our website at spyder.brp.com. ©2009 Bombardier Recreational Products Inc. (BRP). All rights reserved. ®, ™ and the BRP logo are trademarks of Bombardier Recreational Products Inc. or its affiliates.

† Bosch is a trademark of Robert Bosch GmbH. ? All other trademarks are the property of their respective owners. Read and pay special attention to your Operator's Guide and to the safety labeling on your vehicle. Watch the safety DVD for important information concerning your vehicle and safety to reduce the risk of injury. Severe injury, including death, can result from ignoring warnings or through improper use of the vehicle. Always ride responsibly and safely. Follow all instructional and safety materials. Always observe applicable local laws and regulations.

Always wear a helmet, eye protection and appropriate protective clothing. And always remember that riding and alcohol/drugs don't mix. BRP reserves the right, at any time, to discontinue or change specifications, prices, designs, features, models or equipment without incurring obligation. Some models depicted may include optional equipment. Products are distributed in the U.S.A. by BRP US Inc. Vehicle performance may vary depending on weather, temperature, altitude, riding ability and rider/passenger(s) weight.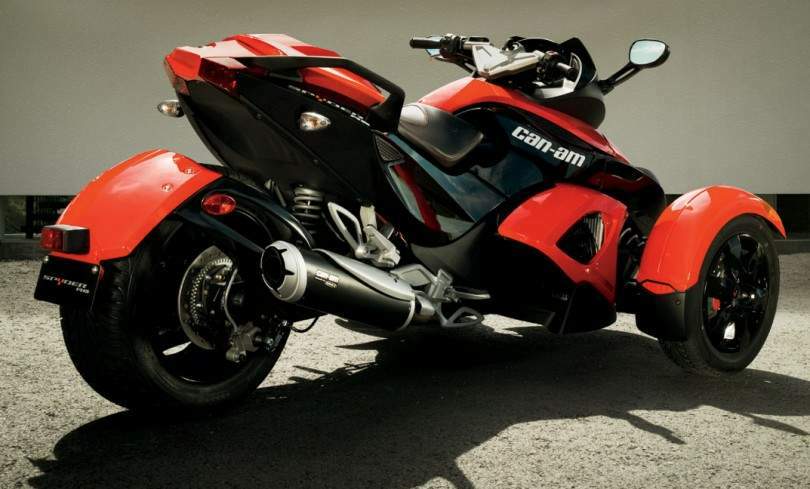 MEDIA PRESS RELEASE

BRP ADDS A TOURING MODEL TO ITS CAN-AM SPYDER ROADSTER LINE-UP

Washington, D.C., September 2, 2009 - BRP introduces the new Can-Am Spyder RT roadster in response to specific consumer demand for a touring platform. The 2010 Can-Am Spyder roadster line-up now includes the Spyder RS (roadster sport) and the Spyder RT (roadster touring) models.
The introduction of the touring model coincides with a substantial gain in market presence on the heels of strong consumer demand since the roadster's launch more than two years ago. Driven by a passionate owner community, the innovative three-wheel concept has become a global phenomenon in more than 50 countries to-date with authorized BRP dealers.

"The Can-Am Spyder RS is already a resounding market success, although, clearly, its full growth potential is only beginning to materialize," said Yves Leduc, vice-president - general manager Can-Am and After Sales Operations, responsible for North American Sales & Marketing. "We are delivering the expansion of our Can-Am Spyder roadster line-up as promised at its launch in 2007 and we believe the announcement of the Spyder RT will even further accelerate the momentum experienced thus far."

The Can-Am Spyder RT roadster powered by a Rotax 991 engine with Electronic Throttle Control optimized for touring stays true to the brand's promise to deliver a perfect balance of performance and peace of mind. The roadster features the same acclaimed BOSCH-engineered Vehicle Stability System (VSS) as found in the Spyder RS roadster, which includes Anti-lock Brakes, Traction Control and Stability Control systems. The VSS, coupled with the inherent stability of the roadster's 'Y-architecture' and overall ease of use reinvents riding for enthusiasts of all skill levels.

BRP is also introducing an industry-first optional RT622 trailer package*, providing an additional 622 Litres
(22 cu. ft) of storage, designed specifically for the Spyder RT roadster and compatible with the vehicle's stability system.

"The introduction of the Can-Am Spyder RT now provides options for sport and touring enthusiasts alike," said Chris Dawson, vice-president and general manager, International division. "BRP's superior design and innovation continues to deliver paradigm-shifting vehicles that push the envelope, and the RT model is no exception. The new platform goes well with what touring riders demand and there is no doubt in my mind the Can-Am Spyder RT is going to forever change the touring motorcycle category."

The Spyder RT roadster will be available for trial at authorized BRP dealerships this fall. Consumers currently have the option to pre-order Premiere Edition Spyder RT-S roadsters for delivery in the fourth quarter of 2009.

Bombardier Recreational Products (BRP), a privately-held company, is a world leader in the design, development, manufacturing, distribution and marketing of motorized recreational vehicles. Its portfolio of brands and products includes: Ski-Doo and Lynx snowmobiles, Sea-Doo watercraft and sport boats, Evinrude and Johnson outboard engines, direct injection technologies such as E-TEC, Can-Am all-terrain vehicles and roadsters, as well as Rotax engines and karts. With manufacturing facilities on three continents, BRP products are distributed in more than 80 countries.


Sea-Doo, Ski-Doo, Lynx, Evinrude, Johnson, Can-Am, Rotax, E-TEC, Spyder and the BRP logo are trademarks of Bombardier Recreational Products Inc. or its affiliates. All other trademarks are the property of their respective owners.

* Certain options may not be available (or homologated) in your country.